Current date/time is Mon Oct 25, 2021 3:30 pm
Search found 3 matches for 40
TNT:
SoftKitty:  BE READY SO YOU DONT HAVE TO GET READY Checklist for being secure and obscure and ready for the bank exchange!
PLEASE NOTE THAT THIS IS FROM 2013 ETC...AND THINGS ARE VERY FLUID AND DYNAMIC, HOWEVER SOME THINGS REMAIN TRUE...WORTH REVISITING SINCE MANY OF US HAVE BEEN ON THIS RIDE A LONG TIME AND SOME FOR THE LAST WEEK EVEN. WORTH THE READ AND PREPARATION. EITHER WAY, WE WAIT FOR THE FINAL PACKAGE! YOURS IN THE RV WAITING sk MEOW!
Bulldog75 "45 Security Tips" from OOM&F Forum Part 1
06/05/2013
45 SECURITY TIPS: ARE YOUR ASSETS & FAMILY SAFE
The last few years have witnessed an all-out assault on your personal and financial privacy. Credit-reporting agencies, schools, Internet marketers, medical clearing-houses, and dozens of other private organizations, Government all now maintain detailed records on us. The worst offender has been the U.S. government.
PLEASE DO NOT TAKE THIS PERSONALLY! THIS IS STRICTLY PROTECTION MEASURES AND BUSINESS FOR ONE TO TAKE CARE OF NOW.
Herein are Great Ways To Protect Your Privacy:
#1. The first law of privacy is: TO STAY QUIET,
particularly when one is in public, on the phone, or sending faxes or e-mail. DO NOT TAKE THIS PERSONAL; IT'S ALL ABOUT BUSINESS AND YOUR SECURITY! IT ONLY TAKES ONE PERSON TO 'UPSET YOUR APPLECART".
In fact, electronic communications are now so vulnerable to interception by government agencies, private investigators, and other snoops, that one shouldn't say anything in these communications you wouldn't want published on the front page of the New York Times or recorded by the IRS.
One can now get hacked into from your printer. Use separate computers and printers. One for on-line and one for off-line, IMHO.
# 2. Don't flaunt one's wealth, particularly if you have a lot of money.
If you own a fancy home, make sure it looks as modest as possible from the outside. suggestion to buy cars under $75,000; Keep new homes/apartments/condo under 1 million. There is no need to advertise wealth.
The IRS regularly searches car-purchase and property records. If they suspect tax evasion – real or imagined – they can freeze your assets, and seize your car and home. When traveling overseas, you have to be even more careful.
Driving a fancy car or dressing like a "rich" American – i.e., the way you normally dress – can make you a target for robbers, kidnappers and anti-American terrorists. Also limit your credit card use. Every time you use your credit card, thieves could steal the number and rack up huge charges.
It could take months or even years to get it all sorted out. stick with a car no higher than a LEXUS, to 75k, or one's draws serious attention.
# 3. Shred or burn important documents.
The U.S. Supreme Court has ruled that it's 100% legal for snoops to rummage through your curbside trash and keep any papers they find.
So never throw any important papers in the trash without shredding them – including bank and credit-card statements, utility bills, letters from Social Security or other government agencies, information from your stock broker, etc.
Make sure and use a cross-cut shredder ($100-$150) which reduces documents to confetti, rather than a less-expensive shredder that cuts paper into strips which can be pasted back together. For ultra-sensitive documents, nothing beats burning them.
# 4. Isolate sensitive computer files from snoops.
As we use our computers more and more to keep sensitive records and correspondence, it becomes more important to protect them from snoops. The
#1
threat to your sensitive files is your modem, fax, or DSL Internet connection – anything that electronically connects your computer to the outside world.
Thanks to cookies, e-mail wiretaps, and other techniques, when you're browsing the web or reading your e-mail, snoops at the other end can download files from your computer hard drive.
The only sure way to protect yourself is by keeping all sensitive information on a different computer (or at least a different hard drive with its own, separate operating system) than the computer you use for web browsing.
In other words, you use Computer
#1
to browse the web and send e-mail; and you use Computer
#2
for word processing, accounting, and storing important information. Computer
#1
has no important files or sensitive information.
Computer
#2
has no electronic connection to the outside world. To minimize expenses, your two computers can share the same keyboard and monitor, by the addition of a network hub (about $100). Warning; Now as of 11/11 printers can now be hacked into.!!
# 5. Keep your web browsing and e-mail private.
Whenever you contact a company or organization on the Internet, the computer at the other end will often insert a "cookie" into your computer – enabling merchants and government agencies to keep track of your web browsing.
The information that can be collected about you in this way is absolutely mind-boggling and includes your name, address, phone number, detailed information on the type of computer you are using, your Social Security number, credit-card numbers, a list of your friends and business contacts, and much more.
To keep your web browsing private, use an anonymous connection service,
For further protection, encrypt your e-mail, using high-level, 1024-bit encryption software, such as Pretty Good Privacy (PGP).
http://
www.pgp.comZero
Knowledge Systems (ZKS) offers software called "Freedom" which also uses 1024-bit encryption and which: Allows you to use multi-pseudonyms that can't be traced to your real name Prevents the receipt of Internet cookies Provides multi-layers of encryption.
# 6. KEEP YOUR HOME ADDRESS & PHONE# PRIVATE! This
is the single MOST IMPORTANT step you can take to protect your privacy though all items within this POST are urgent for your welfare. Government snoops can't nose around your home, bug your computer, or listen in on your calls, if they don't know where you live or your phone number..
To keep your home address private, rent or buy your home in the name of an out-of-state corporation (Delaware and Nevada corporations are best). Also put your utilities in the name of the corporation, as well as your phone, and magazine and newspaper subscriptions.
This is precisely what TV personalities, professional athletes, and film stars do to protect their privacy. And it's not expensive. A Delaware corporation can be set up for as little as $150 and maintained for $50 a year!
Take your names off your local country tax rolls and replace your name with "property Owner". this is crucial!!!
# 6 B: Receive all MAIL personally addressed to you at a nearby mail drop, such as Mail Boxes, Etc.
(about $15 a month), or an Executive Office Service ($50 to $150 a month), or at the address of a friend who owns a nearby business (free). Then use this address for your driver's license and car registration.
Naturally, your car will also be registered in the name of your corporation. Properly set up, a Delaware or Nevada corporation can also dramatically lower your taxes, if you're an independent contractor. (Please consult your attorney.)
For a private home phone, use a company name when setting up a new phone account, rather than your own, and make sure and get caller ID, complete blocking. To add a further level of phone privacy, purchase a prepaid cell phone – such as those offered by Trac Fone through Blockbuster, WalMart, and Staples.
No name, address, credit check, etc. is required to set up an account, and you can buy phone cards for cash to add more time. As of 11/11 Wal-Mart sells i-phones for less than $100 and Unlimited internet, text and talk for $55 per month. This is a fabulous rate!!!
#7 A.) (TWO PARTS) . Keep your medical records more private.
Information in your medical files can be used to deny you insurance, jobs, and legal benefits. It could be even used by a government just slightly more authoritarian than the one we now have, to take away your children or commit one elsewhere.
Unfortunately, each time you see a doctor or check into a hospital or clinic, they will usually demand your Social Security Number, which in turn will be used to file and locate your medical records.
You can protect yourself from unwanted snooping by getting an alternative Medical photo ID from ID Network (IDN). No SSN is required, and medical records are kept in your own handwriting. $9.95. Call 1-888-329-3686 or 314-416-7411,
http://www.idnetwork.com.
#7 PART B: In the civilized society, we each have a crucial zone of privacy shielding us from outside snooping and control.
Privacy is about keeping more of what you earn – protecting the sensitive information in your computer - avoiding being hassled by the IRS or police – protecting your children – and minimizing your chances of a 2 am visit by a machine-gun-toting SWAT team.
The battle for your privacy is the battle for your freedom. Ultimately it is a battle we will win. AMEN.
**********
#8. EXCHANGE TIME :
these are suggestions to consider; you decide what IS BEST UNDER YOUR SITUATION. THERE ARE MANY OPTIONS HERE FOR PRECAUTIONARY MEASURES. The wolves inside and outside the bank can be few to many in different clothing. Your Life and Your Life Savings may be at RISK.
# 9. Do not park in the bank lot. Why show your car tags to others that will jot them down and trace u? A camera can take a photo of you and your tags for blocks away. Take a taxi or rental car to the banks.
# 10.. Go with someone to the bank; spouse, best friend who is a fellow Dinarian. Caps and glasses are nice. Make no new friends at the bank or locally who might discover your fortunes.
#11
.. Make an appointment , if required, to make the 'exchange'.
#12
. Know your rate before you go. Have a predetermined game plan. Shop your rates. Seek investment angles, advice also from maybe Smith Barney, Scottrade Inc, etc, various options.
# 13. Watch your body language, look and play the part of Investor. MANY maybe WATCHING. Use dressy attire but no jeans or T's.
#14
.There is NO rush to cash in; supposedly many weeks and option days to have the possible 15% tax advantage with no audits (this is still a rumor; will be confirmed sooner or later next week). Seek competent tax and legal advice.  
#15
. If your deposit is in an acct "non interest bearing savings acct" this should be Dodd-Frank. check with your banker. NIB accts are usually unlimited in coverage.
#16
. SMITH BARNEY or MORGAN STANLEY INC. OR SCOTTRADE INC ET and others can re-insure your accounts somewhere in the $600,000 TO ONE BILLION $$ range per account.
Seek legal advice and the broker / company policies. DO NOT LEAVE SIGNIFICANT LARGE SUMS IN INSTITUtIONS UNLESS ITS RE-INSURED; IE: LLOYDS IN
#17. AFTER MAKING YOUR INITIAL DEPOSIT; TRANSFER IT TO ANOTHER INTEREST FREE CHECKING ACCT WITHIN THE WEEK;
SOONER RATHER THAN LATER. THIS PREVENTS WIRE TRANSFER AGENTS AND PAST BANK KNOWING YOUR NEW ACCT #!! (AGAIN, PLEASE FILTER ALL THIS DATA. YOU DECIDE WHICH WORKS FOR U, BUT TIME IS OF THE ESSENCE AND WAITING IS NOT HEALTHY FOR THESE ISSUES AND ACTIONS HEREIN "MAY SAVE YOUR LIFE".
# 18. ONLY USE YOUR PASSPORTS FOR IDS:
IT DOES NOT HAVE YOUR HOME ADDRESS, SOCIAL SECURITY # TIED IN. Avoid using your Drivers License for anything but the cops and court when or if mandated!
#19. Use UPS postal drop for home address or your attorney's office work address until you get things squared away about physical addresses
. Never use one's home address for anything, especially: mail, fed ex, UPS, !!! Have your bank statements go to a Po Box! Never let one's attorney know how much money you have.
#20
. IMHO, "Irrevocable Business Trust" or a "Irrevocable Spendthrift Trust" saves your wealth, health and happiness from the tax man. . It's Worth every penny and more. Trusts are much more apt to protect large estates. Revocable Trust hold little or no water with the IRS & States.
#21
: IMHO: Legalshield.com or in some states, PREPAID LEGAL INC.: for family, business, Wills, IRS audits, Citations, legal situations. 100's of legal help issues that may give legal piece of Mind and ease the pocketbook too. Attorneys are assigned within your State to handle your cases. Some situations are outsourced to qualified attorneys within your state and they contact you. Fees average $17-49 monthly.
#22
: BEWARE/ ALERT: RFID )))) RADIO FREQUENCY ID. RADIO CHIPS MAYBE INSIDE YOUR CREDIT CARD. IT IS ELECTRONIC 'PICK-POCKETING' OF ANOTHER'S CREDIT CARD # AND EXPIRATION DATE. LOOK FOR SYMBOL)))) OR POSSIBLE OTHER SYMBOLS. ONE'S CARD # AND EXPIRATION DATE INFO CAN BE COPIED ONTO SOMEONE'S 'HOTEL ROOM KEY'.
THEFT DEVICE CAN BE BOUGHT FOR $100. KEEP ALL CREDIT CARDS INSIDE ALUMINUM /METAL SLEEVE OR CASE.
HACKERS CAN GET YOUR CARD
#S
VERY EASILY. SEE THIS VIDEO AND BEWARE. 'RFID' CHIPS ARE IN 33% OF CREDIT CARDS MADE TODAY. TAKE CAUTION NOW. THESE CHIPS CAN ALSO BE IN YOUR SOON TO BE BANK "BLACK DEBIT CARDS". THIS COULD GET COSTLY AND DANGEROUS AT THE SAME TIME. IT'S BEST NOT TO HAVE 'RFID' CREDIT CARDS.
CHECK WITH YOUR BANK ON 'CASH-IN' / 'CURRENCY EXCHANGE' TO MAKE SURE YOU ARE NOT ISSUED ANY TYPE OF " RADIO FREQUENCY RFID )))) " CREDIT CARDS ON ANY OF YOUR CURRENT (AND FUTURE) ACCOUNTS.
https://www.youtube.com/watch?v=lLAFhTjsQHw&sns=em
#23
(
#23-36
WERE ADDED 7/16/12): Reduce Your Risk of Identity Theft: Traveling (for business or pleasure) can increase your exposure to financial risk. Here are some simple tips to protect yourself and reduce the risk of identity theft as you head out on your summer vacation.
#24: Clean out your wallet:
Take only your essential documents, like your driver's license and just 2 credit cards – one to carry and one to leave in the safe at the hotel in case your wallet is lost or stolen. Don't carry your social security card in your wallet – ever. Leave your extra credit cards or identifications documents at home. Men – keep your wallet in a buttoned pocket, women – wear a purse with wide straps and locking clasps, and don't hang it on the door when you use a public restroom.
#25: Leave your checkbook at home
:  You shouldn't need it if you have credit cards. Leave your bills and private papers at home, too.
#26: Make a copy of your travel documents:
Copy your passport, driver's license, airline confirmations, etc. Leave it with a trusted friend in case you need help, or keep a copy safely tucked inside a suitcase pocket in case the original gets lost or stolen. Make a list of what you have in your wallet, along with the phone numbers on the back of your cards.
#27: Stop your mail or have a neighbor pick it up:
A full mailbox with bank statements and credit card bills is a sure sign for hackers and thieves that you are not at home. Also, stop the newspaper, and don't broadcast your travel plans on social networking sites.
#28: Alert your credit and debit card issuers:
Let them know where you are traveling, how you may be reached, and when you will return. This helps the fraud department stop charges that may not be yours, and reduces the risk that your cards will be "frozen" due to unusual activity when you are away from home and can't be reached
#29: Keep an eye on your cell phone
: Many people are storing user ID's and passwords and other personal information on their cell phones. Secure your phone with a security code so that it can't be accessed if it is lost or stolen.
#30: Consider a temporary credit freeze:
A freeze will deny access to your credit history, so ID thieves can't open accounts while you are away. Setting up a freeze through the three credit reporting bureaus – Transunion, Experian and Equifax – takes time and money, so this is the most beneficial if you are planning a period of prolonged travel.
#31: Look for safer ATMs:
If you need cash withdrawals, ATMs in bank lobbies are less vulnerable to devices used to capture your information, and are usually better lit and safer in general. They are also more likely to have surveillance cameras.
#32: Be careful with computers in hotels and other public places:
Don't access your financial data on hotel or other public computers or public Wi-Fi networks. Public computers may have spy-ware or malware installed which could record everything you type. Be sure to log out of any sites that you may access before leaving the PC.
#33: Beware of front desk calls:
If you receive a call from a "clerk" saying that they need to re-enter your credit card number, hang up and call the front desk yourself. You don't now who is at the other end of that call.
#34
: A few simple steps will go a long way in protecting you and your information and prevent your vacation or business trip from turning into a headache. If you have any concerns about your personal information, notice any suspicious account activity, or experience a customer information security-related event, contact your bank branch immediately so that they can assist you.
#35: ONLY PUT ONE'S PO BOX ADDRESS ON THEIR CHECKS.
NEVER PLACE BIRTHDATE OR SOCIAL SECURITY NUMBERS OR EVEN PHONE NUMBER ON YOUR CHECKS. MAKE IT DIFFICULT FOR THE WOLVES/THIEVES IF THEY TAKE ONE'S CHECKBOOK.
#36: ACT IMMEDIATELY AND ACCORDINGLY TO PROTECT ONESELF, FAMILY, BUSINESS. ONE OR TWO MINUTES COULD SAVE : TIME, MONEY, GRIEF, UNTOLD PAPERWORK & CHAOS!
#37
: Any major ideas or investments, always bounce it off someone you trust like your CPA, Attorney or Investment advisors. Many are ashamed to admit they've been taken advantage of or conned. Do not be over-trusting, nieve or gullible.. When or if someone tries to interest you in a venture involving money /investments, say, "I'll discuss this with my real estate agent, CPA or lawyer and get back to you." Then talk with someone you trust.
#38
: further info on personal identity: Scam-proof your communications by taking control of your personal information. Put your phone numbers (home and cell) on the Do Not Call Registry. Opt out from the sale or sharing of your personal information by contacting the three credit bureaus, your state department of motor vehicles, the Direct Marketing Association and companies with which you do business. Thieves cull your information and use it to open bogus accounts that can ruin your credit scores, credit and make your life absolutely miserable.
For more information on how to remove yourself from these databases, see the Federal Trade Commission's Web page on sharing your personal information.
#39: Don't Trust Your Caller ID:
Never do business over the phone, unless you initiate the call. Here's why: No matter what your caller ID might say, you don't really know who's on the other end of the line. If you place the call yourself, divulging personal information isn't as risky. If you receive a call from someone who claims to be with your bank, insurance company or some other place where you do business -- unless you recognize the caller -- say you'll call back. That will give you time to make sure the number is legitimate. Simply call the company's published number and ask to speak to the individual who called you, or to someone in the appropriate department.
#40: Ways to make using a debit card safer include the following:
Run your purchases as credit so you don't have to input your PIN. & Always double-check your card when a clerk, cashier or waiter hands it back to you and make certain it's the same card you handed over.
Be suspicious of people who want to stand too close to you when you're using your debit card, particularly when they are using a cellphone. They could be recording your debit card information with their camera
#41: Regard All Links With Suspicion:
Social networking can be a great way to keep up with friends and family, but scammers have found the Internet a gold mine of opportunity. Most of us know not to click on links in emails from people we don't know or to acknowledge those silly get-rich-quick schemes from strangers, but you should never underestimate a con artist's creativity.
For instance, a recent scam on Facebook involves a fake game based on the "Twilight" series. Fans are prompted to click on the link, exposing their personal information to scammers.
Best rule of thumb: Be on your guard and never click on links of unknown origin. Check on them by running a search with the relevant keyword (in this case, "Twilight") and "complaint" or "scam."
42# Safeguard Online Activities:
Don't join the thousands who fall victim to online identity theft schemes each year. Some are as simple as planting a keystroke logger on your computer to copy your private information, while others involve complicated email exchanges.
Here are some of the best strategies for avoiding online fraud:
Don't ever respond to emails asking for your account information since they are almost always fakes.
Never click on links embedded in emails (even a friend or relative can accidentally pass along a virus). If you must see that funny video, type the URL directly into your browser.
#43: When you decide to purchase from an online merchant, always make certain that you're dealing with a reputable site.
Check for complaints and never click on a link; instead, as with email links, type the company's correct URL into your browser.
Make it a habit to double-check that order forms are secure before completing them. Instead of the standard "http," the URL will begin with "https," which indicates a secure transmission.
#44
: DOUBLE REMINDER : Don't forget to maintain up-to-date, functioning security software and a firewall WITH latest up to date Online Protection.
#45: Guard your medical insurance information and ALL PERSONAL INFORMATION OF ANY NATURE with the same zeal as you do your financial data
. the National Health Care Anti-Fraud Association says the fallout from medical fraud can damage your credit rating, open you to litigation and even result in your receiving improper medical care. "Always examine your explanation of benefits for treatments that you didn't have," he says.
THE LESS INFO there is out there about you, the harder you are to target. Make the con artists' jobs difficult by avoiding their scam tactics. They don't deserve to score off your hard work.
*
#s
37-45 contributed in part by : Former policewoman Carole Moore,author of "The Last Place You'd Look: True Stories of Missing Persons and the People Who Search for Them."
Read more: 8 ways to avoid getting conned
http://www.bankrate.com/finance/personal-finance/8-ways-to-avoid-becoming-a-successful-mark-1.aspx#ixzz217YsBOtg
ALL CONTRIBUTORS, INFO, IDEAS ARE SINCERELY APPRECIATED TO HELP DINARIANS AROUND THE PLANET. I LOVE YOU ALL. BLESSINGS. LAST UPDATE 11/11/12.
by Ssmith

on Mon Mar 11, 2019 8:58 am
Search in: CHATTER from DINARIANS
Replies: 0
Views: 2690
Cinderella1906:  FAMILY FRANK HAS KINDLY APPROVED FOR THE TRANSCRIPT OF HIS VIDEO BE POSTED HERE AND IN TEAM CHAT ......PLEASE DONT' FORGET TO THANK HIM BUT ALSO GIVE GREAT THANKS TO SUNKISSED WHO HAS DONE AN AWESOME JOB OF TRANSCRIBING THEM FOR US !!!!
TRANSCRIPT OF FRANK'S Video Clip: Sunday, July 15, 2018..... PLEASE NOTE THIS IS ALL IN FRANKS OPINION ONLY .... ALSO THESE NOTES ARE NOT WORD FOR WORD BUT I AM SURE WILL HELP YOU ALL .... PLEASE ENJOY !!!!!!!!
LINK TO VIDEO............https://youtu.be/3Mmp8TWM3tA
I greet you in the name of Jesus Christ and I pray that our call tonight is successful
The very first thing I want to do is to explain to you that.. Walkingstick and I wish to say the following: .......... The GAME has changed. If you want at title for tonight's call, that's it. Now, what do we mean by that? .............
In our opinion information is being leaked. Too much of it… about our study. We don't give dates or rates.. we give the PROGRESS of the Monetary Reform, of the Reinstatement of the Iraqi Dinar .................. But (pause) I believe we are at a point where information is coming out of Iraq — not from our conference calls.
WS and our team only give you information once it is in print. But a lot of information is coming out from internal sources in Iraq. You see, where there should be only a handful that should be talking about this or doing this, a lot of others are getting involved now.
For whatever reasons: political, financial, favoritism, whatever ................. Walkingstick and I don't want to be a part of that discussion right now ..............
Walkingstick told me to tell you, "Frank, soon, what I share with you, you will not be able any longer to share, talk, or discuss, anymore. The MR, RI of the IQD, is pressed up against the wall. Everything is on a very Fast-Track right now. There are no delays."......... Where some of you may find delays — we don't have that evidence.
And that is why there is little to nothing to say about the RI any longer .............. As of NOW, it is unlikely that any ONE source will be given a Heads-up on the RI of the IQD, beyond the Fantastic Four: IMF, WB, UST, Trump. NO-ONE knows except for them the date or the rate .................
Walkingstick and I wish to express that any details about the RI would be unwise right now. Not because we are ridiculed but because we would be answering questions that should not even be asked right now ....................
WE'RE THERE! ............... We told you there would come a time when we could not share any information ...............
THIS IS THAT MOMENT IN TIME ................ Listen carefully to these words: It is at the point that even throwing out an opinion is not wise. It's best to leave it alone, as of now ...............
I've had long talks with WS on what we should do with our study at this stage, and this is what he has recommended to me. That's why there will be no CC tomorrow, no Friday TC, no Monday CC the following week, and no Friday TC after that ........... I won't return until the 27th of July, which is a Friday TC. If necessary, if something should happen, sure, I will release a video to keep you up to date .............
(4 pages of notes that he cannot discuss) ............ Let me just cover some odds and ends:..............
We wish to encourage Abadi and Sadr to seat their Official New GOI, and especially Abadi as the PM of the new elected government, in order to expedite many things, ASAP.. and the RI being one of them! ............... It's THAT simple ..............
Iraq could not have RI'd with Maliki and his "backing" that controlled the GOI and the CBI for so many years. Nor would Iraq and the Fantastic Four (combined together), they would not have allowed Maliki and his people to profit, from the new 2003 IQD, that the IMF commissioned De La Rue to print. They are NOT going to let that happen with the RI ..............
So you see, many things are occurring… leaks. You know the demonstrations going on Basra? The citizens of Iraq are NOT, protesting against Abadi or Sadr, or the GOI. They are protesting against Maliki! .. and the corruption that he represents, and the Iranian influence in Iraq, and lack of jobs because of that .............
That should be interesting to you .............................. It's the blossoming - coming together of a country, that no longer looks at Politicians as the enemy, they look at them as their friend. (smile) ...............
Iran is taking advantage of a "no GOI seated" right now, by paying a bunch of jerks to go to Basra and pretend that they are protesting against Abadi .............. They are not. And we know that .............. Maliki's media and Iran are taking advantage of the GOI not seating, and inserting the demonstrations, adding fire and lies to the situation, I believe in all honesty we are soon to see a seated government ...............
We advise Abadi to sit his government, because one he sits them OFFICIALLY - he will be able to do a lot of things (smile) .............. Now also remember that Iraq STILL HAS a seated government. And Abadi IS the PM ...............
So, if you asked me when will they "sit" the Parliament.. the smooth transition from the existing government to the new government, will still have the same effects, and the same results ................. A new seated government will be a less Maliki, Iran, and Iran corruption with a Suitable Environment, to RI the currency.
In other words: The RI continues ............. With Maliki gone — soon — the RI sees a Suitable Environment that Abadi and the CBI requeste ........ and so did Dr. Shabibi ...............
This Iranian influence, is disappearing. And it's a combination of not just the newly seated government with the citizens as well too ............... The Iranian Generals are losing their ability to protect Maliki and his goons.
I also want to see the seated government because then Maliki is no longer one of the VPs which means he's no longer protected under political immunity. His behind is BUSTED! And arrest warrants will come to him. Arrest warrants AWAIT him, once his political immunity is dissolved ...............
Now.. Take note: ............. Maliki will fight like a wounded animal, along with his Fake Media, to the very end. If you see that they give him a "partial Parliamentary seat" to do something, it's only to keep the peace.
To maintain the Suitable Environment for the RI in tact ............... But know this: ............. Maliki's power is GONE. No longer influential. No longer capable of using fear tactics to steal the finances of Iraq and the citizens and support Iran ..............
The second article IS coming out ............... As much as I want to tell you more about it.. we did. We went further and told you about the Billboards, the Electronic Billboards, the Presentation Boards inside the banks… we told you a lot ..............
(defending Ghost and calling one member out for ranting on chat)
Let me give you an example of things that will help you: ..............
Phone: ........... Dallas Texas are you there? ............ This individual told about people that he knew that fell for the scams to sell their dinar in Las Vegas and got shafted. Moral of the story: Don't sell your dinar and don't fall for  the scam artists! ...............
It's taken me years to be in the position right now, where I don't want to talk no more. Our walk, KTFA-KONA Family, is different now ................
SeaBass from Forum: ............ For those doubting the soldiers exchanging, my son, is a Marine Sargent. He got home Last July 2017, and I sold him some of my dinar. He is still in contact with some of his buds in Iraq.
Yes. It's a fact: Soldiers have to turn in their dinars. And, yes, it's a fact: that they are exchanging and they are getting as Ghost said. It's a fact. When I told him about Ghost, he just grinned. We talked about this before. Ghost was to me, confirmation. It was not new news. You will not confirm from your seat. Only military can confirm this. Because they operate on a "need to know" basis ...............
Frank: I brought you that Lt. Colonel, because I wanted to encourage you. I did not want to deceive you and ask you to come to Las Vegas ............ We have taken you to the very doorstep of the RI study. But as I told you once, I will not walk through that door with you. Instead, I will meet you on the other side .............. Do you remember that? .............
But more than anything else for the next two weeks, and Friday TC, as couple days ago, told you why. I don't wish to be in a position to answer questions, that are soon to  come out ....................
KTFA-KONA,........
I want you to be proud of our selection to be silent ............... In the next two weeks, somewhere, around the 18th, 19th, to about the 24th, 25th, we should have a seated government…. So that when I come back on the 27th (pause) ....... well, we can talk some more ..............
In the meantime, the former Ambassador from the United States to Iraq, Christopher Hill, says well… We told Maliki that "in advance, that he was NOT to over-throw the Iraqi government," and we were trying to prevent him from any candidacy for a third term
In response, Maliki, throws a tantrum like a child and says either we hand them a hand full of dust, or to build it.. and Maliki vows to burn Iraq unless the invitation to the promises to get him a share in the government or he will ignite a Civil War ...............
This is a drowning man. Stimulating the Basra crowd with False people to demonstrate and say just the opposite of what is really going on ............
We're at that point where THEY ARE SITTING THEIR GOVERNMENT!!!!! Because it would be a wonderful, suitable environment for the RI ........... Maliki is also part of the leaking going on, because he's doing it on purpose!
Maliki starts to burn oil fields. Hmmm Does that sound familiar? The days of Saddam ............ We keep telling you to forget about the recounting. Forget about it ............... Leaks are a problem and interfere with my teams.
Walkingstick wanted me to talk to  you. We came that close to another leak from Theresa May. Now I will admit she didn't say the word gold-backed, she said that we are delivering a Gold Standard. Wow. A Gold Standard would only be for asset-backed, wouldn't it? ........... May: "...In financial services, cooperation" ............
Frank: Oh a level playing field would that be? Because delivering a Gold Standard,(wink), Theresa May, and your explanation that it's a financial service cooperation .. well to me that's just simply a gold-backed currency and it would go very nicely with what you said ................ At the 3:05 minute mark on that video May comes out and said these things ............. I prepared you for this gold-backed talk. I'm not being bull-headed. She's talking about delivering a Gold Standard. That can only be about currency! .............
Iran is also doing everything possible to cut out their water. If you cut the water, you cut the dams, you cut the electricity ...........
Let me jump into another area very quickly: .............. My friend Lt Colonel on Monday suggested that we may see Trump talking with Abadi ............. It's not a suitable environment for Trump to go to Baghdad. If anything he would probably meet Abadi more so up in Brussels. Then the following day, there's an article.
Donald Trump comes out and he says "We have met with all of the winners of the Iraqi election" ............ Who are the winners? Was Sadr over there? Was Abadi over there? ..............
I'd like to tell you that maybe in Baghdad Jared, Donald Trump's son-in-law, was put in charge of the Middle East by Donald Trump. You see Jared knows the ME, very well. The same guy that Donald Trump, sent, the first day that he was elected, that evening he send Jared, and a team of American delegates over to Iraq, to Baghdad.
Jared is being trained like a Trump ................. You see, Trump holds family values. He does things internally with his family. Have you noticed that? He's a family businessman. Jared is better to go and see Abadi than Trump at this point. Iraq I said is too volatile right now, and Jared was over this weekend, in Baghdad. Jared is seen as a Trump, operating with the power and permission of Donald Trump ....................
Trump has delegated the ME to Jared. Because Jared has been working the whole ME — and is accepted by the ME. Brilliant ................ Where the ME didn't want anything to do with Obama, nor would they invite him to the ME, they open their arms to Donald Trump. To see the highest of Trump go to the ME and Trump not request reports anymore, is very good
Abadi is the PM now and today and he should sit his government. You notice that theme in our call tonight ..............
There was an article that came out that said that of the six regions, there's only 2 more  regions that need to be completed — and maybe they'll be ready to sit their government this week. That would be great. (smile) ..............
Donald Trump is doing some fascinating things that are applicable to the RI of the IQD ............. Iran just recently confessed that their currency has been destroyed! "Their Central Bank concedes that it is a total economic failure." .......... They can't hide it ..............
Donald Trump had a lot to do with it ........... I'll tell you what? That currency could come right back if they play along .............. Donald Trump is also putting pressure on Russia, to deal with Iran. There's a lot of tension in Iraq. And as a leader, I like tension, because it's positive ............
Abadi has been meeting all over the place… in many distant lands, and showing everyone: He IS the Prime Minister of Iraq ............... The tension in the citizens is good right now. Because it is against Iran and Maliki —not Iraq and Abadi. It's not against Sadr. It's against corruption in the CBI and GOI. It's not against the SOON to be seated NEW GOI, under Abadi's leadership. Tension also brings SPEED................
Example: Basra protesting. Did you see that Abadi got them over $3 Billion in a snap! Quickly! Way to go Abadi! I wonder who helped you?............$3 Billion for repairs, jobs, reconstruction, electricity, water.
Tension allowed Abadi to do what he did and what he is doing in Basra right now. Which will then bring the seating of a government. It will then bring the ability to arrest the final corrupt. And bring a suitable environment for the RI of their currency ...............
Because like I already told you and I hope you heard me, the powers to be are not
going to let Maliki, and Iran, and his goons, do to this currency that was printed in 2003 the same that they did to the currency that was printed before that .............
Real quickly I'd like to look at some articles here: .............
Post
#40
(yesterday's thread) ..............
https://www.ktfalways.com/forum/frank26-daily-posts/frank26-07-14-2018/page-2/#p391588
............. "The government STOPPED Facebook and Twitter. And they brought in reinforcements by 30,000 troops to the South of Iraq." ................... Why? Because there's too many leaks! Fascinating isn't it? ..........
Post # 44 (yesterday's thread) ..........
https://www.ktfalways.com/forum/frank26-daily-posts/frank26-07-14-2018/page-3/#p391592
................... Is Mr. Alaq the best Central Bank Governor in the Arab World? ......... (that's nice isn't it?) ............ But what's really nice, is what is highlighted in pink "I compare between his achievements to manage the Central Bank, and the achievements to that of Mr. Shabibi" ............ Now you all know what Shabibi wanted to do with the currency right? And it's comparable to what Abadi's doing right now? ...............
SteelyJan made a post today that really touched me. It was a quote by Warren Buffet: ..........
"Someone is sitting in shade today, because someone planted a tree a long time ago"
Post 141 (yesterday's thread) ...........
https://www.ktfalways.com/forum/frank26-daily-posts/frank26-07-14-2018/page-8/#p391702
................ "Baghdad trade is saying, cutting of the internet and international roads, because it's  paralyzing the financial and the commercial sectors" ............
Cutting off the Internet ...............Cutting off Facebook ............ Cutting off Twitter ............. Shhhhhhhhhhhhhhhhh! .......... And I've decided to shut up too..........
I called Walkingstick. I won't be back until the 27th unless something happens. But in between that time period, is there anything that we can do for the family? Please? Sigh…. And it wasn't until much later that we talked that evening he said ....... In fact I have it exactly as he gave it to me: ..........
"OK….. tell you what…. I may have something in the next day, or two… that can be shared. I will know more tonight… after our meetings." ............
I know that it's difficult and I know that the things that I bring you are in my opinion and you have to take it by faith. And I want so much to tell you about these 4 pages, about our Lt. Colonel, I want to tell you that there is a great possibility that this GOI is gonna sit in that time frame that I gave you. But I don't want to go any further than that ............
I suppose this should be the end of our Conference Call. I find myself in a difficult spot with you, in a precarious position where I want to share more, but it's kinda hard to believe and unless you experience it, unless you're part of it, it can go in one ear and out the other ...............
Did you ever have a UFO experience? One day on June 01, 1990, me and my daughter, we were driving home, and my wife and my son were in the car in front of us. And as we went across this one light, they kept going forward, but right above us, was this big ball of light. At tree top. You roll down your window and you look at it, like, are you kidding me? You know with the whole dome and everything. My daughter was screaming like crazy. We followed it. It communicated.
Ya know the story's deep. But it's MY story. And it doesn't matter how many times I would tell you about the UFO story, it would go in one ear and out the other and you'd say "yeah, right, whatever"  So no matter what I say right now, about our investment, it will be hard to believe.
We end our Conference Call by telling you that the game has changed. And leaks are causing us to be quiet. As far as those that doubt, (1 out of 100), that's ok. But… those  that disrespect, that's not OK. We're going to get rid of you and that's all there is to it.
Our noses are pressed against the wall of the RI, and there's no room to the right or to the left ............... I better stop ...............
Ya all take care of each other. God bless you. I will probably still be with you every day in the Forum. If WS wants to talk I'll put a video together and release it ..............
by RamblerNash

on Tue Jul 17, 2018 10:48 pm
Search in: GURU FICTION & PREDICTION DAILY
Replies: 1
Views: 488
How To Hack Your Own Poop

Have you ever really looked at your own poop?
There's a lot you can learn if you give it a shot.
posted on Nov. 17, 2014, at 10:18 a.m.

Dan Nosowitz
BuzzFeed Contributor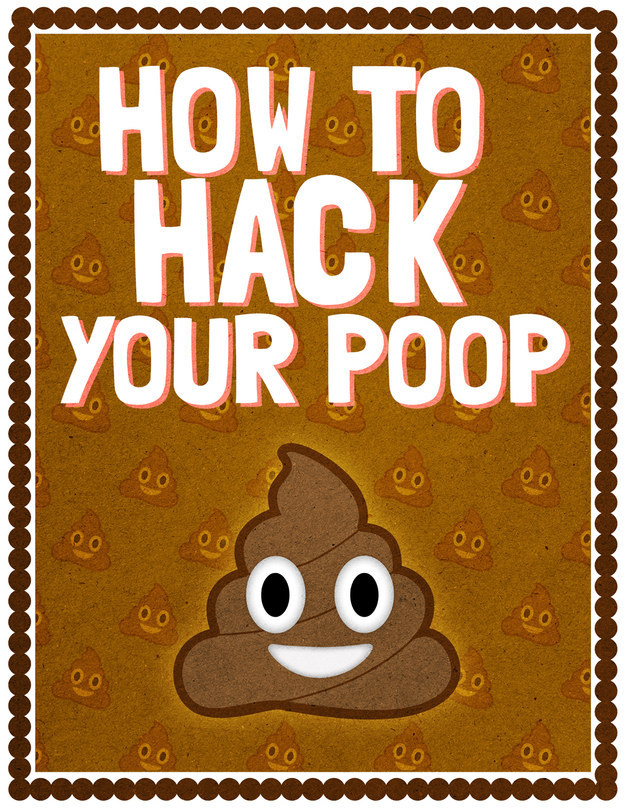 Justine Zwiebel / BuzzFeed
When my poop is bright red, the culprit is usually beets I ate a day or two before. As beets have become a larger part of my diet, the number of seconds I stare at bright red poop while thinking I'm about to die have steadily decreased. But recently, faced with another clean white bowl of shocking red poop, I ran through everything I'd eaten in the past week and came up beet-free. Panic naturally followed.
The longer I spent googling poop colors, the more intrigued I got. What about other colors besides red? What about texture, or size, or smell? Could I hack my own poop? Eventually I called up Dr. Anish Sheth, gastroenterologist at the Princeton Medical Group and co-author of What's Your Poo Telling You? (Chronicle Books, 2007), to find out more.
COLORS

Justine Zwiebel / BuzzFeed
BROWN
Poop isn't brown because all the gloriously colored foods you've eaten have mixed together to create a single shade; it's brown because of bile. Bile is a liquid, produced by our livers and stored in our gallbladders, that mostly serves to break down fats and remove them from digested foods so that our small intestines can snag the fats and process them. "Bile is green," says Sheth, "but as it goes through the GI [gastrointestinal] tract it's actually metabolized by bacteria in the small intestine." That interaction of bile with the intestine's bacteria also results in a byproduct we don't need, called stercobilin, which is disposed of with the poop. And stercobilin, surprise surprise, is brown.
Ultimately, if your poop is brown, you know that all kinds of gross mushy guts are working properly — your liver, intestine, gallbladder, everything has worked together to come up with that lovely brown color.
CHALKY GRAY OR WHITE
Poop that comes out kind of chalky gray or white-colored is a classic sign that something has gone wrong way back in your system. Pale poop could mean you have a gallstone that's blocking the gallbladder from injecting its bile, but it could also be caused by pancreatic cancer. Pale poop: very bad.
YELLOW
Similarly, beware of notably gross yellow poops. You'll know that something's wrong here; they'll smell terrible, for one thing, and feel greasy and disgusting. They're the result of fat finding its way into your poop — remember, your bile was supposed to take care of fat. The problem could be a parasite like giardia, it could be a result of taking an over-the-counter weight loss drug like Alli, it could be evidence of celiac disease. Who knows? See a doctor.
BLACK
Black poop is also very bad. It's called melena, and it means you've got something bleeding in your upper gastrointestinal tract. "This could be caused by something like an ulcer in the stomach," says Sheth. "The blood is red in the stomach, but by the time it goes down through the system, it gets digested and turns thick and tarry and black."
GREEN
Green poop can be caused by totally innocuous things, which we'll get to later. But it can also be caused by what's called "rapid transit," meaning the bile doesn't spend enough time (it usually needs a few hours) in the intestine, getting broken down and churning out brown stercobilin. Green poop caused by rapid transit is usually pretty loose or straight-up diarrhea, and can be the result of some kind of intestinal bug.
RED
Red poops can be bad, sometimes; blood in the lower gastrointestinal tract that hasn't had time to turn black could turn your poops red. That's bad! But red poops are easily caused by dyes, so don't panic. Speaking of dyes…
How to hack your poo if you actually
want it to turn other colors:
After my recent panic in the bathroom, Google helped me come up with the answer: the fancy purple carrots I'd eaten the day before.
See, your digestive tract doesn't bother removing certain kinds of dyes, both natural and artificial, from foods. They're of no particular use or harm, so the body just lets them ride all the way from your mouth to your butt. "Fruits and vegetables that have certain natural colors, that color will be transmitted to your stool and will change the way things look," says Sheth. He specifically named beets (red), blueberries (bluish), and carrots (orange) as common color bandits.
TURN IT RED!
Artificial dyes like Red #40 can have the same effect. A landmark study in 1972, which was, swear to god, subtitled "The Franken Berry Stool," discovered that the red dye in then-new Franken Berry cereal, when consumed in enough quantity, would turn poop red. Red #40 is the most commonly used red food dye in the U.S., though it's been banned in lots of other countries and is on its way to being banned in others. You can find it in Kool-Aid, red candy (Starburst, Jolly Ranchers, cinnamon-flavored gum), cereal like Froot Loops and Trix, Jell-O, Doritos, strawberry ice cream… pretty much everything that's red and comes in a package has Red #40 in it. Want to color your poop red? Drink a bunch of cherry Kool-Aid.
TURN IT GREEN!
Let's go back to our old friend, the green poop. Green poop can show up if you eat an excess of chlorophyll, found especially in dark leafy greens like kale and spinach. The body doesn't break down the colors in chlorophyll, so they head right out the butt. You can achieve this same effect by taking chlorophyll supplements, if you don't want to eat your greens. But, the primary reason leafy greens turn your poop green is because of their high insoluble fiber content. If you want a truly hacked green poop, you're better off going artificial — something with Green #3 dye.
Green #3 isn't as common as Red #40, but you can still find it in canned vegetables and green desserts like popsicles. It's probably worth noting that Green #3 is banned outright in the European Union and has been found to cause tumors. We do not recommend eating enough popsicles to turn your poop lime green, but it will, if you do.
Here's something weird: You can also turn your poop bright green by eating foods with Blue #1, an artificial dye (also, again, banned by several countries for possible deleterious health effects) found commonly in blue- and purple-colored foods. Anything grape- or blue-raspberry-flavored could have Blue #1 in it, and many informal tests have indicated that, instead of turning your poop blue, Blue #1 will turn your poop bright green. That's a fun game! Drink tons of grape Gatorade or eat blue raspberry slushies and watch your poop turn, against all odds, green.
TURN IT ORANGE!
It's also easy, and healthier, to go for orange poops. Foods rich in the vibrant natural pigment beta carotene, like orange carrots, sweet potatoes, and pumpkins, have the potential to turn your poops orange.
TEXTURES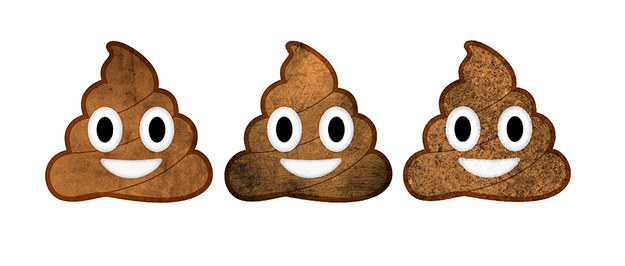 Justine Zwiebel / BuzzFeed
Texture, like so many of the variables that change our poops, is all about fiber. There are two kinds of fiber: soluble and insoluble. You need both of them, but they have in some ways opposite effects. Soluble fiber dissolves in water, helping your poops to be firm by attracting water to them while keeping their structure intact. Soluble fiber also slows down your digestive system (and makes you feel full), and is found in stuff like oatmeal, lentils, nuts, beans, carrots, and apples. Insoluble fiber isn't dissolved in your system, so it finds its way into your poop and speeds up the process of digestion, as well as making your poop a bit looser. It's found in dark vegetables and the skins of potatoes.
IF YOUR POOPS ARE LOOSE…
If you're having green, liquid poops due to rapid transit, you might be able to turn the poops firm and brown again by eating a whole mess of soluble fiber, like in, say, oatmeal, which is what Sheth recommends (instead of Grape-Nuts or fiber supplements) to increase your fiber intake.
IF YOU'RE HAVING SMALL, FIRM POOP PELLETS…
Small, pellet-like poops have a couple potential causes. The scary one would be diverticulosis, a condition in which sort of pocket-like protuberances form on the intestine, which affects how you expel the poop. But you can have that disease for years without knowing it, and the more likely issue with poop pellets is that you're simply not getting enough insoluble fiber to keep your poop nice and pliable and in large pieces. Eat some leafy greens!
IF YOUR POOP FEELS JUST WAY TOO BIG…
Have you ever had a poop that feels like it's too big to even make its way out of you? Assuming you eventually can pass it, that would be called a low-level form of constipation, which can be caused by all sorts of things: not enough physical activity and a lack of insoluble fiber would be the main culprits. Remember how insoluble fiber speeds up digestion? Well, if you don't get enough insoluble fiber, the poop can stay in your intestine for longer than it's supposed to, and your body will naturally keep leaching out all the liquid until the poop is dry and hard. That's very bad news; to make its way out through the gauntlet of muscles between the intestine and the toilet, a poop needs to be a little bit malleable. If it's dry and hard, it can get stuck in there, which is called a "fecal impaction." This can be very painful, and the solutions are all pretty extreme; you may even have to get a doctor to lube themselves up and scoop the poop out.
IF YOUR POOP FEELS SHARP…
Sharp poop is another concern; it can be caused by a lack of insoluble fiber (thus making parts of the poop dry and hard, but not actually stopping it from exiting as in a full fecal impaction) or by eating things that are actually sharp, like sunflower seed shells. But there's also a risk that the poop only feels sharp as a result of some kind of weakness in your inner tissue, like swollen hemorrhoids, a cyst, or the horrific-sounding "anal fissure," which is basically a small tear in your anus. Repeated or particularly severe sharp-feeling poop would definitely be grounds for a trip to the gastroenterologist.
IF YOU HAVE THE RUNS…
What about the other end of the spectrum? Diarrhea, excessively soft or liquid poops, has more causes than most poop-related troubles; it can be caused by bacteria, a lack of bacteria, a virus, a bad meal, stress, various prescribed medications, a food intolerance you didn't know you had (like, say, a minor lactose intolerance), and all kinds of scarier diseases like diabetes and hyperthyroidism. There's not even all that much you can learn based on when you get diarrhea; some causes (like eating dairy despite a lactose intolerance) can produce diarrhea within an hour, and some (like the contraction of various bacteria) take several days to saddle you with liquid poops.
As far as treatments for diarrhea, well, those are pretty basic and familiar. Drink more liquid than you're losing, get some rest, and see a doctor if it doesn't go away within a day or two or if you're experiencing particularly awful pain.
SMELLS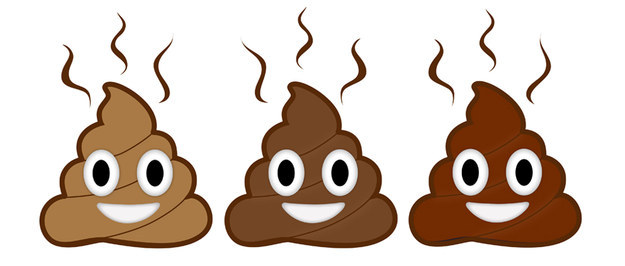 Justine Zwiebel / BuzzFeed
"People always think it's methane, but the foul smell of stool actually comes from a group of compounds called mercaptans," including hydrogen sulfide, says Sheth. Certain foods are especially high in mercaptans, like red wine, coffee, red meat, and cheese; these are sure to cause both smelly gas and smelly poops. But classic smelly vegetables, like broccoli and brussels sprouts, aren't naturally that high in mercaptans. "Vegetarians actually produce more gas than people who eat meat," says Sheth, "but the gas tends to not smell as bad."
Have you ever made bread by putting some yeast in warm water and waiting for it to emit a bunch of air and turn foamy? That's pretty much what's going on in our gut. Fruits and vegetables that are high in fiber are broken down in the small intestine by various bacteria. As a byproduct, the bacteria produce gas, which, well, has to go somewhere. A healthy diet, high in fiber, will produce a lot of gas. Weird but true. But it won't really affect the smell of poops, and Sheth says there probably isn't a way to reliably change the smell of your poops.
THE BOTTOM LINE
The fact that my purple carrot salad turned my poop such a lovely shade of magenta was alarming, but perfectly healthy. And the experience turned me on to so many fun variables in poop — color, texture, frequency, and smell are all like canaries in the coal mine, emerging from my body to alert me to what's going on within. "Hey, Dan!" shouts the red poop. "You ate a whole package of strawberry Jell-O yesterday!" Thanks, poop. I'll never ignore you again.

https://www.buzzfeed.com/dannosowitz/how-to-hack-your-poop?utm_term=.ttAYZEVkeM#.qpPE319MGD

by RamblerNash

on Sun May 15, 2016 12:19 am
Search in: GENERAL DISCUSSION
Replies: 7
Views: 3903