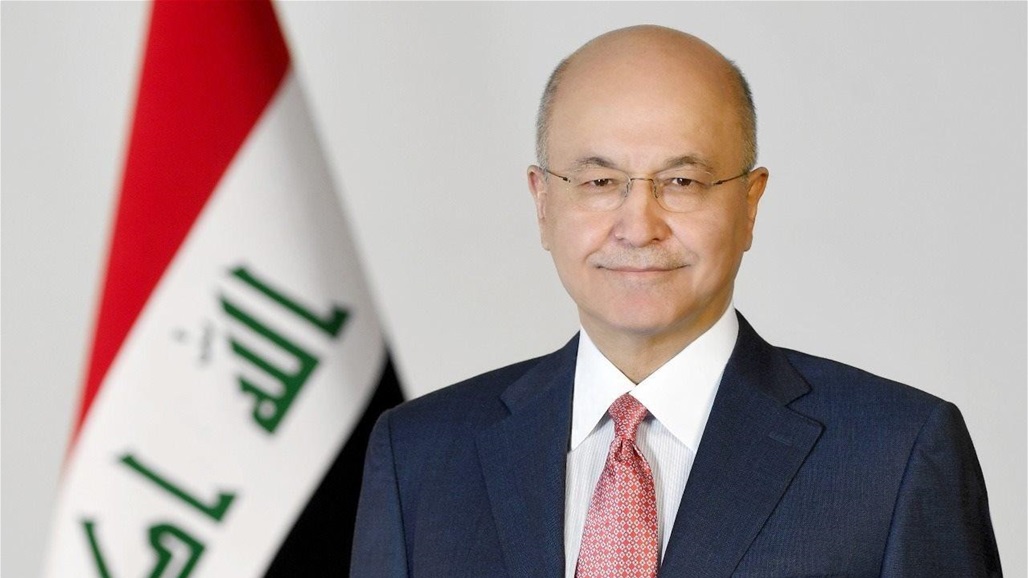 President of the Republic to the United Nations: Iraq is determined to be a fully sovereign state
On Saturday, the President of the Republic, Barham Salih, congratulated the Secretary-General of the United Nations, Antonio Guterres, on the occasion of the 75th anniversary of the founding of the organization, while stressing that Iraq is determined to have a state with full sovereignty.
In the text of the message, Salih said, "Mr. Antonio Guterres, Secretary-General of the United Nations, I extend to you, and to all the employees of the United Nations Organization of the Whole of Our World today, my warmest congratulations on the seventy-fifth anniversary of its founding."
He added, "He stands Iraq Today, it is one of the founding states, supporting the values ​​and principles that the United Nations carries for the sake of establishing world peace and engaging in dialogues in order to reduce tensions, prevent conflicts, and protect human rights. In it, and strengthening efforts together towards achieving common goals serving the peoples of the whole world.
He continued, "In these difficult times, as the world faces Covid 19 with all its health, economic and social repercussions, perhaps it is an occasion that calls for reminding us of the importance of international solidarity to face the challenges together and the positive role that United Nations organizations play in facing this epidemic."
He pointed out that "the world today faces other challenges, the top of which is terrorism, and Iraq had a bitter experience with it. ISIS However, the war against terrorism still exists, and the international effort should continue to fight it and eliminate its sources of financing, by combating corruption as the political economy of violence and terrorism. 
Iraq Towards fighting corruption, recovering its stolen money, and pursuing the corrupt. "He noted," We renew our call to United nations And the international community to continue to support the Iraqi people in facing challenges, as the elections await us, which require ensuring their integrity and achieving the free will of citizens away from fraud and manipulation. 
Iraq to bring about change in the country commensurate with their aspirations, overcoming decades of suffering, and embarking on a promising future in which citizens can enjoy the wealth of their country through good governance, a solid state and full sovereignty that makes the country a meeting point for the common interests of peoples in the region and the world, not an arena for settling others' accounts.
He explained, "We renew our congratulations to the United Nations on its seventy-fifth anniversary, and we remember with respect the departure of the former representative of the United Nations Secretary-General on Iraq Sergio Demelo Who was hit by terrorism, as well as many employees United nations "Those who sacrificed their lives side by side with the Iraqis in the face of difficulties, as the solid will was stronger than the terror plans in the Nile than to continue working for the sake of freedom and peace."
https://www.alsumaria.tv/news/%D8%B3%D9%8A%D8%A7%D8%B3%D8%A9/362150/%D8%B1%D8%A6%D9%8A%D8%B3-%D8%A7%D9%84%D8%AC%D9%85%D9%87%D9%88%D8%B1%D9%8A%D8%A9-%D9%84%D9%84%D8%A3%D9%85%D9%85-%D8%A7%D9%84%D9%85%D8%AA%D8%AD%D8%AF%D8%A9-%D8%A7%D9%84%D8%B9%D8%B1%D8%A7%D9%82-%D9%85%D8%B5%D9%85%D9%85-%D8%B9%D9%84%D9%89-%D8%AF%D9%88%D9%84%D8%A9
VIP NewsHound





Posts

: 1481

---

Join date

: 2018-07-09


Location

: So Cal



---
Permissions in this forum:
You
cannot
reply to topics in this forum