https://www.alsumaria.tv/news/257492/%D8%B5%D8%AD%D9%8A%D9%81%D8%A9-%D9%85%D8%B3%D8%A4%D9%88%D9%84%D9%88%D9%86-%D8%B9%D8%B1%D8%A7%D9%82%D9%8A%D9%88%D9%86-%D8%B7%D8%A7%D9%84%D8%A8%D9%88%D8%A7-%D8%A8%D9%88%D9%85%D8%A8%D9%8A%D9%88-%D8%A8%D8%A8%D9%82%D8%A7%D8%A1-%D8%A7%D9%84%D9%82%D9%88%D8%A7%D8%AA-%D8%A7/ar#
Newspaper: Iraqi officials have asked Pompeo to stay US troops in Iraq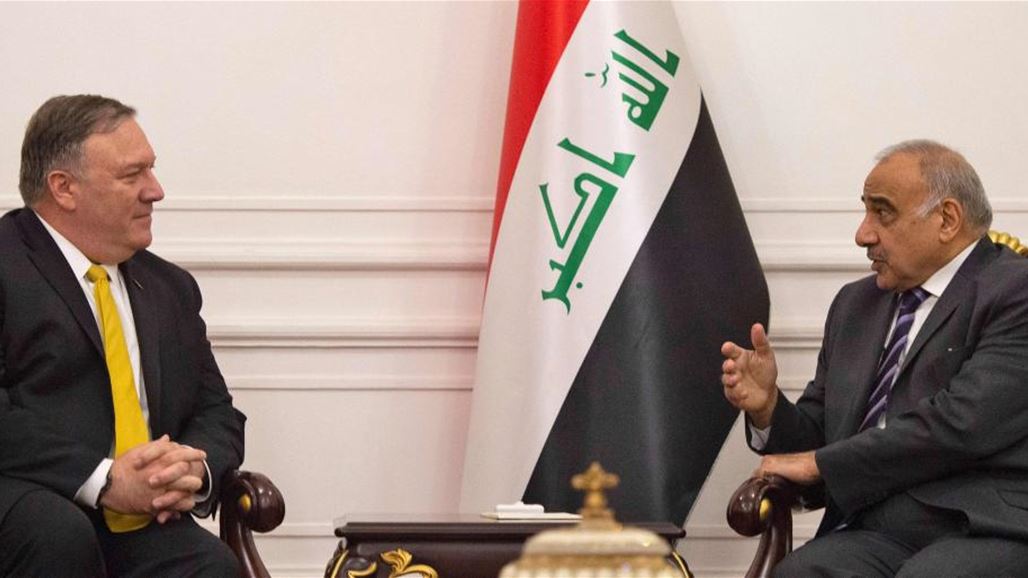 Iraqi officials have asked US Secretary of State Mike Pompeo to keep US troops in Iraq, the Wall Street Journal reported. 

This came during meetings held by Pompeo in Baghdad and Erbil, after a surprise visit to Iraq on Wednesday, according to the newspaper "The Wall Street Journal." 

The newspaper pointed out that "these Iraqi appeals come in the wake of the US decision to withdraw US forces from Syria," noting that "Pompeo's visit to Iraq reaffirms the nature of the challenge faced by the US administration in order to convince regional partners to the decision to withdraw US troops from Syria, Those forces in Afghanistan. "




"Trump's sudden declaration of withdrawal of troops from Syria has alarmed the allies," the paper said. "Hence, the Pompeo tour comes as an attempt to reassure the Allies." 

The newspaper added that "Pompeo ignored a question to a reporter about the commitment of the United States to maintain a military presence in Iraq, but stressed that his talks in Baghdad were focused on the process of forming the Iraqi government." 

"Pompeo said that there has been real progress in Iraq since the elections and he believes that this will put the country and the region in a better place," the paper said. 

During his surprise visit to Iraq, Pompeo met with the three Iraqi presidents: Prime Minister Adel Abdul Mahdi, Prime Minister Barham Salih and Parliament Speaker Mohamed Halboussi separately.

The Iraqi newspaper said: "Iraqi officials are concerned that any withdrawal of US forces from Iraq to create a vacuum may be exploited by the organization is calling, at a time did not rule out the Iraqi Prime Minister, Adel Abdul Mahdi, the deployment of Iraqi forces along the border With Syria, to fight the fighters of a preacher's organization. "
https://www.alsumaria.tv/news/257523/%D8%A8%D9%88%D9%85%D8%A8%D9%8A%D9%88-%D8%AF%D8%A7%D8%B9%D8%B4-%D9%88%D8%B5%D9%84-%D9%84%D9%84%D8%B9%D8%B1%D8%A7%D9%82-%D8%A8%D8%B3%D8%A8%D8%A8-%D8%AA%D8%B1%D8%AF%D8%AF-%D8%A7%D9%84%D9%88%D9%84%D8%A7%D9%8A%D8%A7%D8%AA-%D8%A7%D9%84%D9%85%D8%AA%D8%AD%D8%AF%D8%A9/ar#
Pompeo: He has arrived in Iraq because of the reluctance of the United States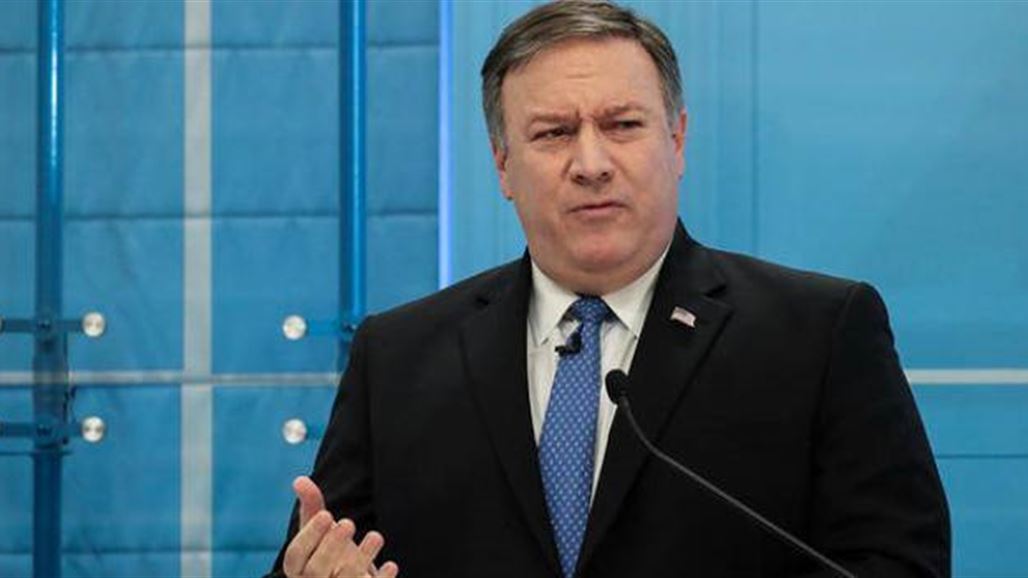 Baghdad

US Secretary of State Michael Pompeo said on Thursday that Da'ash had arrived in Iraq because of US reluctance, saying the latter had been absent from the Middle East for a long time.

"The United States has been absent from the Middle East for a long time," Pompeo told a press conference in Cairo. "Trump has restored the US role in this region."




"We have been absent from developments in the region since 2009," he said.

"Thousands were killed by Da'ash because of Washington's hesitation," Pompeo said. "Washington was absent and the Iranian people were demonstrating against its regime."
http://www.alayam.com/alayam/world/773902/News.html?utm_campaign=magnet&utm_source=main_page&utm_medium=recommended_articles
[size=34]Confirmed that Tehran had exploited the nuclear agreement to plant and spread terrorism[/size]
[size=41]Pompio: Obama's foreign policy contributed to the emergence of «urging»[/size]
Friday, 11 January 2019
US Secretary of State 
[url=http://www.alayam.com/in-the-news/135466/%D9%85%D8%A7%D9%8A%D9%83 %D8%A8%D9%88%D9%85%D8%A8%D9%8A%D9%88.html]
Mike Pompeo
[/url]
 from the Egyptian capital of Cairo launched a violent attack on former President 
[url=http://www.alayam.com/in-the-news/105893/%D8%A8%D8%A7%D8%B1%D8%A7%D9%83 %D8%A3%D9%88%D8%A8%D8%A7%D9%85%D8%A7.html]
Barack Obama
[/url]
 , asserting that his foreign policy contributed to the spread of terrorism, violence and chaos in the 
[url=http://www.alayam.com/in-the-news/47078/%D8%A7%D9%84%D8%B4%D8%B1%D9%82 %D8%A7%D9%84%D8%A3%D9%88%D8%B3%D8%B7.html]
Middle East
[/url]
 before pointing out that the "era of American inaction" Trump to the White House. In a speech from the American University on the sidelines of his visit to Cairo on Thursday, Pompeo said that Obama, and his administration, reduced the "evil of extremism and extremist ideology," which contributed to the spread of terrorism and militant groups in several countries in the Middle East.
"The United States has long been friends with the people of the region," he said, noting that the lack of awareness of the fact was "a 2009 event," referring to Obama's first term, "affecting millions of people in Egypt and throughout the region." "You remember when another American stood up and told you that militancy does not come from ideology, and he told you that September 11 pushed the United States to give up its interests in the Middle East," he said in a clear criticism of Obama's famous speech at Cairo University in 2009.
He added that the former president's foreign policy, especially in the Middle East, had led to "a bad outcome." "When our friends desperately needed us, we played down the importance of the evil of radicalism and extremist ideology," he said. "The era of inaction has ended," Pompeo said, noting that the United States is a "good force" in the Middle East and has been reintroduced by President Donald Trump's policies in the region. "We learned from our mistakes ... we learned that the US withdrawal is creating chaos," he said. "When we ignore our friends, the problems happen." 
Speaking about the Iranian regime and the nuclear agreement that Trump pulled out last year, the US official said that 
Iran was
 dreaming of taking control of the Middle East. "Trump opened his eyes and refused to overlook that nuclear agreement. The sanctions should not have been lifted. To plant and spread terrorism. "
He also said that Hezbollah terrorist "plays the role of the puppet to Iran .. He has collected and stored many weapons in Lebanon, in flagrant violation of international law .. This weapon is directed to our ally Israel." 
Pompeo called on all partner countries to continue working "to contain Iran's malicious activities and prevent them from spreading terrorism in the world." "The US sanctions against Tehran are the strongest and will be tougher and tougher until Iran becomes a normal state," Pompeo vowed. "The Middle East will not enjoy stability if the Iranian regime continues its march." 
Future plans 
On the future plans of the US administration in the Middle East, Pompeo pointed out that Washington will use diplomacy until the last Iranian soldier leaves Syria to end the suffering of the Syrian people. "There will be no support for the reconstruction of the areas controlled by the Assad regime until Iran emerges and we achieve a political solution," he said.
In Lebanon, America will reduce the threat of Hezbollah, which threatens Israel with its missiles. "Iran believes that it controls Lebanon, but it is wrong," he said. "We will share our partners in building a nation free of Iranian influence and renouncing sectarianism," Pompeo said. "There will be democracy and transparent and fair elections." The US official said the Trump administration would continue to work for a "lasting peace" in Yemen. 
On the other hand, Pompeo revealed that America will support Israel in defending itself against the Iranian aggression. "We will work to keep Israel strong and we will work to achieve peace between Israelis and Palestinians," he said. "It is not easy to recognize the truth, but we must remember it when we see it - our hopes for a bright future in the Middle East," he concluded.
Earlier in the day, Pompeo said Cairo would withdraw from Syria. "President (Donald) Trump's decision to withdraw our forces from Syria has been taken and we will," Pompeo told a news conference with his Egyptian counterpart Sameh Shukri. Pompeo denied there was a contradiction between Trump's withdrawal from Syria and the conditions he later cited senior US officials, including national security adviser John Bolton. He said in response to a question in this regard that there is no contradiction, stressing that «this is the act of the media».
http://www.shafaaq.com/ar/Ar_NewsReader/2af826ac-7cda-45f2-8d47-cf659be93823
[size=32]RT: America delivered a request for Abdul - Mahdi activity of Iranian companies in Iraq[/size]
"Russia Today - RT", quoting an Iraqi political source that US Secretary of State Marc Pompeo demanded Iraqi Prime Minister Adel Abdul Mahdi to work to reduce the activities of Iranian companies operating in Iraq. 
"The recent visit to Pompeo focused a lot on the economic file and how Iraq's compliance with the sanctions imposed on Iran." 
"The United States has expressed its concerns about sending funds to Iran by parties and allied figures in Iraq, in order to help them get rid of the siege," the source said. 
He added that "Abdul Mahdi confirmed to Pompeo that Iraq is working according to what is in his interest, and that the position of the Iraqi state official committed to all."
Keywords: 
---
Permissions in this forum:
You
cannot
reply to topics in this forum