https://www.foxnews.com/world/isis-has-officially-crumbled-and-last-stronghold-liberated-fox-news-has-learned
[size=60]ISIS caliphate has crumbled and last stronghold liberated, Fox News has learned[/size]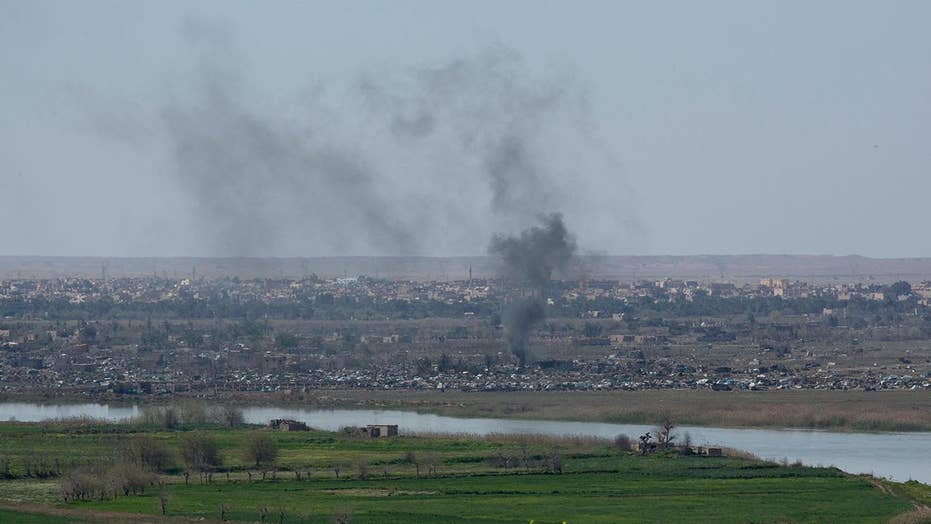 Many fear that ISIS ideology remains in Syria even with the potential fall of the caliphate; Benjamin Hall reports from Syria.[/size][/size]
BAGHOUZ, Syria -- The caliphate has crumbled, and the final offensive is over. While the official announcement hasn't yet been made – Fox News has been told that this village, the last 

ISIS 

stronghold, is liberated.
It's the first time since we've been here in 

Syria

 for five days that the bombs have stopped dropping and the gunfire has disappeared. We have witnessed the end of the 

caliphate 

– the brutal empire that once ruled over 8 million people – is gone.
Troops here are now bringing down the black flags of ISIS. The flags no longer fly over the town, instilling fear.
TRUMP DISPLAYS SYRIA MAP DETAILING ISIS TERRITORY LOSS, VOWS TERROR NETWORK 'WILL BE GONE BY TONIGHT'
The last five days, Fox News has witnessed the last major offensive up close -– with U.S.-backed SDF forces attacking ISIS from three sides, pushing the fighters back, house to house, then tent to tent, against the Euphrates River.
Inside Baghouz, it's easy to see how they hid for so long – not just in tunnels but trenches and hundreds of cubby holes covered by tarpaulins, which blend in perfectly to the dirt.
In the end, the majority surrendered. In fact, since the start of the year about 60,000 have dripped into the desert, and most are now held in camps.
There is a major concern about what to do with the camps though. The SDF has asked for U.S. support in setting up a tribunal here to prosecute them.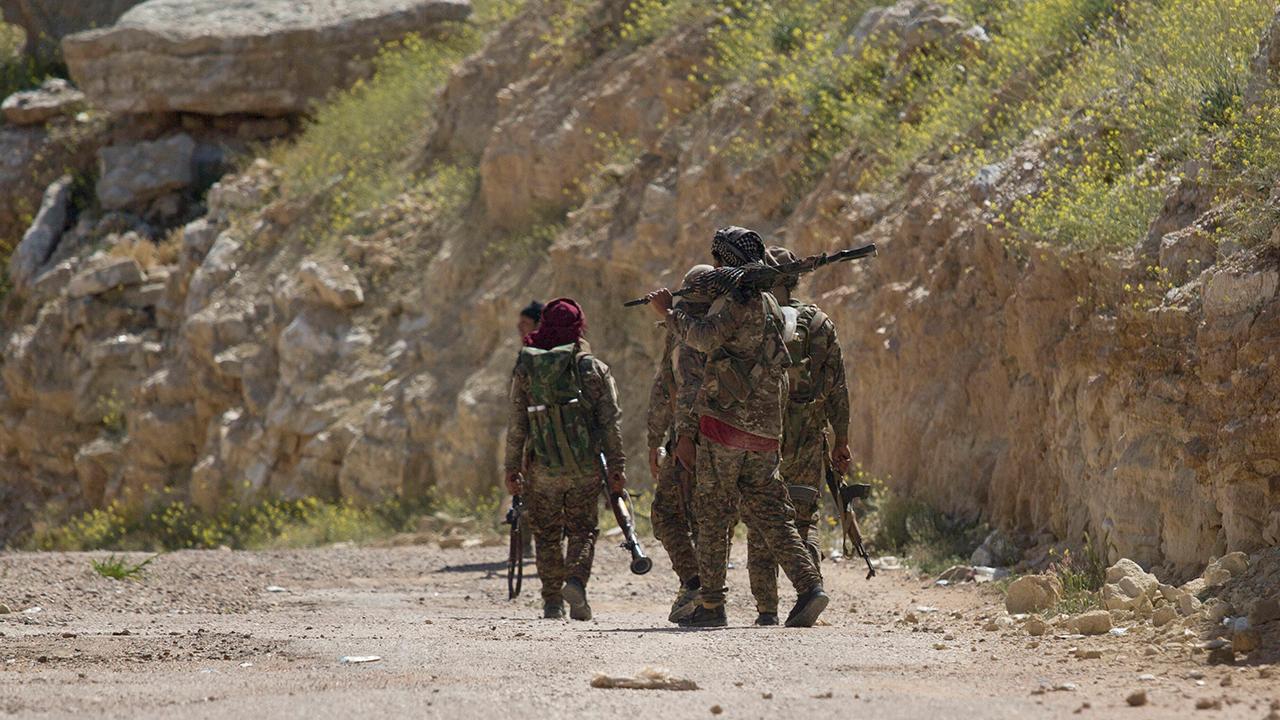 Video
This final corner of the caliphate was in the far eastern desert of Syria– it was where ISIS first captured territory, and it is where they finally lost.
A clearing operation is now underway in the town– and an announcement is expected soon.
CLICK HERE TO GET THE FOX NEWS APP
None of the main surviving ISIS leaders have been caught inside Baghouz. Instead, they left their men to fight alone. It's thought they prepared ahead for the insurgency.
The scale of the devastation here is incredible. And everyone acknowledges that without U.S. support, it would have taken far longer.
LAST ISIS ENCLAVE A SCENE OF 'DEVASTATION:' FOX NEWS VISITS ONLY REMAINING VILLAGE RULED BY TERROR GROUP
For four-and-a-half years, ISIS held this territory, ruling over it with an iron fist. It was the terrorist group's heartland – and they were so dug in that the only way to push them back was to flatten whole villages. The devastation here goes on for miles – and craters like this are a reminder of the critical role played by U.S. airpower. Military jets still fly overhead.
SDF fighters are all so grateful to the U.S., not just for their help in the battle, but now for its decision to leave troops here when it's done. Reports now suggest the figure may be around 1,000 staying.

claud39

VIP Member





Posts

: 11915

---

Join date

: 2018-11-04



https://www.foxbusiness.com/politics/four-star-general-says-trump-deserves-credit-for-defeating-isis-in-syria
[size=60]Gen. Jack Keane: Trump deserves credit for defeating ISIS in Syria[/size]
[url=Viewer ID: 3e18cda6-e83f-c233-aeac-fc893110a08a]Viewer ID: 3e18cda6-e83f-c233-aeac-fc893110a08a[/url]
Gen. Jack Keane (Ret.) discusses the crisis at the southern border and President Trump's comments about ISIS.
[/size][/size]
Retired four-star Gen. Jack Keane said 

President TrumpOpens a New Window.

 deserves credit for defeating 

ISISOpens a New Window.

 in 

SyriaOpens a New Window.

.
"The caliphate essentially has been destroyed. The Islamic State in terms of controlling territory no longer exists," he told FOX Business' Susan Li on 

Trish Regan PrimetimeOpens a New Window.

 on Wednesday. "The President and his national security team and certainly our soldiers who participated in this and leaders deserve a huge amount of credit."
MORE FROM FOXBUSINESS.COM... 
Keane added that Trump's achievement surpassed his expectations.
"They took a system that [President] Obama gave them that wasn't making a lot of progress and accelerated it rather quite dramatically," he said.
President Trump, on Wednesday, while speaking to reporters at the White House, showed a map of ISIS's defeat since his election in 2016 and proclaimed that the caliphate would be "gone by tonight."
CLICK HERE TO GET THE FOX BUSINESS APP
The President agreed to leave 400 U.S. troops in Syria after withdrawing most U.S. forces from the country. In Keane's opinion the remaining American presence is crucial.
"We're going to keep some of our forces still there, somewhere between 400 to 1,000, a very modest amount, to continue to assist the 60,000 Syrian democratic forces who do the fighting," he said. "And along with our airpower we're going to control the air space over Eastern Syria to ensure that ISIS does not remerge."

claud39

VIP Member





Posts

: 11915

---

Join date

: 2018-11-04




---
Permissions in this forum:
You
cannot
reply to topics in this forum