Buy and Sell
18,95 $

Fri Sep 13, 2019 11:53 am

Tranquil Treasures

http://alsabaah.iq/3451/%D8%A7%D9%84%D9%83%D8%B9%D8%A8%D9%8A-%D8%B3%D9%86%D9%85%D8%B6%D9%8A-%D8%A8%D8%A5%D9%82%D8%B1%D8%A7%D8%B1-%D8%A7%D9%84%D9%82%D9%88%D8%A7%D9%86%D9%8A%D9%86-%D8%A7%D9%84%D8%AA%D9%8A-%D8%AA%D8%AD%D9%81%D8%B8-%D8%A7%D9%84%D8%A3%D9%85%D9%86-%D8%A7%D9%84%D9%85%D8%AC%D8%AA%D9%85%D8%B9%D9%8A
[size=36][rtl]Al-Kaabi: We will proceed with the adoption of laws that safeguard community security[/rtl][/size]
Monday 14 January 2019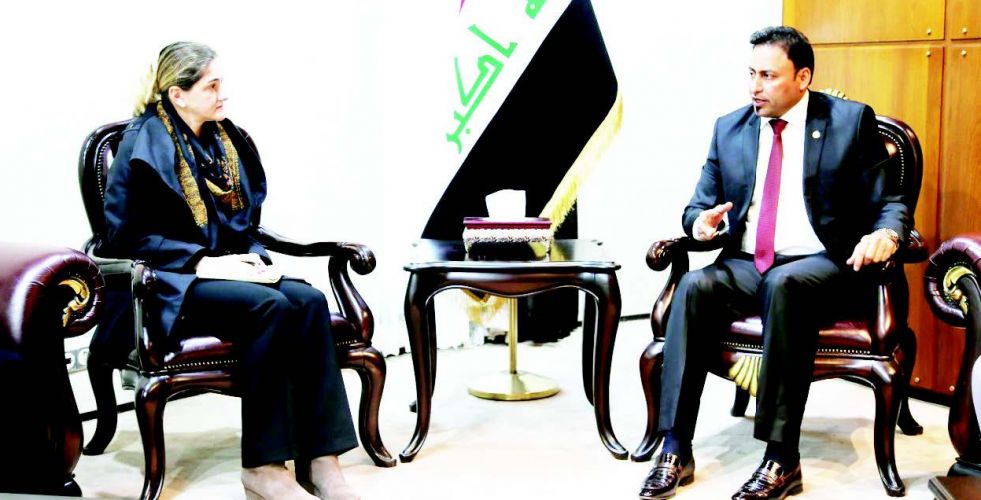 Baghdad / Al-Sabah
 
During his meeting with representatives of Human Rights Watch, First Vice-President Hassan al-Kaabi said on Monday that parliament will pass laws that safeguard community security, 
A statement by the Information Department of the parliament, received by the «morning», that al-Kaabi, when he received the Director of the Office of the Organization (Human Rights Watch) of the United Nations in Iraq Balqis Wali and the memory of Sersen, «The existence of laws governing the security of all names are important for each community, "It is urgent today that there are laws to achieve community security, and the organization of the work of the various means of communication that cause abuse of large and complex problems may even be unable to the security services to resolve with attention to the nature of Iraqi tribal society.
Al-Kaabi added that «there is a trend towards the legislation of laws most compatible with the rights of Iraqi citizens, especially in terms of community security, as well as that there are laws returned to the government to reconsider and according to the new vision, as most of them written by previous governments and does not reflect the will of the street or The sectoral body was written according to the vision of the government, which tended to centralize, or believed that some laws should include police measures to maintain 
He explained that the current situation has changed and the democratic system needs laws that support this system. Citizens' observations and introduction, to ensure complacency 
He pointed out that "among the most important laws concerning human rights, such as the law of the right to information, freedom of expression law and the law of informatics crimes, whose legislation was agreed to its importance in enshrining the principles of the Iraqi constitution and the freedoms of citizens.

claud39

VIP Member





Posts

: 10596

---

Join date

: 2018-11-04




---
Permissions in this forum:
You
cannot
reply to topics in this forum