Key Words
Adam Montana, AdminBill, Benjamin Fulford, Currency Exchange, David Schmidt, Dinar, Dinar Guru, Dinar Recaps, Dinar Rv, Dinar Scam, Dr Clarke, Frank26, Gary Larrabee,
Gurus, Guru Hunters, JerzyBabkowski
, Kaperoni, Kenny, Monetary Reform, Mnt Goat, My Ladies, Okie, Poppy, RamblerNash, Ray Renfrow, Redenomination, Revaluation, Ssmith, TNTBS, Tnt Tony, WING IT, We Are The People, Willis Clark, WSOMN, Yosef, Zap

https://www.mawazin.net/Details.aspx?jimare=22722
[size=36]Super-Sheikh comments on the death of US President [/size]
[size=36]Bush[/size]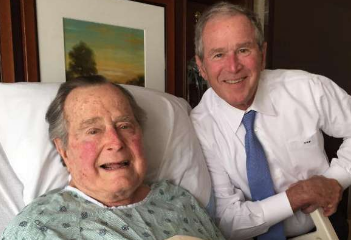 BAGHDAD (Reuters) - A 
member of Parliament, Majlis al-Sheikh Sheikh Sabah al-Sabah, confirmed on Saturday the differences of views of the people over the death of US President George W. Bush. 
"It is certain that the people will be different from the death of US President George W. Bush," he said in a transcript of his personal profile on Twitter, read by Mawazine News. "The Kuwaitis are grateful and remember him well because he liberated their country." 
He added that "Iraqis curse him and remind him of bad, because it destroyed their country, but I say: God has mercy on him .. Jean Machaoul page .. God curse it!" 
Former US President George HW Bush died on Saturday morning at the age of 94
https://www.mawazin.net/Details.aspx?jimare=22750
[size=36]Saddam Hussein hit Bush the father with depression .. How he was suffering because of Kuwait[/size]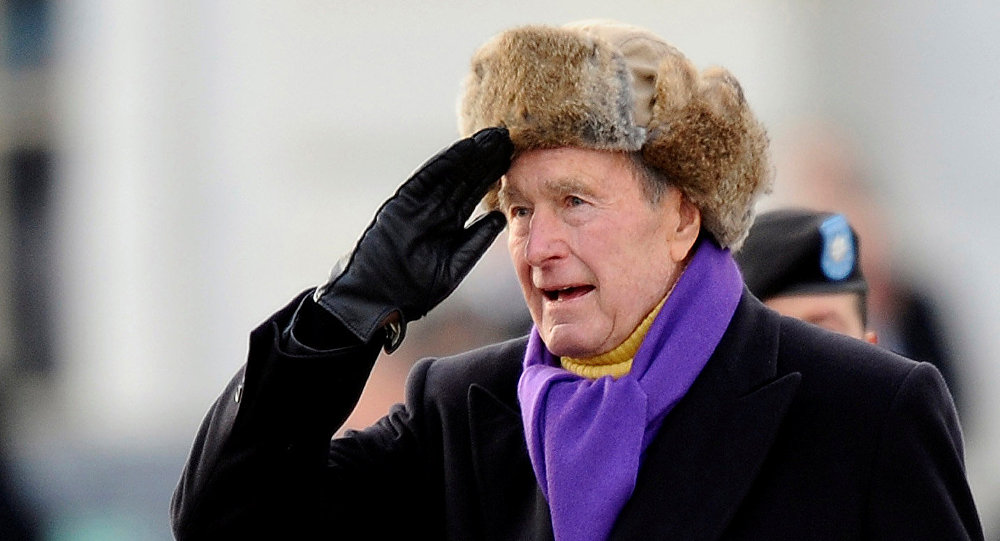 BAGHDAD ( 
Reuters) - US President George W. Bush's term of office is one of the most important periods in the United States and the world. 
The importance of that period is that it witnessed huge events at the international level, such as the Soviet Union, the Middle East, Iraq's invasion of Kuwait, and the American domestic level, where the period of his rule deteriorated the economic situation, described as the worst recession faced the US economy since World War II. 
In 2016, the book "Destiny and Power: The American Odyssey, George Herbert Walker Bush," was published by John Mitcham, in which he discussed the biography of the 41nd President of the United States, George W. Bush. In part, Bush talked about the Iraqi invasion of Kuwait and America's reaction.
After the Iraqi military's control of all Kuwaiti territory, George Bush cut off his stay at the presidential retreat at Camp David and returned to the White House on Sunday afternoon, August 5, 1990 (Iraq war on Kuwait began August 2 and control of Kuwait on August 4) "This situation will not continue. This situation will not continue. This is an aggression against Kuwait," Bush said. 
The George W. Bush administration has tried to decide how to respond to this move, liberate Kuwait and topple Saddam Hussein. 
Bush promised that "the situation will not continue," surprised his close advisers at the White House and asked his national security adviser Brent Scowcroft, "Where did you get that this situation will not continue?" "That's my thing, that's what I feel," Bush said.
Mitcham wrote his book after his meetings with George W. Bush and said he had expressed five times his concern that he would be isolated if he moved forward without authorization and expressed his determination to move forward even if Congress did not give him the mandate. 
"If I do not get the votes needed in Congress for the war, I'm going to do it anyway," said Robert Gates, then US National Security Adviser, who asked George Bush what he would do if he did not get congressional authorization. I will be lazy. "
"It's only the United States that can do what needs to be done ... I was hoping Saddam would understand the message, but if he does not, we have to take," Bush said. If this happens and if it does not come to fruition in a few days, it will give up, kill or go out, Congress will say: We did it, doing it". 
Congress approved George HW Bush's request for war on Iraq if UN-brokered mediation efforts failed to get Iraqi troops out of Kuwait.
George Bush was able to form an international coalition to liberate Kuwait. These forces were formed from 32 countries led by the United States of America, numbering about 960,000, half of them American soldiers. On August 7, he declared the war on Iraq to begin in a televised speech. 
Forces succeeded in expelling Iraqi forces from Kuwaiti territory, and coalition forces lost more than 500 troops, mostly from the United States, during the war. 
The book reveals that George Bush was depressed after the war in Iraq, and his aide Marilyn Fitz-Water said he suspected he was due to thyroid disorder. Misham explained that the depression was because of his disappointment that Saddam Hussein remained in power.
Former US President George HW Bush died at the age of 94 on Saturday, according to his family. In a statement to his son, former President George W. Bush on Twitter, he said: "I, Jebel, Nell, Marvin and Doro grieve us to declare the death of our dear father after 94 years" . 
"George Herbert Walker Bush was a man of the ideal personality and the best father any son or son would ever wish." The death of George HW Bush comes months after the death of his wife Barbara Bush in April.
Obama's condolences on the death of Bush's father: managed to expel the dictator entered Kuwait
Saturday, December 1,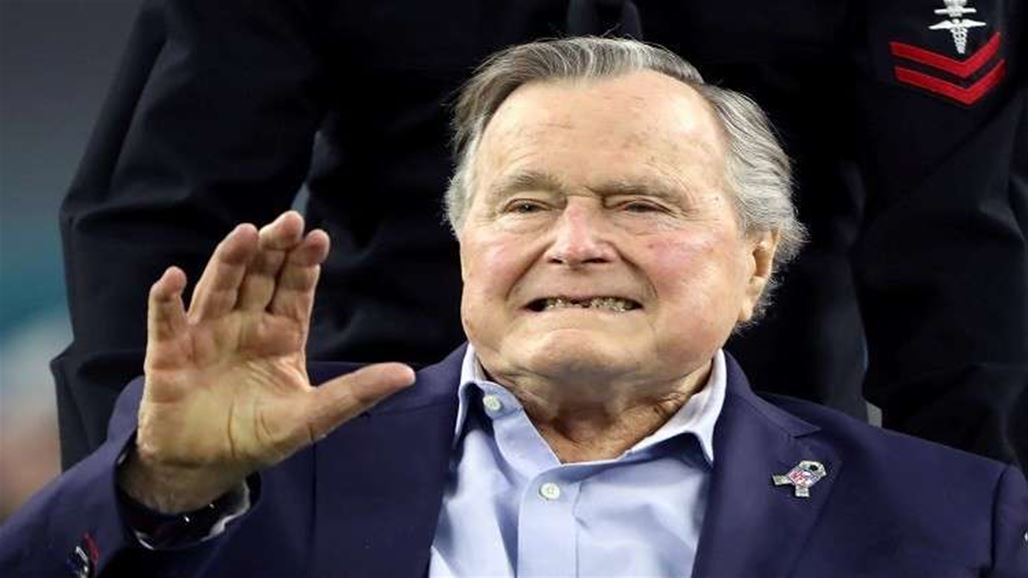 BAGHDAD ( 
Reuters) - Former US President Barack Obama, George HW Bush, mourned the killing of a dictator who entered Kuwait. 

"Father Bush contributed to spreading the idea that the public service is a noble and exhilarating invitation, and that he has done a good job along his journey to life," Obama said in a statement to his office published through his Twitter account. 

"To expand the American promise to new immigrants and people with disabilities, to reduce the scourge of nuclear weapons and to build a broad international coalition to expel a dictator from Kuwait," Obama told George HW Bush, referring to Saddam Hussein.




Obama also praised the diplomacy of the late George HW Bush in the final days of the Cold War, which led to the non-launch of a single shot. 

"He had a legacy of service no one would match, but in spite of that he wanted us all to try to follow his example," Obama said of the late president. 

George HW Bush took the US presidency from 1989 to 1993, a member of the Republican Party, formerly a member of Congress, ambassador and director of the CIA. 
http://www.shafaaq.com/ar/Ar_NewsReader/efbe9f8d-26a9-4ae5-af8f-eb357d2e0f31
[size=32]Trump adviser's  : Bush the father led America at the most turbulent times and expel Saddam Hussein[/size]
US President George W. Bush's national security adviser, John Bolton, said on Saturday that the elder Bush had led the United States in the most turbulent times in recent history.
"I am saddened by the death of President George Bush," Bolton said.
"He led the US states at the most turbulent times in modern history, including the disintegration of the Soviet Union and the expulsion of Saddam Hussein from Kuwait," he said. "It was an honor for me to serve in his administration."
Former US President George HW Bush died on Saturday at the age of 94.
A family spokesman announced the death of former US President George HW, who was suffering from several diseases.
Bush was president for only one term between 1989 and 1993.
Bush is the father of former Republican President George W. Bush, who took office for two terms from 2001 to 2009, and former Florida Governor George Bush, who failed to win the Republican nomination in the 2016 presidential election.
Last April, Methodist Hospital in Houston was admitted to a hospital after he was infected with a blood transfusion, a day after his wife, Barbara, was buried.
He was taken to the same hospital about a year ago for a cough that was diagnosed as a mild case of pneumonia.
Keywords: 
http://www.shafaaq.com/ar/Ar_NewsReader/d985d04a-9931-409d-821a-655dc69fe99a
[size=32]Kuwait attached to the death of the father Bush: The country has escaped the clutches of the Iraqi invasion[/size]
The government of Kuwait on Saturday condemned the death of former US President George Bush at the age of 94.
"The late US president George Bush is barely mentioned," the Kuwaiti official KUNA said in a statement. "Kuwaitis remember their great contributions to liberating the country from the Iraqi invasion and its determination to take out the invading forces and restore legitimacy to their country."
"Kuwait will continue to remember those critical positions of the late president," the agency said, adding that "these positions will remain in the memory of the people of Kuwait and will not be forgotten."
Keywords: 

---
Permissions in this forum:
You
can
reply to topics in this forum