Good afternoon all!
Headlines everywhere are talking about that coward in Austin – I won't mention his name, and it annoys me to no end that every media outlet and website around is rushing to publish his name, giving him credit and recognition. People like that should simply be labeled what they are: cowards. "Coward bomber in Austin dead. Thanks to everyone involved in putting an end to Coward's sick agenda." End of story. No fame, no recognition, just shame.
My thoughts and prayers go out to the families and communities affected.
Dinar
– OMG the RATE! Google has shown a higher than expected rate multiple times in the last couple weeks. IS THERE SOMETHING GOING ON HERE?!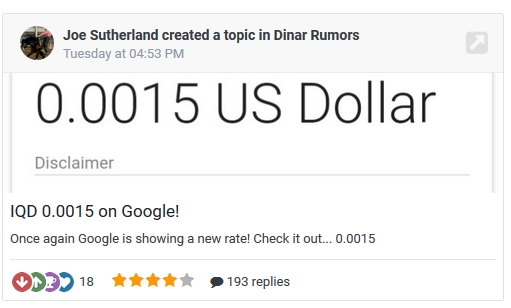 To be blunt – I don't know for sure. I have contacts that can reach into the GOI and CBI to get answers, and none of them are admitting anything right now. The one place I do NOT have contacts, go figure, is the Google itself. I never even thought I should worry about cultivating anything there, but now I'm rethinking that logic! I'd love to go straight to the horse's mouth and ask what's causing these deviations in their shown exchange rate.
I will say one thing for certain, however. NONE of the published rates, whether they are on XE, Google, Coinmill, or anywhere else… NONE of them matter until Iraq itself (via the CBI) announces that they are exchanging with foreign countries.
Here comes some speculation:
The CBI will announce this perhaps a day, maybe 6 hours ahead of the opening bell… but WHICH opening bell? My guess is the one closest to their time zone, with the largest trading capacity in the world – London. Keep in mind that London is 3 hours behind Baghdad, which means 9AM in Baghdad is 6AM in London.
Don't worry, I'm not going to make this too complicated… but the question comes up a LOT: "When will we know?"
We have to take into account all major players in the FOREX market. Here are the top 6, in the order of their trading volume and the time it is in each location at 9AM Baghdad time:
1.     London – GMT (6AM)
2.     NYC – GMT -5 (1AM)
3.     Tokyo – GMT +9 (3PM)
4.     Singapore – GMT +8 (2PM)
5.     Zurich – GMT +2 (8AM)
6.     Hong Kong – GMT +8 (2PM)
This puts us in the U.S. in a bit of a pickle, and it's one I've discussed with several CEOs that know the finer details. "What happens if the RV is announced at 9AM Baghdad time, but our banks don't open for another 8 hours? Will that cause a problem for us?"
In a word: "No". It has been explained to me by multiple sources that banking hours are not federally mandated to be "9-5", and in fact even if a State declares an "emergency situation" that would normally close most banks, our banks in the United States can choose to stay open or not. This also means they can operate 24 hours per day if they choose, or declare a "special situation" and grind through the night on "unusual business hours" to take advantage of a situation like this.
We are not the only ones who are anticipating a profit in this venture… the banks are, too. So we can reasonably expect that if we get that call, whether it's at 1AM or 3PM, we're going to be looking at a timely process that enables us to cash in, the banks to profit, and business to happen.
Back to the rate showing up in different places at different rates… does Google know something we don't? It's certainly possible, but there's probably no way to know for sure.
Another important point… there will be no RV without HCL. The timing of this Google rate thing is extremely suspect when you factor in this:
They are specifically mentioning HCL being addressed on the 29th – 8 days from now. That's precisely the kind of window I'd be expecting to allow the major banks and trade centers time to prepare for a massive influx of a new currency!
If you're not in VIP when this happens... sucks to be you!
And if you ARE in VIP, but didn't go Platinum yet... think about this. Order Platinum right now and you'll have your Certificate by the end of the week. If we have an RV in 8 days, will you really care about the couple bucks you spent? Or will you be more thrilled that you have your Certificate in hand and don't have to wait even a second to use it?
Join me in VIP, or convert to Platinum, here:
http://dinarvets.com/forums/index.php?/store/category/1-vip-membership-packages/
If you're an OSI member, your Platinum upgrade is 50% off. See here: 
See you in VIP!
Here's the weekly Q's:
 

On 3/16/2018 at 11:50 PM,

Theflyingbird

said:

Okay Adam when is the RV going to happen? Frankie and and all his friends say any day ; please agree with them

Ssmith

GURU HUNTER





Posts

: 20038

---

Join date

: 2012-04-10



*****************
Trust but Verify --- R Reagan
"Rejoice always, pray without ceasing, in everything give thanks; for this is the will of God in Christ Jesus for you."1 Thessalonians 5:14–18 

Kevind53

Super Moderator





Posts

: 27225

---

Join date

: 2011-08-09


Age

: 20


Location

: Umm right here!



Dear
#DOJ
.gov
#FBI
.gov
#SEC
.gov
#IRS
.gov ..
Let's see..
Q: Why would I need to pay a unlicensed currency expert or a non ME geo-political pundit, or a so- called "Dinar guru" having never stepped foot in the country or region.. who falsely claims to have contacts w/in the GOI & CBI .. for insider information about a worthlesss currency that is being promoted as an investment vehicle?
In other words, why are you allowing people to pay a con man to learn less than they already know? 
It doesn't make sense that you're allowing this currency scam to continue ..   
We at D/D are hoping Adam will get his platinum or VIP upgrade someday soon at a federal lock up. 
#SeeACrimeReportACrime

Tinef

VIP Member





Posts

: 137

---

Join date

: 2015-11-27



---
Permissions in this forum:
You
cannot
reply to topics in this forum