10-12-2013Intel Guru Okie_Oil_Man I AM BEING TOLD THERE ARE IMPLICATIONS REGARDING THE PROPOSED VOTE BETWEEN THE SENATE AND CONGRESS THAT WILL OCCUR MONDAY NIGHT THAT COULD HAVE AN INFLUENCE ON THE RELEASE OF OUR FUNDS FROM OUR INVESTMENT. (CURRENCY EXCHANGE I SHOULD HAVE SAID). THESE AT THIS EXACT MOMENT IN TIME IS FACTOR'S THAT MAY (MAY OR MAYBE) COME INTO PLAY MAKING NEXT TUESDAY BEING A POSSIBLE DATE. ....I AM VERY RELUCTANT AND WEARY OF GIVING INFORMATION FURNISHED TO ME THAT DOESN'T OCCUR. THEREFORE HENCEFORTH I WILL NOT MAKE ANY POST PROPOSING MY LANDING TIME.
 
I WILL HOWEVER REMAIN VIGILENT AND ATTENTIVE TO WHAT IS TRANSPIRING AND MAY "ELUDE" TO THE INFORMATION ONLY. I CLOSE WITH COMPLETE CONFIDENCE IN OUR INVESTMENT AND THE NEARNESS OF EACH OF OUR "FORTHCOMING BANKING ACTIVITY". R/V HAS OCCURED---ACTIVATION IS WHAT WE NOW AWAIT. [how long can they hold this activation back?] NOT LONG---FURTHER DELAYS WILL CAUSE THE IMF TO TAKE ACTIONS TO ACTIVATE---WHICH WE DONT WANT---THEIR STARTING RATE IS VERY LOW AND NO WHERE NEAR WHAT WE SEE ON THE SCREENS AS THE RATE IS NOW.
 Now that is some real Cover Your Azz verbiage there.  WOW !
I know him and Tony both say, RV has occurred and we only Await Activation!!!! How can that be? If it occurred we should be able to see that it has!!!
:spell:
*****************
Makin' Plans...
 Praise God for all things, and he will give us the desires of our hearts!
Super Moderator





Posts

: 4683

---

Join date

: 2011-10-16


Age

: 62


Location

: The South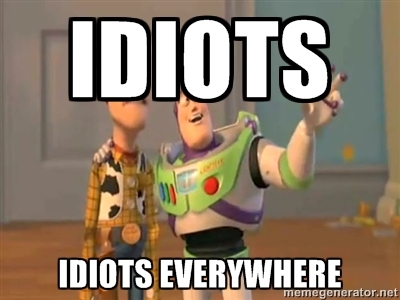 *****************
Trust but Verify --- R Reagan
"Rejoice always, pray without ceasing, in everything give thanks; for this is the will of God in Christ Jesus for you."1 Thessalonians 5:14–18 
Super Moderator





Posts

: 27247

---

Join date

: 2011-08-09


Age

: 23


Location

: Umm right here!



Its the same senario they have been following for years. It goes like this.

1) All is quiet but stay vigillant peeps.

2) Just got off the phone with my contacts and all I can say is what Im hearing is better than good.

3) I just heard late last night from a 3 letter agencies, all is done.  

4) Plane is coming in for a landing, you should be in the bank Monday or Tuesday, Friday at the latest.

5) A few things still needed to be done and thats why it was held up, but all is done now, just waiting for the activation 6) Then belittle and condescend your followers for questioning your "intel" because Okies is working dillegently to help all of those who are uniformed.

Through it all they throw in the religious buzz phrases to keep people from questioning the man of God. It drags out for 6 to 8 weeks and then starts over again.

Month after Month, Year after Year
Elite Member





Posts

: 234

---

Join date

: 2012-01-01



 Now that you have the method down DinarPhoenix... you can become a guru... have some good sources who can feed you some fake intel?  Let's get this baby rolling !
Hey you forgot my all time favorite one:  "The process is proceeding on schedule, we should see this soon."

If I live to be a thousand THAT one will start a laughing fit that ends with me gasping for air every time.  The process?  The process hasn't changed since they invented the currency exchange system.  If the process was as involved as this one there would never have been currencies, period.  A ten year process?  Shoot, it either is going to revalue or it isn't.  And as far as ASN, AMN, etc.  BULL MALARKY.

Hellow to SEBbbie, miss ya fine lady.

As to Okie not posting anymore - HAHA, how many times has he said that?  I'll believe it when the RV has occurred and been announced and not until.  Oh, and as far as the RV having occurred?  Nah, if it has there is no physical evidence of it.  Just like there was no physical evidence of any injunction being served to launch any RV - figments of Okie's warped mind.  I'll be glad not to have to hear about those figments any longer.
Super Moderator





Posts

: 4074

---

Join date

: 2011-07-06


Age

: 76


Location

: Arctic



Ah, he just posted an HOUR post, does that count as a "Date Post?"  Me thinks it do.  Another false statement from the dean of false statements as the Tigers hold court on the Red Sox.
Super Moderator





Posts

: 4074

---

Join date

: 2011-07-06


Age

: 76


Location

: Arctic



ah this one gets me laughing:  
"I AM VERY RELUCTANT AND WEARY OF GIVING
INFORMATION FURNISHED TO ME THAT DOESN'T OCCUR."
lol! that IS funny! omg I cannot stop laughing! omg omg omg  lololol 
yeah that sounds like an: 

I BETTER START COVERING MY BUTT NOW COMMENT!
oh the lies.......the scam.....THE SCUM.
yet...the RV occured !
where is the bank

dishing out the $$$

oh master goo roo okieoil-liedog?
sheesh!  just GO AWAY!

*****************
If you can't laugh at yourself, you have not lived.
VIP Member





Posts

: 405

---

Join date

: 2013-08-11


Age

: 67


Location

: Hiding out



---
Permissions in this forum:
You
cannot
reply to topics in this forum