[size=36][rtl]The United Nations proposes several strategies to achieve sustainable development in Iraq[/rtl][/size]
Tuesday 15 June 2021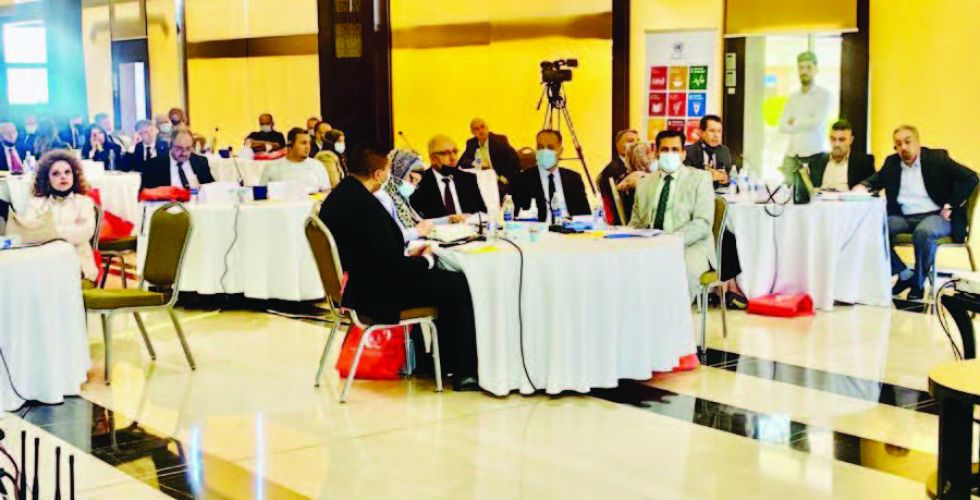 The workshop (ratification of the revised framework of cooperation for the United Nations in the field of sustainable development) focused on the advancement of human resources in Iraq, which represent the basis of development, as well as strengthening institutions and services, including 
It achieves social cohesion.


Minister of Planning and Development Cooperation Khaled Battal said on the sidelines of the workshop: "The UN institutions support the government's efforts in facing the economic challenges whose effects have become clear on the vulnerable classes."


He added, "We are looking forward to more cooperation with the United Nations after we saw the seriousness of the mission in Iraq, and we also look forward to the cooperation in capacity-building to contribute to achieving the sustainable development plan 2020-2024, which put people among its priorities."


He pointed out that "achieving sustainable development requires several tools, and it must be associated with human development, which we, as a ministry, are concerned with this matter," noting that "achieving security is the most important requirement for attracting investment and stimulating the labor market, in addition to restoring professional institutes to supplement the labor market. 
As for the Deputy Special Representative of the United Nations Secretary-General and Resident Coordinator, Irina Voyakov, said: "We propose several strategies, the most important of which are achieving social cohesion and social and participatory protection, which aims at strengthening, effective and participatory national policies and systems that are human-centered, gender-sensitive, respectful of people, contribute to gender equality and strengthen social protection and cohesion."
She pointed out that "the introduction of an economic development strategy for the benefit of all, which aims to promote human-centered economic policies and legislation that contribute to inclusive and diversified economic growth that takes into account social diversity, with a focus on increasing income and decent work for women, youth and vulnerable groups, as well as strengthening the capabilities of people in Iraq to enable everyone's access." Without exception, economic activities and participation in them. 
The strategy of strengthening efficient, effective and comprehensive institutions and services was also presented, which aims to build institutions and systems that provide equitable and participatory services that are human-centered and meet their needs and take into account gender and age, especially for the most vulnerable groups of the population, with a special focus on advocating for women to lead decision-making processes.
Voyakov warned that "the Joint Steering Committee of the United Nations Framework for Cooperation in the Field of Sustainable Development for the years 2020-2024 aims to endorse the revised version of the United Nations Framework for Cooperation in the Field of Sustainable Development, which took into account all the requests made by the government, such as Inclusion of the effects of the (Covid-19) pandemic and the economic and social response plan, and adding a new strategic priority, which is a new strategy to achieve dignified, safe, voluntary and permanent solutions to displacement 
https://alsabaah.iq/48494/%D8%A7%D9%84%D8%A3%D9%85%D9%85-%D8%A7%D9%84%D9%85%D8%AA%D8%AD%D8%AF%D8%A9-%D8%AA%D8%B7%D8%B1%D8%AD-%D8%B3%D8%AA%D8%B1%D8%A7%D8%AA%D9%8A%D8%AC%D9%8A%D8%A7%D8%AA-%D8%B9%D8%AF%D8%A9-%D9%84%D8%AA%D8%AD%D9%82%D9%8A%D9%82-%D8%A7%D9%84%D8%AA%D9%86%D9%85%D9%8A%D8%A9-%D8%A7%D9%84%D9%85%D8%B3%D8%AA%D8%AF%D8%A7%D9%85%D8%A9-%D9%81%D9%8A-%D8%A7%D9%84%D8%B9%D8%B1%D8%A7%D9%82

claud39

Elite Member





Posts

: 18423

---

Join date

: 2018-11-04



---
Permissions in this forum:
You
cannot
reply to topics in this forum