Current date/time is Tue May 18, 2021 3:56 am
Search found 2 matches for Kuwait
[size=42]A seminar on the
#Arab
Gulf in
#Brussels
praises
#Kuwait
's successful mediation to complete
#Gulf
reconciliation[/size]
Jassim Al-Badiwi, the country's ambassador to Belgium: We are pleased that the virtual event coincides with our celebrations of #NationalEids
Feb.26, 2021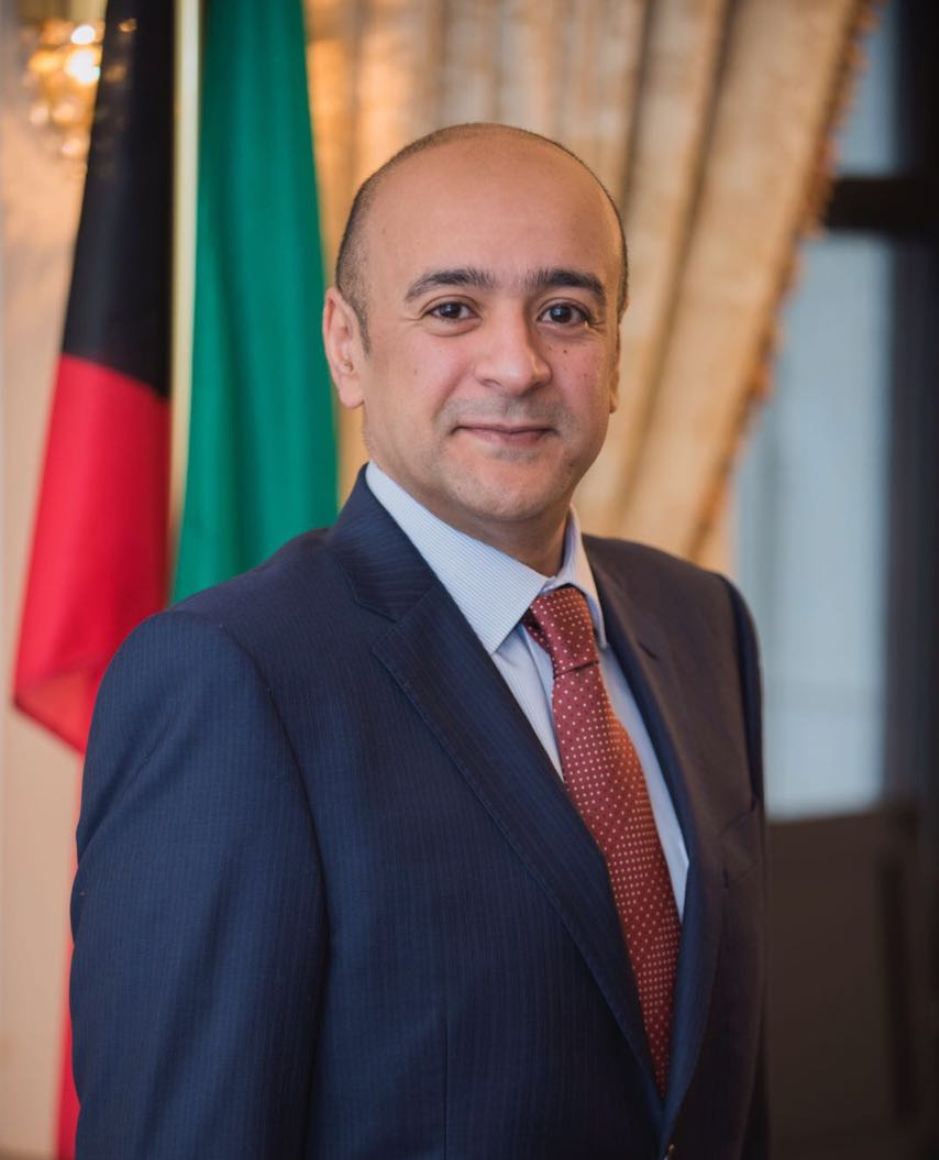 Speakers at a seminar on the Arab Gulf organized by the European Parliament Committee for Relations with the Arabian Peninsula praised the mediation of the State of Kuwait, which has succeeded in completing the Gulf reconciliation process.
"Kuwait has played a very important role in facilitating reconciliation between partners in the Gulf Cooperation Council countries," said Dr. Cinzia Bianco, a Gulf research fellow in the Middle East and North Africa program at the European Council on Foreign Relations, said during the online seminar on Thursday evening.
It reviewed the positions of the State of Kuwait and the Sultanate of Oman in the region, describing them as "neutral states" that focus their efforts on mediation and de-escalation in the region.
While describing Kuwait as a reliable partner for Europe, Bianco confirmed that the (Al-Ula Declaration) signed during the Gulf Summit in Saudi Arabia last December was very important to restore relations on track between the six Gulf Cooperation Council states.
The European Council on Foreign Relations is described as a pan-European think-tank with offices in seven European capitals.

The symposium was held under the title (Geopolitical Prospects in the Gulf for 2021 ... The Impact of the Al-Ula Declaration on Stability and Solidarity, and the New American Administration's Role in Regional Affairs)

For her part, Head of the European Parliament Committee for Relations with the Arabian Peninsula, Dr. Hana Neumann, said that the Al-Ula agreement "was concluded in light of the good offices of Kuwait, and here I want once again to thank Kuwait for its continued work and follow-up on this issue."

She indicated that a delegation from the committee is expected to visit the State of Kuwait this year within the framework of strengthening parliamentary cooperation between the European Union and the State of Kuwait.

In his turn, the Kuwaiti ambassador to Belgium and the head of its mission to the European Union and the North Atlantic Treaty Organization (NATO) Jassem Al-Badawi expressed in his intervention his happiness that the virtual event coincided with the State of Kuwait's celebrations of national holidays.

Ambassador Al-Badiwi said that the important point that must be discussed is the future relations between the European Union and the Gulf Cooperation Council countries.
"We must take advantage of the great momentum that we enjoy in the Gulf Cooperation Council countries now," he added, referring to the Al-Ula agreement.

"It is time to move forward in achieving some tangible results in this relationship, which include the Free Trade Agreement, the Partnership Agreement and the Schengen visa exemption .. This is what we would like to see," he stressed.
He praised the "excellent fraternal agreement" reached in December, adding, "We would like to see more participations and visits from leaders and officials of the European Union."
For his part, the Saudi ambassador to the European Union, Saad Al-Arifi, said in his intervention that "the Al-Ula declaration opened the door for unity and solidarity in the Gulf region."

He pointed out that it put an end to the internal Gulf discord to restore full diplomatic relations, which would make brotherly cooperation continue.
Al-Arifi stressed that the Kingdom always looks forward to cooperating with the international community, the European Union and the United States, in order to establish peace and stability in the region.

In his turn, Qatar's ambassador to the European Union, Abdulrahman Al-Khulaifi, recalled in his intervention the virtues of His Highness the late Amir Sheikh Sabah Al-Ahmad Al-Jaber Al-Sabah.
He also praised the efforts of His Highness the Amir, Sheikh Nawaf Al-Ahmad Al-Jaber Al-Sabah, "the tireless efforts in the successful mediation that brought life to the Gulf Cooperation Council states again."

"Huge steps have been taken to reduce tension and return to normal," Al-Khulaifi said, while also expressing his thanks for the efforts of the American administration in this regard.
For his part, Gabriel Monera Vinals, Head of the Department of Arabia and Iraq in the European External Action Service in the European Union, began his intervention by congratulating the State of Kuwait on the arrival of national holidays.

He stressed that the European Union was supportive of the efforts to overcome the difficulties in the Gulf, especially the recent efforts of His Highness the Amir Sheikh Nawaf Al-Ahmad Al-Jaber Al-Sabah to complement the efforts of His Highness the late Amir Sheikh Sabah Al-Ahmad Al-Jaber Al-Sabah, may God rest his soul.

He stressed that the European Union welcomes the progress made since December and the results of the Al-Ula summit, stressing that the return of relations to their track in the Gulf will contribute to creating more favorable conditions to overcome tensions.

https://www.alaan.cc/article/361727/%D9%86%D8%AF%D9%88%D8%A9-%D8%AD%D9%88%D9%84-%D8%A7%D9%84%D8%AE%D9%84%D9%8A%D8%AC_%D8%A7%D9%84%D8%B9%D8%B1%D8%A8%D9%8A-%D9%81%D9%8A-%D8%A8%D8%B1%D9%88%D9%83%D8%B3%D9%84-%D8%AA%D8%B4%D9%8A%D8%AF-%D8%A8%D9%88%D8%B3%D8%A7%D8%B7%D8%A9-%D8%A7%D9%84%D9%83%D9%88%D9%8A%D8%AA-%D8%A7%D9%84%D9%86%D8%A7%D8%AC%D8%AD%D8%A9-%D9%84%D8%A7%D8%AA%D9%85%D8%A7%D9%85-%D8%A7%D9%84%D9%85%D8%B5%D8%A7%D9%84%D8%AD%D8%A9_%D8%A7%D9%84%D8%AE%D9%84%D9%8A%D8%AC%D9%8A%D8%A9/
by claud39

on Fri Feb 26, 2021 9:38 am
Topic: A seminar on the #Arab Gulf in #Brussels praises #Kuwait's successful mediation to complete #Gulf reconciliation
Replies: 0
Views: 298
KTFA

Doug » February 23rd, 2018
In MY HUMBLE OPINION it looks like they are strengthening the dinar in country at a accelerated pace in order to support the rate when it goes international. This way you don't go from toilet paper currency to somewhere between 1 and 4 dollars also with the dollar weaken things will look better for the PTB.
Darknight1 » February 23rd, 2018
If WS is right then we're not long for the grand finale
Frank26 » February 23rd, 2018
WALKINGSTICK AND I SPOKE FOR OVER AN HOUR LAST NIGHT.

MONDAY CC WILL BE ................... AMAZING.

IT WILL LAUNCH YOU LIKE MAGMA ERUPTING WITH A FORCE OF GREAT ENCOURAGEMENT.

EPIC MOMENTS OF OUR MR STUDY OF THE IQD'S RI THAT LEADS TO AN RV.
NanaCarol » February 23rd, 2018
My eyes keep focusing on the word LAUNCH!
Aggiedad77 » February 23rd, 2018
THIS ARTICLE, WHILE AN OPINION......HAS A NUMBER OF POINTS WITHIN IT THAT WILL BEAR CLOSE STUDY.......WISH I HAD THE TIME TO EXPOUND ON IT, WILL DO SO LATER, BUT JUST IN A QUICK SCAN OF IT I SEE GREAT OPTIMISM LEAPING OFF THE PAGE AT ME......"WE WON" IS WRITTEN HERE IN A NUMBER OF WAYS..........IT'S ALL GOOD....IMO.....EXCEPTIONALLY GOOD IMO.....THANKS SAMSON FOR FINDING THIS AND ALL THE OTHER ARTICLES YOU BRING EACH DAY. ALOHA RANDY
Article: "It's Not the Donations, Stupid": Key Points from Kuwait Conference"
WELL WELL WELL.....I PROMISED TO EXPOUND ON THIS ARTICLE QUITE EARLY THIS MORNING AND THEN SORT OF DIED TO THE WORLD AFTER I GOT HOME AROUND 10 AM MY TIME....SORRY ABOUT THAT.....
BUT IT HAS BEEN GREAT TO CATCH UP ON THE FORUM AND SEE A NUMBER OF OTHERS POSTING THEIR COMMENTS ON IT AS WELL....INCLUDING FRANK.....
SO WHAT IS LEFT TO SAY.....WELL LET'S SEE.
AS i LOOKED UPON THE WRITINGS OF FRANK AND OTHERS I WAS SO VERY IMPRESSED BY ALL THE THOUGHTS THAT WERE POURED INTO SAMSON'S GREAT FIND HERE.....
​YES IT'S AN OPINION PIECE....MAYBE TO BE LOOKED AT AS "ONLY AN OPINION".....BUT IN THE SAME LIGHT, IT IS AN OPINION THAT IMO HITS THE NAIL ON THE HEAD IN A NUMBER OF WAYS.....
AND EVEN POINTS TO SOME FACTS THAT I FEEL ARE CRUCIAL TO OUR STUDY AT THIS TIME.....I APOLOGIZE FOR THIS GETTING A BIT WORDY....BUT HERE GOES.
FIRST OFF WE SHOULDN'T BE DISILLUSIONED THAT IRAQ ONLY GOT $30 BILLION IN COMMITMENTS....REALLY....THAT IS A SIZABLE AMOUNT.....SURE THEY WANTED $88 BILLION OR SO....BUT I'M SURE THEY EXPANDED ON THEIR "WANTS AND NEEDS" LIST TO GET TO THAT NUMBER.....SURELY THEY COULD "GET BY" WITH LESS.
THEN TO POINT OUT THAT IRAQ CAN THEMSELVES FUND MUCH OF WHAT IS NEEDED THROUGH THEIR SALES OF OIL.....ESPECIALLY IN THE SHORT TERM....HEY THEIR BUDGET HAS OIL AT $45 OR SO....AND IT'S TRADING UPWARDS OF $70 AND IS PREDICTED TO GO HIGHER FOR 2018, DO THE MATH....MONEY HAND OVER FIST IMO.
ALL BETS ARE HEDGED ON IRAQ STOPPING CORRUPTION....OR AT LEAST SLOWING IT DOWN....IMO NOT SURE THEY CAN ERADICATE IT COMPLETELY.....TO ME CORRUPTION IS LIKE A COCKROACH.....YOU CAN EXTERMINATE ALL YOU WANT AND ONE SEEMS TO ALWAYS SHOW BACK UP.
SURE THE GOI WANTS THE WORLD TO SEE THEM AS SHOCKED THEY ONLY GOT $30 BILLION....BUT THEY KNOW....AT LEAST THE HONEST ONES KNOW.....IF THEY CAN KEEP THE HANDS OF THE CORRUPT OUT OF THE COFFERS THEY CAN MAKE THINGS WORK FOR IRAQ AS THEY SHOULD.
REMEMBER "SHOW ME THE BEEF"......WELL IMO A NUMBER OF INVESTORS AND BIG MONEY PEOPLE ARE WAITING ON JUST THAT....IRAQ SHOW ME THAT YOU CAN USE MONEY WISELY AND IF YOU DO SO THERE WILL BE MORE WHERE THE $30 B CAME FROM.....BUT "PROVE" TO US YOU CAN MANAGE THIS AMOUNT FIRST.....PROVE TO US ABADI YOU HAVE YOUR HAND ON CORRUPTION.....AND NOT IN THE TILL.....
AND MY OPINION ABOUT ABADI STILL STANDS AS STRONG TODAY AS IT DID IN 2014....HE'S THE MAN WHO CAN MAKE THIS HAPPEN......
HE ROCKED THE WORLD WITH THE WAR ON TERRORISM....YES WITH HELP....AND WITH THE RECONSTRUCTION EFFORTS AND EFFORTS ON CORRUPTION HE WILL HAVE HELP AGAIN....TRUST ME.....FAR MORE THAN JUST INQUIRING MINDS ARE INVOLVED HERE.....BIG...BIG....
I MEAN REALLY BIG MONEY PEOPLE ARE WATCHING AND PARTICIPATING.....THEY NO WANT TO GO HOME UNHAPPY.
THEN LOOK AT THE COMMENT THAT WAS MADE REGARDING THE FOREIGN RESERVES...DID YOU CATCH THAT...."CURRENTLY AT $50 BILLION" THEY SAID......IT HAS DIPPED FAR BELOW THAT IN RECENT TIMES.....BUT IT HAS BEEN BOLSTERED....HOW....WHO CARES.....IT'S ON A COME BACK...THAT IS WHAT MATTERS.....
ABADI AT WORK AGAIN IMO......HE'S PUTTING MUSCLE BACK INTO HIS COUNTRY.....MUSCLE HE CAN TRUST......MUSCLE THAT HE KNOWS WILL HAVE CREDIBILITY WITH THE REST OF THE WORLD.....CHANGE HAPPENS.....GOOD CHANGE MAY TAKE A BIT TO REVEAL ITSELF....BUT CHANGE IS HAPPENING......ALL OVER THE GLOBE.......
​ABADI AND IRAQ ARE A REAL PART OF THAT CHANGE THAT IS BUILDING......WATCH THE HORIZON......IT IS AGLOW WITH BRIGHTNESS.
WITH REGARD TO DEBT THEY ARE FOLLOWING PRESCRIBED GUIDELINES......THEY LISTEN TO THE IMF, THE WB....THE WBG....WHO BY THE WAY IS DIFFERENT THAN THE WB....THOUGH THEY ARE A PART OF THE WB.....
THE WBG IS WELL KNOWN FOR HUMANITARIAN EFFORTS....JUST WHAT IRAQ NEEDS AT THE MOMENT.....IRAQ AS THE PRETTIEST GIRL AT THE PROM HAS MANY...MANY BIG BROTHERS WHO ESCORTED HER TO THE PROM AND WATCH OVER HER EVERY MOVE.....
THEY SUGGEST WHO SHE MIGHT DANCE WITH, THEY WATCH WITH KEEP EYESIGHT ANY AND ALL WHO OFFER TO BRING HER A REFRESHING DRINK, VIGILANT TO ENSURE NO HANKY PANKY IS BEING ATTEMPTED BY THE RUFFIANS WHO STAND IN THE SHADOWS.....THE PRETTIEST GIRL MUST BE PROTECTED.....WE KNOW THAT.
REGARDING THE KW CONFERENCE I LIKE HIS CHOICE OF WORDS....."STRATEGIC MEETING"......WELL OF COURSE IT WAS STRATEGIC......HISTORIC AS WELL IMO......WATCH WITH PATIENCE HOW THIS EVOLVES.......KNOW THAT ABADI AND HIS TEAM HAVE BEEN HARD AT WORK.....BOTH AT HOME AND WITH....MANY...MANY OTHERS IN MEETINGS AND ON PHONE CALLS AND THROUGH MESSAGING.....
SO MUCH IS BEING DONE.....SO MUCH GOT DONE AT THE KW CONFERENCE....NOT JUST WHAT WE VISIBLY WERE SHOWN BY THE MEDIA BUT OUT OF EARSHOT....OUT OF EYESIGHT.....
THE DEALS MADE WILL COME OUT OVER TIME....AND IMO THEY WILL BE SURPRISINGLY GOOD FOR THE IRAQI PEOPLE...AND FOR THE WORLD....FOR GOD'S KINGDOM....ALL IMO ALOHA RANDY
Samson » February 23rd, 2018

"It's Not the Donations, Stupid": Key Points from Kuwait Conference
22nd February, 2018
By Ahmed Tabaqchali (pictured), CIO of Asia Frontier Capital (AFC) Iraq Fund.
Any opinions expressed are those of the author
'It's Not the Donations, Stupid': Key Points from the Kuwait Conference
With a few exceptions, the coverage of the "Kuwait International Conference for the Reconstruction of Iraq"has been confusing at best, ranging from those who thought it was a failure for raising far less than needed to those who thought that that it was a reasonable success for raising a third of what was needed.
These thoughts were not helped by an Iraqi delegation that was focused on presenting a shopping list of projects that would need $88bn in financing. In the end, it was reported that Iraq received pledges of $30bn in loans and guarantees, just over a third of the required total.
Lost in all of this is the significant document "Reconstruction & Development Framework"that the World Bank Group (WBG) prepared with the Iraqi Ministry of Planning (MoP), as well as the IMF's work on Iraq and its presentation at the conference.
The first is a comprehensive analysis of the reconstruction requirements across all sectors of the country and provides plans for short-, medium- and long-term reconstruction needs within the framework of a long-term recovery for the country. In combination with the second, they provide the structure for funding the reconstruction effort.
The key takeaway is that the Government of Iraq (GoI) is realistic in its expectations that external sources of financings will be small, and therefore it expects to utilize its own resources over the next five years for the required reconstruction.
However, given the high existing demands on its budget, it will augment its public investment budget with new financing approaches that are attractive enough to bring in syndicated bank loans, institutional investors and international stakeholders.
These financing approaches were developed with the WBG and thus are based on a thorough analysis of the country's capabilities and challenges, as well as being in-line with the IMF guidelines set in the Standby Agreement (SBA) of June 2016. The IMF's presentation argues that this is feasible and consistent with macroeconomic stability, which means that the reconstruction should contribute to sustainable economic growth.
The IMF argues that the GoI can contribute $77bn over the next five years from the required reconstruction bill of $88bn. This contribution would be made of $50bn from oil revenues and $27bn of debt from raising bonds in capital markets and borrowing from International Finance Institutions (IFI's) and in investments. Crucially GoI's contributions are bound by requirements that Iraq's foreign currency reserves remain at the current $50bn level and that total debt as a percentage of GDP is about 50%.
Therefore, Iraq would need to be able to access debt capital markets or bank lending markets for $27bn and donations of $11bn, or a total raise of $38bn. Investments, depending on their type, would fit into either category. The $30bn pledged goes a long way towards filling the financing gap of $38bn and not towards the $88bn total. The amounts pledged are roughly spilt between investments and export credits/loans.
Sovereign loans and guarantees come with lower interest rates and easier terms than commercial loans or bonds and therefore result in a lower repayment burden on Iraq. While Investments by their very nature are made with expectations of attractive rates of return and thus, given Iraq's needs, will most likely be in productive ventures that either fill a need or contribute to economic growth.
Sovereign export guarantees, while beneficial to the sovereign's own domestic companies, yet by lowering their risk exposure would encourage these very companies to expand in Iraq. Ultimately, investments and guarantees are far more important and sustainable than donations as they are beneficial to both parties: they benefit the home companies as they seek higher growth in Iraq than in slowing mature home markets, yet for Iraq their presence is needed, and they contribute to overall economic growth.
The assumptions made by the IMF are provided in the table below taken from its presentation.
The future price assumptions of Iraqi oil prices are conservative and are derived from the futures markets. Based on prior IMF projections, they would assume that Iraq would not increase its current oil production or exports over the next five years. Moreover, they would assume that Iraq would still be bound by its OPEC production cut throughout 2018. Yet, Iraq has been exceeding these, leaving room for revenue upside in 2018.
Debt, current and new, at around 50% of GDP ensures that debt is below the threshold of 60% used in many debt targets. While debt service, on current and new debt, ensures that debt repayments are sustainable, and with the requirement of maintaining $50bn in reserves that no undue pressure will be exerted on the US $ peg of the Iraqi Dinar (ID). The IMF noted that to ensure that Iraq maintains $50bn in reserves that it, towards the end of the five-year period, would need to refinance some of the maturing debt and thus total financing need is $36bn.
It's worth noting that $41bn out of Iraq's $68bn in external debt at the end of 2017 is in the form of unresolved arrears to non-Paris Club creditors that were accumulated under the pre-2003 regime. This could be cut down by 90% if current negations with these creditors lead to the same debt relief terms accepted by the Paris Club creditors. Were this to happen, total debt as a percentage of GDP would be much lower than 50% giving Iraq greater flexibility to assume more debt while expanding its investment capital spending.
However, the crucial requirement is that Iraq must adhere to the prudent fiscal policy set by the IMF SBA agreement of June 2016 which is not only long overdue but essential to reduce the role of the state in the economy in order to diversify away from oil and for the development of private sector as the main driver of the economy.
The reconstruction needs and funding framework as articulated by the MoP, WBG and IMF fits with the thesis presented by the author in a recent study on Iraq's Economy Post ISIS which concluded that:
"Guided by the IMF following the signing of the Stand-By Arrangement (SBA) in June 2016, the Iraqi government can embark on the long process of decentralizing the state by reducing its role in the economy, encouraging the development of the private sector in agricultural and industrial production, and stimulating private sector employment.
The straight jacket of the low oil price environment, the absence of financial buffers and sovereign wealth funds, plus the need for reconstruction will ensure that the government continues on this path, builds upon it, and ultimately ensures its eventual success."
In conclusion, the Kuwait conference was not about raising donations for Iraq but a strategic meeting on how to rebuild Iraq properly. Or as reported by one of the informed reports:
"… conference in Kuwait was different, in that it moved from being a pledging event to a strategic meeting on how to rebuild Iraq. Private sector representatives joined ministers from key countries with a stake in strengthening Iraq. And the requirement was mainly for investment and credit lines to encourage the private sector to develop commerce rather than continuing the cycle of handouts, both promised and actual."
Please click here to download Ahmed Tabaqchali's full report in pdf format.
REFERENCES:
[1]
http://news.kuwaittimes.net/website/kuwait-international-conference-for-reconstruction-of-iraq-kicks-off-today/
[2] This thread on Twitter highlights the main thrust of the conference lost among the confusion.
There's a fundamental misreading of the #Kuwait conference going on right now. #Iraq did not expect or ask to raise $88bn from donors today. 1/
— Elizabeth Dickinson (@dickinsonbeth) February 14, 2018
[3] Part 3 "Investment Opportunities & Reforms"
https://view.publitas.com/1692ac51-faf7-464f-a9c2-1784ed1da647/iraq-reconstruction-and-investment-part-3-investment-opportunities-and-reforms/page/1
[4]
https://uk.reuters.com/article/mideast-crisis-iraq-reconstruction/factbox-pledges-made-for-iraqs-reconstruction-in-kuwait-idUKL8N1Q55RY
[5] Part 1 "Reconstruction & Development Framework" of "Iraq Reconstruction & Investment"
http://www.cabinet.iq/uploads/Iraq Reconstruction/Iraq Recons & Inves.pdf
[6] Session 3 after clicking on pdf of presentation. Presentation starts at minute 8.20 on the youtube link.
https://view.publitas.com/1692ac51-faf7-464f-a9c2-1784ed1da647/iraq-reconstruction-and-investment-part-3-investment-opportunities-and-reforms/page/1
[7] Iraqi oil tends to sell at a blended discount of $5 to Brent crude.
[8]
http://auis.edu.krd/iris/latest-iris/iraqs-economy-after-isis-investors-perspective
[9]
https://www.thenational.ae/opinion/comment/reconstruction-isn-t-just-about-rebuilding-iraq-it-is-an-exercise-in-nation-building-too-1.705753
Mr Tabaqchali (@AMTabaqchali) is the CIO of the AFC Iraq Fund, and is an experienced capital markets professional with over 25 years' experience in US and MENA markets. He is a non-resident Fellow at the Institute of Regional and International Studies (IRIS) at the American University of Iraq-Sulaimani (AUIS). He is a board member of the Credit Bank of Iraq. LINK
Frank26 » February 23rd, 2018
GREAT OPINION ARTICLE BUT ................. HERE IS THE BEAUTY OF THIS POST IMO .................... IT'S THAT ON LAST MONDAY CC ..................LOL .............. I SAID THE SAME WORDS .............. " IT'S NOT A DONOR KW CONFERENCE TOO PID IT'S AN INVESTMENT CONF !!! ". FASCINATING ..............
Noneb4him » February 23rd, 2018
Holy Giant Lightbulbs, Batman!! This is an excellent article ! Thank you Samson! For me, personally, this gives amazing understanding! Wow! Wow!
by Ssmith

on Sat Feb 24, 2018 8:33 am
Search in: GURU FICTION & PREDICTION DAILY
Replies: 0
Views: 660