You see the importance of the digital system, financial inclusion, as long as the whole banking system, and the digital system for customs taxes for example will not be finished being completed, it will not have any change , but Iraq is pushing a lot on this, and more with Washington's help, and specify today !!
What more can I say !!
Simply tell you that this is my personal opinion !!
Claud (Moose)
-26/04/2021
Dr. Mahmoud Mohieldin, Executive Director of the International Monetary Fund and the United Nations Envoy to Financing Sustainable Development, confirmed that digital transformation is one of the most important issues discussed during the Spring Meetings of the World Bank Group, given its impact on the economy in various fields such as financial inclusion, tax collection, and The efficiency of the economy in general, and this is not a sector, but it has changed the style of economic activity significantly, and central banks are making efforts in many areas to improve their ability to issue digital currencies.
 Dr. Mahmoud Mohieldin added, in exclusive statements to "The Seventh Day," from Washington that digital currencies are fundamentally different from Bitcoin and financial assets. Digital currencies are issued with the support of central banks, and have rules, standards and laws that reverse financial assets that have a high risk of up to a degree. Gambling, and with regard to digital currencies, he said: There are countries that have programs to implement within three to five years to issue an approved digital currency.
Mohieddin explained that this matter will have a significant impact on the monetary policy of some countries, as it will be affected by it and the banking sector in many countries of the world will be affected by it in light of the presence of the digital currency, which is a currency issued by the Central Bank, and ends in the citizen's digital wallet. Therefore, banks must keep pace with the development to keep pace with the next in this field, and the global competitiveness of digital currencies.
 Mahmoud Mohieldin noted, "For example, at the annual financial innovation conference in Singapore, there were offers for banks and insurance companies, but this will need a secure network to ensure these transformations, and thus there will be an impact in various banks, which must be prepared for."
 He added that a country like the Bahamas, for example, created the first digital currency called "Sand Dollar", and the Swedish Central Bank announced a 5-year action plan to issue currencies, which is still under study, pointing out that there is a confusion between digital currencies and cryptocurrencies such as Like Bitcoin, which is dealt with by speculators, some are aware of the risk and others are behind a quick profit, and are unaware of its consequences.
https://uabonline.org/%d8%a7%d9%84%d9%85%d8%af%d9%8a%d8%b1-%d8%a7%d9%84%d8%aa%d9%86%d9%81%d9%8a%d8%b0%d9%8a-%d9%84%d8%b5%d9%86%d8%af%d9%88%d9%82-%d8%a7%d9%84%d9%86%d9%82%d8%af-%d8%a7%d9%84%d8%b9%d8%a7%d9%85-%d8%a8%d8%b5/
VIP NewsHound





Posts

: 18367

---

Join date

: 2018-11-04



[size=35]Washington is ready to support the financial policy of Iraq[/size]
2021-04-26
[size=35]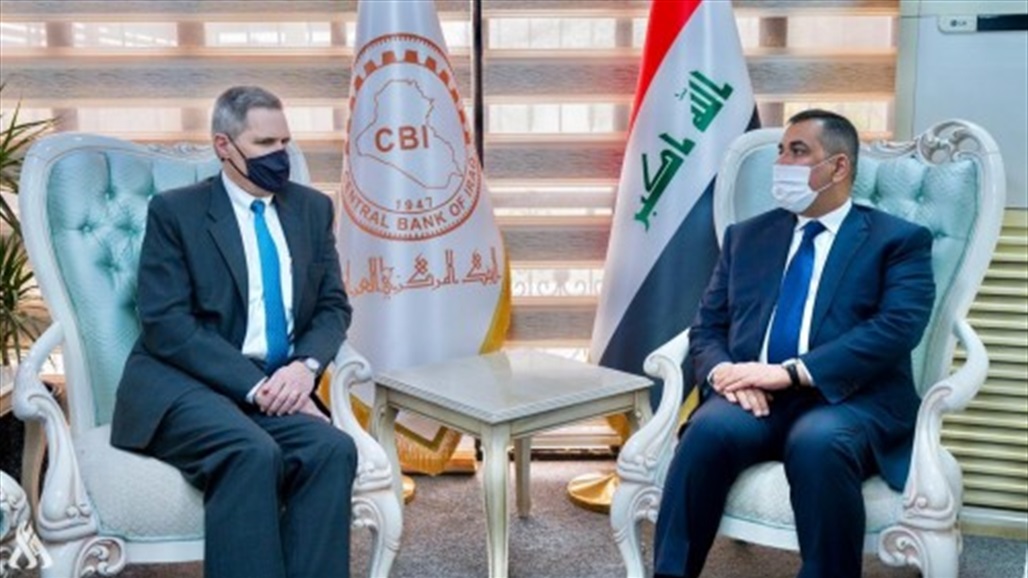 [/size]
Today, Monday, the US ambassador to Iraq expressed his country's readiness to provide support and assistance to the central bank and the banking sector in Iraq.
The media office said a statement of the Central Bank of Iraq received by Alsumaria News, "The governor of the bank Mustafa Ghaleb Frightening the US ambassador received in Iraq Matthew Toller.

The statement added that the meeting dealt with ways of joint cooperation between Baghdad And theWashington In the monetary and economic fields, including the emphasis on the importance of technical support and joint cooperation to advance the reality of the Iraqi banking sector.
In turn, the American ambassador praised the reform plan adopted by the administration of the Central Bank of Iraq towards the banking sector, expressing his country's readiness to provide various types of support and assistance to the central bank and the banking sector in Iraq.

https://www.alsumaria.tv/news/%D9%85%D8%AD%D9%84%D9%8A%D8%A7%D8%AA/380369/%D9%88%D8%A7%D8%B4%D9%86%D8%B7%D9%86-%D8%AA%D8%A8%D8%AF%D9%8A-%D8%A7%D8%B3%D8%AA%D8%B9%D8%AF%D8%A7%D8%AF%D9%87%D8%A7-%D9%84%D8%AF%D8%B9%D9%85-%D8%B3%D9%8A%D8%A7%D8%B3%D8%A9-%D8%A7%D9%84%D8%B9%D8%B1%D8%A7%D9%82-%D8%A7%D9%84%D9%85%D8%A7%D9%84%D9%8A%D8%A9
VIP NewsHound





Posts

: 18367

---

Join date

: 2018-11-04



---
Permissions in this forum:
You
cannot
reply to topics in this forum