Al-Maliki offers reconciliation with Muqtada al-Sadr and reveals: This is what I will do upon my return to prime minister
2021-04-16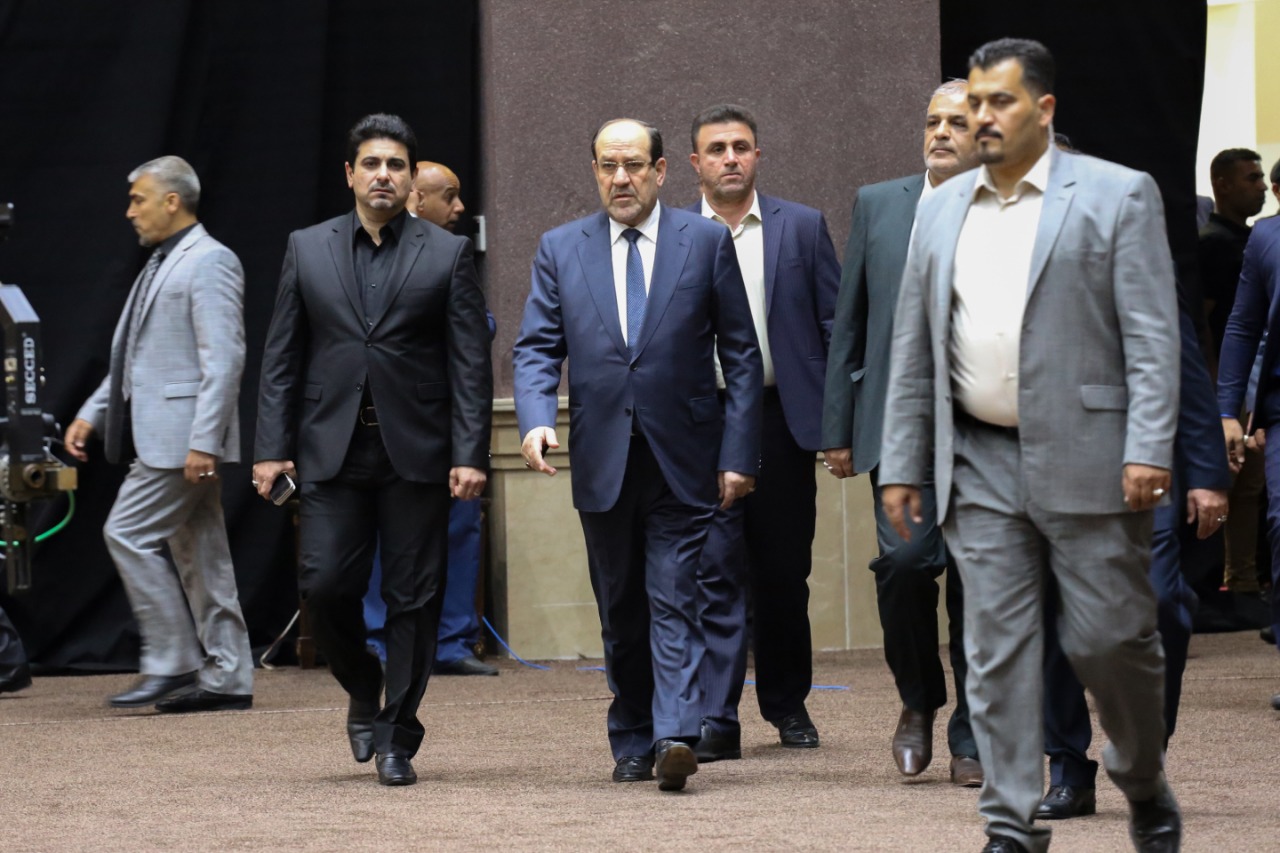 Shafaq News / The leader of the State of Law coalition, Nouri al-Maliki, confirmed that he does not want the continuation of the dispute with the leader of the Sadrist movement, Muqtada al-Sadr.
Al-Maliki said in statements reported by his media office, "My hand is extended to everyone who wants to reconcile with me, and I do not want rivalries, and I do not want the continuation of the dispute, neither with Muqtada al-Sadr nor with anyone else," but he stressed at the same time that there is no mediation for reconciliation with Al-Sadr.
Regarding the elections, Al-Maliki said that the Arada movement led by Hanan Al-Fatlawi will be affiliated with the State of Law coalition in the upcoming elections.
He also expressed his fear of international supervision and the uncontrolled weapon of the elections. He said, "We accept international monitoring of the elections and we refuse supervision. We also refuse to postpone the elections at all."
However, he did not rule out that elections scheduled for next October would not be held "in light of security challenges."
He also expressed his reservations about the district system in the election law, stressing that "it has been imposed."
And on the government of Mustafa Al-Kazemi, Al-Maliki, who is prime minister for two terms, said, "The political forces must support the Al-Kazemi government in positive steps. It is the lack of political accord with it. "
And in the event of his return to head the government, Maliki said, "The people will decide my return to prime minister, and if that happens, then my first step is to impose security and the prestige of the state in Iraq."
He added, "Mosul did not fall militarily, and fell by a plot," referring to ISIS's sweep of large areas in Iraq in 2014 during his tenure as prime minister.
He asked, "How did 30,000 policemen withdraw from the governorate at a moment, and how did the forces, officers and weapons withdraw from Mosul and Salah al-Din. Details of the plot to overthrow Mosul have been recorded in my notes, and will be issued soon."
The situation in Nasiriyah governorate, which has witnessed bloody demonstrations throughout the past period, also stopped. "The situation in Nasiriyah is still unstable, and earlier it was fallen and was partially contained. I do not know whether there is a third party, and I do not believe it exists."
https://shafaq.com/ar/%D8%B3%DB%8C%D8%A7%D8%B3%D8%A9/%D8%A7%D9%84%D9%85%D8%A7%D9%84%D9%83%D9%8A-%D9%8A%D8%B9%D8%B1%D8%B6-%D8%A7%D9%84%D9%85%D8%B5%D8%A7%D9%84%D8%AD%D8%A9-%D9%85%D8%B9-%D9%85%D9%82%D8%AA%D8%AF%D9%89-%D8%A7%D9%84%D8%B5%D8%AF%D8%B1-%D9%88%D9%8A%D9%83%D8%B4%D9%81-%D9%87%D8%B0%D8%A7-%D9%85%D8%A7-%D8%B3-%D9%81%D8%B9%D9%84%D9%87-%D8%B9%D9%86%D8%AF-%D8%B9%D9%88%D8%AF%D8%AA%D9%8A-%D9%84%D8%B1-%D8%A7%D8%B3%D8%A9-%D8%A7%D9%84%D8%AD%D9%83%D9%88%D9%85%D8%A9
VIP NewsHound





Posts

: 18398

---

Join date

: 2018-11-04



---
Permissions in this forum:
You
cannot
reply to topics in this forum