Iraq is taking the investment road after months of the salary crisis
04/14/2021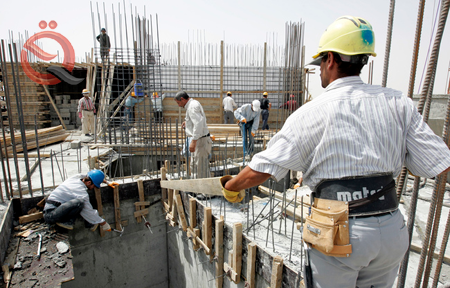 Iraq is rushing to attract large foreign investment in the energy sector, in conjunction with an expected escalation of financial returns following the decision of the OPEC Plus agreement to increase production, which will help enhance its weak financial position.
Iraq is a founding member of OPEC and the second largest oil producer in it, charting its way forward with a number of public and private sector contracts through which the government hopes to support and entrust its financial resources after it was forced last year to reduce the value of its currency.
Iraq's investment trend now contrasts significantly with its financial situation last year when its economy was on the brink of collapse, with a flabby public sector consuming $ 5 billion a month to pay the salaries of government employees, and it was difficult for the government to provide it.
Oil prices are now 50% higher than they were six months ago, and Iraq has also been allowed to increase its oil production, as OPEC Plus looks to pump an additional 2 million barrels per day to the market by next July.
According to the International Monetary Fund, the Iraqi economy shrank by 10.9% last year and it is expected to grow by 1.1% during this year, supported by the recovery of oil prices and higher production quotas in OPEC.
The World Bank also expects the country's economy to grow slightly this year by 1.9%, and expand 6.3% over the next two years.
Rising oil prices and increasing Iraq's share of oil production in accordance with the OPEC Plus agreement will help increase the country's reserves of hard currency, which shrank last year.
Prime Minister Mustafa Al-Kazemi said last Monday that Iraq's hard currency reserves have increased to more than 60 billion dollars. He stressed that his government will redouble efforts to end corruption.
Jihad Azur, Director of the International Monetary Fund for the Middle East and Central Asia, told The National news site: "Making progress and perseverance on financial settlement will be an essential factor for the sustainability and stability of the economy in Iraq, despite the improvement in oil prices."
Azur added, "The high oil price is an opportunity to advance some structural reforms that will allow achieving a higher rate of overall growth in the country.
Regional investors are cautiously looking at Iraq as a potential investment destination this year. The Arab Petroleum Investments Company is currently evaluating potential investments in Iraq in the energy sector as well as renewable energy, according to its CEO, Ahmed Ali Ateeqa.
The multi-banking company, which is owned by the ten member states of the Organization of Arab Petroleum Exporting Countries (OPEC), is looking to finance projects in Arab oil-producing countries that witnessed difficult economic conditions after the war, such as Iraq and Libya, and plans to spend nearly $ 2 billion this year.
Atiqa said in an interview with him, "Iraq does not have that huge financial balance. That is why he must think about a mixture of resources that can be mobilized, including the support provided by multiple financing institutions, especially with regard to huge projects in the energy sector."
He added that attracting private investment should be the "most permanent source" of funding that the Iraqi government could raise.
Regional support is so vital to Iraq, which provides support through export credit financing to foreign investors looking to participate in the country's lucrative energy industry projects.
At the beginning of this month, Parliament approved the 2021 budget of $ 89.65 billion, with an estimated salary of $ 19.79 billion. The spending capacity was calculated based on the price of $ 45 a barrel, with an export rate of 3.26 million barrels per day.
The state relies on its budget on 97% of the resources of its oil exports. The International Monetary Fund expects the price of a barrel of oil for this year to be around $ 58.52, and it is expected that next year will be at $ 54.83 per barrel. The average price of a barrel of oil last year was $ 41.29.
Kepler Foundation's data for economic analyzes indicated that Iraq's exports for the month of February reached 3.4 million barrels per day, including the quantities of oil exported through the port of Ceyhan, but exports decreased in the following month of March to reach 3.2 million barrels per day.
Humayun Falakshahi, an oil and gas analyst at Kepler, said that with the regional support the country has received, it is unlikely that Iraq will breach its oil production ceiling over the next three months, because OPEC Plus plans to add 300,000 barrels per day to its quota in May and June, as well as 450,000 barrels per day in July.
VIP NewsHound





Posts

: 18367

---

Join date

: 2018-11-04



---
Permissions in this forum:
You
cannot
reply to topics in this forum