Iraq hands Kuwait the third batch of property and archives during Saddam's invasion
2021-03-28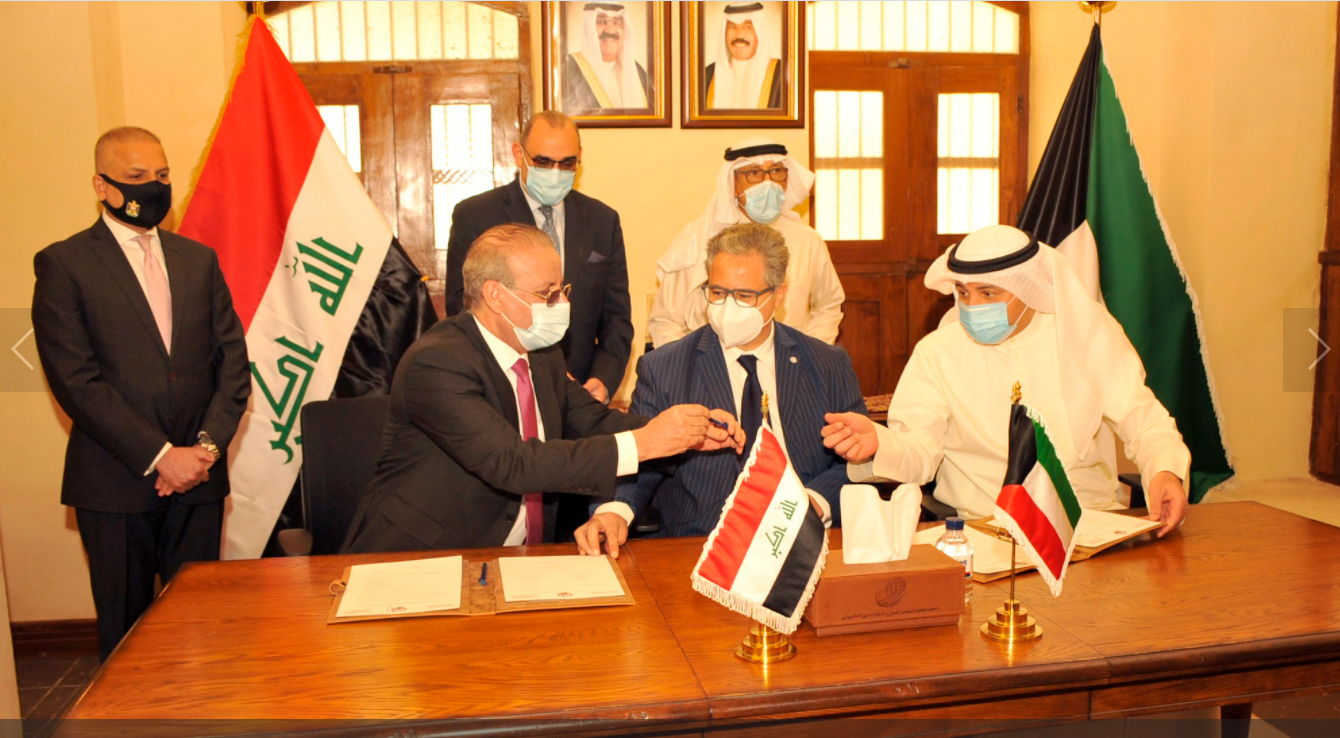 Shafaq News / On Sunday, the Kuwaiti Ministry of Foreign Affairs announced that it had received from its Iraqi counterpart the third batch of Kuwaiti property and archives that were seized during the period of the Iraqi invasion of Kuwait in 1990.
Kuwaiti Assistant Minister of Foreign Affairs for International Organizations Affairs Ambassador Nasser Al-Hayin said in a statement to journalists during the handover ceremony that "this positive step comes within the commitment of Iraq to implement the Security Council resolutions related to the liberation of Kuwait, including Resolution No. (2107.) 
Al-Hain emphasized that "this step pushes for more steps towards strengthening the brotherly relations between the two brotherly countries," expressing that "the State of Kuwait welcomes the efforts made by the Iraqi government to complete the handover of all Kuwaiti property and archives."
He explained that "the third batch includes properties, archives and some equipment for the Ministry of Information, the National Council for Culture, Arts and Literature and the University of Kuwait."
 On the Kuwaiti authorities' finding of the remains of an Iraqi soldier on the island of Bubyan, who had been since the Iraqi occupation of Kuwait in 1990 and was recently identified in the country, Al-Hayn said, "The General Department of Forensic Evidence in the Ministry of Interior has taken the necessary measures in this regard and the remains of the Iraqi soldier will be handed over to the Iraqi delegation visiting the country The Iraqi Foreign Ministry Undersecretary for Legal Affairs, Ambassador Dr. Qahtan Al-Janabi, is currently headed before they leave Kuwait next Tuesday.
 He affirmed the keenness of the State of Kuwait to do everything that would end this humanitarian file by identifying the fate of the prisoners and the missing, stressing in this regard the continuation of the relentless efforts being made to identify the fate of Kuwaiti prisoners and missing persons in Iraq.
For his part, Al-Janabi affirmed "the keenness of the Iraqi government and people to develop bilateral relations with brotherly Kuwait, considering that the step that took place today to hand over the third batch of Kuwaiti property and archives is one of the serious steps in bringing closer relations between the two brotherly countries."
 He reaffirmed "Iraq's keenness to overcome all difficulties to restore relations to their normal character and to launch new and distinguished relations through which we aspire to activate cooperation in all political, economic, commercial, investment and cultural fields."
https://shafaq.com/ar/%D8%B3%DB%8C%D8%A7%D8%B3%D8%A9/%D8%A7%D9%84%D8%B9%D8%B1%D8%A7%D9%82-%D9%8A%D8%B3%D9%84%D9%85-%D8%A7%D9%84%D9%83%D9%88%D9%8A%D8%AA-%D8%A7%D9%84%D8%AF%D9%81%D8%B9%D8%A9-%D8%A7%D9%84%D8%AB%D8%A7%D9%84%D8%AB%D8%A9-%D9%85%D9%86-%D8%A7%D9%84%D9%85%D9%85%D8%AA%D9%84%D9%83%D8%A7%D8%AA-%D9%88%D8%A7%D9%84-%D8%B1%D8%B4-%D9%81-%D8%A8%D8%A7%D9%86-%D8%BA%D8%B2%D9%88-%D8%B5%D8%AF%D8%A7%D9%85

claud39

VIP NewsHound





Posts

: 18424

---

Join date

: 2018-11-04



---
Permissions in this forum:
You
cannot
reply to topics in this forum