New developments in the session to vote on the budget
2021-03-28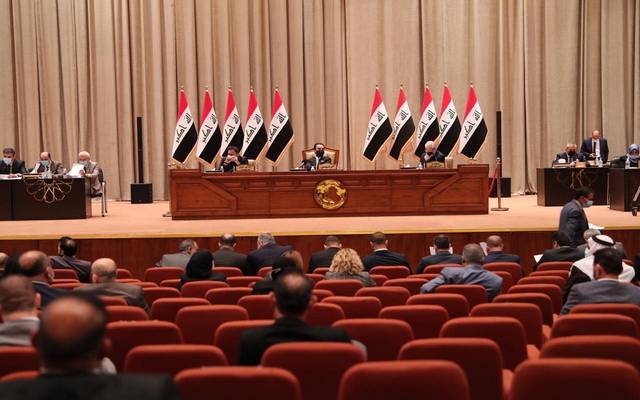 Shafaq News / The representative of the Parliamentary Wisdom bloc, Ali Al-Badiri, revealed on Sunday that the political blocs agreed to resolve the federal budget law for 2021, in today's session, or the possibility of postponing until next Thursday as the maximum date.
Al-Badiri said, to Shafaq News, that
"the political blocs agreed to vote on the federal budget law, this week, and not to postpone it until next week."
He added that "there are meetings between the Presidency of Parliament and the heads of political blocs and the Parliamentary Finance Committee, to reduce obstacles and controversial points to resolve the draft budget law in today's session."
Al-Budairi added, "There is insistence and determination on the part of parliament members to vote on the budget law in today's session," noting that "the percentage of votes on the bill in today's session is 70%."
He pointed out that
"
the political blocs agreed that Thursday is the maximum date to postpone voting on the budget, in the event that no agreement is reached for a vote on it in today's session."
The House of Representatives failed to vote on the federal budget bill for 2021, due to the continuing disagreements over some items.
The budget allocations are estimated at 130 trillion Iraqi dinars (about $ 89.6 billion).
Article 11 of the draft budget relates to the share of the Kurdistan Region, and stipulates that it will deliver 250 thousand barrels of oil per day, with tax revenues to Baghdad, in return for receiving 12.6 percent of the budget.
However, some political blocs are demanding that the article be amended to include a text that holds anyone who decides to spend these funds to the region legally responsible if their oil is not delivered to the federal government.
Political blocs also reject what was stipulated in the budget to exclude a segment of citizens whose monthly salaries exceed 1.5 million dinars (about $ 1030) from benefiting from the ration card, which is a program for the distribution of food rations to the population that has been followed since the imposition of the blockade on the country in the 1990s.
And other blocs refuse to vote on the budget if the exchange rate of the dinar against the dollar is not modified, by returning it to its normal state of 1168 thousand dinars per ($ 100) instead of 1450 per ($ 100).
Iraq relies on oil sales revenues to finance about 95 percent of state expenditures, and is suffering a stifling financial crisis, as a result of the decline in crude prices under pressure from the Corona pandemic.
https://shafaq.com/ar/%D8%B3%DB%8C%D8%A7%D8%B3%D8%A9/%D8%AA%D8%B7%D9%88%D8%B1%D8%A7%D8%AA-%D8%AC%D8%AF%D9%8A%D8%AF%D8%A9-%D8%A8%D8%AC%D9%84%D8%B3%D8%A9-%D8%A7%D9%84%D8%AA%D8%B5%D9%88%D9%8A%D8%AA-%D8%B9%D9%84%D9%89-%D8%A7%D9%84%D9%85%D9%88%D8%A7%D8%B2%D9%86%D8%A9

claud39

Elite Member





Posts

: 18423

---

Join date

: 2018-11-04



---
Permissions in this forum:
You
cannot
reply to topics in this forum