Threatening to exit the Kurds from the political process in Iraq .. The reason?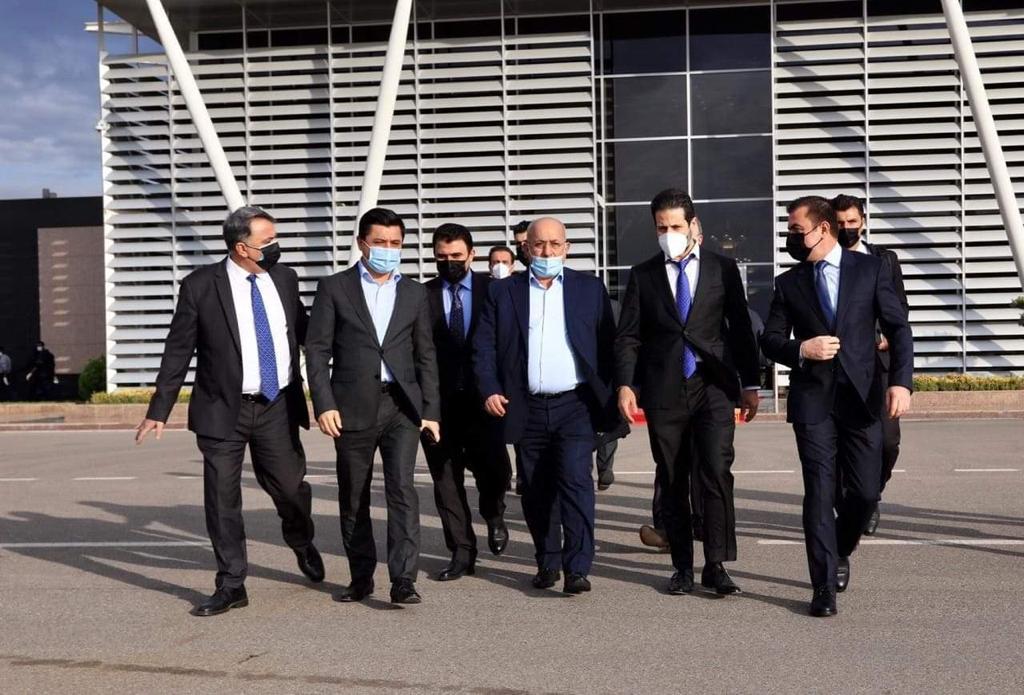 Shafaq News / The head of the Kurdistan Islamic Group in the Iraqi parliament, Salim Hamza, threatened today, Sunday, that the Kurdish political forces will leave the political process in Iraq in the event that the scenario of approving the borrowing law is repeated with the budget law in 2021.
Hamza said, to Shafaq News Agency, that "the Kurdistan Regional Government delegation presented its demands to the political forces in Baghdad as well as to the parliamentary committees," indicating that the delegation "presented many solutions, including the delivery of oil and non-oil revenues to the federal government."
He explained, "We are waiting for the response of the government and political forces to what the delegation presented so that it can come back again and formally conclude the agreement," noting that "there is a lack of seriousness on the part of some parties in Baghdad, which do not want to solve the differences and differences between Baghdad and Erbil, but rather want to impose a fait accompli." On the Kurdish political forces, and this matter we will not allow. "
Hamza emphasized that "Kurdish political forces will boycott the parliament session devoted to voting on the budget bill in 2021, if the project is devoid of Kurdish rights," stressing that "if some Sunni and Shiite political parties try to repeat the scenario of approving the borrowing law with the year budget law. 2021, the Kurds will have a firm stance, and the matter may reach a total withdrawal from Baghdad and a boycott and exit from the political process, and this matter is almost agreed upon between the Kurdish forces.
The regional government delegation arrived in the capital, Baghdad, on the twenty-fifth of January, to engage in a new round of talks in order to secure the region's share in the federal financial budget for 2021.
The delegation included: Minister of Finance Awat Sheikh Janab, Minister of Planning Dara Rashid, Minister of the Region Khaled Shawani, and Chief of the Cabinet of the Provincial Council of Ministers, Omid Sabah.
And he joined the delegation the next day, ‌ Vice President of the Kurdistan Regional Government, Qubad Talabani, who arrived in the federal capital Baghdad, as head of the negotiating delegation.
The Finance Committee in the Iraqi Council of Representatives has been conducting, for more than two weeks, a series of meetings in the parliament building with the aim of collecting observations and making the necessary amendments to the draft budget law.
These discussions come to ensure that the various parties agree on the provisions of the draft budget related to the Kurdistan Region before submitting it to a vote in Parliament. As political blocs seek to make adjustments to the budget items related to the region's share, so that they mortgage their disbursement on handing over the entire oil management file to the federal government.
https://shafaq.com/ar/%D8%B3%DB%8C%D8%A7%D8%B3%D8%A9/%D8%AA%D9%87%D8%AF%D9%8A%D8%AF-%D8%A8%D8%AE%D8%B1%D9%88%D8%AC-%D8%A7%D9%84%D9%83%D9%88%D8%B1%D8%AF-%D9%85%D9%86-%D8%A7%D9%84%D8%B9%D9%85%D9%84%D9%8A%D8%A9-%D8%A7%D9%84%D8%B3%D9%8A%D8%A7%D8%B3%D9%8A%D8%A9-%D9%81%D9%8A-%D8%A7%D9%84%D8%B9%D8%B1%D8%A7%D9%82-%D9%88%D8%A7%D9%84%D8%B3%D8%A8%D8%A8

claud39

Elite Member





Posts

: 18423

---

Join date

: 2018-11-04



---
Permissions in this forum:
You
cannot
reply to topics in this forum