[size=36]Central Bank of Oman introduces new cash denominations[/size]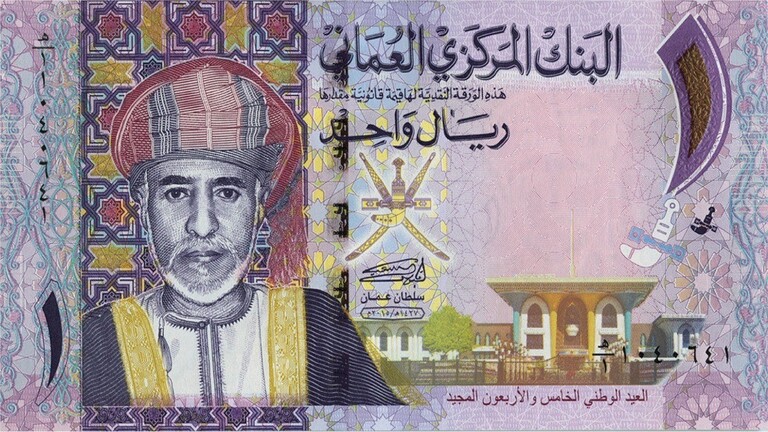 Follow-up - Mawazine News

The Central Bank of the Sultanate of Oman introduced new denominations of currency, to complement the sixth issue of the new national banknotes.

According to the Oman News Agency, today, Sunday, the new denominations are twenty riyals, ten riyals, five riyals, one riyal, half riyals, and 100 baisa. 
Ended 29 / A 43
https://www.mawazin.net/Details.aspx?jimare=137424
VIP NewsHound





Posts

: 18398

---

Join date

: 2018-11-04



Fixed exchange rate From 1973 to 1986, the rial was pegged to the US dollar at 1 Omani rial = US $ 2.895.
 The rate was changed in 1986 to 1 Omani rial = 2.6008 USD, which corresponds to approximately 1 USD = 0.384497 rial. 
The Central Bank of Oman buys US dollars at 0.384 Omani rial and sells US dollars at 0.385 Omani rial. 
It is the third highest monetary unit in the world after the Kuwaiti dinar and the Bahraini dinar . - https://fr.qaz.wiki/wiki/Omani_rial
The story See also: British currency in the Middle East Until 1940, the Indian rupee and the Maria Theresa thaler (known locally as the rial - adopted from the Portuguese " real ") were the main currencies circulating in Muscat and Oman , as the state was then called. 
with Indian rupees flowing on the coast and thaler in the interior. The thaler Maria Theresa were valued at 230 paisa , with 64 paisa = 1 rupee. 
In 1940, coins were introduced for use in Dhofar , followed, in 1946, by coins intended for use in Oman . 
The two currencies were denominated in Bias (equivalent to Paisa), with 200 Bias = 1 Rial. The Indian rupee and, from 1959, the rupee the Gulf have continued to circulate. 
On June 6, 1966, India devalued the Gulf rupee against the Indian rupee. Following the devaluation, several of the states still using the Gulf rupee adopted their own currencies. Oman continued to use the Gulf rupee until 1970, with the government backing the currency to its former peg to the pound, when it adopted the Said rial. 
On 7 May 1970 the Saïd rial (the name of the house of Al Said , not to be confused with Saudi riyal ) was introduced as a currency of Oman to replace the rupee the Gulf . 
It was equal to the British pound sterling and 1 Said rial = 21 Gulf rupees. The Saidi rial was subdivided into 1000 bisa. The Omani rial replaced the Said rial at par on November 11, 1972. 
At that time, the currency became pegged to the US dollar at 1 Omani rial = US $ 2.895, instead of the British pound, a rate that would continue. until 1986, when it was devalued by about 9% to 1 Omani rial = US $ 2.6008. 
Currency name has been changed due to regime change in 1970 and subsequent name change of the country. Since 1975, new coins have been issued with the country name given as Oman. 
- https://fr.qaz.wiki/wiki/Omani_rial
Coins In the 1890s, for coins 1 / 12 and 1 / 4 anna ( 1 / three and one paisa) were minted specifically for use in Muscat and Oman. In 1940, coins were issued for use in Dhofar in denominations of 10, 20 and 50 bazaa. 1 / 2 rial pieces were added in 1948, followed by 3 Baisa in 1959. In 1946, 2, 5 and 20 Baisa pieces were introduced for use in Oman. These were followed, between 1959 and 1960 by 3 kissed, 1 / 2 and 1 riyal coins. In 1970, a currency for all of Muscat and Oman was introduced. The denominations were 2, 5, 10, 25, 50 and 100 kissa. In 1975, new coins were issued with the country name given as Oman. 1 / 4 and 1 / 2 rial pieces were introduced in 1980. Coins currently in circulation are 5, 10, 25, 50 and 100 Baisa, 1 / four rial and 1 / two rial. Coins with a value of 100 bucks and more lost their monetary value on May 20, 2020. Omani Qaboos Coins Picture Value Diameter Mass Composition Edge Face Reverse Year of Face Reverse first strike 5 kissed 19 millimeters 2.65 g Copper coated steel Smooth Qaboos bin Sa'id, Sultan of Oman Year of the strike 1999 10 kissed 22.5 mm 4.1 g Copper coated steel Smooth Qaboos bin Sa'id, Sultan of Oman Year of the strike 1999 25 kissed 22.5 mm 2.63 g Nickel -plated steel Reeded Qaboos bin Sa'id, Sultan of Oman Year of the strike 1999 50 kissed 24 millimeters 5.57 grams Nickel -plated steel Reeded Qaboos bin Sa'id, Sultan of Oman Year of the strike 1999 100 kissed 21.5 mm 4.20 g Copper nickel Reeded Sultanate of Oman Year of the strike 1984 1/4 riyal 26 mm 6.5 g Aluminum bronze Letter Sultanate of Oman Year of the strike 1979 1/2 riyal 30 mm 10 grams Aluminum bronze Reeded Sultanate of Oman Year of the strike 1979 - https://fr.qaz.wiki/wiki/Omani_rial
Tickets On 7 May 1970, the Sultanate of Muscat and Oman issued banknotes in denominations of 100 kissed, 1 / 4 , 1 / 2 , 1, 5 and 10 Saidi rial. These were followed by rating for 100 kissing, 1 / 4 , 1 / 2 , 1, 5 and 10 Riyals emitted by the CB Oman November 18, 1972. From 1977, the Central Bank of Oman issued banknotes, with 20 and 50 rial notes introduced, followed by 200 black notes in 1985. A new series of banknotes was issued on November 1, 1995, and banknotes of 5 rials and above were updated in 2000 with aluminum strips. In 2005, a red 1 rial note commemorating the "35th national holiday" was issued. In 2010, new banknotes of 5, 10, 20 and 50 rials were issued on the occasion of the 40th National Day. The 20 rial note is blue instead of green while the other notes are the same color as before. In 2015, a purple 1 rial banknote commemorating the "45th national holiday" was issued. After July 30, 2019, all banknotes issued before November 1, 1995 became invalid, as well as banknotes from 5 to 50 rials issued on that date without decorative bands. The 5 to 50 rial banknotes of the 1995 series with metallic bands, put into circulation from 2000, remain valid. Thus, from 2020, banknotes in circulation are mainly the 2010 series of 5 to 50 rial, 2015 Note 1-rial and series 1995 100 kissed and 1 / 2 rial. The 200-kiss note from 1995, the 1-rial note from 1995 and 2005, and the 2000 version from 5 to 50 rial notes are still accepted but rarely seen. The coins in circulation are mainly 25 and 50 Bias, with 5 and 10 Bises used in stores where pricing requires them. 1995 series Picture Value Main color The description Face Reverse Face Reverse 100 kissed green Sultan Qaboos bin Said al Said , irrigation canal Verreaux's eagle, white oryx 200 kissed Blue Sultan Qaboos bin Said Al Said, the old terminal of the airport of Salalah and Muscat International Airport Center for Marine Science and Fisheries, Port Qaboos , Muttrah 1 / 2 rial Brown-purple Sultan Qaboos bin Said Al Said, Bahla fortress Fort Al-Hazim, Fort Nakhal 1 rial Purple Sultan Qaboos bin Said Al Said, Sultan Qaboos Sports Complex Omani Khanjar (dagger), silver bracelets and ornaments, dhows 2010 series 5 rials red Sultan Qaboos bin Said Al Said, Sultan Qaboos University Nizwa 10 rials Brown Sultan Qaboos bin Said Al Said, Al-Nahda tower Muttrah Fort 20 rials Blue Sultan Qaboos bin Said Al Said, Sultan Qaboos Grand Mosque (Muscat) Muscat Royal Opera 50 rials Pink and purple Sultan Qaboos bin Said Al Said, Ministry of Finance and Economy (Muscat) Cabinet Building and Ministry of Finance and Industry Building (Muscat) - https://fr.qaz.wiki/wiki/Omani_rial
https://fr.qaz.wiki/wiki/Omani_rial
VIP NewsHound





Posts

: 18398

---

Join date

: 2018-11-04



---
Permissions in this forum:
You
cannot
reply to topics in this forum