Employees complain: owners of K-Card outlets in Mosul distribute salaries in dollars at the new exchange rate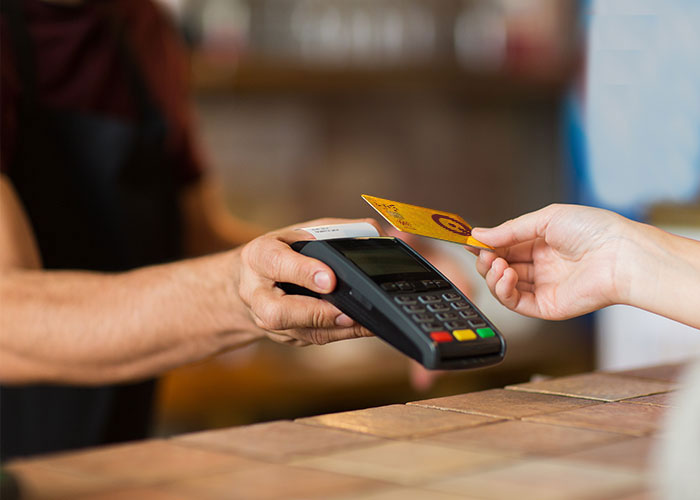 Shafaq News / Employees complained about the exploitation of dozens of exchange offices and K-Card outlets in Mosul, the high exchange rate of the dollar crisis and the confusion in the exchange rate, and they began distributing salaries in dollars, not the Iraqi dinar.
Ahmed Nabil told Shafaq News Agency; He is an employee who went to collect his salary that he was surprised after the receipt from the payment machine that the owner of the outlet told him that we only have US dollars and not a dinar.
Nabil added that he was forced to receive his salary in dollars and when he went to exchange it in Iraqi dinars
You are surprised that the exchange rate in the market is lower than the price that the outlet owner calculated
Thus, the outlet owner succeeded in obtaining two commissions from the exchange, the first is the entitlement and the second is the exchange rate difference, indicating that if the market exchange rate is 1400, the outlet owner delivers the salary to the owner with a difference of 2 or 3 thousand dinars, and in this way, manipulation.
Ahmed was not the only one, but dozens of employees were subjected to this situation
It is not possible for the owners of exchange offices who took advantage of this, because on Fridays and Saturdays there are no banks and they do not have Iraqi cash.
As for Muhammad al-Hamdani, a worker at an officially registered outlet, he said that he did not hand over a single salary in US dollars and said that the excuse is correct, but the majority exploited it to benefit at the expense of the employee, the retired, and everyone who has a salary.
Two days after the continuation of this situation, security sources informed the Shafaq News correspondent, that today the National Security detachments began to follow the (K-Card) outlets and hold accountable those who force employees to receive their salaries in US dollars instead of dinars.
On Saturday (19 December 2020), the Central Bank of Iraq officially announced the adjustment of the foreign currency exchange rate (the US dollar) to 145 thousand dinars for every 100 dollars.
https://shafaq.com/ar/%D9%85%D8%AC%D8%AA%D9%80%D9%85%D8%B9/%D9%85%D9%88%D8%B8%D9%81%D9%88%D9%86-%D9%8A%D8%B4%D8%AA%D9%83%D9%88%D9%86-%D8%B5%D8%AD%D8%A7%D8%A8-%D9%85%D9%86%D8%A7%D9%81%D8%B0-%D9%83%D9%8A-%D9%83%D8%A7%D8%B1%D8%AF-%D9%81%D9%8A-%D8%A7%D9%84%D9%85%D9%88%D8%B5%D9%84-%D9%8A%D9%88%D8%B2%D8%B9%D9%88%D9%86-%D8%A7%D9%84%D8%B1%D9%88%D8%A7%D8%AA%D8%A8-%D8%A8%D8%A7%D9%84%D8%AF%D9%88%D9%84%D8%A7%D8%B1-%D8%A8%D8%B3%D8%B9%D8%B1-%D8%A7%D9%84%D8%B5%D8%B1%D9%81-%D8%A7%D9%84%D8%AC%D8%AF%D9%8A%D8%AF
VIP NewsHound





Posts

: 18368

---

Join date

: 2018-11-04



---
Permissions in this forum:
You
cannot
reply to topics in this forum