Abdul-Mahdi: America crossed the red lines by assassinating Soleimani and the engineer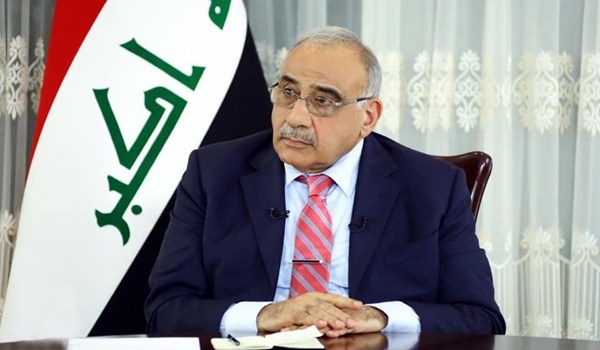 Former Iraqi Prime Minister Adel Abdul-Mahdi promised America that it crossed red lines by assassinating the martyrs Qassem Soleimani and Abu Mahdi Al-Muhandis.
Abdul-Mahdi said in a press statement, that Iraq's interests require establishing good relations with neighboring countries and the international community and adopting balanced positions in relations with other countries.
He referred to the US embargo on Iran, explaining: that the embargo is a mistake from the ground up, and Iraq does not stand by America in the embargo, as it is the right to destroy Iraq in the past, and it harms it now.
Abdul-Mahdi described Iran as a major power at the regional level. Iraq rejected at the Riyadh conference the policy of establishing a front against Iran in the region, and these positions are rejected by the Americans.
He pointed out the withdrawal of the Americans from Iraq, explaining: that he sought during his tenure as prime minister to gain the approval of Parliament to issue this decision.  
https://ar.farsnews.ir/iran/news/13990914000610

claud39

Elite Member





Posts

: 18423

---

Join date

: 2018-11-04



[size=33]Former Prime Minister of Iraq: The Trump administration asked me to abandon Iran[/size]
In an interview conducted by a local magazine with Adel Abdul Mahdi, who submitted his resignation in early December 2019
04.12.2020
Baghdad / Ali Jawad / Anatolia


Former Iraqi Prime Minister Adel Abdul Mahdi said that the administration of US President Donald Trump had asked him to abandon Tehran in exchange for maintaining ties with Washington.


This came in an interview conducted by "Dialogue of Thought" magazine (local / private), which was published on Friday, with Abdul Mahdi, who resigned from the premiership in early December 2019.


Abdul-Mahdi added that Washington began implementing its sanctions (against Iran) 10 days after his government was formed in October 2018.


He continued: "Here the Americans began by saying: We do not have black and white, either you are with me or against me," referring to Iraq's choice between Iran and the United States.


He added, "We told them that we cannot be with you or against you. Iraq is always balanced between the two parties (Tehran and Washington), and a principle with or against me makes me go against my neighbors (Iran) or against you (the United States), and this is not possible."


And he added that the Trump administration insisted on its position that "you have no choice but to be with us or against us."


He directed his speech to the American administration at the time, saying, "You must take into account the situation in Iraq, since bias is not possible with one side at the expense of another," considering that "Washington, by doing this, pushes many forces to the side of their opponents."


Abdul-Mahdi added, "Here, relations between us began to get tense, as it was either to retreat from the (balanced) principle and expose Iraq to something very dangerous (he did not specify it) and this is not possible, or to remain balanced, and this is a matter for which we paid," referring to his resignation.


The popular protests in Iraq that began in October 2019 toppled the previous government headed by Abdul Mahdi, who resigned at the end of the same year.


The former prime minister went on to say that Iran and the United States know the "red lines" of some of them and do not touch them, "but what happened in my government is that Washington changed the rules of behavior and relations by targeting Soleimani."


An American air strike killed the commander of the Iranian Quds Force, Qassem Soleimani, and the deputy head of the Popular Mobilization Authority, Abu Mahdi Al-Muhandis, in Baghdad on January 3.


Iranian advisors have been in Iraq at the request of Baghdad since 2015, providing security services to the Iraqi forces in the fight against the terrorist organization "ISIS".


However, Washington and Iraqi Sunni political forces accuse Iran of directly interfering with political decision-making in Iraq and controlling the movements of armed factions in the Popular Mobilization Forces, which Iran has consistently denied, and says it respects Iraqi sovereignty.


The United States accuses Iran of being behind the missile attacks that targeted its forces in Iraq, and its embassy in Baghdad, through its proxies from the Shiite armed factions.




https://www.aa.com.tr/ar/%D8%A7%D9%84%D8%AF%D9%88%D9%84-%D8%A7%D9%84%D8%B9%D8%B1%D8%A8%D9%8A%D8%A9/%D8%B1%D8%A6%D9%8A%D8%B3-%D9%88%D8%B2%D8%B1%D8%A7%D8%A1-%D8%A7%D9%84%D8%B9%D8%B1%D8%A7%D9%82-%D8%A7%D9%84%D8%B3%D8%A7%D8%A8%D9%82-%D8%A5%D8%AF%D8%A7%D8%B1%D8%A9-%D8%AA%D8%B1%D8%A7%D9%85%D8%A8-%D8%B7%D9%84%D8%A8%D8%AA-%D9%85%D9%86%D9%8A-%D8%A7%D9%84%D8%AA%D8%AE%D9%84%D9%8A-%D8%B9%D9%86-%D8%A5%D9%8A%D8%B1%D8%A7%D9%86/2066196

claud39

Elite Member





Posts

: 18423

---

Join date

: 2018-11-04



---
Permissions in this forum:
You
cannot
reply to topics in this forum