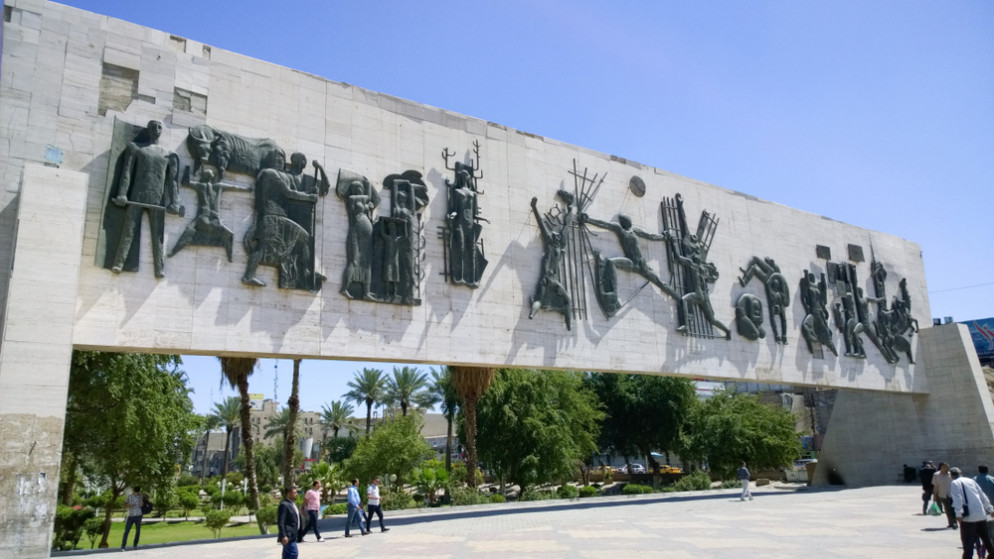 The Freedom Monument in Baghdad, Iraq, designed by sculptor Muhammad Jawad Salim. April 2, 2016. (shutterstock)
The Iraqi Counter-Terrorism Service announced on Monday that in October, the "administrative coordinator" of the terrorist organization "ISIS" was arrested upon his arrival at Baghdad airport, knowing that he is one of the most wanted by the Iraqi authorities.
"The agency's intelligence, which was following the movements of the so-called Abu Nabaa, an Iraqi living outside the country, arrested him after he arrived at the airport and took a taxi abroad," said the agency's spokesman, Sabah al-Numan.
Al-Numan added that Abu Nabaa is a "big target," and he "began his journey in the ranks of terrorist organizations in 2003 with Al-Qaeda before joining the various groups that left each other until the arrival of ISIS" which controlled a third of Iraq before its expulsion at the end of 2017. After three years of bloody fighting.
He added that the arrested "was in contact with ISIS elements in Iraq and we were watching their talks for a long time,"
as he was "dealing with (the organization's) financial affairs and sending messages and arranging meetings
."
He explained that he was the "general coordinator" of the organization, which is facing many difficulties after losing its strongholds in Syria in 2019.
The man will be tried at the end of the investigations, which are still ongoing, under the Anti-Terrorism Law, which carries the death penalty for merely "belonging" to a "terrorist" organization.
Sabah al-Nu'man refused to reveal the real name of the detainee nor the country from which he came, nor did he explain how he was able to leave Iraq even though he was wanted. 
Iraqi courts have issued hundreds of death sentences in recent years on Iraqis and foreigners from ISIS, and many of them have been implemented.
Despite declaring "victory" over it in December 2017, ISIS continues to launch attacks, albeit on a much smaller scale, in Iraq.
On Saturday, an ambush claimed by the organization killed ten people north of Baghdad, while a grenade attack 12 days ago killed 11 people near the Iraqi capital.
https://www.almamlakatv.com/news/51410-%D8%A7%D9%84%D8%B9%D8%B1%D8%A7%D9%82-%D9%8A%D8%B9%D9%84%D9%86-%D8%A7%D8%B9%D8%AA%D9%82%D8%A7%D9%84-%D8%A7%D9%84%D9%85%D9%86%D8%B3%D9%82-%D8%A7%D9%84%D8%A5%D8%AF%D8%A7%D8%B1%D9%8A-%D9%84%D8%AA%D9%86%D8%B8%D9%8A%D9%85-%D8%AF%D8%A7%D8%B9%D8%B4

GirlBye

VIP NewsHound





Posts

: 1484

---

Join date

: 2018-07-09


Location

: So Cal



---
Permissions in this forum:
You
cannot
reply to topics in this forum