An Iraqi politician revealed the existence of great corruption to sell positions in the independent government of Adel Abdul Mahdi.

A member of the National Approach Bloc Muhannad al-Uqabi said that
the price of the government post during Abdul Mahdi's era reached two million dollars, and the amount would rise with the renewal
.
Al-Uqabi indicated that
there are 64,000 companies registered in Iraq, only 16 of which possess legal documents and have legal personality. As for the other 50,000, they practice money laundering operations on a regular and widespread basis. He pointed out that fake companies import wheat for 150 thousand Iraqi dinars per ton and sell it for 500 thousand dinars, and others import eggs from bad origins and then claim that they are local eggs, stressing that Iraq has not achieved self-sufficiency in any material, as the government of Abdul Mahdi claimed.
For its part, a member of the Economy Committee in the Iraqi Parliament said that Iraq is living in an unprecedented state of money escaping and smuggling and investors 'reluctance to establish any projects on Iraqi soil.
Representative Nada Shaker said that there are politicians who impose royalties in large sums on Arab and foreign merchants before they grant them legal approvals, and even after granting them work licenses, they are subjected to large extortion operations by influential people linked to influential parties or outlawed militias.
 Sources in the Investment Authority say that the Iraqi ministries have established specialized investment departments within their administrative structure, and have been assigned the task of obstructing investment projects in the private sector in those ministries until after the officials in them obtain remunerative shares of those projects.
Some parties require investors to obtain 25 percent of the total capital invested in projects, and on the contrary, they will impede the establishment of any project that does not achieve these privileges for them.
Iraq suffers from a crisis in financial revenues that ended with the government's inability to pay the salaries of employees and retirees, which caused a state of resentment and boiling in the street fraught with crises in the first place.
https://menafn.com/arabic/1101123545/%D8%A7%D9%84%D8%A8%D8%AD%D8%B1%D9%8A%D9%86-%D8%B3%D9%80%D9%8A%D9%80%D8%A7%D8%B3%D9%8A-%D8%B9%D9%80%D9%80%D8%B1%D8%A7%D9%82%D9%80%D9%8A-50-%D8%A3%D9%84%D9%80%D9%80%D9%80%D9%81-%D8%B4%D8%B1%D9%83%D8%A9-%D9%84%D8%BA%D8%B3%D9%84-%D8%A7%D9%84%D8%A3%D9%85%D9%88%D8%A7%D9%84-%D9%81%D9%8A-%D8%A7%D9%84%D8%B9%D8%B1%D8%A7%D9%82

GirlBye

VIP NewsHound





Posts

: 1481

---

Join date

: 2018-07-09


Location

: So Cal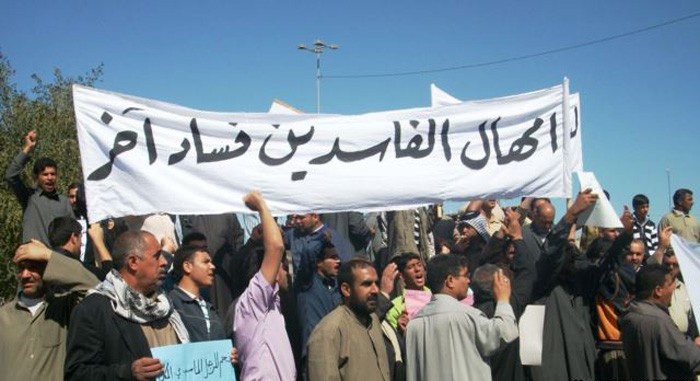 Coinciding with the escalation of the crises in Iraq, especially on the financial and living levels, aspects of corruption are unfolding that go beyond thefts and theft of public money, to the transfer of the Iraqi state to a stock exchange of positions, during which the seat is sold to those who pay more, according to what is confirmed by sources in the Iraqi government.
It is noteworthy that the deputy in the Iraqi parliament, Muhannad al-Oqabi, recently raised the issue of selling Iraqi government positions, during the presence of "Adel Abdul Mahdi" in the position of prime minister, pointing out that the price of the chair was up to two million dollars, with the possibility of adjusting the price at All renewal, he said.Auctions and astronomical prices
Commenting on the statements of "Al-Punabi", MENA sources confirm that there is no specific price for positions in Iraq, and that this process is related to several things, the first of which is the nature of the position, its level, and the number of those willing to occupy it, pointing out that prices start from half a million dollars for regular positions, and rise to millions in Senior positions.
Sources also indicate that prices also differed from one government to another, indicating that the issue of selling positions was not confined to the government of "Abdul Mahdi", but rather a phenomenon that has extended since 2003, pointing out that some sensitive positions were related to Iranian loyalties and sponsorship, especially in the fields. Security, while the other positions remain for sale.
At the beginning of this year, the Iraqi judiciary had opened investigations into cases about selling positions and ministries during the assignment of "Muhammad Tawfiq Allawi" to form the government, but without reaching any results.
In the same context, political analyst Khaled al-Qaishani points out that the Iraqi state positions since 2003 have been divided into three levels. The first is the militia's share, which is determined by Iran, which is focused in particular on the sovereign, security and central bank positions, and the second is the positions that offer For sale, which are often positions related to financial and investment aspects, due to the large number of opportunities for corruption in them, and the third is for positions that are distributed on sectarian lines.
Waste sums and mafias of money
The state of purchasing positions and their concentration on the economic side has opened the door for Iraqi officials to form mafias that have controlled the financial joints of Iraq, according to what private sources confirm, indicating that the positions have turned into a means of reaping wealth by blackmailing investors and entering into coercive partnerships with them, in addition to imposing royalties, This led to a decline in the pace of investment in Iraq.
The sources also indicated that Iraqi officials used their sites to sell exemptions and exemptions, which contributed to wasting billions of dollars over the past years, in light of the financial deficit in the general budget, noting that Iraqi officials are completely safe from fighting corruption as they were buying positions with their money.
It is noteworthy that the financial data in the Iraqi parliament revealed that Iraq had lost about 450 billion dollars since the fall of the former Iraqi regime in 2003, due to rampant corruption, at a rate of 25 billion dollars annually.
In the same context, the deputy in the Iraqi parliament, "Nada Shaker," affirms that the operations of blackmailing Arab investors by officials have escalated with the support of influential Iraqi politicians, pointing out that a large number of those politicians are also directly supported by the militias.
Some Iraqi media reports have revealed that some influential parties have conditions for obtaining 20 percent of the capital of projects invested in Iraq, in return for investors obtaining the required approvals and not obstructing them and granting them possible exemptions.
50 thousand money laundering companies
The effects of selling economic positions in Iraq have contributed, according to MP Muhannad Al-Oqabi, to the escalation of money laundering operations, especially during the period of Abdul Mahdi's presence in the prime minister's position, indicating that there are 50,000 companies in Iraq practicing money laundering operations about Regular and broad.
Al-Aqabi also reveals that there are several fake import companies that import wheat for 150 thousand Iraqi dinars per ton and sell it for 500 thousand dinars, indicating that the number of companies in Iraq has reached 64 thousand, of which 16 thousand of them work only officially and legally.
https://mena-monitor.org/%D9%85%D9%84%D9%8A%D9%88%D9%86%D8%A7-%D8%AF%D9%88%D9%84%D8%A7%D8%B1-%D9%84%D9%84%D9%88%D8%B5%D9%88%D9%84-%D8%A5%D9%84%D9%89-%D8%A7%D9%84%D9%85%D9%86%D8%B5%D8%A8-%D9%87%D9%83%D8%B0%D8%A7-%D8%B9%D8%A7/

GirlBye

VIP NewsHound





Posts

: 1481

---

Join date

: 2018-07-09


Location

: So Cal



---
Permissions in this forum:
You
cannot
reply to topics in this forum