5.5 million Iraqis face the double trauma
11/13/2020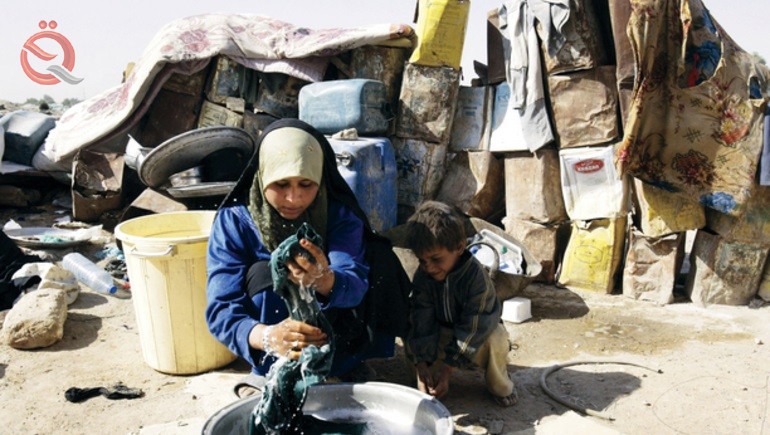 Economy News _ Baghdad
The World Bank announced, on Friday, that the "double shock" of the Corona pandemic and the collapse of oil prices have caused huge economic challenges and pushed millions of Iraqis into the abyss of poverty.
In a new report, the World Bank called on the Iraqi government to "take a package of urgent financial incentives and economic reforms to help the poor and the most vulnerable groups in Iraq," indicating that "up to 5.5 million Iraqis may face poverty as a result of this double shock."
He added that "the possible reduction of the public wage and salaries bill could push nearly 1.7 million other Iraqis into poverty, unless the reduction measures are implemented in a gradual and effective manner." He expected that "Iraq's GDP will shrink by 9.5 percent during 2020." While the rate of contraction reached 6.8 percent during the first half of the same year.
According to the report issued by the Economic Monitor of Iraq at the World Bank, "Iraqi government revenues decreased by 47 percent in the first eight months of 2020, while expenditures remained high as a result of the public wage and pension bill, which caused pressure on government funding."
The World Bank praised "the white paper presented recently by the Iraqi government to reform the economy," adding, "If it is implemented, it will constitute a turning point in the Iraqi economy."
The Regional Director of the Levant Department at the World Bank, Saruj Kumar Jha, affirmed that "the government's white paper will promote job creation, especially in the private sector, and economic growth, which are two prerequisites for improving the livelihood of Iraqis."
The World Bank believes that "such reforms could add up to 58.4 percent to the growth of per capita gross domestic product in Iraq."
The government had reviewed a plan or "vision" to bring about comprehensive structural changes in the Iraqi economy, in a "white paper" presented to the representatives of the Iraqi parliament and political factions last month.
Among the things mentioned in this paper are reducing public sector salaries, reforming the state's financial sector, and making a fundamental reform of the entire system within three to five years.
The government is now paying salaries that are 400 percent more than it did 15 years ago, as the government struggles to cover salaries of inflated public sector employees amid an unprecedented liquidity crisis due to low oil prices.
September's salaries were several weeks late, and last October's salaries were not paid yet, but the crisis is on the way to easing after Parliament approved the fiscal deficit financing law that would allow the government to borrow from state reserves to pay salaries.

claud39

VIP NewsHound





Posts

: 18424

---

Join date

: 2018-11-04



---
Permissions in this forum:
You
cannot
reply to topics in this forum