[size=54]A Biden victory would be a loss for Iraq[/size]
11/04/20 
U.S. presidential elections have had a significant impact on Iraq, from the 2002 decision to invade Iraq to the 2020 strike that killed Iranian General Qassem Soleimani. Former Vice President Joe Biden has a contentious history in Iraq that may have many Iraqi leaders in fear of a Biden victory. 
Directly after taking office, President Obama appointed Vice President Biden to oversee U.S. operations and diplomacy in Iraq. At that time, Iraq had begun to stabilize. The once-formidable al Qaeda in Iraq had been all but defeated and relegated to the outskirts of Mosul and civilian deaths fell to about one-fourth of what they had been before the "surge." 
But by the end of the vice president's first term, civilian casualties in Iraq rose by almost 400 percent to over 20,000, and ISIS (a.k.a. ISIL, IS, Daesh) flew its black flag from Syria through northern Iraq to a point about 60 miles outside of Baghdad. 
What happened during the period that Biden oversaw Iraq? In 2009, Iraqiyya, a multi-sectarian and moderate political party founded by Sunni leader Rafe al-Essawi and Shia leader Ayad Allawi, challenged then-Prime Minister Nouri al-Maliki's State of Law Coalition in the 2010 national election and won with a narrow victory.  
Iraq's parliamentary system designates that the winning electoral party has the first shot at forming a coalition government with other parties. Maliki, however, influenced the court and had the interpretation of the law altered that led to a six-month standoff in which Maliki, backed by Iran, retained power but was unable to form a coalition government. 
Joe Biden and the Obama administration faced a decision: to support the democratic results of the election or to back Maliki's bid to retain power. Against the advice of Ambassador Robert Ford, a six-year diplomatic veteran of Iraq, General Ray Odierno and others, Biden and then-Ambassador Hill decided to backstop Maliki and the State of Law Coalition.
The administration's reasoning is not entirely clear. Michael R. Gordon and retired Lieutenant General Bernard E. Trainor report in their book, "The Endgame: The Inside Story of the Struggle for Iraq, from George W. Bush to Barack Obama," that Vice President Biden was convinced that Maliki would deliver a Status of Forces Agreement.
Another interpretation is that the Obama administration, which was in the process of negotiating the Joint Comprehensive Plan of Action (JCPOA) (Iranian Nuclear Deal), succumbed to Iranian interests. In line with this view, Iraqiyya leader Ayad Allawi [url=https://www.al-monitor.com/pulse/politics/2012/06/allawi-to-al-hayat-we-will-confr.html#:~:text=Former Iraqi Prime Minister Wary Of Iraq Becoming,with the support of Iran and the US.]attested[/url] that a senior member of the U.S. administration (possibly Biden) communicated that the U.S. would never back a prime minister from Iraqiyya, "because of Iranian opposition to this notion." 
Regardless of the reason, Biden's fateful decision to support Maliki would seed political turmoil in Iraq that, according to General Petraeus and others, paved the way for the rise of ISIS. 
Upon securing the premiership, Maliki reneged on several power-sharing agreements with Iraqiyya. Instead, the prime minister moved to consolidate power by exerting control over independent Iraqi institutions and appointing high-level security positions without required constitutional approval that transformed Iraqi security forces into sectarian instruments. The Status of Forces Agreement never materialized, and immediately after the withdrawal of U.S. forces in 2011, Maliki placed tanks in front of the homes of Sunni leaders in the Green Zone. 
In 2012, the Iraqi government attempted to intercept and arrest the Iraqiyya leader and then Finance Minister Rafe al-Essawi using a roadblock with two hovering choppers. Essawi and his convoy were tipped-off in advance and escaped to Anbar province in an incident that sparked Sunni protests. Similarly, Sunni Vice President Tareq Al-Hashemi fled to Kurdistan to avoid imminent arrest and was sentenced to death in absentia, and Sunni MP Ahmed al-Alwani was apprehended in a raid that killed his brother and several of his bodyguards. 
Maliki also disbanded the Sons of Iraq (the Awakening movement) that spearheaded the fight against al Qaeda in Iraq during the "surge." By 2011, al Qaeda in Iraq (AQI) was on the rise under the leadership of Abu Bakr al-Baghdadi, fueled in part by Sunni and Kurdish discontent, the absence of U.S. forces and the degradation of Iraqi security forces. By 2014, ISIS was recruiting approximately 30,000 fighters from 86 or more countries, expanded through networks across the Middle East, North Africa, Afghanistan and Pakistan, and commanded an international propaganda and terror campaign.   
In late 2014, the Obama administration sent troops to Iraq under Operation Inherent Resolve (OIR), but much too late to quell the insurgency. Furthermore, counter-ISIS operations relied heavily on Iranian-backed militia groups, or PMF (Popular Mobilization Forces), that are loyal to Iran's Revolutionary Guard Corps Quds Force (IRGC-QF) and then-General Qassem Soleimani.
Although PMF groups, such as the Badr Organization, were active in Iraq before OIR, they proliferated to over 100,000 fighters during Vice President Biden's tenure. Their expanding influence solidified with Maliki's creation of the Popular Mobilization Committee (PMC) in 2014, which legitimized PMF militia groups under Iraq's security framework and funneled Iraqi funds to the Iranian-backed militias.
In 2018, PMF leaders formed political parties under the Fatah Alliance and won the second most seats in the 2018 election, nearly taking control of the government. The PMF remains a powerful political and military proxy for Iran that threatens to render Iraq an Iranian client state.
C. Alexander Ohlers is a former senior analyst for the U.S. Department of State in Iraq and currently serves as a visiting fellow at the University of Tennessee. 
https://thehill.com/opinion/international/524551-a-biden-victory-would-be-a-loss-for-iraq
Pictures .. Arab leaders congratulate Joe Biden on winning the American presidential elections. Al-Sisi is the first Arab president to congratulate the elected president .. Kuwait, the Sultanate of Oman, Sudan, Jordan, the Emirates and Iraq: We look forward to good relations and strengthening cooperation
Sunday ، 08 November 2020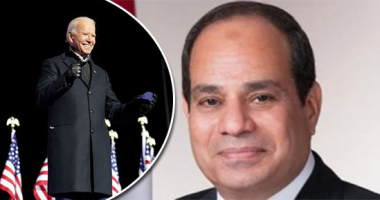 Repeated reactions in the Arab world to the victory of Democrat Joe Biden in the presidency of the United States of America, after his fierce rival with his Republican rival Donald Trump in the elections that began last Tuesday, and the results of the American media announced that Joe won by a large margin over the current President of the United States of America.
President Abdel Fattah El-Sisi was the first Arab president and leader to offer congratulations to the US President-elect Joe Biden, according to what CNN reported in the Arabic language.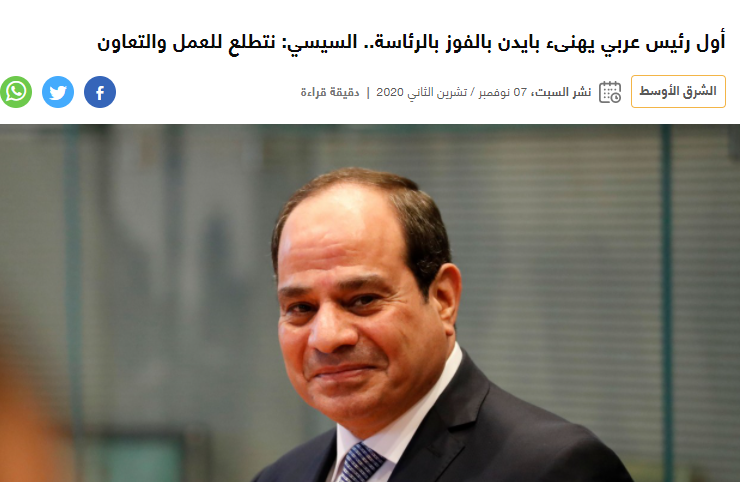 In a statement published on his communication page, the Republic's spokesman said: President Abdel Fattah Al-Sisi congratulated Joe Biden, President-elect of the United States of America, after announcing the results of the US presidential elections.
Bassam Rady added, "On this occasion, the President emphasized the aspiration for cooperation and joint action to strengthen the strategic bilateral relations between Egypt and the United States of America, in the interest of the two friendly countries and peoples."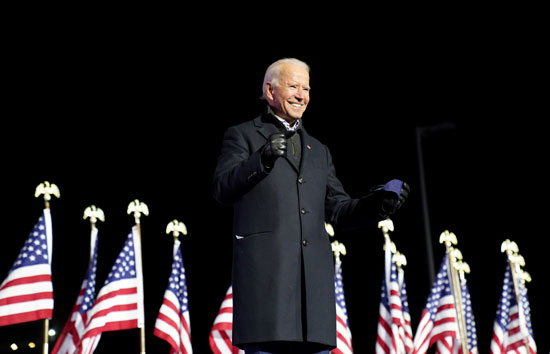 Lebanese President General Michel Aoun offered congratulations in a telegram, saying: President Aoun expresses his hope that during the Biden era, balance in Lebanese-American relations will be restored in the interest of the friendly Lebanese and American peoples.
For its part, the official Oman News Agency said that Sultan Haitham bin Tariq sends a telegram of congratulations to Joe Biden, the elected president of the United States of America, in which he expressed his sincere congratulations for winning the confidence of the American people and being elected president of the upcoming presidential term.
The Emir of the State of Kuwait, Sheikh Nawaf Al-Ahmad sent a congratulatory telegram to Joe Biden, the elected president of the United States of America, in which he expressed his sincere congratulations on the confidence that the American people have placed in him in his election as President of the United States, according to what was published by the Kuwaiti News Agency "KUNA "
The Emir of Kuwait also congratulated Mrs. Kamla Harris on her position as Vice President-elect, praising the historical and solid ties that bind the State of Kuwait and the friendly United States .
The Emir affirmed the constant and common aspiration to strengthen these ties and develop joint cooperation between them in various fields and elevate it to broader horizons to serve their interests in light of the strategic partnership relationship that binds them together, wishing for good health and wellness and for the solid relations between the two friendly countries further development and growth.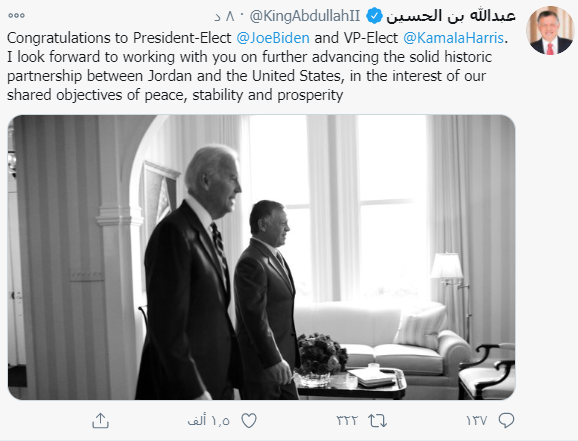 Tweet of the King of Jordan
King Abdullah of Jordan wrote on Twitter: "I look forward to working with you to strengthen the historic and solid partnership between Jordan and the United States, in favor of our common goals of peace, stability and prosperity."
In Iraq, Iraqi President Barham Salih wrote on Twitter: "A trusted friend and partner in the cause of building a better Iraq. We look forward to working to achieve our common goals and to promote peace and stability in the entire Middle East region."

Tweet of the Iraqi president
In the UAE, Sheikh Mohammed bin Zayed, Crown Prince of Abu Dhabi and Deputy Supreme Commander of the Emirati Armed Forces, wrote on Twitter: "My sincere congratulations to Joe Biden on his victory in the American presidential elections and to Kamala Harris, Vice President, and I sincerely wish them success in achieving further progress for the friendly American people. The UAE and America have historic ties of friendship and a strong strategic alliance, and we will continue to strengthen them during the next stage .

Taghreed Sheikh Mohammed bin Zayed
As for the ruler of Dubai, Sheikh Mohammed bin Rashid Al Maktoob, he posted a picture on Twitter that he and Biden said, "Congratulations to the 46th President-Elect of the United States of America Joe Biden and Vice President Camilla Harris on their victory in the American presidential elections. Our relations for five decades are firm and strategic with the United States .. and our best wishes for this relationship More progress and stability with the new elected president. "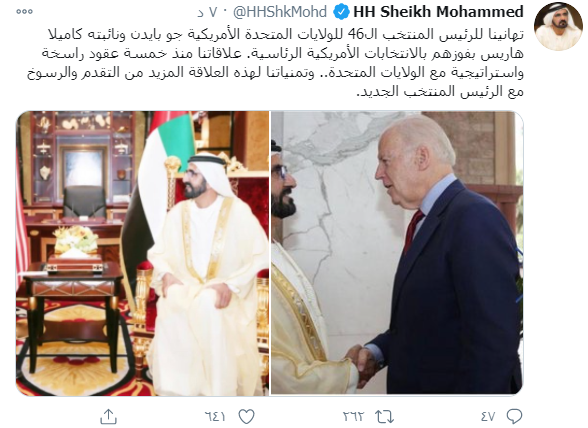 Tweet of the ruler of Dubai
Today, President Abd Rabbu Mansour Hadi, President of the Republic, sent a cable of congratulations to US President Joe Biden, in which he congratulated him on his victory in the presidential elections in his country .
In his telegram, the President of the Republic praised the bilateral relations between the two friendly countries, stressing his aspiration to strengthen and develop these relations in a way that serves the two friendly countries and peoples .
In the telegram, the President of the Republic, in his name and on behalf of the government and people of the Republic of Yemen, expressed his sincere congratulations and best congratulations to his Excellency on this occasion ... wishing him good health and happiness and the friendly government and people of the United States of America progress and prosperity .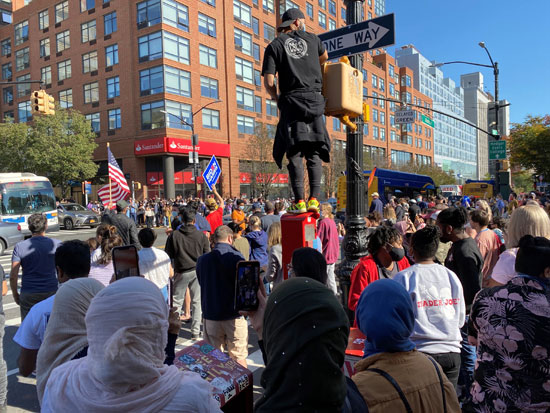 Biden supporters' celebrations of winning the presidency
Sudanese Prime Minister Abdullah Hamdok wrote on Twitter: On behalf of our people, I congratulate President-elect Joseph Biden and Vice President Kamala Harris on their election. We look forward to working with them to continue building bridges of friendship and cooperation between our peoples and our two countries. "

Taghreed, President of the Government of Sudan
Democrat Joe Biden won the US presidential race today, Saturday, after voters narrowly rejected the stormy leadership of Republican Donald Trump, in exchange for Biden's pledge to fight the Corona virus pandemic and reform the economy in a divided country .
Biden won the 20th caucus for the state of Pennsylvania, bringing the total number of votes to more than the 270 needed to win, prompting all major television networks to declare him the winner after four days of intense excitement in the wake of Tuesday's election .
Biden said on Twitter, "I am honored and humbled by the confidence the American people have placed in me and in (full) Harris Vice President-elect. A record number of Americans have voted in the face of unprecedented obstacles .
He added, "With the end of the campaign, the time has come to move beyond the anger and harsh statements and unite as one people. It is time for America to unite and renounce ."
https://www.youm7.com/story/2020/11/8/%D8%B5%D9%88%D8%B1-%D8%A7%D9%84%D9%82%D8%A7%D8%AF%D8%A9-%D8%A7%D9%84%D8%B9%D8%B1%D8%A8-%D9%8A%D9%87%D9%86%D8%A6%D9%88%D9%86-%D8%AC%D9%88-%D8%A8%D8%A7%D9%8A%D8%AF%D9%86-%D8%A8%D9%81%D9%88%D8%B2%D9%87-%D8%A8%D8%A7%D9%86%D8%AA%D8%AE%D8%A7%D8%A8%D8%A7%D8%AA-%D8%A7%D9%84%D8%B1%D8%A6%D8%A7%D8%B3%D8%A9-%D8%A7%D9%84%D8%A3%D9%85%D8%B1%D9%8A%D9%83%D9%8A%D8%A9/5057058
[size=30]Al-Kazemi congratulates Biden on the 'mutual respect' relationship between Baghdad and Washington[/size]
2020.11.08 
Iraqi Prime Minister Mustafa Al-Kazemi congratulated the President of the United States of America, Joe Biden, after announcing his victory in the American elections.
"I extend my congratulations to the President of the United States of America-elect Joe Biden and Vice President Kamala Harris, and I look forward to strengthening the strategic ties between our two countries towards a future based on mutual respect and the values ​​of cooperation," said a brief statement by Al-Kazemi. Joint and close in order to overcome challenges, support peace and security, and achieve stability and prosperity. "  
[size=30]Trump refuses to acknowledge Biden 'win'[/size]
2020.11.08
Donald Trump renewed his objection to the US election results, stressing that he had indeed won, but "bad things happened."
Trump said in a tweet that "People" followed on Saturday night on Sunday (November 8, 2020), "Observers were not allowed into the counting rooms, I won the elections, I got 71,000,000 legal votes, bad things happened that our observers were not allowed to see, it did not happen." (This) before, millions of postcards were sent out to people who never ordered them! '' 
"The votes they achieved have not been achieved by any previous president," he added. 
Donald Trump continues to emphasize the last hours of counting and counting, and he witnessed manipulation as he accuses parties of using the Corona pandemic to pass millions of voting cards through the mail, an experiment that was applied under the pretext of anti-mixing measures to combat the Corona outbreak.  
https://www.nasnews.com/view.php?cat=44649
Biden's victory puts Saudi oil in trouble ... OPEC will miss "friend Trump"
10/11/2020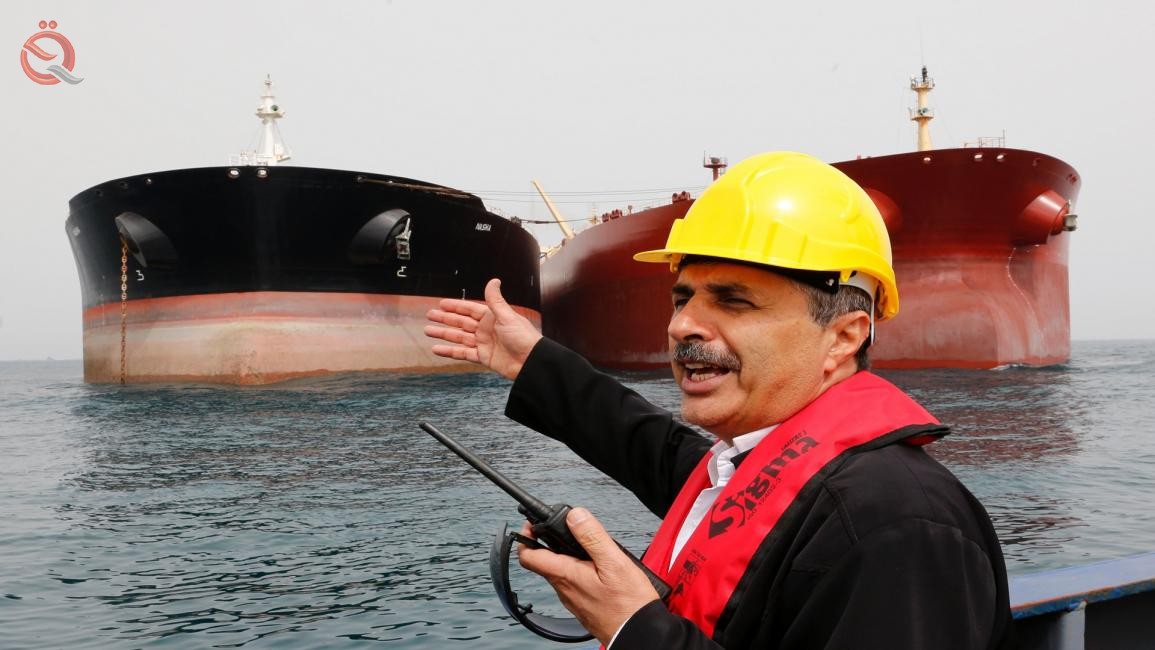 Sources close to the Organization of Petroleum Exporting Countries (OPEC) said that key members of the organization fear renewed tensions within what is known as the "OPEC +" coalition, which includes alongside the organization's countries major producers from outside, under Joe Biden's presidency of the United States, and that they will miss the president Donald Trump, who switched from criticizing the organization to helping it implement massive, unprecedented cuts to oil production.
Biden may make changes in diplomatic relations with three major OPEC member states, namely Saudi Arabia, the organization's largest producer, and Iran and Venezuela that are subject to sanctions, as well as with Russia, the main non-OPEC producer, which is the largest producer of crude among the countries allied with the organization, in Framework for what has become known as the "OPEC +" group.
The strict application of US sanctions on Iran and Venezuela has withheld millions of barrels of oil from the market, and if Biden decides to ease measures on either country in the coming years, increasing production may make it more difficult to match supply with demand by OPEC.
Biden says he prefers multilateral diplomacy to unilateral sanctions imposed by Trump, but that may not mean sanctions relief soon. During his campaign, Biden said he would return to the 2015 nuclear deal with Iran if Tehran recommitted to it.
Trump withdrew from the agreement in May 2018, to reimpose sanctions that have reduced Iran's oil exports. Some in OPEC fear that the return of Iranian supplies will increase the supply glut unless it is matched by cuts elsewhere, and they have concerns about Moscow's continued participation in "OPEC +".
An OPEC source said before the election results became known, "Iran's sanctions may be reassessed and then they will return to the market, and then the supply glut will return and the current reduction agreement will be at risk."
"There is also a risk that Russia will withdraw from the OPEC + agreement, which means the collapse of the agreement, as it was Trump who convinced Moscow to participate," the source added, according to Reuters.
Biden says of Russia that it is the source of the most dangerous global threat facing Washington. During his campaign, he pledged to reassess relations with Saudi Arabia. Last April, Trump participated in talks that led to an agreement under which the Organization of the Petroleum Exporting Countries and Saudi Arabia cooperated with allied producers led by Russia to make an unprecedented massive reduction in oil supply in light of the outbreak of the Corona virus that hit demand.
Trump intervened and put political pressure on Saudi Arabia and Russia to end the conflict that sparked a price war that resulted in plans for both countries to increase production, while the pandemic was leading to restrictions on travel, and then on the demand for fuel.
The result was an unprecedented global agreement to reduce the oil supply by about 20 million barrels per day, equivalent to about 20%. OPEC + alone agreed to cut 9.7 million barrels per day.
For Trump, the drive was to raise global oil prices and prevent bankruptcies and hundreds of thousands of jobs lost in the US energy industry ahead of the election.
Trump is a longtime supporter of the oil and gas industry, and his administration has scrapped environmental regulations and rejected the prevailing scientific opinion regarding global warming from emissions.
Earlier in his presidency, Trump criticized OPEC's efforts to raise prices and urged members to pump more. An anti-OPEC bill known as "NOPEC" - it was first proposed years ago - was not passed despite gaining some momentum in his early presidency.
"Trump has become our friend after the historic shift in attitudes ... from NOPEC to the art of the deal," said a senior OPEC source from an ally of the United States, referring to the "OPEC + agreement" concluded in April and a famous book authored by Trump published in 1987.
Trump has established a close relationship with the de facto ruler of Saudi Arabia, the largest producer in OPEC, Crown Prince Mohammed bin Salman, whose country relies on American weapons and protection in the face of regional competitors such as Iran.
The "OPEC +" alliance began to support oil prices since 2017, and any developments threatening the future of the alliance may weaken the market, which will have dire consequences for OPEC, other producers, governments and dealers.
Trump has engaged in OPEC affairs more actively than any of his predecessors, as he regularly tweets commenting on production decisions and oil price movements, while Biden is expected to keep a distance from the organization.
"I see that Biden will be more dependent on specialized advice from his advisers, and he will not resort to the detailed management like Trump," said Chakib Khelil, former Algerian oil minister and former OPEC president, adding, "Biden will not have the warm relationship with Putin that appears to be for Trump."
But despite Biden's statements about US-Saudi relations, it is unlikely to turn a new page. Gulf and diplomatic sources told Reuters that Biden's victory would not undermine decades-old alliances.
A source familiar with Iran's oil policy welcomed Biden's victory but doubted he would quickly lift sanctions. This would give OPEC + members ample time to amend their agreement to clear the way for more Iranian oil.
"Even if the sanctions on Iran are lifted, it will take from two to four months for Iranian oil exports to return to pre-sanctions levels for technical reasons ... Therefore, OPEC + has enough time to agree on a new production ceiling," he said.
---
Permissions in this forum:
You
cannot
reply to topics in this forum