[size=36][rtl]Saleh stresses the need to resolve the outstanding issues in Kirkuk[/rtl][/size]
Thursday 05th November 2020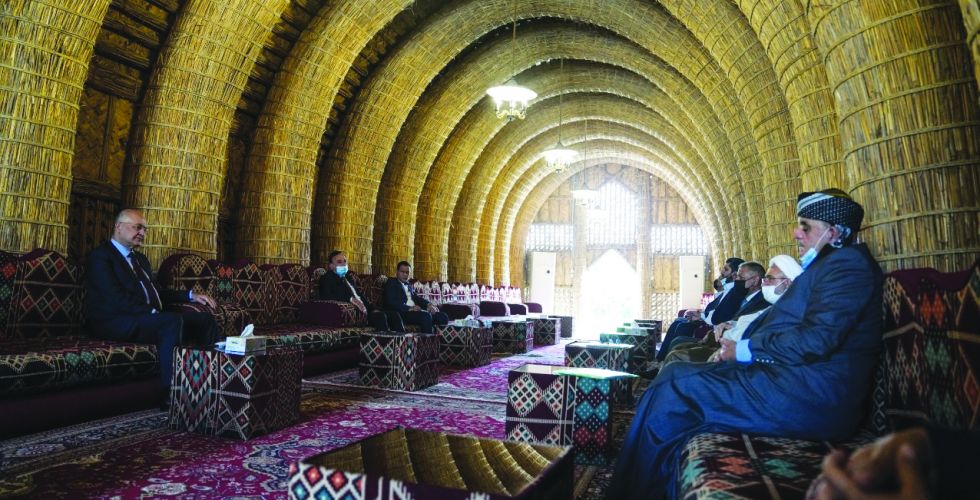 Baghdad: Morning
 
Yesterday, Wednesday, the President of the Republic, Barham Salih, stressed the need to resolve the outstanding issues in Kirkuk governorate in accordance with the constitution and the will of Kerkukis, away from marginalization and the policy of imposing a fait accompli. While receiving a delegation from the notables of the city of Daquq and the village of Al-Bashir in Kirkuk, Saleh praised "the steadfastness of the people of Kirkuk in the face of terrorism, and appreciated the sacrifices made by the city in order to prevent ISIS criminal gangs from achieving their abhorrent goals", stressing the "need to intensify security efforts and prevent terrorists." Those stalking from exploiting the situation and threatening coexistence between the components of the city.
The President of the Republic heard from the members of the delegation "an explanation about the situation in the village of Al-Bashir and appeals from its people, as he called for justice, and considered a number of requests from the families of the victims and the marginalized," stressing "the need to solve the problems facing the people of Daquq and their suffering in some outstanding issues."
The President of the Republic affirmed "the necessity to achieve stability and protect peaceful coexistence in Kirkuk, to commit to social justice, to ensure the rights of the components without marginalization or exclusion, to respect property rights and prevent demographic change, and to reach solutions to unresolved issues based on the constitution and the will of Kerkukis, far from all the values ​​and policy of imposing a de facto situation." ".
He pointed out that "the rich natural and human resources that the city enjoys should be reflected positively on its people, and no effort should be spared in order for Kerakukion to enjoy a safe and stable life, to prevent the aggravation of the situation and make the city an arena for disputes and problems."
Saleh added that he closely follows the overall situation in Kirkuk, and works to overcome the difficulties facing the various issues and concerns of its people, in order to resolve the outstanding issues, ensure the protection of the security and rights of citizens, and provide for the living requirements. 
For its part, the delegation thanked the President of the Republic for its "keenness and continuous follow-up of the conditions of the city and its people, as it appreciated its great role in dealing with the challenges and issues facing the city and its people and ensuring stability in it."

claud39

Elite Member





Posts

: 18423

---

Join date

: 2018-11-04



---
Permissions in this forum:
You
cannot
reply to topics in this forum