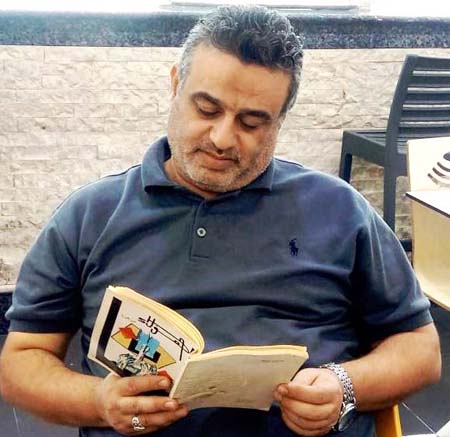 Writer Asaad Abdullah Abd Ali - A personal picture of
We drew hope and defined the goals of our society in life, and we defended against every pervert who works to destroy the dreams of the nation. This is our duty as writers and pen owners, but these positions can be A personal picture of  her to blossom and grow in the natural environment, and these roles are confirmed in worlds other than Iraq. This is one of the wonders of what I have lived and witnessed, for life here is like something crazy, and it cannot be subject to any law, because it is outside the text.
In the world we find that tenderness and compassion are associated with the mother, for she is a symbol of everything beautiful, and this is one of the natural and indisputable things.
But in Iraq, the matter is very different, so it was an ordinary thing to read the story of a mother selling her young daughter in order to get some dollars, or that mother who was feeling angry at her husband, and with the aim of annoying her husband, she threw her two young children in the Tigris River, and she did not regret or feel remorse In a crazy scene, but it happened and not from the narration of fiction, or that mother who slaughters her son and her husband! Just to live her life with her lover in peace! Or that mother who pushes her son to be an ISIS or extremist slaughterer, and encourages him to commit every crime, tightens his hand and calls on God to accept these actions from him, and to be counted in the balance of his good deeds! Although it consists of killing and slaughtering the other, and more than this happens on a daily basis in Iraq.
We see most of the countries in the world reach the power and higher positions, most likely a mind, and set a program for the advancement of the country, and then be held accountable for the extent of the implementation of the program.
In Iraq, those who do not qualify for leadership and high positions have come to power, until a crammed class of thieves and thieves has formed, controlling all the country's capabilities, which has made oil revenues wasted annually without any development of the country being achieved
. Any economy can rise and most of them are uneducated! The scandals of forgery of certificates filled social media, so how can we imagine that there will be a renaissance in Iraq while we are under the families of thieves, ignorance and forgers?
The political class and the cancerous parties deprived us of electricity, services, decent housing and work, and even deprived us of treatment and of achieving safety and freedom
. All our rights were confiscated, and because of all this madness spreading in the country, the dream of every Iraqi has become immigration! If the appropriate conditions for immigration are provided and to any country, even if it is Egypt, Costa Rica, or even Mauritania, the Iraqi will be quick to accept, so migration and salvation from the madness of reality is a matter under the title of the most uncompromising duties.
http://www.panet.co.il/article/3035887

GirlBye

VIP NewsHound





Posts

: 1481

---

Join date

: 2018-07-09


Location

: So Cal



---
Permissions in this forum:
You
cannot
reply to topics in this forum