[size=40]The World Bank In Iraq[/size]
The World Bank Group mobilizes financial and technical assistance to support Iraq's reconstruction efforts in order to reinstate the trust of Iraqi citizens by stabilizing the economy and rebuilding livelihoods. The WBG also works closely with partners to support the implementation of reforms.
Last Updated: May 01, 2020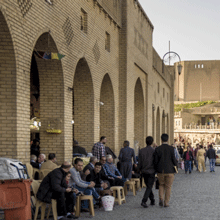 [size=44]Overview[/size]
Iraq is in a fragile situation. It faces a difficult fiscal crunch, arising from the collapse in international oil prices coupled with persistent political and social turmoil. This situation is exacerbated by the rapid spread of COVID-19, which the country's healthcare system has limited capacity and limited fiscal buffers to contain and manage. 
In October 2019, young Iraqis took to the streets in mass protests to denounce rampant corruption, poor services, and high unemployment. These demonstrations exposed the fragility of the Iraqi socio-economic system. To appease demonstrators, the Government of Iraq (GOI) announced a stimulus package consisting of a considerable expansion in public sector employment, pensions, and transfers. 
This response was seen by some as ineffective, as boosting job creation, stimulating private sector participation, and enacting meaningful anti-corruption measures require longer-term structural reforms that did not feature in the package. Nevertheless, with record level oil production and agricultural yields, the expansion of electricity production, and fiscal loosening, overall GDP growth finished the year at 4.4%. Inflation remained subdued at an average of 0.2% in 2019. This was largely driven by cheaper imports from neighboring countries, prompting the GOI to raise tariffs and impose import bans on selected food items in response to calls from domestic producers. 
The fiscal stimulus has reduced the 11.2% of GDP budget surplus in 2018 to 3% of GDP in 2019 and came at the expense of critical spending on both human capital and reconstruction. Indeed, although investment spending has slightly increased (by 5%), its execution rate has remained at only 45% of the amount budgeted. Most of the spending went to oil-related investments. Non-oil sector investment execution stood at a mere 18%, raising concerns over public service delivery, a rising infrastructure gap, and a stalled reconstruction program. 
Going forward, the economic outlook for Iraq is challenging. The collapse in international oil prices and other unfavorable global conditions, including disruptions caused by the spread of COVID-19, are expected to hit Iraq hard, leading to a 5% contraction in its economy in 2020. 
In the absence of significant reforms to boost private sector participation, it will be difficult to jump-start the economy; growth is projected to gradually revert to its low-base potential of 1.9-2.7% in 2021–2022. The budget rigidities, compounded over the past two years, are expected to have detrimental fiscal effects amidst weaker oil-related revenues. 
At US$30 an oil barrel and in the absence of planned consolidation measures, the budget deficit was projected to surge to a staggering 19% of GDP by end-2020. As a result, the GOI is expected to face a severe financing gap which could not only lead it to postpone vital infrastructure projects in service delivery sectors, as well as postponing human capital programs, but also reduces the country's ability to respond to post-COVID-19 recovery needs. 
In short, Iraq is expected to face a persistent current account deficit in 2020, driven as well by lower oil prices and sticky imports. The gap is expected to be financed by the Central Bank of Iraq's reserves and State-Owned Banks, increasing the country's vulnerability in the near-term. 
LENDING
Iraq: Commitments by Fiscal Year (in millions of dollars)*
[size=11]0
1,200
1,489
1,110
200
2015
2016
2017
2018
2019
0
500
1000
1500
2000
[/size]
*Amounts include IBRD and IDA commitments
https://www.worldbank.org/en/country/iraq/overview
VIP NewsHound





Posts

: 18367

---

Join date

: 2018-11-04



[size=44]Overview[/size]
Last Updated: May 01, 2020
The World Bank Group (WBG) mobilizes financial and technical assistance to support the GOI's reconstruction efforts in order to reinstate the trust of Iraqi citizens by stabilizing the economy and rebuilding livelihoods. The WBG also works closely with partners from the international community to support the implementation of reforms to strengthen the economy in the long term. 
In October 2019, the GOI signed a Memorandum of Understanding (MoU) with the WBG to cooperate and further their engagement in addressing impediments for private sector-led diversification, including: (i) Cross-cutting impediments in the areas of fiscal stability, economic governance, financial sector, and business environment; and (ii) Sector-specific impediments in agriculture, gas, electricity, social protection and labor systems.
The World Bank is currently developing Iraq's Country Economic Memorandum (CEM), with the objective of analyzing the key constraints and drivers of economic growth in Iraq, and in order to be able to propose a menu of actionable policy recommendations to inform policy decisions for a more diverse and inclusive model of growth. 
The WBG will develop a two-year Country Partnership Framework (CPF) for Iraq. The CPF aims to offer solutions to support Iraq's transition to a more resilient and inclusive economy and will also support engagement to help de-risk the private sector, mobilize finance for development, and create markets through innovative financing tools and public-private partnerships. The framework is aligned with Iraq's five-year National Development Plan and organized around two focus areas: (i) Improving service delivery through better governance; and (ii) Creating an enabling environment for private-sector led growth and diversification. 
World Bank
The following have been the main areas of the World Bank's engagement in Iraq since 2015:


Fiscal Stabilization: The World Bank approved a US$1.2 billion loan in December 2015 and another US$1.44 billion Development Policy Financing loan (DPF) in December 2016 to help Iraq weather the fiscal crisis and advance reforms in three areas: improving the management of public finances; securing a more stable and sustainable supply of energy; and supporting more efficient and transparent state-owned enterprises.




Modernization of Public Financial Management Systems (PFM): The modernization of public financial management was financed by an IBRD loan of US$41.5 million and implemented over 2017–2021 in the federal Ministry of Finance, the Ministry of Planning, and the Kurdish Regional Government's Ministry of Planning. The project aims to improve financial information management and transparency, cash management, public investment management, and public procurement modernization at selected federal and governorate agencies. 


The World Bank Emergency Response includes:


Emergency Operations for Development (EODP): In July 2015, a US$350 million financial package was approved by the Bank to support the reconstruction of damaged infrastructure and the restoration of public services in targeted municipal areas liberated from ISIS, including health, electricity, water, transport, education, and agriculture. As an urgent response to the enormous reconstruction needs in Mosul and other liberated areas, the Bank's Board of Directors approved additional financing to the EODP of US$400 million in 2017.




Iraq Emergency Social Stabilization and Resilience Project (ESSRP): A US$200 million loan aims to increase livelihood opportunities in liberated areas; increase access to psychosocial services; and strengthen the systems to expand the provision of social safety nets. The project includes cash for work, social support, and livelihood opportunities; and resilient social safety nets.


Other World Bank-financed projects include:


Transport Corridors Project: A US$355 million project to improve road transport connectivity and safety on selected road sections along Expressway-1, which is a 1,200 km long and serves traffic along the East-West and South-North Corridors linking Um Qasr in the South with Jordan and Syria via Baghdad; and the North–South trade corridor in Duhok governorate towards the Ibrahim El-Khalil border crossing with Turkey.




Baghdad Water and Sewerage Improvement: A US$210 million project to improve the quality of drinking water and wastewater services in Baghdad, with the objectives of improving utility management and creating an enabling environment. The project aims at institutional strengthening for integrated urban water management and utility management, and at creating an enabling environment for private sector management, as well as investing in the city's drinking water supply and wastewater infrastructure.




Social Fund for Development: A US$300 million Community Driven Development project—launched in 2019 to improve access to basic services and increase short-term employment opportunities—has seen good progress in the first three governorates it targeted, of Salahuddin, Muthanna, and Duhok. The project is targeting communities in the 18 governorates of Iraq over 5 years. 




Basra Electricity Dissemination and Development Project (EDDP): A subnational project of US$200 million to improve the reliability of electrical services in Basra Governorate and enhance their operational efficiency, including operations efficiency that could foster increased private sector participation in the medium-term and support two broader government objectives of decentralizing services. The project was declared effective in February 2020.




Iraq EITI Implementation Support: A recipient-executed grant through which the Bank supports the government in using the Extractive Industries Transparency Initiative as a tool to enhance transparency in Iraq's extractives sector through the government.




Promoting the Inclusion of Conflict-Affected Iraqi Youth: A recipient-executed grant to promote the social and economic inclusion of at least 3,000 conflict-affected Iraqi youth (ages 15-29), through engagement in entrepreneurship and youth-led community development activities. 


A Multi-Donor Trust Fund:


Iraq Reform, Recovery and Reconstruction Fund (IRRF): In partnership with the IRRF's founding partners—the GOI, United Kingdom, and Germany—the World Bank has launched a multi-donor platform to improve the effectiveness and sustainability of public investments in recovery and reconstruction, and to support targeted national reforms promoting private-sector led growth. 


The trust fund is also a platform for coordination and dialogue, aiding implementation of the Government's reform, recovery, and reconstruction agenda. Its activities will be executed by both the GOI and the World Bank under three priority areas: (i) Socio-economic recovery and reconstruction; (ii) Economic diversification and private sector-led growth; and (iii) Strengthening coordination and program support. Canada has recently contributed as a partner.


International Finance Corporation (IFC) 
Historically, the IFC is one of the leading investors in Iraq. IFC's committed portfolio in Iraq has grown considerably over the last ten years to exceed US$1.5 billion, diversified geographically and across sectors, in power, telecoms, manufacturing, agribusiness, logistics, and services. In FY16, IFC committed US$375 million to MGES Power, the leading, local, private investor in power. In FY18, it committed US$269 million to Zain Iraq, the leading mobile phone operator, to support the rehabilitation of their network in territory newly secured by the government. In FY19, IFC committed another US$6 million to a new mall and entertainment complex in northern Iraq. 
IFC's investment pipeline consists of potential investments in healthcare (hospital), ports, banking, digital financing, gas, infrastructure and power. IFC is closely collaborating with World Bank teams to apply Maximizing Finance for Development (MFD) principles across strategic areas. Besides infrastructure and green energy, transport and water have been identified as potential sectors. The financial sector has been selected as another critical sector that would require support.
Multilateral Investment Guarantee Agency (MIGA) 
As of March 2020, MIGA's outstanding gross exposure in Iraq stood at US$75 million. Past MIGA-supported projects in Iraq include a water bottling plant in Baghdad, a telecom sector project in Kurdistan, and a port logistics project in Umm Qasr Port. 
In FY2019, MIGA guaranteed a Capital Optimization project in Iraq on behalf of the BBAC bank of Lebanon. The recent deterioration in Iraq's political, macroeconomic, and security spheres may constrain the entry and operations of the private sector, potentially limiting foreign investor appetite to invest in Iraq and therefore limiting demand for MIGA's risk mitigation products. 
However, MIGA is working closely with the World Bank and IFC to identify opportunities and it remains interested in supporting PPP projects and projects such as the 755MW solar IPP program and the potential expansion of Umm Qasr Port. As an FCV country, Iraq is eligible for its projects to be supported under MIGA's Conflict-Affected and Fragile Economies Facility (CAFEF).
https://www.worldbank.org/en/country/iraq/overview#2
VIP NewsHound





Posts

: 18367

---

Join date

: 2018-11-04



---
Permissions in this forum:
You
cannot
reply to topics in this forum