The Trade Bank of Iraq presents investment opportunities in Iraq during its participation in the "Global Trade Review GTR" Summit for Trade Finance 2020
Baghdad, February 26, 2020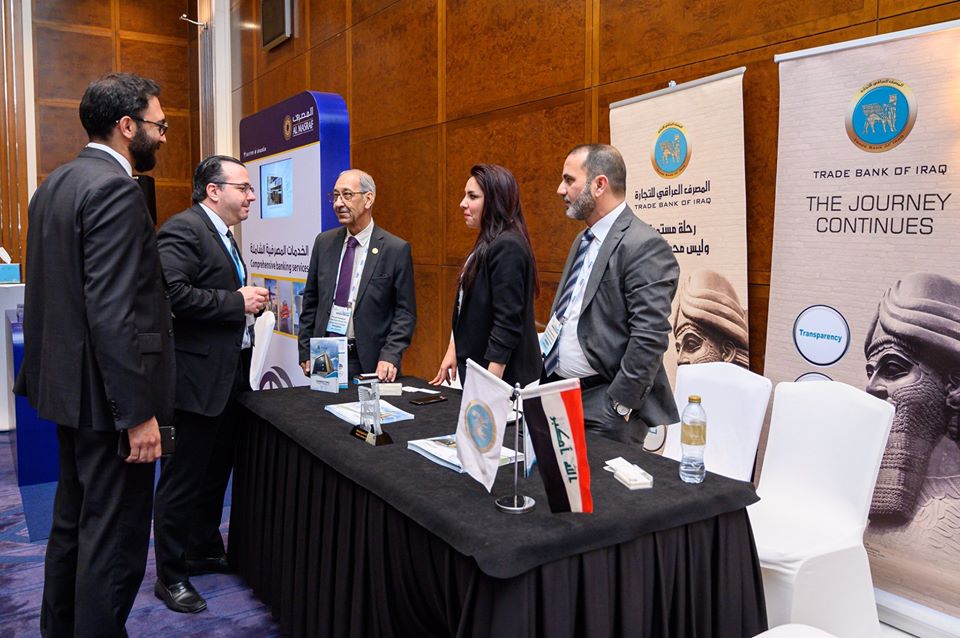 The Iraqi Trade Bank TBI participated in the Global Trade Review GTR Summit for Trade Finance in the Middle East and North Africa 2020 which was held in the UAE - Dubai recently, during which the Bank confirmed its commitment to the reconstruction of Iraq through its various activities in the trade finance sectors that implement many One of the infrastructure projects in Iraq, and the country continues to rebuild operations, which provides many potential investment opportunities in it, especially in the energy sector.
Real GDP growth for Iraq is expected to increase by 3.1% by 2023, and non-oil GDP growth is expected to grow dramatically against the backdrop of reconstruction efforts. Bank representatives attending the summit have demonstrated potential opportunities to invest in the emerging economy as the country continues to rebuild Building.
Commenting on the bank's participation in this summit, "Faisal Al-Heims," President of the Iraqi Bank for Trade and Chairman of the Board of Directors said: "The Iraqi Trade Bank has achieved great success in recent years, and the coming period will witness more successes, and our presence in the summit of" Global Trade Review GTR "Commercial financing is a reflection of our ambition to strengthen our presence outside Iraq, as we have demonstrated our presence inside."
"We have achieved a 27% increase in the bank's assets, and our net profit has increased by 68% in 2019 compared to the previous year, and we are committed to investing this success and building it this way." We are working to grow and expand our operations and we will soon announce some relevant developments. "
The bank is currently working on expanding its network at the local and international levels to diversify sources of revenue from retail banking services in Iraq and international operations, in order to achieve a compound annual growth rate of 30% as defined in the bank's business plan for the period 2020-2023.
About the Iraqi Trade Bank:
The Iraqi Trade Bank was established in 2003 and is the first bank in the country, and it accounts for about 80% of commercial financing business in Iraq, and ranks first among Arab banks in terms of cost-to-income ratio and 332 globally in terms of first-class capital. The bank has established 26 branches across Iraq, providing a wide range of banking services to all customers, including companies, individuals, and government institutions. As part of his ongoing endeavors to broaden its customer base and expand into new markets.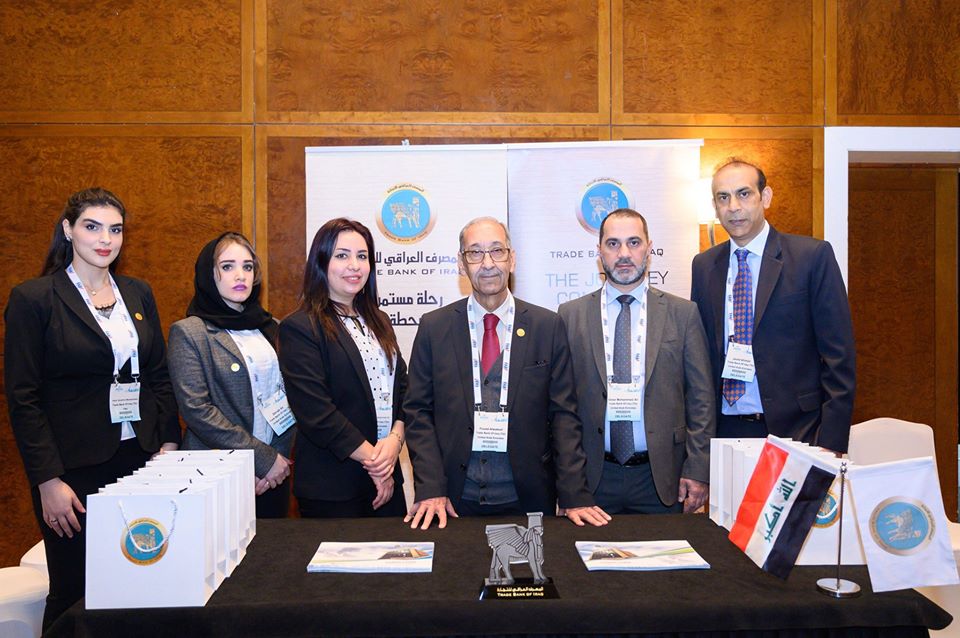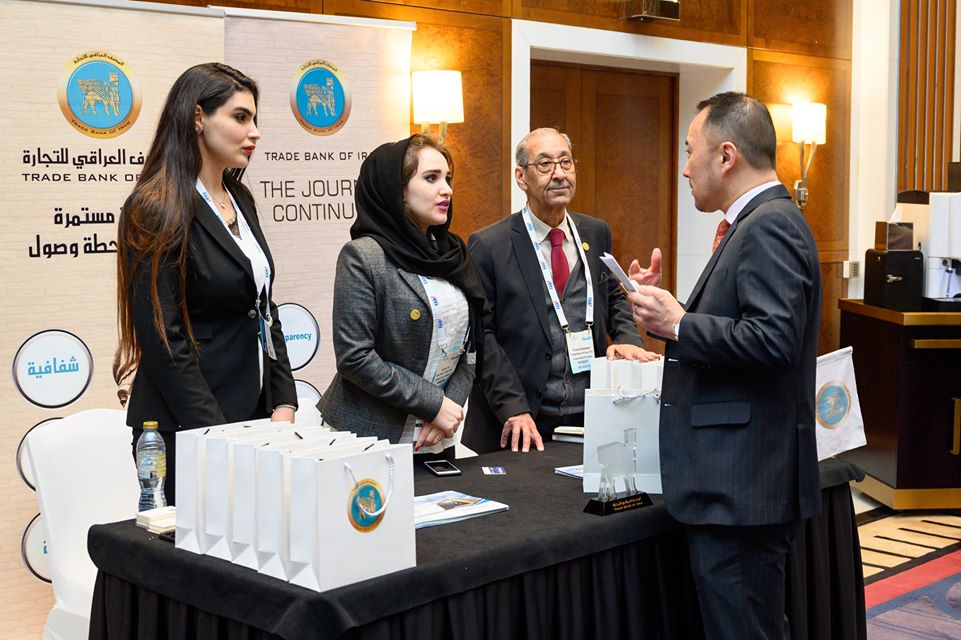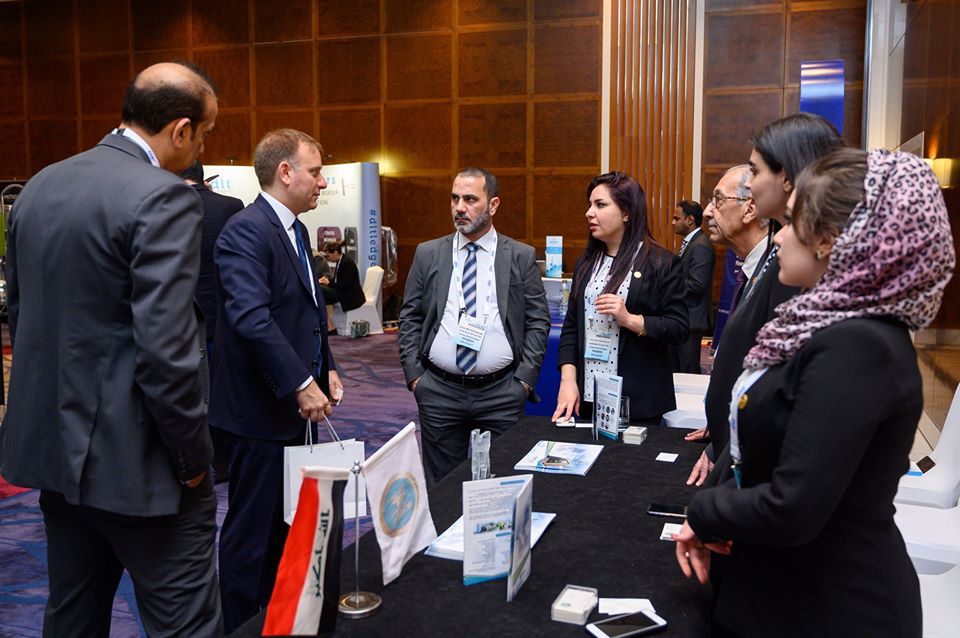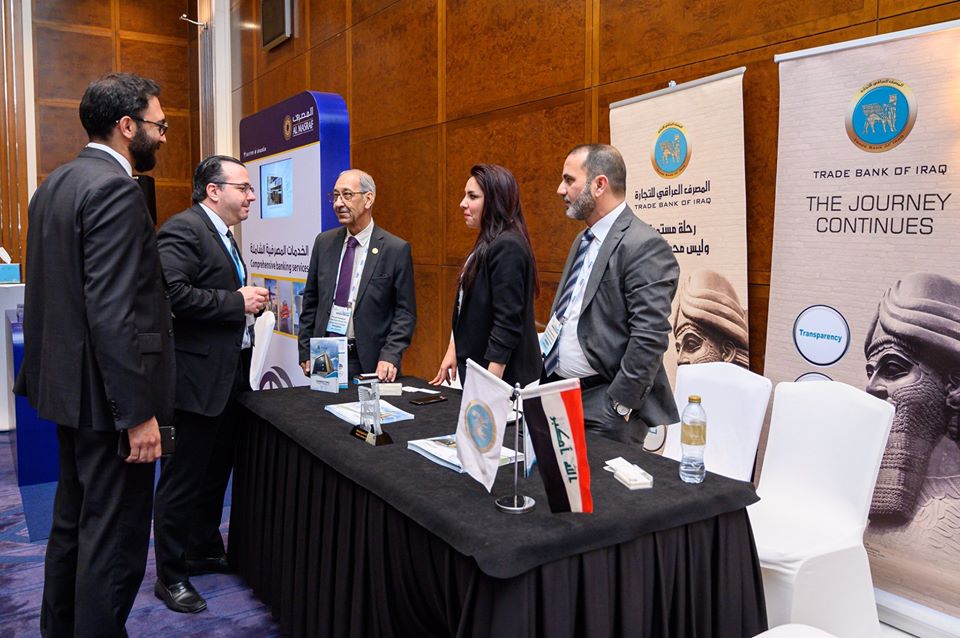 https://tbi.com.iq/?news=%D8%A7%D9%84%D9%85%D8%B5%D8%B1%D9%81-%D8%A7%D9%84%D8%B9%D8%B1%D8%A7%D9%82%D9%8A-%D9%84%D9%84%D8%AA%D8%AC%D8%A7%D8%B1%D8%A9-%D9%8A%D8%B9%D8%B1%D8%B6-%D9%81%D8%B1%D8%B5-%D8%A7%D9%84%D8%A7%D8%B3%D8%AA
VIP NewsHound





Posts

: 18368

---

Join date

: 2018-11-04



DUBAI, UAE
FEB 17-18, 2020
Industry experts meet in Dubai to discuss the future of trade
With the rapidly changing dynamics in a turbulent global economic landscape, the future of trade, and the trade finance that supports it, continues to be a topic for debate.
The extent to which corporates, financial institutions and government agencies are working together to assess future prospects – guiding their constituents to strong growth and reduced risk – and the markets being explored, solutions discussed and efficiencies unveiled was a key theme when Gulf News spoke to Maninder Bhandari (Director of the Derby Group and former global banker) and Peter Gubbins (CEO & Founder of Global Trade Review) on the sidelines of GTR MENA 2020, the region's annual leading event for trade finance. The event takes place this week (February 17-18) at the Jumeirah Emirates Towers, welcoming over 800 key figures from the local, regional and global corporate and banking sectors.
With special focus on the importance of 'seizing opportunities' for this year's instalment, GTR MENA provides an unrivalled platform for increasing awareness of the market, presenting the opportunity to hear from leading local and international trade and export finance experts and employing a wide range of session formats and networking activities to facilitate high-quality conversations and business development opportunities. Discussions on Day One centred around how best to capitalise on such opportunities, from the potential trade legacy of Expo 2020 to new trade flows and political relationships, as well as ongoing conversations around the "digitisation journey" being undertaken by many in the market. 
Strong attention was also paid to the importance of encouraging a culture of entrepreneurship, improving diversity levels and creating a more inclusive environment, with close attention paid to the important work of the SheTrades initiative, as well as tips for exporters on how to "get noticed" in a competitive landscape.
Hosted by Laura Buckwell, former news anchor for the TV channel City7 TV, Day One of the event welcomed a number of the highest-calibre speakers, all of whom were keen to share their expertise and offer guidance on how best to navigate the current climate. These included Massimo Falcioni, Chief Executive Officer of Etihad Credit Insurance (ECI), the UAE federal export credit agency tasked with accelerating and sustaining national economic diversification as well as supporting the export and re-export of goods, services and foreign investment; Dr Karen Remo, recently proclaimed the 'Female Leader of the Year' in the Middle East Economic Digest Awards and the co-founder of New Perspective Media Group; and Laura Lane, Global President of Public Affairs for UPS, a former trade negotiator in the Office of the United States Trade Representative and winner of the Washington Business Journal's 'Women Who Mean Business' award.
Both Bhandari and Gubbins were keen to emphasise that they feel the period of reduced economic growth was thankfully over, with markets now seizing opportunities previously unconsidered in places like Sub-Saharan Africa, the Maghreb and Iraq among others. Bhandari was also keen to stress that downturns in global markets were nothing new, whether in MENA, Asia Pacific or Latin America: "Trade is often a cyclical process and the past 25 years has seen challenges across many markets; what is notable is that each downturn has attracted talented solutions and efforts to think outside the box. 
These solutions if well thought-out and implemented with resolve lead to improved efficiencies, developments in the blockchain space being an excellent example of this."
Gubbins, a UK national and owner of UK-based GTR, was equally bullish when talking about the ramifications of the UK's exit from the European Union and its impact on global, and specifically MENA, trade: "Businesses crave certainty, so whatever people's individual viewpoints on the merits or otherwise of political decisions, now is the time for global trade to look to move forward, to build relationships and address key issues in pursuit of growth. Nowhere is that better showcased than the unrivalled opportunities provided by events such as GTR MENA, which in its 16th year has become the premier discussion medium across the MENA region."
Join GTR on social media and follow the official conference hashtag: #GTRMENA
REGISTERED COMPANIES BY SECTOR
Companies already registered to the 2020 event include National Oilwell Varco, Al Yousuf Group, Bunge, Al Nasr Contracting Company, Chabros International Group, ArcelorMittal, Puma Energy, RAK Ceramics, Rakha Alkhaleej International (RAI), Qatar Steel Company and Juma Al Majid Group, to name just a few. Over 50% of attendees are corporates & traders and 20% are bankers & financiers representing over 400 different companies from around the world. Over 80% of all attendees held a senior to a c-level position.
Consultants & Accountants
Govt Orgs & Public Bodies


ABB Group

Abdul Latif Jameel International

Abu Dhabi National Oil Company (ADNOC)

ADDAR Chemicals Company

ADNOC

AG MELCO Elevator

Agriprocity

Liquid air

Akron Shipping

Al Futtaim

Al Ghurair

Al Ghurair Foods

Al Habtoor Motors

Al Khaleej Sugar

Al Mostajed Technologies

Al Muhaidib Group

Al Naboodah

Al Qaryan Group

Al Rawabi Dairy

Al Shoala Group

Al Tayer Group

Al Yousuf Group

AlAbdulkarim Group

Albwardy Group

ALEC Group

AlFanar Company

Al-Futtaim

Alj Import And Distribution

Allied Polymers

Almajdouie Holdings

Almarai

On their doorstep

Alpha Crown Engineering Associates

Altaaqa Alternative Soultions

Amana Contracting Group Limited

AMS

APP International Marketing

Apparel Group

Arab & India Spices

Arabian Commodities

Arabian Construction Company

Arabtec Holding PJSC

Aramco Overseas Company

ARASCO

Arcelik

ArcelorMittal

ASGC Holding

Atlantic Energy

Atlantis Global

Autoworld International

Awin Resource International

Barakat Vegetables & Fruits

Bayer

Beko

Biskom International

BLG industrial Solutions

Blue Deebaj

Blue Wheel Resources

Borouge

BP Oil International

Brand Folio

Brandfolio LLC

BRS Ventures Investment Limited

BSL Scaffolding

Bulk Commodities

Bunge

Business Aggregate

CAFI-Commodity & Freight Integrators

Canon

Canon Middle East FZE

Carestream

Cargill

Cemex S.A.B.

Centaurus International

Chabros International Group

Chalhoub Group

China State Contruction

Cofco International

Conares Metal Supply

Condor

Control Contracting & Trading

Coral Energy

Corodex Trading Co

Corrotherm International

Crescent Petroleum

Daimler Commercial Vehicles

Danube Group

Dell

Derby Group

Deshbandhu Group

DHL

Dow Chemical Company

DP World

Dubai Airport Freezone

Dubai World Trade Centre

Ducab

EGA

Elite Group

Emaar Properties

Emirates Airline

Emirates Aluminium

Emirates Crop One

Emirates Global Aluminium

Emirates Healthcare



ENOC

ENPI

Ericsson

Etihad Drug Store

Export Trading Group (ETG)

Fairdeal Traders

Future Group Holdings

GAP Polymers

Gautam General Trading

GBMT Group

GE Healthcare

General Electric (GE)

Ghassan Aboud Group

Global Commodity Ventures FZC

Global Natural

Global Pipe Company

GM (General Motors)

Golden Core Trading

Goodyear

Greenland

Gulf Drug LLC

Gulf petrochem

Haji Hussain AliReza Co LTD

Hakan Agro

Hakara Resources

Hanwa Middle East FZE

Hargood Corporation

Hassani Group

Heartland Trading Co LLC

HIKVision

Hitachi Construction Machinery Middle East Corp.FZE

HMD Global

Honeywell

Huawei Technologies

Huda Lighting

IFFCO

Ingram Micro

International Golden Group

Interplast

ITELCO

ITG

Ittihad International Investment

Jackys

Jagat AgroTech

Jamal Al-Ghurair Group of Companies

Jatlee Commodities

JFE Shoji Trade Corporation ME

Jindal SAW

Juma Al Majid

Jumbo Electronics Co.

Jumbo Logistics

KBBO Group

heart

Kimera Middle East

Kludi CANCER

Kobian

Kogex DMCC

KrypC

Kumanti Ventures DMCC

Kuwait Food Company

Kuwait Petroleum Corporation

L&T Construction

L&T Hydrocarbon Engineering

Laith Al Obaidi

Lamar Commodity Trading

Landmark

Landmark Group (RNA Resources Group)

Larsen & Toubro (L&T)

Larsen Toubro Arabia Co

Leora Exports DMCC

Liberty Commodities

Liberty Fe Trade

Liberty House Group

LITASCO

Louis Dreyfus Company

LuLu Group

Majdouie Holding Co

Man Corp

Mantrac Group

Masdar

Megnacio

MENA Energy

Mercancia Continental DMCC

Mercator Commodities

Mercuria Energy Group

Mercury Commodities

Metito Overseas

Microsoft Corporation

Midcom

Mohamed Yousef Naghi Motors

Mohammed Tayyeb Khoory and Sons

Monjasa

Multi Commerce FZE Dubai

National Oilwell Varco (NOV)

National Oilwell Varco Inc

Navodaya DMCC

NCT Group

Nestlé

Nissan Middle East

Nissan Saudi Arabia

NMC Healthcare

Nokia

NOON

Novelis



Nurol Construction and Trading

Oando

Oceaneering International Services

Oil Burg

Oil Marketing and Trading

Olam International

Oman Trading International

One Foods

Oracle

Orange World Trade

Orient Links

Outotec

Papers Worldwide Limited

Pardan & Company

Petrochem Middle East

Petrofac

Petromin Corporation

Petronas Parekh Industrial Equipments Trading

Philips

Phoenix Global DMCC

Planet Core Group

Polymed Trading

Praramb Agri Trading DMCC

Premium Tobacco International

Proclad Group

Promising International Trading

Proton Engineering LLC

PSTV Energy

Quality Metals

Radiant World

RAK Ceramics

RAK Co For White Cement&Const Mat

Rak Ghani

RAK Properties Co. PJS

Rakez

Rakha Alkhaleej International (RAI)

RAQ Contracting

Redington Gulf

Rescom Holdings

Rezayat

Richcomm Global Services

RNZ International

Roto Packing

RSK Environment

RWood Resources

Saint Gobain

Salini Impregilo

Sanad Aerotech

Sanjose Contracting

Saudi Airlines

Saudi Constructioneers

Saudi German Hospital

Scheider Electrics

Seetha Global

Selkar Trading

Seven Energy International

Siemens

SIG Combibloc

SOCAR Trading

Sodamco

SOI Global

Solutions & Growth Management FZE (SGM)

Sony Corporation

Sony Professional Solutions MEA FZ LLC

Soybean Crushing Co

Spectrum Exhibition

SRG Holding

Star Cement

Star Petrochem

Starlink

Starwood Industries

STC

Steinweg Sharaf FZCO

Sumitomo Corporation

Sunrise Petroleum

SWCC

Swiss Singapore Overseas Enterprises

T Choithram & Sons

TASNEE

Tayseer Arar Trading

Tetra Pak Export

Thales Group

The Brink's Company

The Elixir Clinic

Thinkronyze by AMAIS LLC

Tracon General Trading

Trafigura Group

Tyco Fire and Security Middle East & Africa

Ujjaval Power

Unilever

Union Copper

United Engineering Construction (UNEC)

United Foods

UPS

Utmost Building Materials

Vin Metal Synergies

Vink Corporation

Vintage Bullion DMCC

Vishwamitra

Vitol

Xylem

Waiting

Zakher Marine International

TESTIMONIALS
"Great opportunity for networking and to receive an outlook on trade and export for MENA."
F H Salem, NPS Energy
"The most valuable event in the Mena region with great opportunities for networking with local market leaders in the banking, corporate and trade credit insurance sectors."
To Klepp, Credendo Group
"With all relevant players present, this is an excellent event for all trade finance practitioners in the region, featuring great networking opportunities."
T Richter, Daimler Commercial Vehicles
2019'S BREAKDOWN
https://www.gtreview.com/events/mena/gtr-mena-2020/
VIP NewsHound





Posts

: 18368

---

Join date

: 2018-11-04



---
Permissions in this forum:
You
cannot
reply to topics in this forum