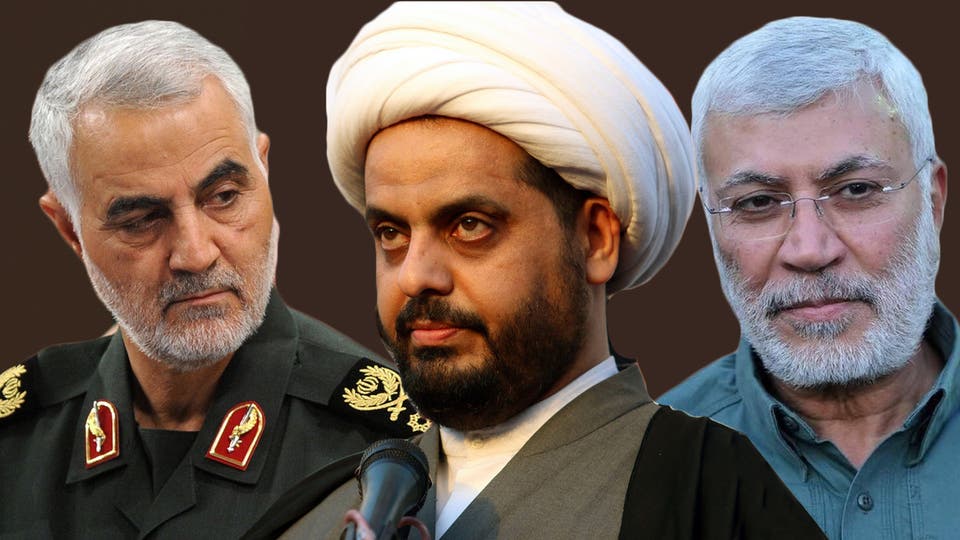 Although he used the tone of threat and intimidation against the United States as a response to the killing of Revolutionary Guards Corps commander Qassem Soleimani and Abu Mahdi al-Muhandis, deputy chief of the Popular Mobilization Militia in Iraq, American documents revealed Qais Khazali's confessions during his detention from 2007 to 2010 about his betrayal of those Cry over them today.
In the details, American investigations conducted with the leader of the Asa'ib Ahl al-Haq militia 

Qais Khazali

 during his detention from 2007 to 2010 revealed shocking surprises about one of Iran's arms in Iraq.
He was arrested by the US forces on the background of his accusation of leading anti-US militia forces in Iraq led by the United States, his involvement in arms smuggling from Iran, extrajudicial killings, and the storming of the Karbala Provincial Council (in 2007). ", According to investigations that raised the US Central Command Sentcom announced its secrecy in 2018.
The names of officers and methods of cooperation
The investigations revealed by "Syntcom" showed great cooperation from Khazali, who provided information during the first investigation session, about the form of cooperation between Shiite militias and the Iranian Revolutionary Guards, training methods and the names of Iranian officers.
Khazali acknowledged during the investigations that members of the Mahdi Army, led by Sadr movement leader Muqtada al-Sadr and the Hezbollah Brigades, had received military training and support from Iranian sources, in addition to members of the Badr Organization receiving training in Iran.
Khazali admitted that he met two of the five IRGC Iranian officers who were helping to facilitate the training of Iraqi armed groups. Khazali revealed to the investigators the names of these officers, in addition to details about the training process.
Khazali also revealed to American investigators the name of a training camp for Iraqi groups called "Imam Khamenei Camp," out of three camps north of Tehran. The investigations showed that the training supervisors in these camps are all Iranians who speak Farsi, and their instructions are translated into Arabic.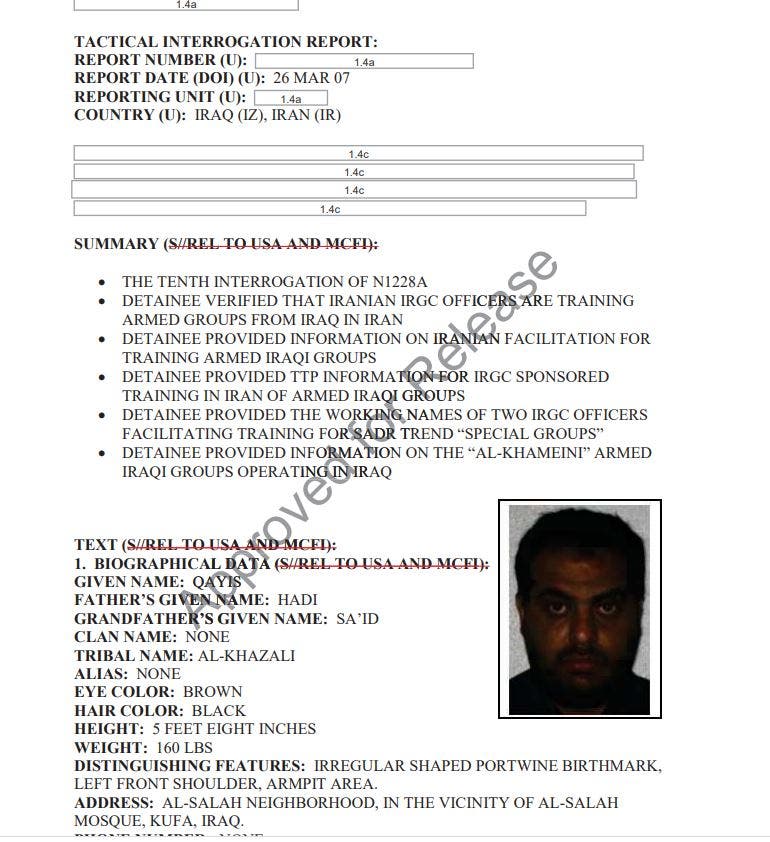 On Iran's training for Hezbollah militias, Khazali said in the investigations that Hezbollah battalions had trained in Iran, but he did not know the name of the camp in which they were trained.
I guide about Qasim Soleimani and the engineer
Khazali mentioned information about Qasim Soleimani, who was killed in a US air strike, on Friday, but the US Department of Defense did not disclose details of the information that Khazali disclosed.
Khazali also revealed information regarding the deputy head of the Popular Mobilization Authority, Abu Mahdi al-Muhandis, at an investigation session on April 4, 2007, where he said that the engineer had strong ties with Iran, and that even his loyalty to Iran, his family lived there, and had been a commander in the Mahdi Army for several years.
https://www.alarabiya.net/ar/arab-and-world/iraq/2020/01/06/%D9%82%D8%B5%D8%A9-%D8%AE%D9%8A%D8%A7%D9%86%D8%A9-%D8%A7%D9%84%D8%AE%D8%B2%D8%B9%D9%84%D9%8A-%D9%84%D9%82%D8%A7%D8%B3%D9%85-%D8%B3%D9%84%D9%8A%D9%85%D8%A7%D9%86%D9%8A-%D9%88%D8%A7%D9%84%D9%85%D9%87%D9%86%D8%AF%D8%B3-%D9%82%D8%A8%D9%84-%D9%85%D9%82%D8%AA%D9%84%D9%87%D9%85%D8%A7.html
VIP NewsHound





Posts

: 18134

---

Join date

: 2018-11-04



---
Permissions in this forum:
You
cannot
reply to topics in this forum