Trump threatens to destroy Turkey's economy once it launches a major operation in Syria
07 Oct 2019 07:37 PM
From: Ahmed Shawky
Direct: US President Donald Trump showed a marked decline in his decision to give Turkey the green light for a military operation in Syria, warning Ankara to destroy the entire economy if taken measures beyond the border.
The US president drew sharp criticism from Congress for a White House statement late on Sunday that the United States would not stand in the way of a Turkish incursion into northern Syria. 
Trump said in a tweet on the social networking site "Twitter" on Monday: "As I mentioned before, and I repeat only, if Turkey did anything that I considered outside the border I will destroy the economy of Ankara completely, I have done so before."
Trump said: "With Europe and others, they should monitor captured ISIS fighters and families. , To protect their land, the United States is great. "
By 4:28 pm GMT, the Turkish lira had fallen against the dollar by about 2 percent to 5.8141 pounds.
https://www.mubasher.info/news/3540570/%D8%AA%D8%B1%D8%A7%D9%85%D8%A8-%D9%8A%D9%87%D8%AF%D8%AF-%D8%A8%D8%AA%D8%AF%D9%85%D9%8A%D8%B1-%D8%A7%D9%82%D8%AA%D8%B5%D8%A7%D8%AF-%D8%AA%D8%B1%D9%83%D9%8A%D8%A7-%D8%AD%D8%A7%D9%84-%D9%82%D9%8A%D8%A7%D9%85%D9%87%D8%A7-%D8%A8%D8%B9%D9%85%D9%84%D9%8A%D8%A9-%D9%83%D8%A8%D9%8A%D8%B1%D8%A9-%D8%A8%D8%B3%D9%88%D8%B1%D9%8A%D8%A7
Trump's Syria Withdrawal Announcement Draws GOP Condemnation
7 oct. 2019
President Donald Trump's sudden decision to pull back U.S. troops from northern Syria drew quick, strong criticism Monday from some of his closest allies in Congress. It was condemned, too, by Kurdish fighters who would be abandoned to face a likely Turkish assault after fighting alongside Americans for years against the Islamic State.

The announcement threw the military situation in Syria into fresh chaos and injected deeper uncertainty into U.S. relations with European allies. Republican Sen. Lindsey Graham called it "a disaster," while Syria's Kurds accused the U.S. of turning its back on allies and risking gains made in the yearslong fight against ISIS.

Trump defended his decision, acknowledging in tweets that "the Kurds fought with us" but adding that they "were paid massive amounts of money and equipment to do so."

"I held off this fight for almost 3 years, but it is time for us to get out of these ridiculous Endless Wars, many of them tribal, and bring our soldiers home," he wrote.

If the Turks go too far, he tweeted later, "I in my great and unmatched wisdom" will destroy their economy.

Hours after the White House announcement, two senior State Department officials minimized the effects of the U.S. action, telling reporters that only about two dozen American troops would be removed from the Turkey-Syria border, not all the U.S. forces in the northeast of the country. They also said Turkey may not go through with a large-scale invasion and the U.S. was still trying to discourage it.

Both officials spoke only on condition of anonymity to discuss what led to the internal White House decision.

Turkish President Recep Tayyip Erdogan has threatened for months to launch a military operation across the Syrian border. He views the Kurdish forces as a threat to his country. Both Republicans and Democrats in the U.S. have warned that allowing the Turkish attack could lead to a massacre of the Kurds and send a troubling message to American allies across the globe.

U.S. troops "will not support or be involved in the operation" and "will no longer be in the immediate area," in northern Syria, White House press secretary Stephanie Grisham said in an unusual late-Sunday statement that was silent on the fate of the Kurds.

There are about 1,000 U.S. troops in northern Syria, and a senior U.S. official said they will pull back from the area — and could depart the country entirely should widespread fighting break out between Turkish and Kurdish forces. For the moment, the U.S. troops are not leaving Syria, officials said.

A U.S. official confirmed that American troops were already moving out of the security zone area, which includes the Syrian towns of Ras al-Ayn and Tal Abyad. That official was not authorized to speak for the record and was granted anonymity to comment.

Republican Sen. Graham of South Carolina said he would call for Turkey's suspension from NATO and introduce sanctions against Ankara if the Turks attack Kurdish forces.

"This decision to abandon our Kurdish allies and turn Syria over to Russia, Iran, & Turkey will put every radical Islamist on steroids. Shot in the arm to the bad guys. Devastating for the good guys," Graham wrote in a tweet.

Trump's move appeared to take even his closest allies by surprise during a pivotal moment of his presidency. House Democrats are marching forward with their impeachment inquiry into whether he compromised national security or abused his office by seeking negative information on former Vice President Joe Biden, a political rival, from foreign countries.

House Minority Leader Kevin McCarthy, R-Calif., did say Monday in an appearance on "Fox & Friends" that he had been briefed by the president about the decision. But he also said he had concerns.

Subscribe to our YouTube channel:
https://bit.ly/2TwO8Gm


TICTOC ON SOCIAL:
Follow TicToc on Twitter:
https://twitter.com/tictoc

Like TicToc on Facebook:
https://www.facebook.com/tictoc

Follow TicToc on Instagram:
https://www.instagram.com/tictoc

Subscribe to our newsletter:
https://bit.ly/2FJ0oQZ


TicToc by Bloomberg is global news for the life you lead. We are a 24/7 news network that covers breaking news, politics, technology, business and entertainment stories from around the globe, supported by a network of Bloomberg's 2,700 journalists across 120 countries.
https://www.youtube.com/watch?v=rP9fdL3M_wo
[size=36]Republicans slam Trump's decision on US forces in Syria that puts allies at risk[/size]
Oct 7, 2019, 3:59 PM
President Donald Trump's decision to have U.S. forces in 
northern Syria step aside to 
make way for Turkish troops
 and put U.S.-allied Syrian Kurds at risk, has sparked outrage among Trump's closest allies on Capitol Hill, with many Republicans questioning Trump's leadership on foreign policy issues.
"I hope I'm making myself clear how shortsighted and irresponsible this decision is in my view," GOP Sen. Lindsey Graham of South Carolina, usually a strong Trump supporter, said Monday during an interview with "Fox & Friends." "This to me is just unnerving to its core."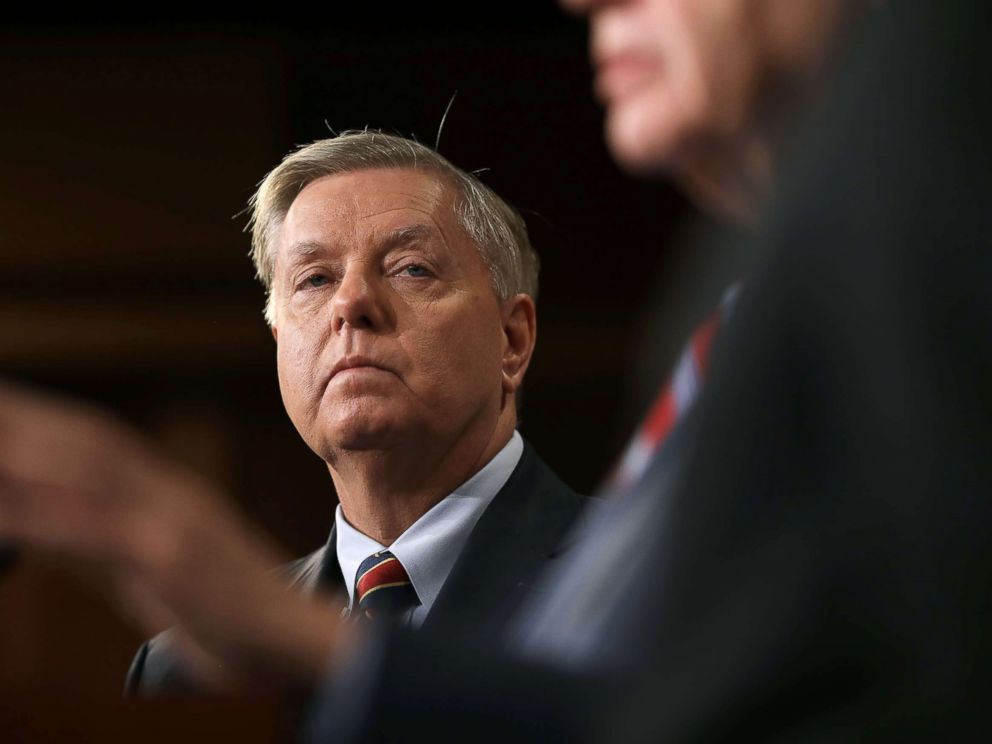 At the same time, Senate Majority Leader Mitch McConnell pointedly warned Trump to "exercise American leadership."
Turkey is set to invade Syria and the U.S. said it would remove all of its forces from the "immediate area," according to the White House.
A U.S. official confirmed Monday that American troops in northeast Syria were pulling back.
The Turkish move is likely to put the Kurdish forces that helped the U.S. defeat ISIS in peril. Turkey considers the Kurdish forces -- the PKK and YPG -- terrorist organizations.
The news came late Sunday after President Trump spoke to Turkish President Recep Tayyip Erdogan by phone earlier in the day.
Graham said he'd be introducing a Senate resolution opposing the move.
(MORE: US, Turkey agree to deal on Syria safe zone for refugees as new report warns of ISIS resurgence)
"Just spoke to Sen @ChrisVanHollen about situation in Syria. We will introduce bipartisan sanctions against Turkey if they invade Syria and will call for their suspension from NATO if they attack Kurdish forces who assisted the U.S. in the destruction of the ISIS Caliphate," he tweeted Monday.
"Hope and expect sanctions against Turkey - if necessary - would be veto-proof. This decision to abandon our Kurdish allies and turn Syria over to Russia, Iran, & Turkey will put every radical Islamist on steroids. Shot in the arm to the bad guys. Devastating for the good guys," Graham added.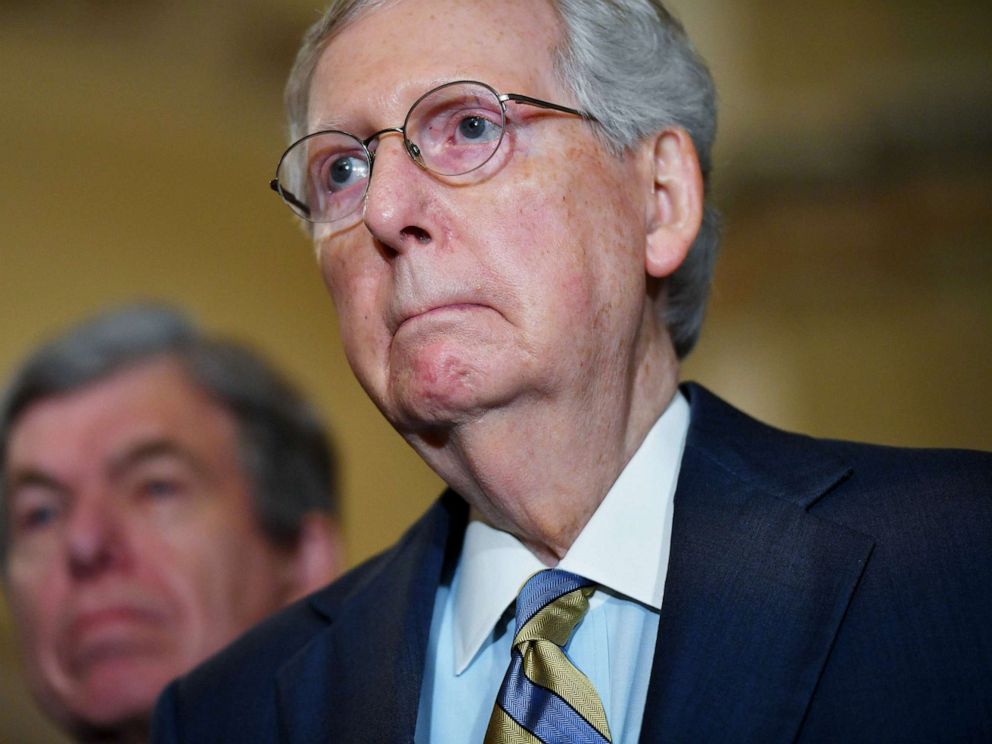 McConnell, in urging Trump to show "American leadership," said the U.S. must prevent conflict between Turkey and the Syrian Kurds.
"I urge the President to exercise American leadership to keep together our multinational coalition to defeat ISIS and prevent significant conflict between our NATO ally Turkey and our local Syrian counterterrorism partners. Major new conflict between Turkey and our partners in Syria would seriously risk damaging Turkey's ties to the United States and causing greater isolation for Turkey on the world stage," McConnell said in a statement Monday.
"This is a terribly unwise decision by the President to abandon our Kurdish allies, who have been our major partner in the fight against the Islamic State," GOP Sen. Susan Collins of Maine said in a statement.
Sen. Ben Sasse, R-Neb., said Trump's decision will result in the "slaughter" of allies.
"If the President sticks with this retreat, he needs to know that this bad decision will likely result in the slaughter of allies who fought with us, including women and children. I hope the President will listen to his generals and reconsider. And before Turkey butchers innocent Kurds, Erdogan should carefully consider his privileged status as a NATO member. The American people don't partner with genocidal regimes," Sasse said in a statement.
Sens. Mitt Romney, R-Utah, and Chris Murphy, D-Conn., said they plan to call administration officials to Capitol Hill to testify about the president''s decision.
"Barring a reversal of this decision, the Administration must come before the Senate Foreign Relations Committee and explain to the American people how betraying an ally and ceding influence to terrorists and adversaries is not disastrous for our national security interests. As Chairman and Ranking Member of the Middle East subcommittee, we will be working with Committee leadership to assure that the Administration appears before the Committee as soon as possible," the senators said in a joint statement.
https://abcnews.go.com/Politics/republicans-slam-trumps-decision-us-forces-syria-putting/story?id=66111748
Trump: We have not abandoned the Kurds in any way
2019/10/08 09:10:13
US President Donald Trump said on Tuesday he had not given up the Kurds in Syria "in any way."
Trump wrote in a series of tweets on his Twitter account: "We may be about to leave Syria, but we have in no way abandoned the Kurds, and they are special people and wonderful fighters."
The US president reiterated his threat to Ankara, saying "any unnecessary fighting by Turkey would be devastating to their economy and their very fragile currency. We are helping the Kurds financially / with weapons!"
The Turkish Defense Ministry announced on Tuesday "completion" of preparations for a military operation in northern Syria, amid conflicting signals from the United States about whether Trump allows the attack.
The US president ordered US troops to withdraw from the border area between Turkey and Syria after a telephone conversation with Turkish President Recep Tayyip Erdogan.
Opponents saw a move by Trump to abandon Kurdish forces, which were a key ally of Washington in its battle against ISIS.
The Turkish president has repeatedly threatened to attack Kurdish fighters in northern Syria because of their relationship with separatists in his country.
But Trump also adjusted his stance on Monday, under pressure from international condemnation and criticism inside his Republican camp.
Ankara is demanding a "safe area" on the border with northern Syria, separating Kurdish rebel-held areas from the Turkish border and allowing the return of nearly two million Syrian refugees.
Ankara has in the past carried out two operations in Syria, the first against ISIS in 2016 and the second against the YPG in 2018, with support from armed factions affiliated with the Syrian opposition.
[size=40]US policy on Kurds may affect entire Middle East region — Russian top diplomat[/size]
The foreign minister doubted the US would indeed withdraw troops from Syria
9 OCT, 05:54
NUR-SULTAN, October 9. /TASS/. The inconsistent policy of the US on the Kurds may affect the entire Middle Eastern region, Russian Foreign Minister Sergey Lavrov stated on Wednesday, adding that it must be stopped at all costs.
"The Americans need to understand that the events that took place in northeast Syria in the past few years with their participation are a direct violation of the UN Security Council resolution on respecting Syria's territorial integrity and sovereignty. The Americans have established quasi-government structures there, keeping them functional and actively promoting the Kurdish issue in a way to cause dissent among the Arab tribes traditionally populating these territories," the Russian top diplomat said.
"It is a very dangerous game," Lavrov noted. "During my recent visit to Iraq, I have talked with the Iraqi Kurds: they are very much concerned that such careless treatment of a highly sensitive issue may affect the whole region, which must be avoided at all costs. We are trying to make it clear to the US side. However, so far, we see few changes in their inconsistent and contradictory policy," the minister stressed.
He pointed out that US actions in Syria attest to the inability of Washington to come to an agreement. "The fact that our American colleagues are full of contradictions reflects their inability to reach an agreement, this is clear to me. We have called on them repeatedly to put an end to the unlawful occupation of territory in the area of Al-Tanf, where they created a base with the radius of 55 km — a huge territory that shelters some very bad people, including terrorists, extremists, people who terrorize refugees and displaced persons in the Rukban camp," Lavrov continued. "The Americans have repeatedly broken their promises, just like they broke the promise to limit and then to eliminate their presence in Al-Tanf."

"[US President] Donald Trump did state many times that he would withdraw US troops from Syria and other states. Then his directives were shut down by those tasked to follow them. We might be witnessing something similar now," the foreign minister assumed.
On October 1, Turkish President Recep Tayyip Erdogan announced that Ankara planned to create a safety zone east of the Euphrates River in Syria on its own as it had failed to achieve the desired result in talks with the US. The White House said following an October 6 telephone conversation between US President Donald Trump and Erdogan that "the United States Armed Forces will not support or be involved in the operation, and United States forces, having defeated the ISIS territorial 'Caliphate,' will no longer be in the immediate area." On October 7, Erdogan stated that Washington had begun the withdrawal of troops from northeast Syria, where Turkey planned to carry out an operation to establish a safety zone.
On Monday, Trump wrote on Twitter that "it is time for us to get out of these ridiculous endless wars, many of them tribal, and bring our soldiers home." The White House first announced the decision to pull troops out of Syria on December 19, 2018.


Donald J. Trump



@realDonaldTrump



 · Oct 7, 2019



Replying to @realDonaldTrump
[ltr].....again said "NO," thinking, as usual, that the U.S. is always the "sucker," on NATO, on Trade, on everything. The Kurds fought with us, but were paid massive amounts of money and equipment to do so. They have been fighting Turkey for decades. I held off this fight for....[/ltr]
Donald J. Trump

@realDonaldTrump

[ltr]....almost 3 years, but it is time for us to get out of these ridiculous Endless Wars, many of them tribal, and bring our soldiers home. WE WILL FIGHT WHERE IT IS TO OUR BENEFIT, AND ONLY FIGHT TO WIN. Turkey, Europe, Syria, Iran, Iraq, Russia and the Kurds will now have to.....[/ltr]



68.6K
7:40 AM - Oct 7, 2019
Twitter Ads info and privacy
[size]
[ltr]



[size=14]20K people are talking about this




[/ltr]
[/size]
Ways to resolve conflict in Syria
Moscow is confident that the situation in northeast Syria should be resolved exclusively through dialogue between the government in Damascus and the Kurdish communities in the region, Sergey Lavrov told reporters on Wednesday.
"Our stance unequivocally proceeds from the need to solve all problems of that part of Syria through dialogue between the central government in Damascus and representatives of the Kurdish communities that have traditionally lived in these territories," he said.
According to Lavrov, following statements on the situation in northeast Syria made by Ankara and Washington, Moscow had contacts with both representatives of the Kurds and the Syrian government. "We confirmed that we were encouraging them to begin the dialogue to solve problems in that part of Syria, including those related to ensuring security on the Turkish-Syrian border," he noted.
"We continue to believe that this is the only way to achieve sustainable stabilization of the situation. Yesterday we heard statements made by both officials in Damascus and representatives of the Kurds that they are ready for such a dialogue. We will try to do our utmost to facilitate the beginning of such meaningful talks. We hope it will be backed by all major external players," Russia's top diplomat stressed.
Commenting on Ankara's stance on the issue, Lavrov recalled that he earlier had a telephone conversation with his Turkish counterpart Mevlut Cavusoglu. "He unambiguously confirmed to me that Turkey respected Syria's territorial integrity and would proceed in its actions from the assumption that the ultimate goal of our efforts was, in particular, the full restoration of the Syrian state's territorial integrity," he said.

https://tass.com/politics/1082178
[/size]
[size=36]Barzani sends message to Trump: Kurdish blood is precious[/size]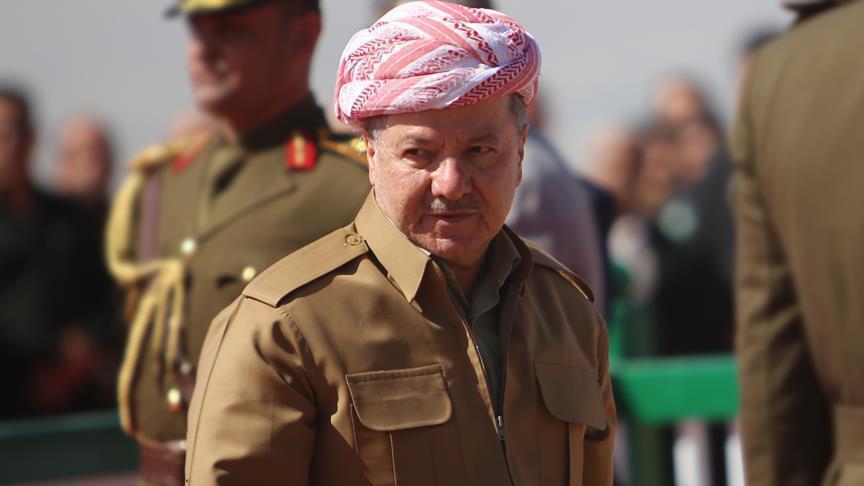 BAGHDAD (Reuters
) - Former Kurdish president Massoud Barzani sent a letter to US President Donald Trump on the situation of Kurds in northern Syria on Wednesday.
Barzani stressed in a tweet on his own page on the "Twitter" that "the blood of the Kurds more precious than money and weapons," while commenting on the escalation in northeastern Syria.
"Dear President Trump, please note that the people of Kurdistan have always sought their just rights," Barzani wrote in his tweet.
He added: "The Peshmerga forces have defeated ISIS and formed an effective part of the coalition against terrorism."
"The blood of the Kurds is more precious and more valuable than money and weapons," Barzani concluded.
This comes at a time when Turkey announced the completion of its preparations for a military operation inside Syrian territory, and brought military reinforcements to the border.
The United States had announced earlier that it would not support the SDF (the majority of whom are Kurds) in any attack by Turkey and would not defend them anywhere.
https://www.mawazin.net/Details.aspx?jimare=67760
[size=34]Iraq expresses its deep concern about the military operation carried out by Turkish forces in northeastern Syria[/size]
9/10/2019
Iraq is deeply concerned about the military operation being carried out by Turkish forces in northeastern Syria.
We believe that it will further complicate the Syrian scene and displace large numbers of civilians.
This increases the magnitude of human suffering, and threatens the complexities and direct effects on security in Iraq and the possibility of the entry of large numbers of armed and displaced people to its territory, therefore calls on Iraq to preserve the sovereignty of States and the adoption of political solutions.
Ministry of Foreign Affairs
Baghdad
9/10/2019
https://www.mofa.gov.iq/2019/10/?p=4988
[size=34]Foreign Minister receives a phone call from Mr. Ahmed Aboul Gheit, Secretary General of the Arab League[/size]
11/10/2019
Foreign Minister Mohamed Ali al-Hakim received a phone call from Mr. Ahmed Aboul Gheit, Secretary General of the Arab League.
The two sides discussed the latest developments in the Arab arena, especially Turkey's military operations in northeastern Syria, and their repercussions on the stability of the region.
In this regard, Aboul Gheit invited Minister Hakim to attend the emergency meeting of the Arab League at the ministerial level.
At the end of the phone call, the minister called for the need for the Arab League to play a practical role to end the crises in the region and to take measures to preserve the sovereignty of Arab countries from foreign interference.
https://www.mofa.gov.iq/2019/10/?p=4990
---
Permissions in this forum:
You
cannot
reply to topics in this forum