Dave Schmidt, as a board member, and promoter, primary duty is to Meta 1, and not to the potential/current investors he has at his workshops, and his Facebook and YouTube following.
Dave doesn't have to reveal anything about the court judgement, or the appeal, over the art, Meta 1 claimed to own.
Is it ethical for Dave to continue promoting Meta 1? You decide. Here's the court case and appeal:
http://www.search.txcourts.gov/Case.aspx?cn=04-19-00488-CV&coa=coa04
Will Dave take questions, and give answers on his YouTube videos concerning the art Meta 1 didn't buy?
Will folks attending his workshops be able to ask questions regarding the court appeal updates?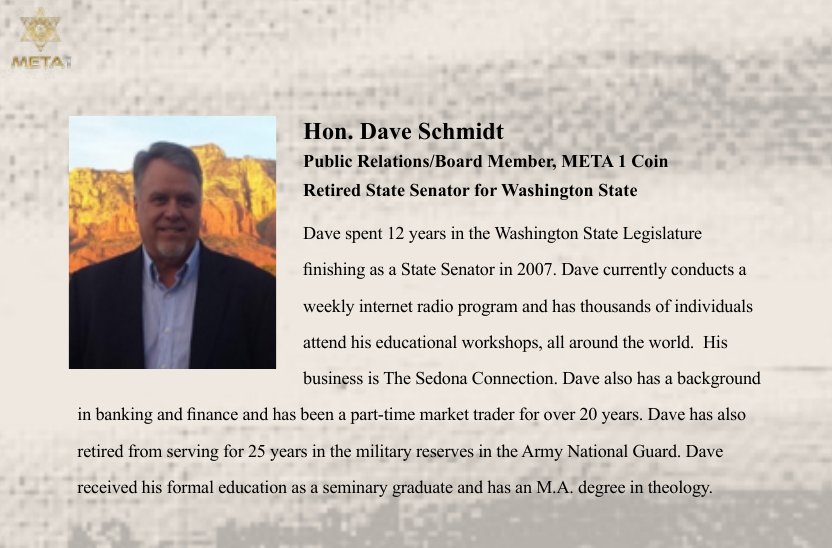 http://www.oom2.com/t65363-meta-1-coin-dave-schmidt-empire-in-crisis
Keywords:
Robert, Paul, Dunlap, Nicole, Marie, Bowdler, Wanda, Ironheart, Traversie, Marianne, O'Malley, Richard, Grassie, Julius, Israel, Megan, Katie, Wier, Joyce, Roldan, Diana, Hernandez, Kevin, Job, Amy, Sikarskie, Melanie, Nunnick, Dave, Schmidt, Alan, Sikarskie, Charles, Sorensen, Al, Warner, Bruce, Bryant, Satoshi, Nakamoto, Rebecca, Trois, Telethea, Hayes
Executive Trustee, Global Visionary, Secretary, Director, Business Development, Operations, Board Member, META 1 Coin, Owner, Producer, Broker, A1 Dependable Insurance, Shamanic Healer Teacher Energy Healing, Client Relations, President, Richards Custom Water Systems, Living Water, Wellness, Sales Liason, Secured Party Creditor
Marketing, Customer, Accounting Manager, Technical Advisor, Artheas Solutions, Inc., Holistic Health Care Practitioner, Author, Instructor, Public Relations, Retired State Senator for Washington State, General Manager, Greiner Aerospace, U.S. Navy Commander, Forensics Lab, Contractor, Licensed UAC Pilot, Sovereign Citizen
The University of Missouri, Rolla School of Economics, ICO, Pablo Picasso, Vincent van Gogh, Amedeo Modigliani, Da Vinci Publishing Trust, Cryptocurrency, Blockchain Technology, Art Verification Smart Contract, Surety Bond, Michael Lee Hill, 432 Hertz, Disc, Metatron, Clear, Now, 333, Angel, Lincoln, channelling
The Sedona Connection, YouTube, Facebook, Twitter, Twat Waffle, Blanca, Atlanta, Georgia, Florida, Boca Raton, Houston, Texas, Austin, Fredricksberg, Enchanted Rock, Workshop, Jerzy, Babkowski, Neil, Keenan, China, Dragon, Godfather, Humanitarian, Funds, Released, Dinar, Dong, Family, Elder, Ambassador, Gold
Dave and Boooby Dunlap do not seem fazed at all with the legal mess. Robert still appears at Douchebag Dave's workshops to con people and will even be on the Nov cruise. Its mind boggling. If the appeal is denied or withdrawn ( due to moron Dunlap's non response) then what? Does anyone think Charles trios will sit idle and not pursue the judgment?
VIP Member





Posts

: 367

---

Join date

: 2019-01-24



Ill forward this to Clay Snell, Trois attorney. Hopefully he will alert the court of Booby Dunlap's  lies. He is  amazing. A lying, scamming sociopath who will even lie to the court.
VIP Member





Posts

: 367

---

Join date

: 2019-01-24



Hmmm...The Meta 1 Coin trust uses what appears as a post office tracking number on the return receipt requested green card as it's document number.

If that's true, does the USPS have any authority over these matters? LOL
---
Permissions in this forum:
You
cannot
reply to topics in this forum