3 eggs with 100 billion .. Prices in countries with high inflation rates "astronomical"
2019/09/07 10:42:04 
In some countries, the economic situation is so late that citizens suffer from inflation, to the point where there are countries where billions of dollars are needed to buy a chicken.
In the following lines, we review the most prominent countries that suffer from huge inflation in their currency, which makes the process of buying and selling in their local currency requires huge amounts of currency:
Zimbabwe
The Zimbabwean dollar is the worst in value against the US dollar. The US dollar is worth about $ 35 million (quadrillion) dollars.
The value of interest to counter inflation has been rising in Zimbabwe, in previous years, with the printing of huge amounts of money to cover interest with the terrible inflation resulting from the increase in the salaries of state officials, up to 5000%, according to "Reuters."
To illustrate the scale of the disaster in Zimbabwe, there are no more than three eggs worth $ 100 billion, and $ 100 trillion is not buying a parsley package.
Venezuela
Inflation in Venezuela reached abnormal levels, with the collapse of the currency, last year, under the administration of President Maduro.
Inflation is that to buy a 2.4 kilogram chicken in Venezuela, you have to pay 14,600,000 bolivars ($ 2.20), toilet paper costs 2,600,000 bolivars ($ 0.40), and one kilogram of carrots cost 3,000,000 bolivars (0.46). Dollars), according to the network "Sky News".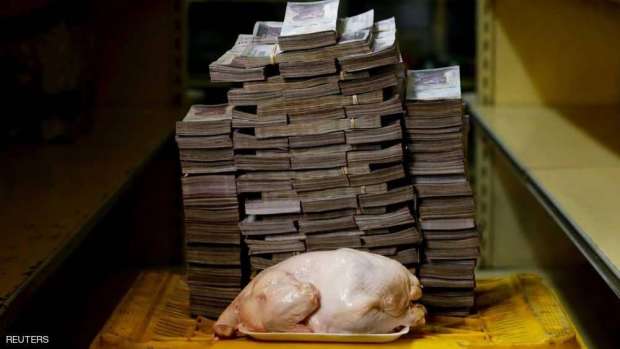 In addition, since last year, the minimum wage for employees, which is not enough to buy one kilo of meat, has collapsed due to runaway inflation, which could reach 1 million percent this year, according to IMF forecasts.
Iran
In the wake of the deterioration of the economy and the collapse of the currency rate in Iran, the Iranian government, subject to severe sanctions, approved a plan to remove the zeros from its currency, and replace the rial currency with the "toman" during the year.
The Iranian government spokesman, Ali Rubaie, at a news conference in Tehran, "The government approved a bill to delete four zeros from the currency, and the Toman will be our national currency," according to the site "Sputnik" Russian.
One dollar is worth 154 thousand riyals in individual transactions.
LINK
*****************
GURU HUNTER





Posts

: 24217

---

Join date

: 2015-02-19



Admin





Posts

: 38256

---

Join date

: 2011-08-09



---
Permissions in this forum:
You
cannot
reply to topics in this forum