[size=32]
Iranian Foreign Minister meets with French President in unexpected talks during G7
[/size]
26/08/2019
[size=32]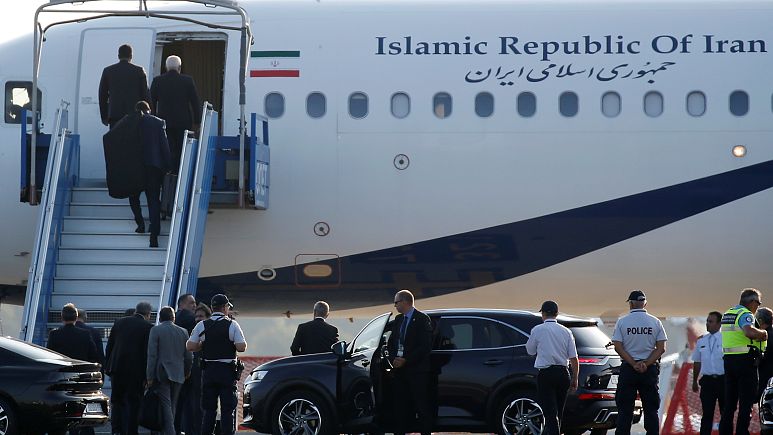 [/size]
Iranian Foreign Minister Mohammad Javad Zarif landed in Biarritz on Sunday in what many called a surprise visit during the G7 summit.
Zarif tweeted a photo of a meeting with French President Emmanuel Macron and other top French officials on Sunday evening. He said the meeting was on the "sidelines" of the G7 summit.
"Road ahead is difficult. But worth trying," Zarif tweeted.
Javad Zarif

@JZarif

[ltr]Iran's active diplomacy in pursuit of constructive engagement continues.

Met

@EmmanuelMacron

on sidelines of

#G7Biarritz

after extensive talks with

@JY_LeDrian

& Finance Min. followed by a joint briefing for UK/Germany.

Road ahead is difficult. But worth trying.[/ltr]





4,047
1:30 PM - Aug 25, 2019
Twitter Ads info and privacy
[ltr]





1,934 people are talking about this






[/ltr]


German Chancellor Angela Merkel said that talks between Iran and France were "parallel" but not officially part of the G7 Summit.
US President Donald Trump told reporters he had "no comment" on Zarif arriving in Biarritz.
Tensions between Tehran and Washington have escalated since the US pulled out of the Iran Nuclear Deal last year. In June, Trump targeted the Iranian regime with new sanctions as part of a "maximum pressure" campaign on the state.
The former US ambassador to the United Nations, Nikki Haley, tweeted that inviting Iran was "disrespectful" to the American president.
The former ambassador under Trump called the move "manipulative of Macron" and "insincere".
Nikki Haley

@NikkiHaley

[ltr]This is completely disrespectful to

@realDonaldTrump

and the other leaders at the G7. Iran supports terrorism at every turn and continues to pursue "Death to America". Manipulative of Macron to do this and very insincere.

#NotWhatFriendsDo https://twitter.com/jenniferjjacobs/status/1165638888951623686 …

[/ltr]


Jennifer Jacobs

@JenniferJJacobs

Major Macron curveball—he invited Iran official for surprise visit to Biarritz, move that risks infuriating Trump admin.

Macron trying to show he has achievements on geopolitics; he has led Europe effort to salvage Iran nuclear deal. Trump pulled out 2018https://www.bloomberg.com/news/articles/2019-08-25/macron-invites-iran-s-zarif-to-g-7-sidelines-risks-u-s-outrage …


26K
1:26 PM - Aug 25, 2019
Twitter Ads info and privacy
[ltr]





19.3K people are talking about this






[/ltr]


Macron had met with Zarif on Friday to discuss the Iran Deal; Zarif said he was "happy" that Macron was taking the lead in trying to hold the agreement together.
The Iranian Ministry of Foreign Affairs spokesman said that Zarif had been invited by the French foreign minister to "continue discussions on recent initiatives" between Iran and France.
"There will be no talks with the American delegation on this trip," Zarif's spokesman Seyyed Abbas Mousavi tweeted.
Watch Euronews' interview with Iranian Foreign Minister Mohammad Javad Zarif here.
https://www.euronews.com/2019/08/25/iranian-foreign-minister-meets-with-french-president-on-sidelines-of-g7-summit
VIP NewsHound





Posts

: 17046

---

Join date

: 2018-11-04



---
Permissions in this forum:
You
cannot
reply to topics in this forum