A part of the dialogue session held by the Iraqi Bank for Trade and the granting of loans to citizens wishing to buy solar applications at the initiative of the adviser to Prime Minister Abdul Hussein Al-Henin.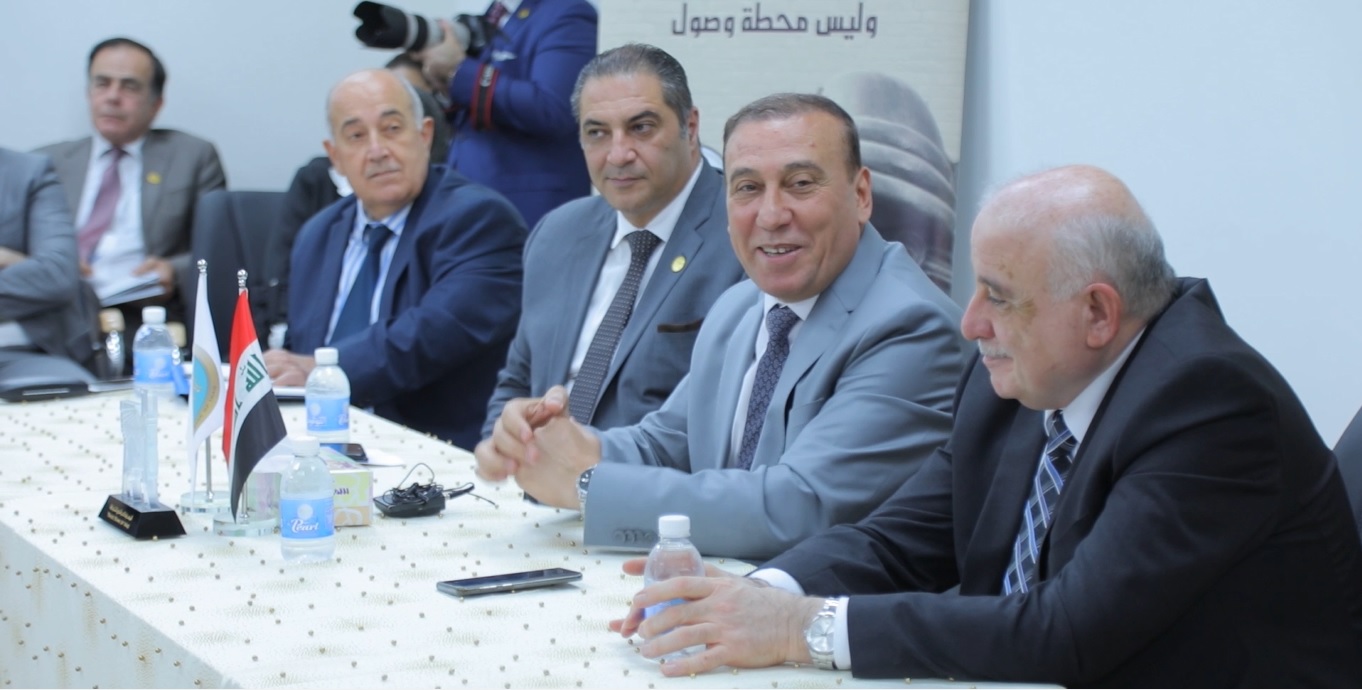 https://www.facebook.com/tbiraq/videos/2349649282030553/
https://tbi.com.iq/?news=%D8%AC%D8%A7%D9%86%D8%A8-%D9%85%D9%86-%D8%A7%D9%84%D8%AC%D9%84%D8%B3%D8%A9-%D8%A7%D9%84%D8%AD%D9%88%D8%A7%D8%B1%D9%8A%D8%A9-%D8%A7%D9%84%D8%AA%D9%8A-%D8%A7%D9%82%D8%A7%D9%85%D9%87%D8%A7-%D8%A7%D9%84
The Iraqi Trade Bank (TBI) held a discussion session at the General Administration building of the bank to grant loans to citizens wishing to purchase solar applications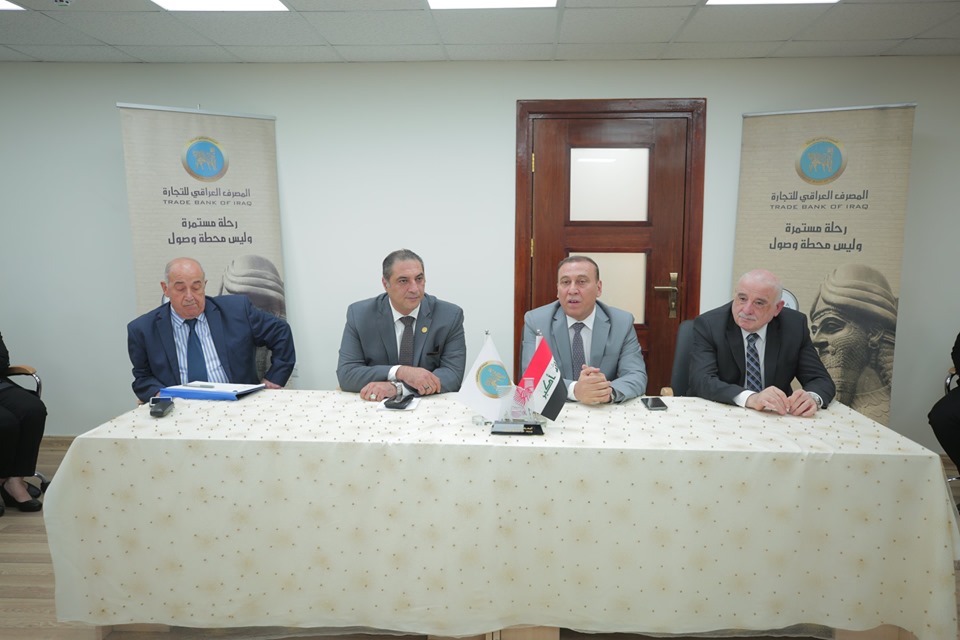 [rtl]The Iraqi Bank for Trade (TBI) held a discussion session in the General Administration building to grant loans to citizens wishing to buy solar applications at the initiative of the Advisor to the Prime Minister, Mr. Abdul Hussein Al Henin, in the presence of Undersecretary of Electricity, Mr. Isser Habib and representatives of government and private banks. Means this.[/rtl]
[rtl]The session, which was chaired by Mr. Faisal Al-Hims, President of the Iraqi Trade Bank and Chairman of the Board of Directors, focused on a plan to work on a mechanism to grant loans to citizens wishing to purchase solar applications stemming from the recommendations proposed at the symposium "Energy Sustainability" The respected Mahdi.[/rtl]
[rtl]Mr. Abdul Hussein Al Henin praised the role of the Iraqi Bank for Effective Trade, which will be the main focus of the guarantee to the borrowers and banks financed for this project to improve the electric reality of the citizens.[/rtl]
[rtl]This session is the first preparatory session, which issued positive recommendations and general frameworks for practical steps to start the project and there will be other meetings.[/rtl]
[rtl]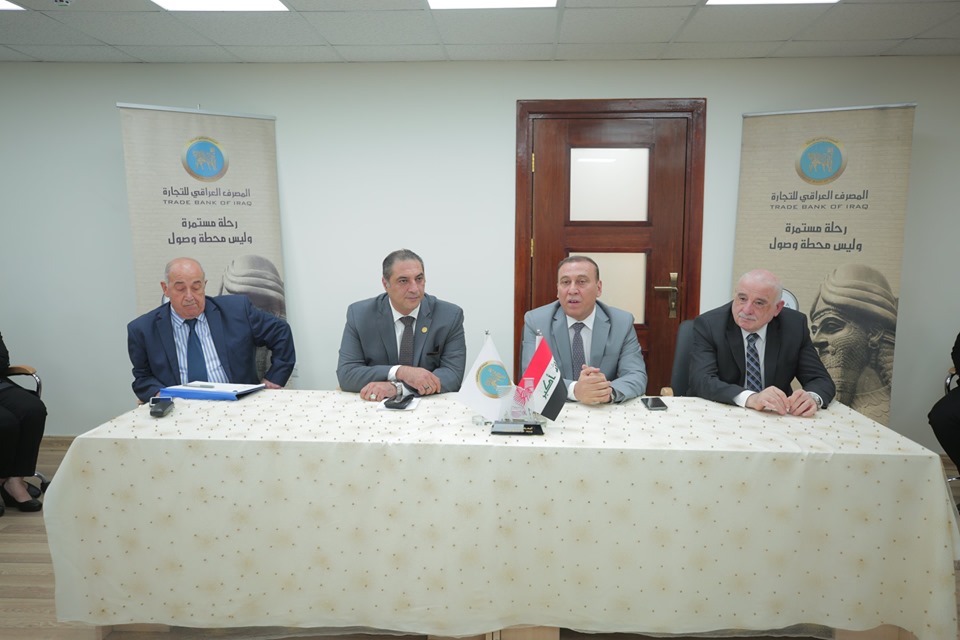 [/rtl]
https://www.facebook.com/tbiraq/posts/2075376082769233
https://tbi.com.iq/?news=%D8%A7%D9%82%D8%A7%D9%85-%D8%A7%D9%84%D9%85%D8%B5%D8%B1%D9%81-%D8%A7%D9%84%D8%B9%D8%B1%D8%A7%D9%82%D9%8A-%D9%84%D9%84%D8%AA%D8%AC%D8%A7%D8%B1%D8%A9-tbi-%D9%81%D9%8A-%D9%85%D8%A8%D9%86%D9%89-%D8%A7
TRADE BANK OF IRAQ CONTINUES STRONG ANNUAL GROWTH AND RECORDS IMPRESSIVE FINANCIAL RESULTS
Sunday 04 August 2019
Faisal Al Haimus, Chairman & President of Trade Bank of Iraq
Dubai - MENA Herald:
Trade Bank of Iraq (TBI) achieved another consecutive year of expansion and growth with an increase in revenues and major growth recorded in key financial areas, according to an audit of the institution's annual operations by Ernst and Young.
Financial statements for the year ending 31st December 2018 reveal strong results for TBI as a result of year-on improvements across important sectors including net operating income, assets held, customer deposits and income from interest and commissions.
The bank, which was established in 2003 and was recently recognized at the Achievements Forum Milan 2019, recorded a net operating income of USD590,623 million, an increase of 20 per cent compared to 2017.
These strong earnings have resulted in TBI being ranked number one for their BIS Capital Ratio in the world by UK's 'The Banker' magazine.
TBI is making great strides towards reaching its strategic goals both in business and in assisting the ongoing reconstruction of Iraq as it continues to define its reputation as a competent institution with access to global financial networks.
The bank's success in reaching these goals was reflected in the Ernst and Young report, which detailed an impressive 30% increase in funds held in customer accounts, up from USD6,872,155 in 2017 to USD8,988,633 in 2018.
TBI, who entered Saudi Arabia this year with the opening of its first branch in Riyadh, is working on expanding into China and the GCC, seeking to lift its revenues from retail banking and international operations to 30 per cent by 2022.
The bank plans to open a representative office in China next year and is upgrading its license in Abu Dhabi to an asset management company from a representative office.
TBI's position as one of Iraq's major financial institutions was reflected in a 57% increase in funds due from banks and other institutions in 2018, with USD7,484,465 due comparing to USD4,746,301 the previous year.
Ernst and Young reported that the bank's direct credit facilities were also boosted in 2018 to the figure of USD5,175,252, compared to USD5,117,138 in 2017.
Assets held by TBI increased by 8% in 2018 with USD21,146,247 compared to 2017's figure of 19,460,656. Last year also saw TBI register a 26% increase in income received from net interest and commissions, with USD550,271 received compared to USD433,389 in 2017.
Faisal Al Haimus, Chairman & President of Trade Bank of Iraq, said: "The last 12 months have been a successful time for Trade Bank of Iraq and our ongoing mission to facilitate the reconstruction of Iraq through the provision of high-quality financial products and services.
"Over the last three years, TBI has been able to support businesses and financial institutions by providing an economic environment that empowered growth and expansion across many sectors.
"The figures speak for themselves in terms of our financial performance, but growth such as this comes through both an accelerated expansion strategy and prudent risk management."
Over the last year, TBI has continued to invest in essential infrastructure across its national network. An indicator of its growth can be seen in the number of ATMs which increased to 137, up from 106 in 2017, while the number of employees was boosted by 122, rising from 1,294 in 2017 to 1,416 in 2018.
Faisal added: "While we are happy to celebrate our successes over the last 3 years, we look forward to using these achievements as a launchpad to even greater things in the year ahead as TBI continues to build a better tomorrow for Iraq."
"As part of our strategic plan, we are aiming for retail and international business to contribute 30% of our total revenues by the end of the next three years through new product offerings and international expansion."
TBI will soon launch a fund towards the end of the year focusing on lending to other Iraqi banks for international trade. This comes at the back of another successful portfolio of financial products and services launched to retail customers across Iraq like 'My Study' product and the international investment vehicle 'Dananeer Fund'.
TBI recently announced a financial aid of over $843.1 million USD for the state-run Grain Board of Iraq to boost the agricultural sector in the country. The bank also recently transferred over 95 million USD, 50% of their net profit for the year 2018, to State Treasury to support and strengthen the economy of Iraq.
As TBI moves forward with its strategic plan that will take the bank up to 2022, it continues to play a pivotal and influential role in Iraq's ongoing recovery and regeneration.
https://www.menaherald.com/en/money/banking/trade-bank-iraq-continues-strong-annual-growth-and-records-impressive-financial
---
Permissions in this forum:
You
cannot
reply to topics in this forum