Are you an Iraqi owner of an emerging technology project? Do you have innovative ideas and plan to expand your project? For more information and to apply, please visit:
http: //

edf.iom.int/INNOVATION/ 
# Iraq
03:16 - 14 juil. 
2019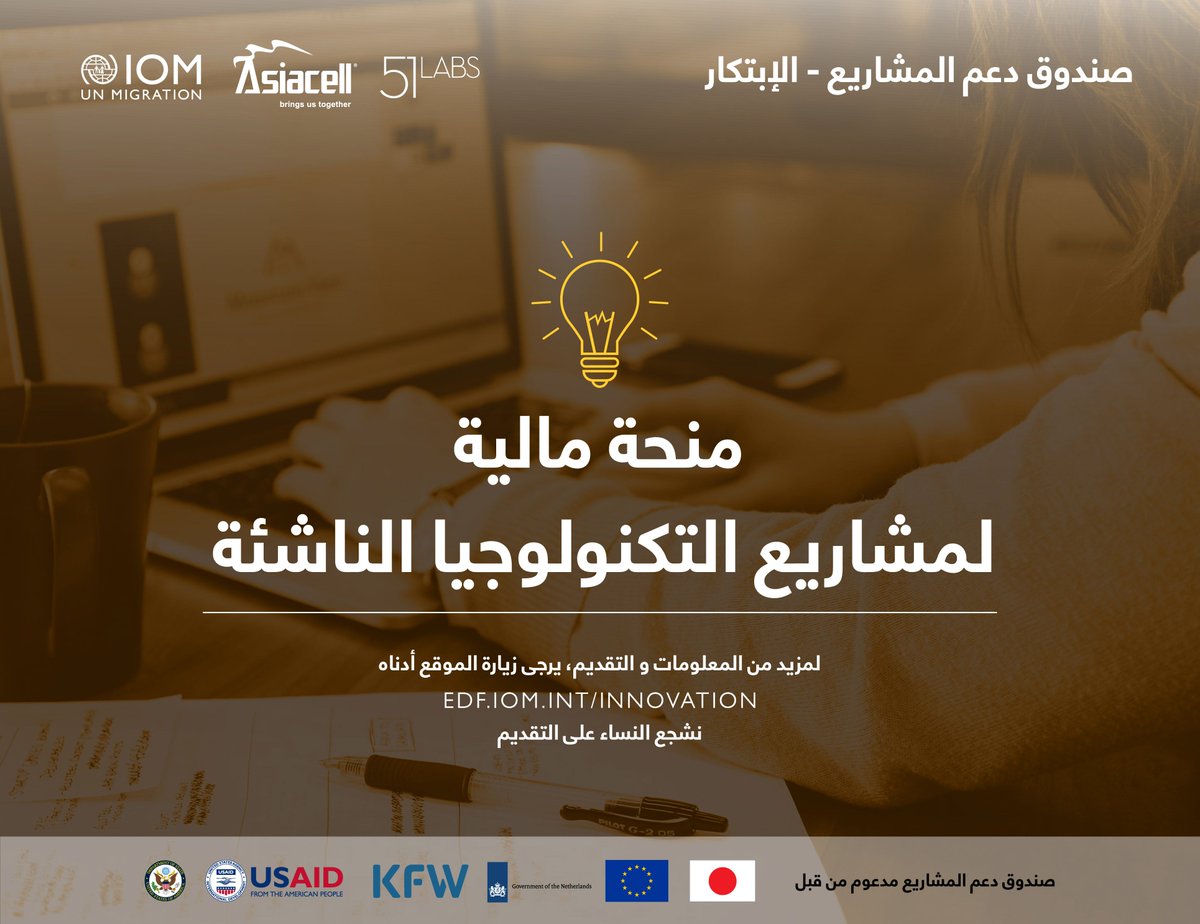 [size=36]Enterprise Development Fund - Innovation (EDF-i)[/size]
EDF-i is funding early stage technology startups in Iraq in collaboration with:
Deadline for submitting EOI: 25 July 2019
Check Eligibility Criteria
Apply Now!
  Guidance Note (English)
  Guidance Note (Arabic)
[size=36]About[/size]
The International Organization of Migration (IOM) is launching the Enterprise Development Fund-Innovation (EDF-i), a new initiative targeting early stage technology start-ups operating in Iraq with significant potential to create new jobs, contribute to inclusive market development, and uplift the local economy. Within the framework of its Enterprise Development Fund (EDF), IOM is encouraging private sector job creation and economic recovery through the provision of capital to small and medium sized enterprises in Iraq. Hence, this initiative specifically attempts to address both opportunities and challenges faced by early stage tech startups through a financial grant to further scale up or grow their businesses. IOM will select five promising early stage tech start-ups with a grant valued between 10,000-30,000 USD.
[size=36]Whom We Target[/size]
The EDF-i targets early stage technology start-ups, which can be defined as a young tech business that has a working business model with the potential to contribute to the local economy but are lacking capacity (financial, technical, resources etc.). The established business model should have a good potential to scale up, create sustainable jobs, and have a positive impact in their community. In the context of Iraq, examples of such startups may include, but are not limited to: B2B Sales, Marketing, E-Commerce, Website Development, Database Developers, IT Solutions, HR and Talent, Logistics, Smartphone App Development, Customer Management, etc.
[size=36]Selection Process[/size]
Based on meeting the eligibility criteria above, the eligible business should submit an online Expression of Interest (EOI) form (found here on this website). Your expression of interest for an EDF innovation grant will go through a sequential appraisal process. Decisions on the selection of EOIs for full applications will be made based on a competitive process. EOIs qualifying for full applications will go through series of verification, that may include a site verification visit. Finally, an investment committee comprising of internal and external experts will choose the best proposal for funding through a competitive process. Decisions on financial grants will be made based on an evaluation of needs, the potential to generate decent employment opportunities, the sustainability of the business and the innovativeness of the business idea. For more details please refer to the Guidance note.
[size=36]Check Your Eligibility[/size]
[th]#[/th][th]Criteria[/th][th]Yes[/th][th]No[/th]
1
Are you an established early stage technology startup based in Iraq, with a potential to expand your business and hire more people?
2
Has your tech business been operational for a minimum of 3 months?
3
Is your business owned and managed by an Iraqi national?
4
Does your technology business currently employ 1 to 10 employees?
5
Does your proposed solution have the potential to positively impact society i.e. create new jobs and contribute to the local economy?
6
Does your grant request lie within 10,000-30,000 USD?
7
Is your business idea sustainable and scalable?
Note: Full compliance with the above requirements alone does not guarantee that your business will be considered for a full application.
[size=36]How To Apply[/size]
1. Eligibility Criteria
Review the eligibility criteria before you submit your EOI
Click Here
2. Submit
Submit your expression of interest.
Click Here
[size=36]Enterprise Development Fund Is Supported By[/size]
http://edf.iom.int/INNOVATION/
https://twitter.com/IOMIraq/status/1150348248042917889?ref_src=twsrc%5Etfw%7Ctwcamp%5Eembeddedtimeline%7Ctwterm%5Eprofile%3AUNiraq%7Ctwcon%5Etimelinechrome&ref_url=http%3A%2F%2Fwww.uniraq.org%2Findex.php%3Foption%3Dcom_k2%26view%3Ditemlist%26layout%3Dcategory%26task%3D%26id%3D%26Itemid%3D556%26lang%3Dar
VIP NewsHound





Posts

: 17018

---

Join date

: 2018-11-04



I would not start a company in Iraq between the security crupption and eco you have to be out of your mind
---
Permissions in this forum:
You
cannot
reply to topics in this forum