IBBC Iraq Tech Conference in Baghdad
'How Technology can be the agent of change for Iraq'
30 April, The Babylon Rotana Hotel, Baghdad
April 30th 2019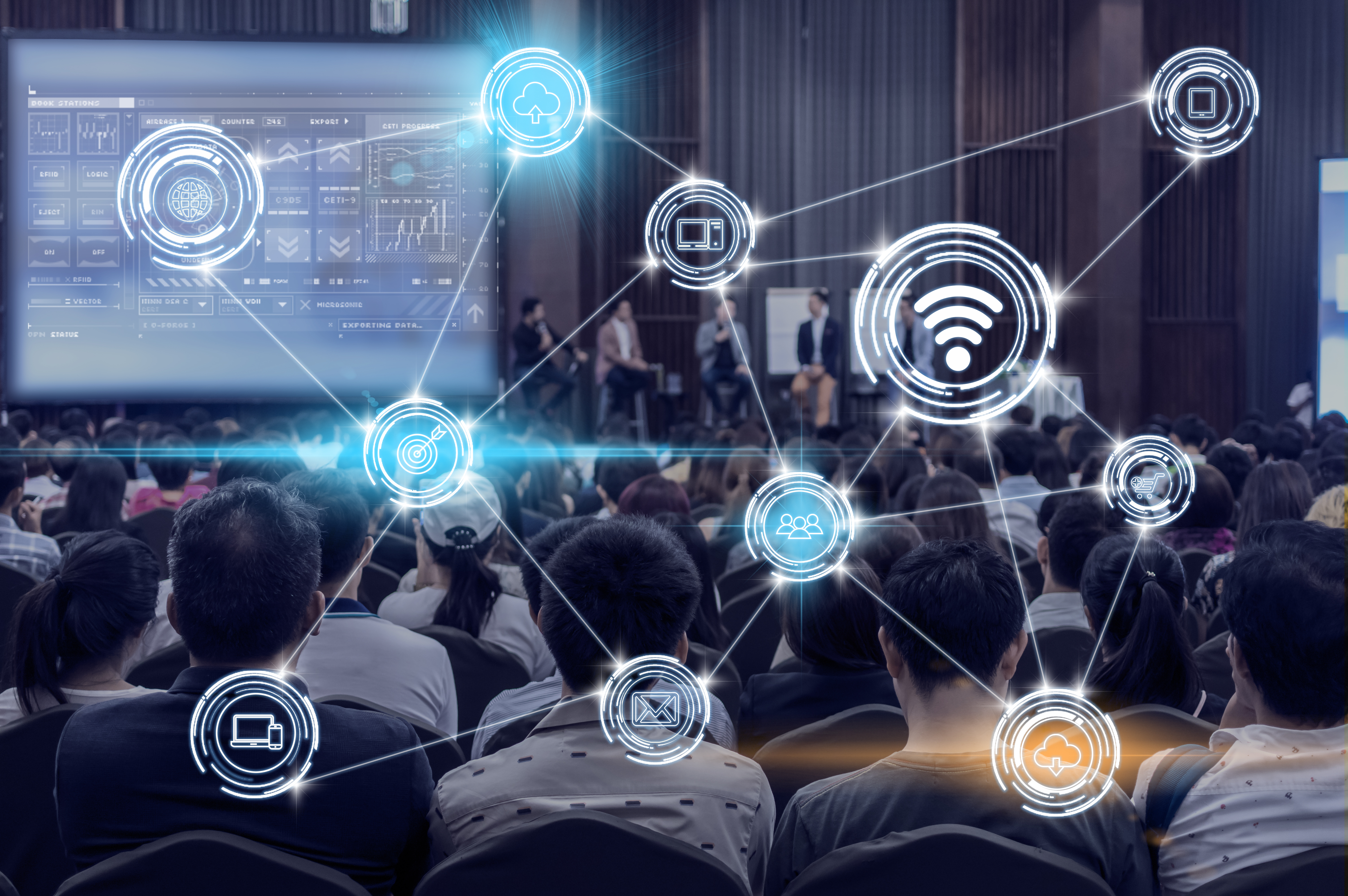 IBBC is bringing together the leading companies involved in Tech in Iraq to discuss the various strands of Tech and the evident possibilities for investment and engagement in Iraq.
This is the first Tech Conference in Iraq and its purpose is to drive confidence, investment and awareness of the power of the new tech economy and how it can benefit Iraq.
Technological applications can enable Iraq to become more productive and efficient and a driver for transparency, a mechanism for government payments, a means to interact with its citizens and a source of new employment opportunities for young people. 
Sessions will focus on: 



Consumer Tech 





FinTech Business





FinTech Consumer 





E-Government 




IBBC and its members are fully supporting the event, which will attract and convene private industry, entrepreneurs, investors, government minister, young practitioners, international business and media. 
You, your clients and associates are all invited to contribute to this Tech Event. Please register, for free, [email=london@webuildiraq.org?subject=Registration%20for%20IBBC%20Tech%20Conference&body=Hi%2C%20please%20send%20me%20the%20registration%20form%20for%20the%20upcoming%20IBBC%20Tech%20conference%20on%20the%2025%20November.%20]here[/email].
Digital Transformation and Technology is at the heart of a better future for Iraq, join us and deliver this future together
IBBC will also be holding an Evening Reception for Entrepreneurs and Start-Ups at 'The Station' in Baghdad the evening prior to the Conference on 29 April. To showcase the growing tech community in the country and to give a platform for some of the leading start-ups and entrepreneurs in a more informal setting. 
Registration Now Open
The registration is free, please email the IBBC team at
london@webuildiraq.org or phone +44 (0) 20 7222 7100.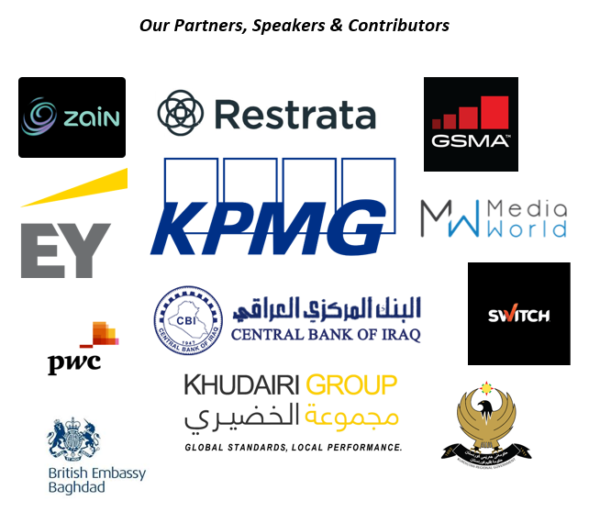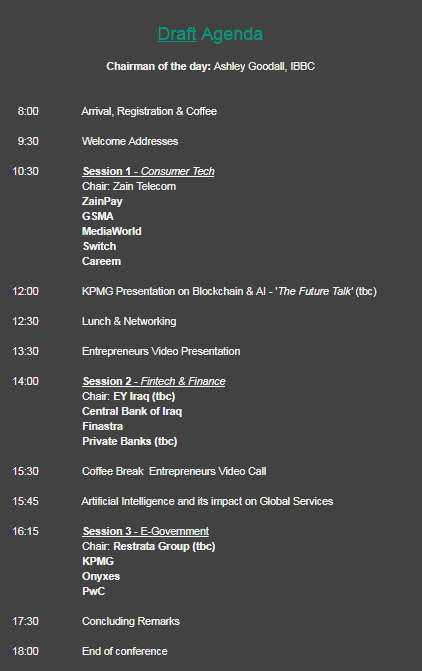 Registration Now Open
Iraq's First Tech Conference highlights Huge Potential
2nd May 2019
2nd May 2019 in Employment, Investment, Iraq Banking & Finance News, Iraq Education and Training News, Iraq Industry & Trade News
By Padraig O'Hannelly.
More than 100 guests gathered at the Babylon Hotel in Baghdad on Tuesday to attend Iraq's first Tech Conference.
Hosted by the Iraq Britain Business Council (IBBC) and chaired by Ashley Goodall, the event brought together the leading companies involved in the technology sector in Iraq to discuss how the power of the tech economy can benefit the country.
Among the many speakers and contributors during the day, Mohammed Khudairi of Iraq Tech Ventures emphasised the need to create the right environment for innovative companies, adding:
"We want to create a cluster of inovation as they've done in San Francisco, as they've done in London, and in many other places around the world; Iraq has the skillset, the talent and the motivation to make this happen, and has a great path ahead of it over the coming years."
Patricia Letayf of Five One Labs discussed the changes they're working to bring about in Iraq:
"When you hear the word "Iraq" we want you to think of start-ups and innovation … we want Iraq to be a focal point and a competitive business environment."
According to Mohammed al Hakim, of Careem Iraq:
"There is no lack of human capital in Iraq — there is a lack of investment in human capital in Iraq."
The event, along with the Start-Up Championship the previous evening, forged connections between people from various disciplines and locations, and will doubtless be a starting point for many of tomorrow's success stories.
IBBC holds Iraq's First International Tech Conference in Baghdad, on 30 April
2nd May 2019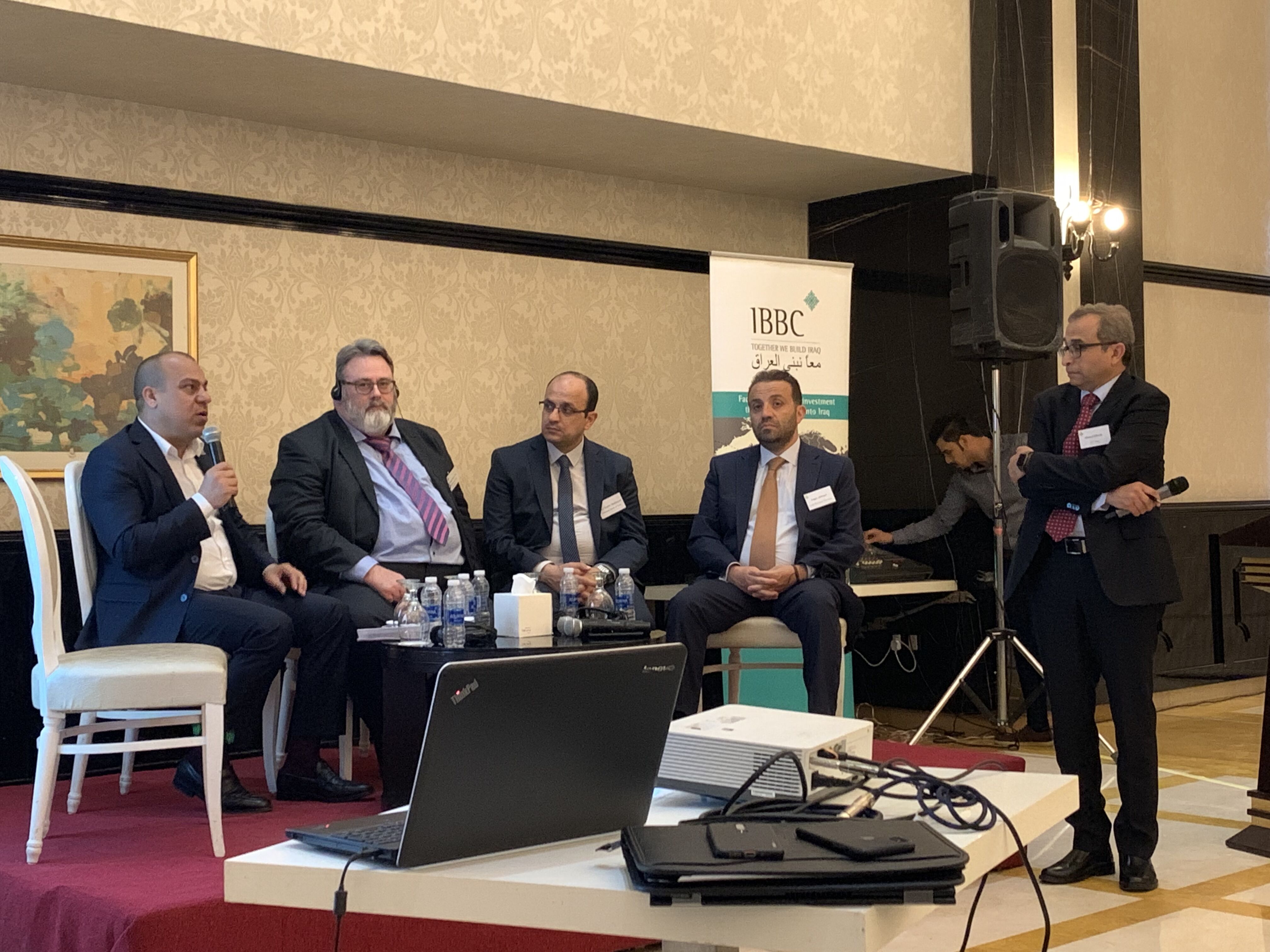 Ahmed ElKady from EY Iraq chairing the discussion on Payment Technology at the Consumer Fintech Panel - Adnan Asaad (Director of ICT Department, Central Bank of Iraq); Douglas Way (Almaseer Insurance); Eyad Yassin Mahmoud (Capital Bank of Iraq (NBI)); Roger Abboud (Advisor to the Chairman of Arab Payment Services).
The Iraq Britain Business Council (IBBC) held Iraq's first International Tech Conference in Baghdad at the Babylon Rotana Baghdad Hotel on 30 April, hosting government ministers, private industry, entrepreneurs, investors, and representatives from the leading UK and Iraq Tech companies.
The purpose of the Conference was to drive confidence, investment and awareness of the power of the new tech economy and how it can benefit Iraq.
The event – Iraq Tech Conference – was led by Ashley Goodall, IBBC's Marketing Adviser. Keynote addresses were given by H.E. Dr Sami Al Araji, Chairman of the National Investment Commission and Mr Ashraf Al Dahan, Chairman of the CMC Board of Commissioners.
The agenda for the day comprised four panels: Consumer Tech panel, E-Government Panel, Business Fintech and a Consumer Fintech Panel.
Fintech in particular is making strides forward with the blessing of the Central Bank of Iraq, as Mr Waleed Eidi,  Advisor to the Governor of the Central Bank, explained and encouraged the adoption of steps to include Women, those excluded from banking and the digital economy and young people. The CBI is being ambitious in encouraging banks and financial institutions to modernise and offer new ways to distribute the flow of funds for investment and those who need it. This will also have a big impact on the overall economy and growth.
Ahmed Elkady of EY echoed the importance of Fintech as he led the Consumer FinTech Panel discussion onto technical infrastructure and what needs to happen to grow the opportunity for financial transactions. He was ably supported by National Bank of Iraq's Eyad Mahmoud and Roger Abboud of Arab Payment Systems – who are modernising banking transactions – and Douglas Way of Almanseer Insurance – who are enabling business to reduce risks and transact insurance products rapidly and scalably.
The conference also embodied eight presentations: "How technology is driving the business and consumer world in Iraq and Internationally" by Zain Iraq; "Online Literacy" by Dr Victoria Lindsay, Country Director – Iraq for the British Council; "Automating & digitising BP and Iraq" by Zaid Elyaseri, Country Manager-Iraq for BP; "Restrata Product Announcement" by Botan Osman, CEO for Restrata; "Five One Labs" by  Patricia Letayf, Co-Founder and Director of Operations for Five One Labs; "Blockchain and AI – The Future Talk" by Muhana Almrahleh, Director – Head of Information Technology Advisory for KPMG (Jordan) and "How Re:Coded are Training the Next Generation of Technology Leaders in Iraq" by Zahra Shah, Country Manager-Iraq for Re:Coded.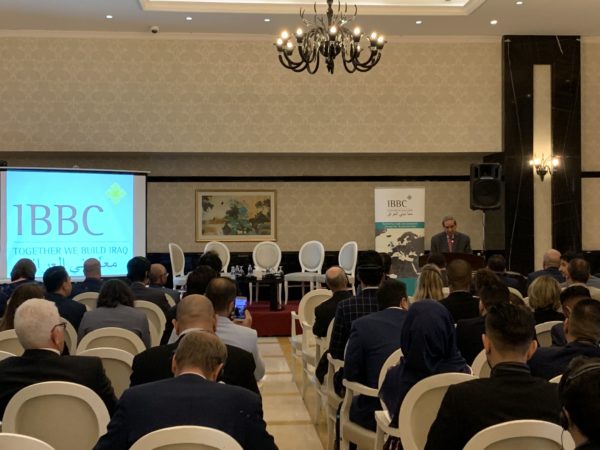 H.E. Dr Sami Al Araji, Chairman of the National Investment Commission, opening the IBBC Tech Conference 2019
Attendees were able to enjoy one-to-one meetings and conversations.
As part of the Tech Conference on April 30, IBBC hosted an Evening Reception for Entrepreneurs and Start-ups at The Station, Baghdad, the evening prior on 29 April. The evening, planned in partnership with Iraq Tech Ventures and Arabnet, showcased the growing tech community in the country and gave an outstanding platform for some of the leading start-ups and entrepreneurs in a more informal setting.
The participating start-ups pitched their business in 5 minutes to a panel of seven judges composed by: Mohammed Khudairi, Managing Partner of Khudairi Group  and Founder of Iraq Tech Ventures; Hal Miran, CEO of MSELECT and Founder of Bite.Tech and TechHub; Richard Greer, Venture Capital Investor in Asia, Middle East, & UK and Philanthropist in Northern Iraq; Zahra Shah, Iraq Country Manager for Re:Coded; Ali Ismail, Co-Founder of Fikraspace  and Co-Founder & Partner of Solo Creative Studio; Patricia Letayf, Co-Founder and Director of Operations for Five One Labs and Maryam Allami, Advisor for German Association for International Cooperation (GIZ) GmbH.
Through this first international Tech Conference in Iraq, IBBC aims to provide a foundation, a platform and focus for Tech in Iraq and give inspiration and confidence to those building a modern Iraq.
For more information on the Iraq Britain Business Council, visit our website at https://www.iraqbritainbusiness.org/
To contact IBBC for Interviews, registration and sponsorship please contact london@webuildiraq.org
https://www.iraqbritainbusiness.org/news/ibbc-holds-iraqs-first-international-tech-conference-in-baghdad-on-30-april
Al-Majid: The future of banks is linked to their absorption of FINTEC
"One of the biggest challenges for FINTECH is to identify these technologies and apply them in the form of services and integrate them into existing traditional systems, as well as the need to adopt a new culture of business management, which means new skills for each And thus an investment in the human element of qualification and training and raising the level of his skills. 
Al-Majid, who is also the head of the Union of Banks in Kuwait, participated in the main session of the Arab Economic Forum, organized by the Economy and Business Group, which was launched yesterday in Beirut under the patronage and presence of Lebanese Prime Minister Saad Hariri and Egyptian Prime Minister Mostafa Medbouli.
"Recent years have witnessed phenomenal growth in FINTECH, which involves a huge amount of investment opportunities, with total investment increasing from $ 9 billion in 2012 to an estimated $ 120 billion by the end of 2018. 
" Financial services to provide superior services to all categories of customers and to move away from conventional banking models similar to banking services while giving clients an experience based on the technological services developed through easy to use mobile applications and more ».
Al-Majid said that in view of the investments that have been pumped from the capital of investment companies around the world in emerging financial technology companies, the United States is leading the scene with investments of $ 31.6 billion, followed by the United Kingdom with $ 5.4 billion, Europe with $ 4.4 billion, While the figure in the Middle East shrinks to only $ 45 million. 
As for the Gulf countries, Al-Majid explained that these countries have the will and openness to financial technology, but there are requirements to form a framework for the economic environment of financial technology, including business environment, market access, government support, regulatory support and access to capital.
Al-Majid pointed out that banks should rearrange their work to work more flexibly and out of the ordinary beyond the strict formal procedures that have been set in the past. He added that the necessity of this time is to acknowledge changes in technology and customer expectations , So as to provide services and products faster and more convenient. 
The experience of Boubyan 
and the experience of Boubyan Bank In this context, Majid said that the bank has taken many important steps in this regard, including the restructuring of some departments and activities of the bank and internal mechanism, commensurate with these developments, with the introduction of a new department to carry out the tasks perhaps Did not exist originally, or were not as large as it is now, and as an example, we have created INNOVATION CENTER.
"Our digital journey or innovation journey is not just about design, it is about focusing on customer service and comfort, creating the banking products and services that suit them and meeting their expectations." The bank believes that financial technology companies are the future, Better than entering into a competition with them, so we have shown at Boubyan Bank a great interest in innovation and partnership with financial technology companies. 
He added that the bank is actively involved in the start-up companies in Kuwait, working with start-ups as well as cooperating with the Plug and Play global platform to open a door to financial technology companies around the world.
"The experience of Boubyan and the consolidation of his image as a modern Islamic bank interested in technology is to attract a new generation of people to work. We are training our employees to act as advisers to solve problems, rather than focusing on selling products only." 
Financial and banking supervision on 
the other hand, Majid touched on the importance of banking and financial supervision , saying «in what we are working to meet the challenges, there there are still risks to be avoided or at least reduce their likelihood. First and most serious of these threats that affect the infiltration and theft of users and their data, and not developed The means of protection needed to protect and protect them are subject to countless piracy in this open space.
"In the light of the expansion of the activities of financial technology companies in a wide area of ​​the world and their association with different parties and different partners, loopholes may be created by individuals or organizations for illegal operations from misuse of systems, money laundering and other illegal activities. Such operations and activities ». 
Al Majid pointed to the pivotal role played by regulators in developing the environment for adopting financial technologies, praising the Central Bank of Kuwait, which has a clear vision and an effective strategy to adopt and direct the technologies for the benefit of society.
"The Central Bank of Kuwait adopts the latest innovations in its field, with the exchange of experience with other regulators, to develop the most appropriate work system for our society, before issuing new regulatory instructions and taking into account the participation of banking institutions and financial technology companies in the discussion to take their views and ideas. And enriches them and is in the interest of all parties concerned to achieve sustainable growth ».
http://www.uabonline.org/en/news/arabicnews/15751604160515751580158316051587157816021576160415/63345/0
---
Permissions in this forum:
You
cannot
reply to topics in this forum