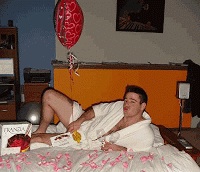 Good afternoon all!  
We're currently in the midst of some significant happenings right now. It's almost coming too fast to keep on top of things, so let's just recap the current situation.  
Hopefully you caught my last update on Saturday (
posted here
), but I'll summarize that real quick as well - EVERYTHING oil related is cruising along at a good clip and in the right direction.  
As of that last post, we had *almost* hit the $60 mark.
As I write this today, we have touched $60 a couple times this week.
That by itself is validation for what I was predicting over the last couple months, but the real important part is the manner it is happening. Nice and steady, just how we want it....
for now.
Next on the agenda is most likely a continued rise towards $70, but that's not a "new goalpost" by any means. Rather, I'm expecting to see some solid HCL news, and a potential focus on the HCL, with the RV bubbling just below the surface of the news.  
I think the most important thing to understand at this time is that they will not give us a major heads up on this plan.  
Our only clues are going to be:


Stability in the GOI, which we have. 

Solid news on HCL, or an actual passed HCL bill, which is reasonable to expect under the current situation.

Very related to HCL is this:      
In a nutshell, the Kurdish oil production is higher than the anticipated amount, and the Kurds are probably 100% entitled to withhold the additional production since their portion of the budget was negotiated with 250,000 bpd in mind.   
Remember what I said in my last update, about Iraq's ability to ramp up production quickly? Yep! That's still on the table!  
What does this mean to us? In my opinion, this has great potential. The Kurds have a solid argument, and the Baghdad side now has a LOT of motivation to get busy negotiating a profit sharing agreement.  
That's exactly what the HCL is. 
The Kurds will also be motivated to get this moving, as they probably stand to catch a larger portion of the budget in addition to a better HCL deal.   
A couple years ago when they were talking about a secession, with the Kurds forming their own country - remember that? I had heard at the time from my experts that there was no real chance of that happening, but they were setting the stage for a stronger position in the big picture. That is EXACTLY what this ties into, and the HCL is what puts a pretty little bow on this whole deal.   
Pretty exciting stuff!  
I'll get this posted and open to comments before the day gets any later. I want to wish everyone a fantastic weekend, and of course
GOOO RRRRVVVVV!!!!

- Adam
GURU HUNTER





Posts

: 20286

---

Join date

: 2012-04-10



---
Permissions in this forum:
You
cannot
reply to topics in this forum