https://baghdadtoday.news/ar/news/78922/%D8%A7%D9%84%D9%83%D8%B4%D9%81-%D8%B9%D9%86-%D9%85%D9%83%D8%A7%D9%86-%D8%AA%D9%88%D8%A7%D8%AC%D8%AF-%D8%A7%D9%84%D8%A8%D8%BA
Detection of the whereabouts of Baghdadi: live his last days
_ Baghdad today The Anbar Salvation Council on Saturday disclosed the whereabouts of the leader of the al- .Qaeda organization, Abu Bakr al-Baghdadi, and was likely to be arrested in the coming days The head of the Council Hamid al-Hayes said in a press statement that "al-Baghdadi left the Iraqi territory before the liberation of the security forces of the province of Nineveh, and no longer to Iraq after those battles at all," noting that "is currently located inside the Syrian ."territory, specifically in areas near the area of Bagouz adjacent to the border with Iraq Al-Hayes added that "a leader shakes his beard and not much of his features, and surrounds his movements in secrecy, accompanied by a number of close supporters only," asserting that "Abu Bakr al-Baghdadi, the last days in Syria, after the intelligence sources identified in his " .place, In the coming days
Earlier in the day, the Syrian-backed Democratic Forces of Damascus (Qusd) announced the liberation of the al-Bagouz area in eastern Syria, losing one of its strongholds in Syria after .losing it in Iraq
https://baghdadtoday.news/ar/news/78796/%D9%85%D8%B5%D8%AF%D8%B1-%D8%A7%D8%B9%D8%AA%D9%82%D8%A7%D9%84-%D8%B7%D8%A8%D9%8A%D8%A8-%D8%A7%D9%84%D8%A8%D8%BA%D8%AF%D8%A7%D8%AF
Source: the arrest of the doctor of al-Baghdadi and the launch of a search for the latter in three caches in Balabouz Syrian
Baghdad today - special An Iraqi security source said Saturday (March 23, 2019) that he had seized the private ."doctor" of the organization's leader, Abu Bakr al-Baghdadi, in the Syrian Baguoz The source said in an interview with (Baghdad today), "The security committees in the forces of the Kurdish force succeeded through the investigations with dozens of leaders and militants of the organization urging detainees to have access to a foreign national nationality, indicating initial information that he provided treatment services to the leader of Abu Bakr " .Baghdadi while he was in the Syrian Baguoz
The source added that "some of the gunmen urged the detainees gave this information to the forces of Qdd before the arrest of the doctor and was transferred to a security center of the US intelligence to investigate him amid the state of secrecy and confidentiality on the ".identity and nationality of the detainee In another context, the same source explained that "combat detachments supported by US aircraft tracking three targets inside areas in Syria did not specify to track the leader of the ".organization of Abu Bakr al-Baghdadi The source added that "the operation, which was based on information obtained by the security detachments in the forces of Qdd on the possible locations of the presence of alBaghdadi and this prompted them to track the three targets," pointing out that "the process ".so far did not come any results according to available information The Syrian Democratic Forces, announced Saturday, March 23, 2019, liberated 52 thousand square meters in Syria and save 5 million people from the preacher and declare the final .victory over the preacher Five years later, a total defeat was defeated," the commander-in-chief of Mazloum Kubani" said at the start of the victory announcement ceremony. "We liberated 52,000 square ".kilometers of Syrian territory and saved 5 million people from the crowd Waradif: "We defeated the preaching of our own potential positioned in 2012 and 2013," noting that "11 thousand of our fighters were killed in the fighting, and 21 thousand ".wounded
.We will help the people of liberated areas rebuild and build democratic institutions," he said" Earlier in the day, the Syrian Democratic Forces announced on Saturday the final victory over .a pro-Syrian organization in the Syrian Baguoz Syria's democratic forces have declared the final victory over a preacher in his last" .stronghold in eastern Syria," Reuters reported The Baguoz is the last stronghold of the terrorist organization "Da'ash" in eastern Syria. The "Syrian Democratic Forces", backed by the United States of America, continued its military operations against the organization in Al-Bagouz, Deir al-Zour province, after stopping for about a month to liberate the prisoners and evacuate thousands of civilians, as well as the . "Qusd" fighters who were captured in the hands of elements of the terrorist organization
https://www.bbc.com/news/world-middle-east-47682160
Trump hails fall of Islamic State 'caliphate' in Syria
">
US President Donald Trump welcomed the fall of the Islamic State group's five-year "caliphate", but warned that the terror group remained a threat.
Mr Trump's remarks came after Kurdish-led Syrian Democratic Forces (SDF) raised victory flags in the Syrian town of Baghuz, IS's last stronghold.
He said the US would "remain vigilant until [IS] is finally defeated".
Despite losing territory in Syria and Iraq, IS remains active in countries from Nigeria to the Philippines.
At its height, the group controlled 88,000 sq km (34,000 sq miles) across Syria and Iraq.
[size]
After five years of fierce battle, though, local forces backed by world powers left IS with all but a few hundred square metres near Syria's border with Iraq.
On Saturday, the long-awaited announcement came from the SDF that it had seized that last IS territory. Western leaders hailed the announcement but emphasised that IS was still a danger.
"We will remain vigilant... until it is finally defeated wherever it operates," Mr Trump said in a statement.
French President Emmanuel Macron said "the threat remains and the fight against terrorist groups must continue".
UK Prime Minister Theresa May welcomed the "historic milestone" but said her government remained "committed to eradicating [IS's] poisonous ideology".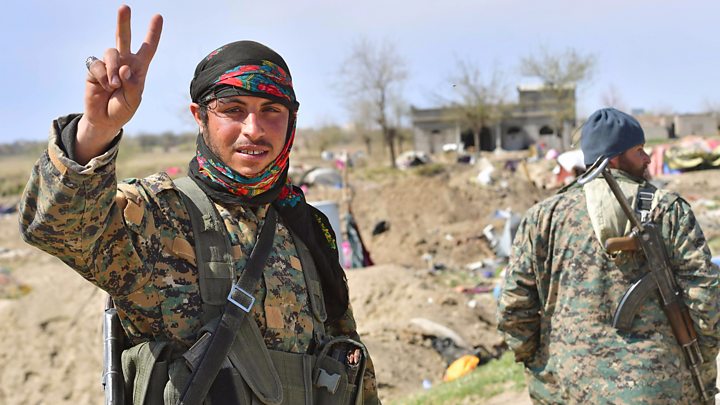 Media caption

BBC Arabic's Feras Kilani says that losing their last stronghold is unlikely to be the end of Islamic State.
Trump statement
In a statement released by the White House on Saturday, Mr Trump said the US would "continue to work with our partners and allies... to fight [IS] until it is finally defeated."
"The United States will defend American interests whenever and wherever necessary," the statement read.
Mr Trump described IS's loss of territory as "evidence of its false narrative", adding: "They have lost all prestige and power."
He also appealed to "all of the young people on the internet believing in [IS] propaganda", saying: "Think instead about having a great life."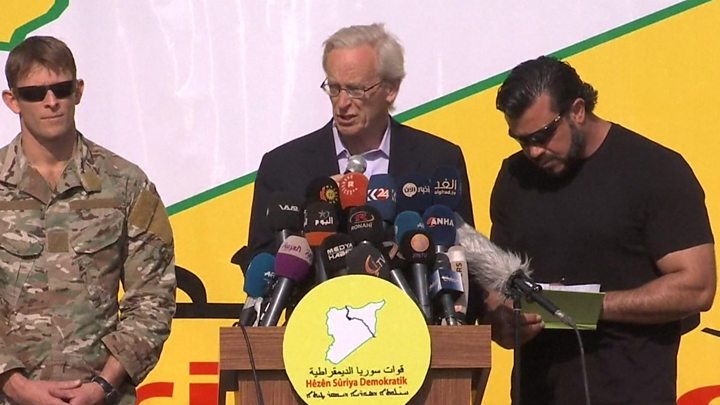 Media caption

IS 'remains a threat', US envoy warns
How did the final battle unfold?
The SDF alliance began its final assault on IS at the start of March, with the remaining militants holed up in the village of Baghuz in eastern Syria.
The alliance was forced to slow its offensive after it emerged that a large number of civilians were also there, sheltering in buildings, tents and tunnels.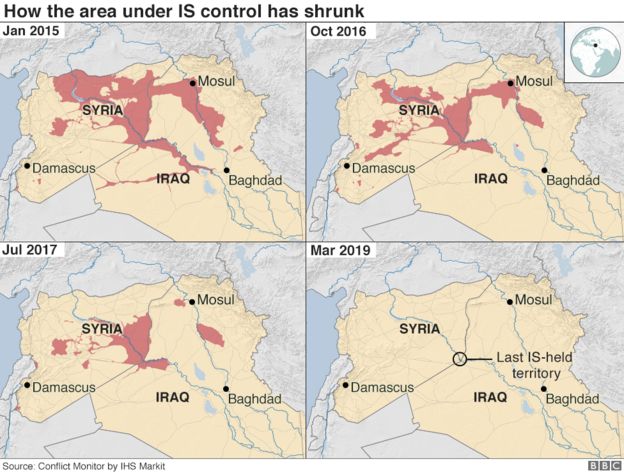 Thousands of women and children, foreign nationals among them, fled the fighting and severe shortages to make their way to SDF-run camps for displaced persons.
Many IS fighters have also abandoned Baghuz, but those who stayed put up fierce resistance, deploying suicide bombers and car bombs.
Why are there still concerns about IS?
IS grew out of al-Qaeda in Iraq in the aftermath of the US-led invasion of Iraq in 2003.
It joined the rebellion against Syrian President Bashar al-Assad in 2011. By 2014 it had seized swathes of land in both countries and proclaimed a "caliphate".
IS once imposed its rule on almost eight million people, and generated billions of dollars from oil, extortion, robbery and kidnapping, using its territory as a platform to launch foreign attacks.
[/size]
[size]
The fall of Baghuz is a major moment in the campaign against IS. The Iraqi government declared victory against the militants in 2017.
But the group is far from defeated. US officials believe IS may have 15,000 to 20,000 armed adherents active in the region, many of them in sleeper cells, and that it will return to its insurgent roots while attempting to rebuild.
Even as its defeat in Baghuz was imminent, IS released a defiant audio recording purportedly from its spokesman Abu Hassan al-Muhajir, asserting that the caliphate was not finished.
The location of the group's overall leader, Abu Bakr al-Baghdadi, is not known. But he has avoided being captured or killed, despite having fewer places to hide.

[/size]
Related Topics
https://www.mawazin.net/Details.aspx?jimare=39595
[size=36]French newspaper: after the announcement of the defeat of a call .. Where is Baghdadi?[/size]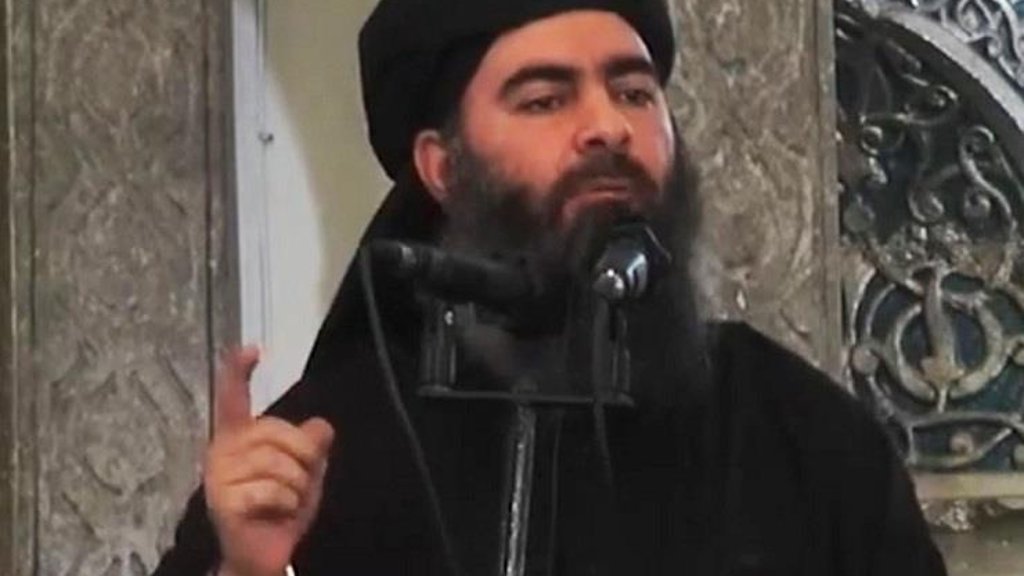 Follow - up to the balance of News  
said the French newspaper Le Parisien that the terrorist who was four years ago with his hand the destinies of seven million people in large parts of Syria , and about a third of Iraq, no longer has the day after the announcement of the fall of the last stronghold of his country only torn forces do not know is the same place. 
The newspaper said that the terrorist Abu Bakr al-Baghdadi, 47, who survived several air raids, which provides the United States $ 25 million dollars to those who signify, now deserved the title of "ghost", although it was not as the newspaper Osama bin Laden, the main objective of the International Coalition against The organization of the preacher. 
• From the pulpit to the desert
Lobarizian, a specialist in the terrorist movements Hisham al-Hashemi, said that al-Baghdadi, who has been diagnosed with diabetes at least once and has been declared dead several times, is no longer accompanied by three people, his older brother Juma, his childhood friend, driver and bodyguard Abdul Latif al-Jubouri and his message-holder Saud al-Kurdi. 
According to al-Hashemi, the three are still in the Badia, the desert region that runs from central Syria to Iraq, where his son Hudhayfah al-Badri was killed in July 2018 after the bombing of the cave where he was hiding three guided Russian missiles. The Syrian Democratic Forces said they did not know where Baghdadi was in Syria.
Since his only public appearance in July 2014 at the Nuri Mosque in Mosul, Baghdadi spoke only in audio recordings, most recently in August 2018, eight months after Iraq declared victory over a da'id, urging his supporters to continue Allegedly "jihad", according to the newspaper. 
More recently, when the anti-terrorist forces in Syria wiped out the last pocket of the "Caliphate State," many evacuees from Baguoz said they had received al-Baghdadi's order to leave the shelter, but without giving further details. 
Link between Baathists and terrorists 
"Al-Baghdadi - his real name Ibrahim Awad al-Badri - was arrested for a few months in 2004 after he set up a small terrorist group during the US invasion of Iraq. He also managed to link a few years between the characters, Prominent in the regime of Saddam Hussein and a group of terrorists. 
The newspaper pointed out that initially pledged allegiance to the leader of al-Qaeda in Iraq, Abu Musab al-Zarqawi, and then became the right arm of his successor, Abu Omar al-Baghdadi at the head of what was then alleged as "the Islamic state in Iraq." 
In 2010, Abu Omar al-Baghdadi assumed the post under the name of Abu Bakr al-Baghdadi, and he was able to quickly replace al-Qaeda and to attract thousands of supporters from around the world with his military successes and carefully prepared propaganda, Lobarezian said. 
Ended  
https://www.mawazin.net/Details.aspx?jimare=39806
[size=36]Washington: We have one mission in Iraq and the fate of al-Baghdadi is unknown[/size]
 26/03/2019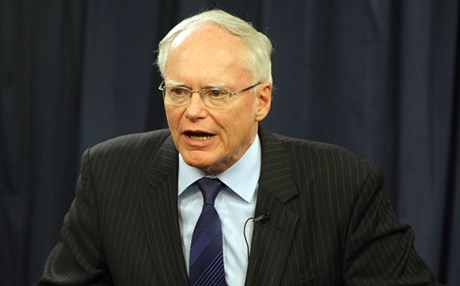 BAGHDAD (Reuters) - 
Washington has one mission in Iraq, the US envoy to the International Coalition against Saddam Hussein said on Wednesday, to get rid of an imposter, noting that the whereabouts of a jailed leader, Abu Bakr al-Baghdadi, is still unknown. 
Jeffrey said: We are pressing states to regain fighters who were with the terrorist organization war on a preacher is not over yet. 
The announcement of the fall of an extremist group in its last stronghold in Syria, east of the Euphrates, raised many questions about the fate of its leader, Abu Bakr al-Baghdadi, who has been out of sight for years. 
The last time al-Baghdadi appeared in 2014, after the organization was then able to control the vast areas of Iraq and Syria, which was inhabited by 7 million people.
Today, al-Baghdadi, whose real name is Ibrahim Awad Muhammad Ibrahim Ali Muhammad al-Badri, is among the most wanted in the world, especially from the United States, which leads an alliance against the hardline organization in Iraq and Syria. 
There have been reports over the past few years about al-Baghdadi's fate, some of which were reported to have been wounded during the fighting, including what was said to have been killed. None of these reports has been verified, especially with the dispersion of the organization into dormant cells and cells. 
But many observers are predicting that al-Baghdadi, 47, is currently hiding in the vast desert desert of Syria, which stretches from the eastern border with Iraq to the province of Homs in central Syria.
---
Permissions in this forum:
You
cannot
reply to topics in this forum