https://kitabat.com/2019/03/15/%D8%A7%D9%84%D8%B3%D9%8A%D8%A7%D8%B3%D8%A9-%D8%A7%D9%
84% D9% 86% D9% 82% D8% AF% D9% 8A% D8% A9- D9% 88% D8% B1% D9% 81% D8% B9-% D8% B1% D8% B3% D9% 88% D9% 85% D8% AA% D8% A3% D8% B4% D9% 8A% D8% B1% D8% A9-% D8% AF8 D8% AE% D9% 88% D9% 84 /
Politique monétaire et augmentation des frais de visa pour les Iraniens
Vendredi 15 mars 2019
La politique monétaire visant à vider le trésor de l'État irakien fait partie du plan visant à dissiper la richesse de l'Irak afin de continuer la raréfaction des liquidités en devises fortes afin de ne pas augmenter la valeur du dinar irakien par rapport au dollar .. car elle Cela est évident chaque fois que la réserve de monnaie forte augmente dans le Trésor lorsque la valeur de la monnaie locale augmente. La Banque centrale travaille depuis des années sur la vente du dollar en vendant la monnaie, réputée pour son trafic de contrebande à l'étranger par de puissants voleurs, dont la plus grande partie était destinée aux banques iraniennes pour augmenter les réserves iraniennes de monnaie pour augmenter la valeur de la monnaie IRA 
Le déficit du budget irakien se poursuit, de sorte qu'il n'y a pas de différence significative entre le taux de change du dinar irakien et le prix de la monnaie iranienne, c'est-à-dire qu'il n'y a pas de différence de valeur entre les deux devises sur lesquelles le commerce est basé. , car dans de nombreux cas de vente et d'achat se trouvaient dans l'Iranien Toman, dans les provinces du sud, en particulier Bassora. 
Mais après l'impact des sanctions américaines sur l'Iran, qui a entraîné une chute considérable du Toman iranien, cela a provoqué une détérioration de la balance commerciale entre les deux pays et une baisse du tourisme religieux jusqu'à ce que l'écart s'est creusé et la grande différence entre la monnaie irakienne et iranienne. Les bonnes choses en Irak pour sauver l'économie iranienne grâce à des accords économiques ont ramené la balance commerciale à zéro, l'Iraq étant désormais un pays consommateur et consommateur pour tous les produits iraniens sans avoir à exporter de produits iraquiens vers l'Iran, car le cas de l'Iraq il est connu qu'il n'a rien à émettre 
et que la plupart de ses revenus vont à l'Iran pour couvrir les guerres absurdes ici et là et le reste entre dans la poche des voleurs sur les salaires et les privilèges de la fée. 
Also, among the dictates that are falsely called agreements are the cancellation of the Iranian visa fees to Iraq so that Iran can not be left in foreign currency. If we assume that 7 million Iranians are entered in the traffic seasons and each person pays at least $ 20 visa fees, The Iraqi state and the religious thresholds to spend on Iranian visitors and provide the food and service they need free of charge at the expense of Iraq, which caused the loss of economic double to avoid 
And the evidence of the above if evidence back to the memory before the US embargo on Iraq, where the budget of the Iraqi state $ 11 billion and the exchange rate of $ 3.3 and today the state budget 450 billion and the exchange rate of $ 1189 dinars .. Who is responsible for So for the benefit of ..

claud39

VIP NewsHound





Posts

: 15478

---

Join date

: 2018-11-04



https://www.bloomberg.com/news/articles/2019-03-12/iraq-and-iran-build-economic-ties-as-a-sidelined-u-s-looks-on
[size=60]Iraq and Iran Build Economic Ties With the US on the Sidelines
by 
Ladane Nasseri
 and 
Khalid Al Ansary
March 12, 2019 at 12:29 UTC-4 Updated on March 13, 2019 at 05:42 UTC-4
[/size]


 
Rouhani visits Baghdad to boost the fight against Trump sanctions

 
President triggered the furor with night-time trip to Iraq base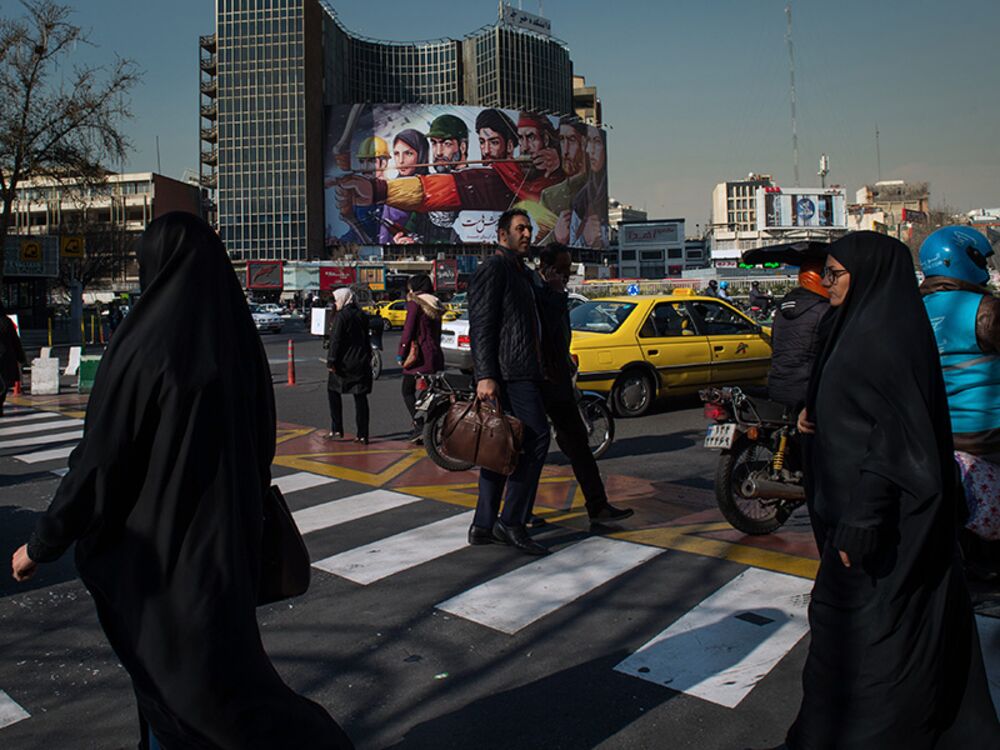 In the contest for Iraq's loyalty, geography is proving irresistible.
Baghdad is being confronted with the fact that it's escalated into one of the Middle East's top flash points. President Donald Trump is pushing Iraq to stop buying natural gas and electricity from its neighbors. President Hassan Rouhani wants it to purchase more to ease the pain Imposed by American sanctions.  
So far, Rouhani's winning. We have a three-day state that ends Wednesday, Iraqi counterpart, addressed businessmen, visited important Muslim shrines and chatted with tribal leaders. In December, after a 16-year American military presence, Trump caused a diplomatic furor by arriving unannounced in the middle of the night at a US base, speaking to troops and leaving.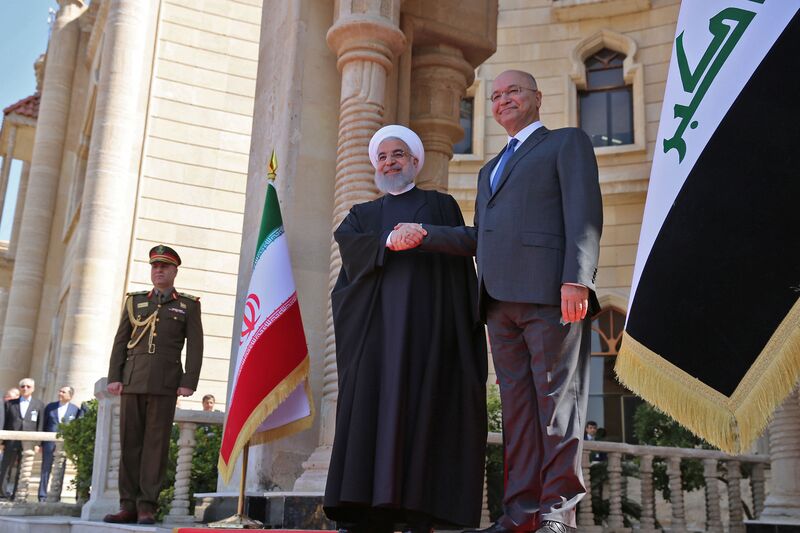 Barham Saleh Greets Hassan Rouhani at the Presidential Palace in Baghdad on March 11.
Photographer: Sabah Arar / AFP via Getty Images
"The essential part of Rouhani's message is addressed to the US - Iran's on the ground in a major way," said Ihsan Al-Shammari, an Iraqi political analyst. Tehran "is bolstering its relations in a broad way to support its political position inside Iraq."
Visas, Trade
The two countries signed and transport agreements, including one for the construction of a railroad link between the Iranian city of Shalamcheh and Iraq's oil-hub at Basra. From next month, Iran's state-run Press TV reported. And Rouhani said officials planned to boost bilateral trade to $ 20 billion from the current $ 12 billion.
Obstacles to banking between the two nations have been cleared, Secretary of the Iran-Iraq Chamber of Commerce Hamid Hosseini told state-run Tasnim news agency. Respective central bank governors signed an agreement last month to make payments for oil and gas trade through non-US dollar bank accounts, using euros and Iraqi dinars to US skirt sanctions.
This week, Iraq paid the first installment of $ 2 trillion for the import of Iranian gas and electricity, according to a report by Iran's Chamber of Commerce, which did not specify the amount transferred. The payment had been delayed by the re-imposition of US sanctions last year.
Shiite Muslim Iran's influence in Iraq has been deepened ever since the US invasion of 2003 removed Sunni Muslim dictator, Saddam Hussein, and precipitated a shift in power to the country's Shiite majority.
Iranian militias played a significant role in pushing Islamic State jihadists out of Iraqi territory - a victory made possible by US air power. And undeterred by an undercurrent of Iraqi nationalism, the three Shiite front-runners for the post of prime minister in last year's elections trumpeted their good relations with the Islamic Republic.  
Wave Offers
"We were standing by the Iraqi nation when we were so hard at a time of peace and security, we are at their side too," Rouhani said in comments on Monday, according to Iranian State Media.
Secretary of State Mike Pompeo visited Iraq in January amidst the threat of violence. While those talks focused on security issues, Pompeo also spoke about reducing Iraq's reliance on imported energy that mostly comes from Iran.
He did not get far, it seems. In a February interview in Moscow, Mustafa Abdulkarim Hashim, special adviser to Iraq's prime minister, put the record straight. "These are American sanctions and we have the right to protect our national interests," he said. "We tell them always: we are your friends but we are not part of your policies in the region."
Sunni Allies
Trump has made insulating Iran's economy and curbing its military potential the cornerstone of its Middle East policy, finding grateful allies in Israel and among Sunni Gulf states led by Saudi Arabia.
Iranian oil production is the world's fourth-largest crude oil. Pledges by US officials to tighten curbs on Iran's oil sales and the expiration of waivers for several of the nation's customers.
Dhafir Al-Ani, an Iraqi Sunni lawmaker, regretted that his nation was caught in the middle of the standoff. "Iran has bypassed sanctions," he said. "I hope Iraq will not be victim of the US-Iran conflict."
- With assistance by Henry Meyer
( Updates with debt repayment in sixth paragraph. )

claud39

VIP NewsHound





Posts

: 15478

---

Join date

: 2018-11-04



---
Permissions in this forum:
You
cannot
reply to topics in this forum