Here's a surprise that really isn't a surprise to anyone with a brain....  Becky isn't delivering on her promise of free money for anyone who would send in a donation. 

Now she says it's "delayed" and she wants you to keep on donating so you can get in on this deal.  What a joke Becky and Fred are!  When are people going to wake up this this lying con woman?  https://www.dinardaily.net/t82244-becky-mcgee-oootah-my-last-call-lol-2-21-19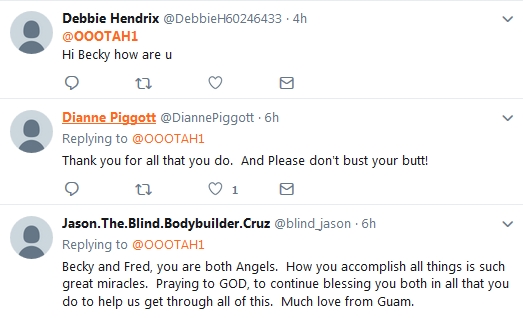 Last edited by Ssmith on Mon Feb 25, 2019 4:25 pm; edited 1 time in total
Anyone with half a brain can see the beast of a woman, AKA OOOTAH Becky is slowly distancing herself from her scam. You will see with time there will be less tweets and even less requests for donations. She is hoping that people will slowly forget about her BS. The reason she ended her call is she was advised by legal counsel that the call can and WILL be interpreted as an illegal charity. And those donations she kept is pure and simple embezzlement. That's right Becky I have real INTEL ! Right into your inner rotten sanctum. Wonder whose feeding us the INTEL ? Is it cuckold Fred the illiterate conman you are going to sell out to save in a vain attempt to save your own ugly ass ? You have conned the most vulnerable and clearly stupid in our society.... It's time to pay the piper !
I have also heard that for the first time Becky is finally forwarding the donations she receives in their entirety to others ! Wonder what made her do that ? Hmmmm
She said, "the gimme gimme attitude does not work with me" ...... that's the funniest thing I've ever read ...... 
what has SHE been doing all along!!
Last edited by CyberCyndi on Mon Feb 25, 2019 10:25 pm; edited 1 time in total (Reason for editing : incomplete post)
New Member





Posts

: 8

---

Join date

: 2018-12-28



Becky begs for donations, but can work a deal to get everyone who donates enough money to tie them over until it "RV's" LOL
Who can't see that con from a mile away?
*****************
GURU HUNTER





Posts

: 21191

---

Join date

: 2015-02-19



What does she mean stay focused ?! Stay focused on what exactly? This woman is truly an abomination! I don't understand how anyone can believe anything she says. Its scary to think that there are people and a lot of them in this world who believe that Becky is completely genuine. How is that possible ? How gullible or mentally ill does one have to be to not see through her obvious lies and manipulation? I'm fascinated by this witch. Truly am ! The audacity one must have to scream for donations while screaming at her supporters when they ask for so called INTEL. Its a crazy world !
---
Permissions in this forum:
You
cannot
reply to topics in this forum