https://www.mawazin.net/Details.aspx?jimare=26199
[size=36]An Iraqi bank has an internationally recognized credit rating as the first bank in the country[/size]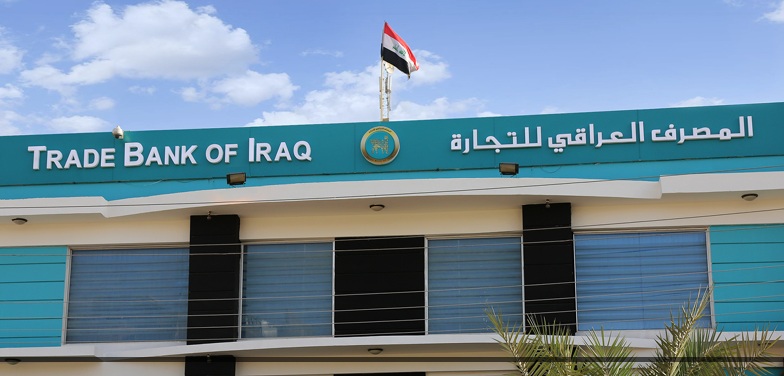 Baghdad - 
The credit rating agency "Fitch" on Sunday, the classification of the Iraqi Trade Bank at the level of B - with a stable outlook, as the first Iraqi bank to obtain an internationally recognized credit rating. 
"This decision was the result of the continued efforts of the Iraqi bank to implement its comprehensive program of economic reform," the agency said in a statement received by Mawazine News. 
"A number of key factors have led to a positive assessment of the bank, notably improving the outlook for growth, the business environment and the security situation, as well as reducing the budget deficit and thereby reducing the medium-term debt ratio of GDP," Fitch added.
"All financial and banking operations handled by BTI have been evaluated in accordance with internationally recognized Fitch standards, which represent the overall financial health of the Bank, with emphasis on financial reporting, portfolio management, profitability and diversification, as well as liquidity, revenues and factors. Other banking ". 
For his part, Chairman of the Board of Directors of the Iraqi Bank for Trade, Faisal Al-Hims, "The risks to the classification is balanced at the moment," pointing to "the importance of the role of security stability in the country during recent times in improving indicators of foreign investment and the recovery of the commercial market."
"The strength of the balance sheet, the high level of profitability in the Bank's business, coupled with liquidity and diversification strategy in the corporate and retail sectors have confirmed the growth and employment opportunities resulting from it, the high creditworthiness of the Iraqi economy and the quality of services provided to the Iraqi citizen," he added. 
According to the statement, "the total value of the assets of the Iraqi Trade Bank at the end of 2017 about 19.3 billion dollars, and a net profit of 362.43 million dollars." 
The Iraqi Trade Bank has a local branch network of 25 branches across Iraq, with 122 ATMs and cash deposits. 
The Iraqi Trade Bank was established in 2003 and accounts for about 80% of Iraq's trade finance business. 
The bank ranks first among Arab banks in terms of cost-to-income ratio and ranked 332 globally on the Tier 1 capital.
http://www.iraq-businessnews.com/2018/12/23/tbi-first-iraqi-bank-to-get-b-from-fitch/
TBI first Iraqi Bank to get B- from Fitch

23rd December 2018 in Investment, Iraq Banking & Finance News
Fitch Ratings has assigned Trade Bank of Iraq (TBI) a Long-Term Issuer Default Rating (IDR) of 'B-' with Stable Outlook.
According to Saudi Gazette, this makes TBI the first bank in Iraq to get B- from Fitch.
IDRS AND VIABILITY RATING
TBI's IDRs are driven by the bank's Viability Rating (VR) and underpinned by potential sovereign support.
TBI's VR of 'b-' is constrained by the operating environment in Iraq, which can be volatile and challenging, and where TBI generates 85% of its business volume (on- and off-balance sheet exposure). Therefore, the operating environment and broader country risks influence TBI's standalone risk profile.
TBI's company profile is a relative strength for the rating. It captures the bank's important trade finance role, as Iraq's primary bank for financing imports, leading market share in Iraq (30% of sector assets), and largely government-led business in terms of lending, off-balance sheet transactions and customer deposit funding.
TBI was set up in 2003 by the Coalition Provisional Authority (the transitional government of Iraq at the time) with the support of a consortium of 13 major international banks from 13 countries, which provided technical and operational expertise. TBI is now fully operational and is systemically important to Iraq.
TBI's key strategic objectives are to build a universal banking franchise in Iraq (with growth in domestic retail banking and project finance) and expand regionally through acquisitions. The latter is partly driven by the government's efforts to reintegrate Iraq in the international financial markets. This also opens the bank to significant execution risks if the expansion is not managed adequately. The bank currently has a representative office in Abu Dhabi and has recently been granted licence to open a branch Saudi Arabia.
Asset quality is a rating weakness. TBI has a very high impaired loan ratio (41% at end-2017). Most impaired exposures were originated during 2014-2015 in a period of political turmoil and heightened security risks with the rise of ISIS in Iraq. Recent impaired loan generation is attributable to the drop in oil prices given the high oil dependence nature of the Iraqi economy (oil accounts for more than 50% of GDP). TBI's impaired loans include both cash loans and trade finance facilities that got impaired (moved onto balance sheet). Under new management, TBI has made strong strides in recoveries, which total USD640 million to date in 2018 (2017: USD210 million).
TBI has a satisfactory funding and liquidity position, helped by substantial government deposits. Profitability is also satisfactory, with core net interest income growing in 2017 despite slow business volume growth due to conflict and low oil prices.
Capitalisation is a relative strength, with TBI reporting very strong regulatory Basel I total capital adequacy ratio and Fitch Core Capital ratio of 67% at end-2017. At the same time, these strong metrics should be viewed in the context of 0% risk weightings applied to all of TBI's sovereign and government exposure. TBI is expected to report regulatory capital ratios under Basel III in 2019.
For now, TBI's leverage, as defined by the bank's tangible common equity/tangible assets ratio, which was a satisfactory 16.7% at end-2017, is a more reasonable measure of capitalisation in our view.
TBI has around USD3.7 billion equivalent of Iraqi dinar deposits trapped in the Kurdish region due to a political dispute with the central government, which would eliminate TBI's equity if deducted. TBI expects to recover this amount due to ongoing discussions between both parties. These deposits are excluded from TBI's reported liquidity ratios (Basel III liquidity coverage ratio of 186% and net stable funding ratio of 162% at end-9M18), which are very healthy.
SUPPORT RATING AND SUPPORT RATING FLOOR
TBI's Support Rating of '5' and Support Rating Floor of 'B-' reflect Fitch view that sovereign support, while possible, cannot be relied upon.
Fitch believes that the authorities would have a strong propensity to support TBI in case of need. This considers the role played by TBI on behalf of the government, the bank's systemic importance, as well as its 100% state-ownership. Nevertheless, Fitch's view is that sovereign support cannot be relied upon given Iraq's own creditworthiness (as indicated by the sovereign's 'B-' IDR) and potential delays in providing timely and sufficient support due to country risks including an uncertain political environment in Iraq.
RATING SENSITIVITIES
IDRS AND VR
TBI's IDRs and VR are sensitive to a change in the Iraqi sovereign rating. They are also sensitive to further asset quality deterioration or an increase in country risk, leading to more challenging operating conditions. Finally, the VR is also sensitive to TBI making a major acquisition abroad that could materially change its overall risk profile.
SUPPORT RATING AND SUPPORT RATING FLOOR
TBI's SR and SRF are also sensitive to a change in the Iraqi sovereign rating. They could be downgraded/revised if Fitch views that the state's willingness to support the bank is diminishing, for example in the event of a change in TBI's role or a material reduction in government ownership.
The rating actions are as follows:
Trade Bank of Iraq
Long-Term IDR assigned at 'B-': Outlook Stable
Short-Term IDR assigned at 'B'
Viability Rating assigned at 'b-'
Support Rating assigned at '5'
Support Rating Floor assigned at 'B-'
(Sources: Fitch, Saudi Gazette)
http://ar.parliament.iq/2018/12/23/%D8%AF-%D8%A8%D8%B4%D9%8A%D8%B1-%D8%AD%D8%AF%D8%A7%D8%AF-%D9%8A%D8%B4%D8%A7%D8%B1%D9%83-%D9%81%D9%8A-%D9%85%D8%B1%D8%A7%D8%B3%D9%8A%D9%85-%D8%A5%D8%AD%D8%AA%D9%81%D8%A7%D9%84%D9%8A%D8%A9-%D9%85%D8%B5/
[size=32]Dr. Bashir Haddad participates in the ceremony of the International Bank of Kurdistan on the occasion of obtaining the international quality certificate ...[/size]
23 December 2018
Dr. Beshir Haddad, Deputy Speaker of the Iraqi Council of Representatives participated in the 22/12/2018 celebration ceremonies of the International Islamic Bank for Investment and Development (KIB) in order to obtain the ISO International Quality Certificate to evaluate the services provided to individuals, companies and investors.
The ceremony was held in the province of Erbil, which was attended by the representative of the Iraqi Bank of Iraq and a number of businessmen and economists and investors in Kurdistan, and managers of banks in Iraq.
In a speech on the occasion praised the efforts of the management of the International Islamic Bank of Kurdistan for investment and development, excellence and leadership in providing banking services to customers and citizens in general, and this international assessment of the quality of the world evidence of the success and performance of the bank, adding the sovereignty, "the International Bank of Kurdistan was able to achieve its implementation and implementation And to respond to the requirements of the economic sectors and service companies, and accompanied the technological developments of the banking service in parallel with banking systems in the global markets, and able to make contributions and mature projects towards the process Of reconstruction and development in Iraq and the Kurdistan Region. "
Media Office of the Deputy Speaker of the House of Representatives
23 December 2018
---
Permissions in this forum:
You
cannot
reply to topics in this forum