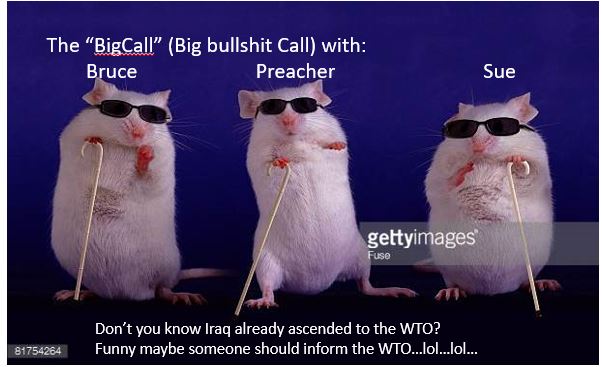 THE BIG CALL WITH BRUCE THURSDAY, DECEMBER 20, 2018, INTEL ONLY

TRANSCRIBED BY PINKROSES

Bruce: Welcome Everybody to the Big Call tonight. First of all let's dispel a couple of things that people had questions about that we had talked about in the past, but every once in awhile somebody will come and bring up something because they just quite not know what the deal is. Tonight one or two or three things we want to talk about is the idea of the Zim as a bond. The Zim is a gold back bond. It is a bearer bond. It has great value based on the denomination of the bond. Nether words, if it is a 10 Trillion note, a 50 Trillion note, 100 Trillion dollar note that is what it is. It is valuated on that. Some go down to 50 million. There are denominations in the billions and millions. Some of us have a number of those different denominations. Some say: How can it be that much if it is like a 10 Trillion Zim note it be worth $10 Trillion Zim dollar note? If the rate were .10 cents for example and you had a 10 Trillion Zimbabwe dollar note, that note of .10 cents is worth $1 Trillion dollars. That is of course if the rate was higher let's say a dollar on the back screen rate, you would have with a 10 Trillion note you would have $10 Trillion dollars. Are there any zeros coming off? No, there are no zeros and never been any zeros coming off these Zimbabwe gold back bonds. Anybody putting that out still they are wrong and doing the community as a whole a complete disservice.
Bruce: We do not know exactly what the rates will be. I know what the back screen rate is and will be. The front screen rates could go down a few cents or they could be a little over like a dime or .12 cents. Could be in that range on the front screen. The front screen rate from my understanding will not require a NDA, Non Disclosure Agreement. Whatever it is it will turn into a lot of money in US dollars. Forget the idea of zeros. If I hear one more person talk to me about zeros coming off on the Zim, I do not know what I am going to do. Really, I am so tired of that over the last 3 years. So trust me when I tell you on good authority. What will the rate be? Will it be less than a penny? It could be. Anything is possible with rates especially for the Public, so called Public, as I call it John Q Public which supposed to start around January 7, 2019. Every day we get pushed back, the public gets pushed back. Keep that in mind. The public was set to start as of yesterday January 7th. Not us. Not Tier 4 Group B, but Tier 5 which is what I call the Public. That is one issue we have put to bed.
Bruce: The other issue I had in mind is someone thought they saw in a transcript that was read on a YouTube Channel in which my transcript gets read on occasionally (thank you Pinkroses in doing a beautiful job in transcribing this call). Somebody said I may have made a comment about July regarding this and it freaked a person out. I never said anything about this happening this coming July. No, that somebody got that wrong. Somebody didn't hear it right or it got misinterpreted because I never said anything about July. You guys I am pointed toward before Christmas which is only 5 days away. That is where I am oriented. That is the information I am getting. I am not getting for us that is pointing to after the first of the year or after Christmas. Now will it end up being I can't tell you definitively? I can't call it absolutely. What I get I have to discern. I have to discern the truth in what I hear and I look for multiple confirmations and I look for stacking of evidence that points to a certain time frame, that points to certain day, a certain time for release, and so on. Okay? It is something I do all day everyday and have many years, for at least 7 years of the Big Call and before. So be careful if you do read the transcript. I know they are being transcribed very accurately. I try to speak clearly and I try to go a certain pace which allows for easy transcription for Pinkroses which is such a blessing to the Big Call Community all around the globe. It really is. Alright. We got those two things handled.
Bruce: The other thing is someone out there is saying something about exchanges like Zim exchanges occurring on military bases. Another untruth. Just a complete fabrication. Let me tell you what the military bases have done and are allowed to do. They are allowed to exchange and have since before Thanksgiving dinar and afghani. That is Iraqi dinar and Afghanistan afghani. That is it. They are already doing that on the bases and have since before Thanksgiving and that is all they are entitled to do. Now in fact I will say this, if someone has Zim and they bring it in not knowing and they are active military on the base and they bring that in, they are not allowed to have that. In fact they will hold that Zim until that person is no longer active military. Now it is important to realize that not only military bases are not doing Zim, but they are only doing dinar and afghani period. End of story.
Bruce: You know because I have been telling you this for 3 years now that the only places you can take your Zim are to authorized Redemption Centers that are headed up by HSBC which is the lead bank in this process and not only those multiple Redemption Centers all around the United States and Canada, but also Tier 1 Banks. Now they have just added some Tier 2 Banks and given them the ability to take in and redeem Zim as well. People like 5th Third Bank. There are several others have been allowed just recently. I mean I just learned about this yesterday to be able to and we use the term redeem Zim because it is a bond. Alright. So there are Tier 1 Banks and Tier 2 Banks that are allowed to redeem Zim, but mainly it is Redemption Centers and Tier 1 Banks. I will tell you this 90% of Tier 1 Banks and Redemption Centers will be open 24/7 when we get started. 90% of them. Some of them are on slightly reduced hours. Some will be on 18 to 20 hours depending on their location, proximity, whatever they are doing, but most Redemption Centers, 90%, will be open 24/7. So if you are a night owl, work day shift, or whatever you work, night shift and use to be up all night, you can set appointment and do that.
Bruce: Now let's get through what is pertinent to us as far as Intel. We do not normally do rates, but I will tell you this I know the Zim limit on the back screen is just over a dollar. That is your limit. Now I am doing that to save everybody a lot of hassle. When it comes to the dong, the dong has been going up in value. The dong was in just under the $5 range today. Just under $5 on the front screen. I can't tell you where the dinar is on the front screen right now, because I do not know that number. If you heard the call last week, you heard sort of the range we felt it could be in. How do you like this for a change. We are hearing the Rial is actually flashing on the front screen, and we had a rate for it yesterday and it was just under $4. So that is interesting, very interesting because we didn't believe the Rial would be in the first offering, and it may not be, but right now it is flashing on the front screen, just a heads up. So if you have it bring it.
Bruce: Let's see what else we can bring up that is pertinent. We know that the timing of this is designed. I have heard this is intended to go by or before Saturday. Now today is Thursday night. That doesn't give us a whole lot of time before Saturday, does it? It is possible it will go on Saturday, but let me tell you what is special about tomorrow and Sue alerted to it earlier. Number one the winter Solstice is tomorrow starting at 5:22pm EST in the afternoon. That is the shortest day of the year and as we transition past 5:22 pm EST we go into adding one minute of daylight everyday starting after tomorrow. So as we make this transition starting from the winter Solstice from December 21st to December 22nd, we are going from darkness into light. That is very important. That is something Qanon brought out a year ago at the same time. It is still true today. It will be true tomorrow.
Bruce: The other thing is tomorrow night a full moon. Sue brought that up. That has astrological implication. To add to that for the Trifecta we have a Meteor shower projected as well which may be visible. I do not know. These are important events that the Chinese and the Iraqis will look at as significant in the timing of a release for this.
Bruce: Let's talk for a second about additional timing. Intention of this White House of our President Trump is to let us have this for us before Christmas. I believe he wants us to have money for Christmas. Now we are getting down to the wire. I agree. We are getting close. If we are going to have much of a Christmas, we kind of need to go. He knows that. We know that, and it is important to realize that these events when we get started, it is important to realize just how close we are really are and the intention is to do this.
Bruce: Now let's talk about Tier 4 Group A. We are understanding today either the core groups and the Tier 4 Group A have been paid or are being paid today. When can they see the money? When can they see liquidity? My contention has been they can see it when we get the toll free numbers to set our appointments. Several people that are in the Cores agree with me that probably is the case. They may not get a head start. They may not. It could be part of our shot gun start that they are notified. Maybe they can see it in their accounts, but probably get access to that liquidity at the same time that we receive toll free numbers to set our appointments. That is my theory. Let's see if that pans out.
Bruce: So that is what is happening as far as the groups. A lot of activity. I feel really good about that. We have heard Fines and Penalties are covered. We are hearing the CMKX were paid yesterday afternoon. We are hearing all of these things without seeing the evidence of it. We are also we have confirmation that Iraq did what they were asked to do this morning between 3am and 5am EST. They did their thing. Whatever it was they needed to show, whatever it was they needed to say, they did it and accomplished what it was they were asked of. Now make no mistake about it, we have controlled and are still controlling the roll out of this GRV of Iraq. There is something to be said about the withdrawal of troops out of Syria. We do know that when the last US troop touches down on sovereign soil that is also an indicator of a roll out of us to go. We believe that has happened. I know it was announced yesterday and I am believing that announcement was because it already occurred.
Bruce: There are some of these things that I can go more into detail, but suffice to say there is more cleanup, more indictments that have been handed out and unsealed in North America and around the globe, Many of them, many many thousands. These are important. These are also important. We have been told that the rates for these currencies should be updated and new by this afternoon. Now I do not know if they are all up exactly, but I know that was the intention. I believe there will be more updated at the rates commiserated with what it is we are looking for between now and tomorrow morning because the Chinese markets have already opened up tonight. That is usually a good sign of things happening on the Forex, on the World Markets.
Bruce: We know the Quantum Financial System is up and running and we know the new banking protocols have been put out and adhere to by the bank taking a different perspective of regarding our currency, our money in the fact it is our money. It really is God's money, but we are saying we are stewards of that blessing. They are to serve us than the other way around. That is what they know. That is what they been told. We will see how they respond to us. I will say this. I want us to go in with a positive yet humble attitude. I want us to go in not arrogant, but confident about what we know. I know you will be treated well, and I know you will have plenty of questions that you will be able to have answered, and I know you will have no trouble getting official bank checks issued or bank wires that are ledger to ledger transfers done quickly. I know we have talked about the available cash at the time of your exchange or redemption at $14,200. As far as I know that is the max cash you will get and it should be in the new USTN notes or new gold back dollars.
Bruce: I believe we are at the point of the major announcement we were looking for could have been made today behind closed doors. Iraq should have done the last thing we were looking for from them and possibly we have done the last thing we were looking for here, a possible announcement by our President Trump and/or Steven Mnuchin. It could have been made behind closed doors. Let's see if that comes out or not.
Bruce: I am encouraged by the fact that we are there. We have a rough time frame that we think is still intact. We know the Redemption Centers will be opened until 1:00 on Christmas Eve Day. Then after Christmas they will continue to be opened to receive Zim. Not every Redemption Center because most of them will have taken the quantity that they need for their area, but I am sure many will stay open into January if needed. They probably don't need to be open, but I know the Tier 1 Banks which will be open can take Zim all the up to January 7th. The idea of the idea of December 22nd being the last day or the end day is just not true at all. We are going to blow right thru Saturday into Monday which is Christmas Eve let's call it until 1:00. Then the Redemption Centers will shut down.
Bruce: Alright that is the ponderous of the information I wanted to share with everybody tonight. You got some rate Intel. You got some other Intel, and you have the idea we need to stay positive as far as our Humanitarian projects to continue to have faith for those. Do not forget why you are part of this blessing. Do not forget why you have been chosen to be steward at this time. Realize that we are called for a purpose, for this specific purpose. We are to do great things in this earth. That is what we are called to do.
Bruce: That is your Intel segment for tonight. I want to thank everybody for listening to the Big Call yet again. Stay positive, stay in faith. We are looking very strongly at this point especially if Tier 4 Group A have been indeed been paid as we hear and the core groups have been paid as we hear, and we just have to see the evidence of that to come through. We know we are next. Everybody have a wonderful night. Let's look forward to whatever could happen overnight or tomorrow and let's just see where we go. Like I said Christmas Day is next Tuesday. I am not sure whether we will have a call or not. Hopefully we won't need to have a call, and you only will be looking to thebigcall.net for the toll free number or looking over to the new website bigcalluniverse.com. I did find out that the toll free number I get supposed to be good for North America which is Canada, the United States, and Mexico. That is very positive to have one number for all of North America. Yes, Mexico is part of North America. That is the deal.
Bruce: Everybody have a beautiful night tonight. Remember if you want to stay in touch with us the way to do it is to register on the new web site if you haven't done it already. Just register by giving us your email so we can stay in touch with you about future calls or pod casts. Obviously if you want to get the toll free number by email, we will put it out at the mass email. Bob will see that is done by bigcalluniverse.com. Listen everybody it has been a real joy. We are wrapping up our 7th year this week for the Big Call. Thank you for your faith, your faithfulness in listening. Thank you for your prayer requests and praise reports. Make sure to use the bigcall.net to send those to ministry@thebigcall.net for praise reports and prayer requests. That is where they go.
Bruce: Thank you for honoring Sue, Bob, and me with your presence. Thank you Pastor Steven. Thank you everybody. Thank you Sue, and Bob for everything you done. Thank you Pastor Steven for a wonderful leadership position in ministry. Remember ministry@thebigcall.net. Everybody have a beautiful night and have a wonderful blessed Christmas. This is Bruce signing off to the Big Call.
THANK YOU BIG CALL AND BRUCE, HUGSSS

NOTE BY PINKROSES: IT HAS BEEN AN HONOR TO TRANSCRIBE AND BE OF SERVICE TO THE BIG CALL UNIVERSE. I STARTED TO TRANSCRIBE EACH WORD AS MUCH AS I COULD OF THE BIG CALL SEVERAL YEARS AGO TO MAKE SURE THE TRANSCRIPT OF THE BIG CALL WOULD BE AS ACCURATE AS POSSIBLE. IT HINDERED GETTING NEGATIVE NOTES THAT I WOULD GET PREVIOUSLY AFTER I HAD POSTED THE TRANSCRIBED NOTES. BECAUSE I AM DYSLEXIC AFTER THE CALL HAS ENDED, I USUALLY NEED TO LISTEN TO THE REPLAY TO EDIT MY ERRORS I HAVE MADE WHILE TYPING UP THE NOTES DURING THE CALL. SOMETIMES I GET VERY SLEEPY DUE TO IT BEING LATE AT NIGHT THAT I AM EDITING THE NOTES. I NEED TO CLOSE MY EYES FOR A BIT AND GET BACK TO THE NOTES SO I CAN GET IT DONE BEFORE DAYBREAK. LOL, SOMETIMES THAT A BIT RUNS INTO LONGER THAN I PLAN AS TONIGHT IT DID. IF THE NOTES ARE A BIT LATE IT IS DUE TO THAT.

TOO, THE MAIN REASON I DID START TRANSCRIBING WAS TO HELP MY IDENTICAL TWIN WHO HAD A STROKE AND SHE WASN'T ABLE TO LISTEN TO THE CALL OR READ THE NOTES IN CHAT ON A CERTAIN BLOG. IT DOES WARM MY HEART TO LEARN THE NOTES HAVE BEEN A BLESSING TO NOT ONLY TO HER BUT TOO MANY AROUND THE GLOBE. IT MAKES MY HEART HAPPY TO KNOW THE TIME AND EFFORT HAS BEEN WORTH IT TO HELP OTHERS. MAY EACH AND EVERY ONE OF YOU AND YOUR FAMILIES BE BLESSED ALWAYS ALL OVER BIG CALL UNIVERSE.

LIGHT, LOVE AND HUGS,

PINKROSES
GURU HUNTER





Posts

: 20038

---

Join date

: 2012-04-10



Bruce: The other issue I had in mind is someone thought they saw in a transcript that was read on a YouTube Channel in which my transcript gets read on occasionally (thank you Pinkroses in doing a beautiful job in transcribing this call). Somebody said I may have made a comment about July regarding this and it freaked a person out. I never said anything about this happening this coming July. No, that somebody got that wrong. Somebody didn't hear it right or it got misinterpreted because I never said anything about July.


It was probably July 2017, 16 or 15 when you had called it that they are referencing.   MG has this lug nut tagged right.  He is either the biggest liar or the most stupid. 

VIP Member





Posts

: 564

---

Join date

: 2011-08-30



MERRY CHRISTMAS---HERE IS YOUR BAG OF COAL-----GOD BLESS
VIP Member





Posts

: 397

---

Join date

: 2015-05-27



---
Permissions in this forum:
You
cannot
reply to topics in this forum