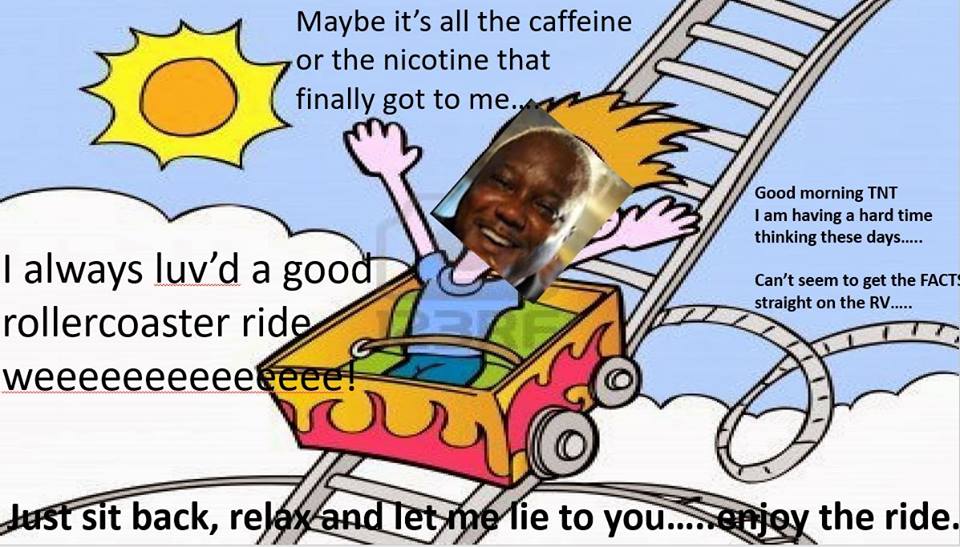 TNT SHOWTIME CC (Cliff notes by Sunny)
Replay: 641.715.0623, PIN CODE 409029#
AUDIO REPLAY
Ray: . . .
Thursday Update
Abdul Madhi is sworn in as the country's Prime Minister (finally)
14 ministers are also sworn in before Parliament.
News reports indicate that the government  of PM Abdul Madhi has become constitutional.
US Banks were excited with anticipation of exchange  activity possibly this week (?) Time Will Tell
Tony:   Goooooooooood Morning, TNT!   Do a short call.  Maybe questions and comments about what happened on Wednesday after the call.
Expecting something this morning and we didn't get it.  Hoping Iraq would make an announcement today.  It was supposed to be posted in the Gazette and it wasn't about the International use of their cards and what the rate was going to be.  Supposed to be on a Saturday.  Haven't got an update and I was waiting for that to see what happens.
Ray read the updates above:
All of that happened after we got off the call.    Mahdi sworn in.  Took place on Thursday.  Has a constitutional government with 14 ministers.  The other ministers are to be sworn in at their next session.  Could be tomorrow but said 6th of November.   We are waiting!
Banks have not come back and given us a window . . . even though we know there were some payouts made after the announcement.  Some got paid on historical bonds.
Anticipating "IT" would be in the Gazette which we thought was going to be today.  Haven't seen or heard about it.  May not be printed until Wednesday but when it does there will be International notification of their cards and rate.  So we wait.
CURRENT WINDOW:  Tony:  Iraq tried to go last month.  We'll see what happens Wednesday. . .


– What are your thoughts if this goes past Nov 4th?  Tony:  I'm hoping and praying that doesn't happen!  Because of the new sanctions, it will cause Iran to do more things to smuggle USD or cause commotion in Iraq. . . Iraq would become unstable again.


IRAQ:    There was an agreement in place to do something after the PM elected and sworn.  Tony:  Date was all after GOI being formed and stable country. . .  Tony has not heard today from any of his sources in Iraq so he does not have an update today.  Told Tony in the past, "Everything has been done for it to happen."
Gazette:  Unknown if the Gazette even was published today.  The next edition of the Gazette will be Wednesday.  Tony:  Those things were all done and they expected something in the Gazette today.  Monday and Tuesday (next week) have been declared a holiday.  (Religious holiday)
CBI – lower denom's are in the ATM's but cannot be accessed.  CBI makes the decision about the RV to occur and it does not have to go into the Gazette.  Tony:  They are not going to tell us two days ahead of time. . . no articles out from the CBI since Wednesday.
Parliament next meeting is scheduled for Nov 6.
Mahdi already sworn in.  Tony:  They would not have done that if he did not meet the constitutional requirements. . . He has assumed two of the (minister) positions himself.  There are 22 minister positions and 14 were approved by Parliament.  Supposed to vote on ministers Nov. 6th.
Religious authority seems to have the most authority in Iraq.
Budget has to be completed before the RV?  Tony:  I have heard that from NO ONE!  No one has ever mentioned that!
Maliki's name was on the list to not be prosecuted but they are going to prosecute him.  Tony:  Don't know how they will work it out.
INTERNATIONAL:
Currencies:  Other currencies that are to RV have to wait on Iraq as the values/rates have been calculated based on what the Iraq Dinar is valued at.
UNITED STATES:   Tony does not think the RV is waiting on the US elections.
UST stopped the RV in the past due to corruption in the CBI.  Tony:  They had a sting operation that time.  They have a list of 1,000 people.   They are not going to arrest those 1,000 people to have the RV.
Banks: Personnel have been moved around specifically for the exchanges.  Tony has no information about the money that was being moved into place for the exchanges.  Banks made payouts on historical bonds on Wednesday. . . on the east coast.
Taxes:   No change in the previous information of no taxes on the exchange.
800 #'s have not been released yet.
Tony:  The people I get information from have been ahead.  Sometimes a week ahead – that is how far up he is.  This isn't the first time this has happened that we got information that much early – the process it's supposed to go through.  It has been signed off on- told me they were looking for it in the Gazette (today).
EXCHANGING:
"13" Bank Seminars post exchange are still planned
ZIM Information:  No update yet.
CLOSING STATEMENTS:
Tony . . . Okay guys.  I didn't want you going the whole weekend wondering what  the "H" is going on.  We are in a good spot.  Mahdi is the new PM, he has ministers.  We'll look forward to CBI taking the next step.
Wanted it to be today and it wasn't.  Hope we have an update on Monday and see where we are at.  If something does happen . . . will keep you guys updated.
Ray . . .Keep believing.  (played "I Believe.")

Ssmith

GURU HUNTER





Posts

: 20038

---

Join date

: 2012-04-10



---
Permissions in this forum:
You
cannot
reply to topics in this forum