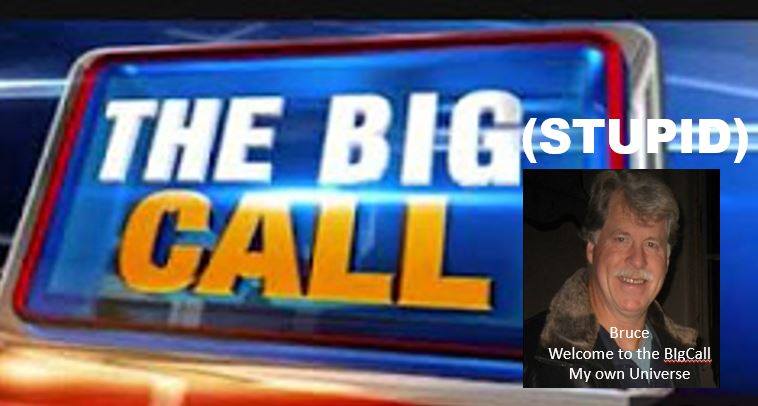 THE BIG CALL WITH BRUCE TUESDAY, OCTOBER 16, 2018, INTEL ONLY

TRANSCRIBED BY PINKROSES (Thank you, PinkRoses. ~ Dinar Chronicles)
Bruce: Welcome Everybody to the Big Call tonight. Just when I thought it was safe to not mention Iraq, we learned on Thursday call, yes they are back in the mix, and it seems to an extent that we are waiting on Iraq to flip the switch for their own evaluation of their dinar publicly. We know it has been going up in value in country and on their debit card, the so called Qi cards for months now. We know it has not been made public on the CBI or anywhere else. So here where that stands now as of today. Where we are is Iraq's Prime Minister Mahdi is to select or has already selected the cabinet for the Parliament, his cabinet. That is to be given over to the Parliament to vote in on Sunday. Now that is for I believe is for something of a formality. I think what has happened is President Trump had a conversation very early in the morning. Some would call it last night with Abadi to get this thing done in terms what Iraq needs to do with their Parliament, the seating of it, to have that done as well as their rate out published in 48 hours. I believe they are going to do that.
Bruce: We know one of their reasons Iraq has not come forward is a lot of cleanup on Aisle 3 in Iraq. I can tell you there are quite a few arrests that have taken place and are ongoing now over there, and I believe part of the reason for the fact they haven't come out with the new rate publicly for announcement of their seating of their Parliament over there. Also I know in Iraq they have plans to celebrate tomorrow, Wednesday, Thursday, skip Friday due to being a Holy day, and Saturday. They intend to celebrate Wednesday, Thursday, and Saturday. I think they are ready for something to pop over there or they wouldn't be setting up celebrations. People are excited about it. The ones we are talking to over there are excited about it, and they see this happening. That is a piece about what is going on in Iraq.
Bruce: When we talk about groups or about groups based out West, we know they have been told time and time again they are about to be hydrated and so on. I know accounts over there are pending, have pending notifications on them. We know that some of those accounts were to be made liquid when the market closes today. I don't know if they have been made liquid for sure, but that would be the intention for at least some. I am also hearing that notification for sort of the registered group members should be made tomorrow. Hopefully the groups that are still out there will be notified. I think we are looking to be notified. I do not know for sure we will get notified tomorrow, but there is a certain time window we are in for this can happen over the next two and half days. I think that is a very positive way to look at it.
Bruce: Even though we thought I am going to say over the weekend, we were good to go probably not Monday, but possibly today. We didn't go today, but we are getting a lot of information indicating things are happening behind the scenes. For example, when it comes to money moving we hear all the time money is moving, a lot of money is moving all over the place, but what does that really mean? Okay. Here is one example of it. Starting Sunday at 5pm EST, our New Treasury started sending USTN digital dollars to the Tier 1 Banks, the big Five Tier 1 Banks - Wells Fargo, Chase, Citibank, Bank of America, and HSBC. That is our big Five Tier `1 Banks. They started sending those banks collectively as a whole 250 Quadrillion dollars every hour starting at 5pm EST Sunday on the hour for the next 8 days. That is called liquidity. That is bringing the liquidity of the Tier 1 Banks up for the period of our exchanges and redemptions when we are referring to Zim.
Bruce: Tier 2 Banks started receiving their funds at 8pm Monday night. They got their first of their tranches. I do not know the amounts on the Tier 2s, but the Tier 1s kind of catches your attention when they are receiving 250 Quadrillion on the hour every hour, 24 hours a day for the next 8 days. To me that is showing a lot of movement, a lot of liquidity. I think the banks are becoming efficiently hydrated. Tonight is an interesting night. Rates are also coming in populating on the screens, and I believe what I am hearing and I believe is also happening is these rates especially on Zim, Dong, and Dinar and as well as the others, but those are the Big 3, those are adjusting upward.
Bruce: It also maybe they are looking for those currencies to adjust to where they settle in where they want them to be from trading these, making deals happen. I think that is what is going on. I think that is one reason I think that is why it hasn't gone yet. I think they are trying to get the currencies adjusted. I don't think we are too far off from it. I have heard they wanted to adjust the rates over the next day or two. Either Wednesday or Thursday they should have those where they want them to be for us to go.
Bruce: Remember when Hurricane Michael came through the Panhandle of Florida, and remember the tremendous damage and devastation was done to those areas. That knocked out quite few number of banks and Redemption Centers ability for connectivity, and it knocked out At least 2 Cell towers that needed to be connected back on. We had 3200 cell phone customers without coverage. Than that got down to about 1500 yesterday morning, and by midnight last night, our understanding is they had complete activity with cell customers. We got connectivity with all Redemption Centers and Banks all over the United States, all ready to go. The banks have gone through testing of De la rue Machine and other ways of testing currencies. They have been able to go through counterfeit situations, and make sure the machines could pick up counterfeit dinar, dong, and Zim which they were able to do that.
Bruce: Even banks Sunday from 9:45am to 4pm had mandatory meetings with their personnel. That is on a Sunday from 9:45am to 4pm mandatory meetings. I think they are gearing up for us. They are definitely gearing up for us. We know there are tabletop meetings going on as we speak for Zim. We know that this is happening and there is quite a lot of activity in 7 different Exchange Centers around the country. This would be like the Clearing house in New York and other locations where they clear trades, or they clear currency trades, or they clear precious metals contracts, that type of activity is going on not in our Redemption Centers or Exchange Locations, but 7 other Exchange Centers in the US. A lot of activity. A lot of that type of activity going on out west.
Bruce: We are coming up on it. I would say the intention is for this to go down in the next two to two and half days. Simple as that. Let's keep an eye on it. Let's not sweat it. Let it come to us. I am feeling very good about it. The rates are being traded upwards. So I am excited where we are going. I think this is something that is going to be one of the biggest time of our lives if not the biggest. It is going to be an incredible start for all of your new future.
Bruce: I want to thank all for listening tonight. I am encouraged where you are and I haven't lost any encouragement. Listen, we are in good shape. There is a lot going on. I am sure I forgot half of what I supposed to have told you, but I am encouraged by where we are and not lost a bit of encouragement. In fact it is increasing based on what I have heard today. Everybody hang in there.
Bruce: Everybody have a beautiful night. Thank you, Everybody. Thank you, Sue, Bob, Pastor Steven, and thank you, everyone tuning in all of the listeners. Thank you, Pinkroses. I hope you are back. I hope you are able to transcribe this. Thank you so much for all the work you have done. We have been thinking of you and praying for you, and thank you everyone around the world that catches the Big Call on the replay link or replay number or also in the call notes. Thank you everybody that is part of the community all around the globe. We love you and you guys take care and we will see you again possible by email if we don't do another call. Let's see what happens on that. Good Night Everybody. God Bless you.
THANK YOU BIG CALL AND BRUCE, HUGSSS
NOTE: Thank you all for your caring thoughts and prayers for my family and myself during Hurricane Michael. We are safely back home. Lots of cleanup, but no damage to the house. Prayers for all those displaced by the Hurricane to be safe and warm.

Light, love, and hugs,
Pinkroses

Ssmith

GURU HUNTER





Posts

: 20038

---

Join date

: 2012-04-10



Bruce big call
Just when you thought it was safe to not talk about Iraq...waiting for them to getbthat rate out publicly..they have selected the cabinet to be voted on Sunday ..
Trump spoke to Abidi early this morning to get this all done within 48 hours...still lots of cleanup in Iraq
Iraqi news reports that Prime Minister-Designate Madhi will present his cabinet choices on Saturday and Parliament will hold a special session on Sunday for voting.
Its why he believes thats why they haven't come out with their rate...they are planning on celebrating on Wed forward
Groups out west told over and over they are to get paid and some accounts should be paid ...are we goknh to get notified tomorrow...we know we are in that time line for the next 2 days...we didn't go today but lots of money is moving as of Sunday the UST started sending digital USN to the top tier banks.
Every hour sending 250 quadrillion dollars to those banks.
Tier 2 banks they got the first of their funds last night ...lots of liquidity.
Rates are coming in on screens populating are adjusting upward...to where they need to be from trading and making deals.
Its why he thinks its not gone yet because they want to get thise rates up to where we can then go...the hurricane really slowed things down.
Just had connections for all banks as of last night.
They've gone thru all issues of counterfeiting and the system could pick that up...table top meetings going on as of now...for zim.
All over lots of activity happening now..
The intention is for this to go in the next 2 days...Bruce is very excited for this happening.
We are in good shape but he is so encouraged where we are...GOD
BLESS YOU ALL THANK YOU FKR FOR THESE BLESSINGS FATHER AMEN AMEN

Ssmith

GURU HUNTER





Posts

: 20038

---

Join date

: 2012-04-10



---
Permissions in this forum:
You
cannot
reply to topics in this forum