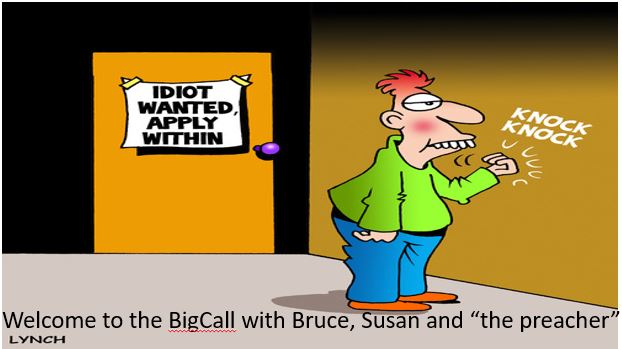 THE BIG CALL WITH BRUCE THURSDAY, MAY 10, 2018, INTEL ONLY

TRANSCRIBED BY PINKROSES 
Bruce: Welcome Everybody to the Big Call Tonight. Let's talk about where we are now. I will be honest with you as I always am. We had heard some things the last two to three days to make this thing look like we had it tonight, last night, or the night before which was Tuesday night. It didn't happen for us. We kind of realized what was going on and where we are and what is happening now. Where I was excited thinking we were right there, we weren't quite there, but we were close, and now we are even closer. Here what is going on. You know Iraq is having their elections Saturday, May 12, 2018, in two days. What we are hearing is the percentage of people that will vote for Abadi is around 74 % to 74 ½ %. He is looking really good for reelection.
Bruce: There has been discussion why Abadi may or may not have had the rate publicly known yet internationally for the dinar. We have seen some rates on a few screens. We have seen where the program the Economic Development was initiated last Monday. We did get confirmation for that, but for some reason that rate has not been quite put out yet. We were hearing there was an announcement that was going to be put out today about 1:00pm today on the east coast. If it didn't by 1:00pm EST today, then they would make that announcement talking about Iraq on sometime on Sunday which would be our late Saturday night. Don't know for sure what that announcement is about. Maybe it is about the economic reforms. Maybe it is about the new Economic Development Plan. Maybe it is about something else, but we not necessary think it is about the dinar as a rate. To me we know Iraq has satisfied everything for the people in country.
Bruce: We know things are moving along nicely. However we still do not quite have a rate known internationally. We know the trading range of that rate. We know roughly what it is within a few cents actually. We know it has been on the screens at the Redemption Centers, but we also know that rate has been solid on the screens. Then at lunch time on the east coast at noon yesterday the rate disappeared. All the rates disappeared. You might ask why would all the rates come off the screens at the same time and really be off for hours or longer. It usually indicates there is going to be some tinkering with the rates, some changes, updates, and modifications to the rates so they come back up and are changed. That is normally what happens.
Bruce: The only thing today is I do not know if those rates repopulated, showed the changes, and whether they are live or not. They were live and solid until about noon yesterday. Then we think they are maybe back up now. We do not know. I can't tell you that. That is another piece of information that is more about the exchange locations or the Redemption Centers than anything else. I really think Iraq for the most part has done what it is they need to do. The election is Saturday. There has been some discussion as to why they haven't had the rate out. I am not sure exactly, but I think we can look forward to the weekend. Let's put it that way: to the weekend.
Bruce: Otherwise if we come back to this global reset, we talk about the various Tiers, groups. We call them Tiers 1, 2, 3, 4 and 5. Tiers 1 and 2 have been completed. They have been paid out. They are done. Call them done. Tier 3 was starting last night then there was a little clean up on aisle 3 during the initiation and the working of the codes that needed to be entered. We had some clean up. Then late last night it went swimmingly. Everything is moving along nicely with Tier 3. They are paying them out using their Pay Masters, using the aggregators and so on in these meetings to get these people, the recipients paid. That all is working very well right now. In fact in the last couple hours what I heard was they are moving along at a pretty good pace.
Bruce: We that are part of the Internet Group here is considered Tier 4. Tier 3 has to complete first before we go. What I am hearing is Tier 3 will complete either late tonight or sometime overnight. That is the best estimate for it. There may be some other things like picking up receipts like that from those transactions that needs to happen, but for right now we are in line to go sometime after Tier 3 is completed. It could be any time from tomorrow through the weekend is what I am hearing. I am just telling you what I am hearing. It is looking very strong for us now because we are in the process. We are in the midst of it. It just not quite our turn. What we are witnessing today is by far and away new and different. It is new.
Bruce: Give you an example. We know of some individuals that are part of Tier 3. They received an email today telling them they will have access to their funds after 2pm tomorrow. That is a really good indicator of the movement and when liquidity is going to be realized. That is a really good thing for the Tier 3 person. We are in the midst. It is just not quite to us yet. I am still anticipating getting the toll free numbers. I do not know when they are coming in. I have heard some possible times. Realistically I am ready for them, and you are ready for them. We all are ready to get started. We are ready for them. This is something that we need to be patient for a little bit longer, but probably not a whole lot longer from what I am seeing, hearing, and aware of what is going on in the process.
Bruce: I want everyone to be confident in where we are in this and know that your time is coming very shortly. There are many people that we talked to just are scratching their heads as to why this didn't happen today or yesterday. We know now after further examination why we aren't there yet. We know why. There had to be a few things that had to happen. There was a little cleanup that needed to take place. It was done and things are moving along nicely. I feel very confident where we are now. I feel good about it. I am relaxed and chilled. I am looking forward to getting started just like you are. There is not a whole lot else that I can tell you that is relative to us. There really not a whole lot else. That is really what I wanted to bring to youtonight. I think we are ready to get started with our programs, with our Humanitarian Projects, and we are ready to get going with that.
Bruce: One little point of clarification. On Tuesday's night call I told you guys I was not a CPA, nor an attorney, nor do I play one on the Big Call. That is why I didn't even go into explaining to you the difference between a Current Account and a Fiduciary Account. I want to thank Pinkroses for doing a little research on that. If you did read something in the transcript about that last from Tuesday call that was in last Tuesday call, that was information Pinkroses was able to shed light on that subject. It wasn't something that I said, but what I said was because it was kind of technical and it is kind of a legal term like Fiduciary I didn't want to mess it up. I didn't want to give you something that might not accurate. Just realize that is what happened and why she did a really good job putting that information out. Just check it out with your attorney if you are going to use one. Check it out. Make sure you understand the difference in that. Research it on your own. Fiduciary and Current. Just look into those two types of accounts and decide what direction you want to be part of, and you may do both. You may end up doing both. It is not necessary one or the other. Just check it out and that is why I just wanted to clarify that.
Bruce: I think we are really ready to get started. I can tell you one other thing before we go. My structures are coming together very nicely for the projects that we are going to start on. If you are not sure if you have a project or not or you don't have enough information on Rebuild America program that we are going to do, it is just a matter of telling them that you hear there is a program that the Big Call is going to start called Rebuild America and it is going to involve what I like is participation from the listenership of at least 5000 of you out there that will say I will take this city, this town or these two towns, this community, and sort of follow the template that we put together and we put out on how we are going to go about doing it. It is just really is about infrastructure, schools, could be working with clinics, food domes, community gardens in the inner city. A lot we are going to do and put out there. That is something I would like to have help on. I want you to do where you live or where you see the need. That is really it. We will start here in the United States and build these things out. Then we will do these things in other countries as well. It is just not for the United States.
Bruce: That is really just what I wanted to bring to you tonight. I hope you get something from that. I hope you are ready and all prepared to get started because I am, Pastor Steven is, Sue is, and Bob is. We are all ready to get going with you. Thank you everybody. We appreciate you listening faithfully these 7 years of the Big Call. Thank you everybody on my team, Sue, Pastor Steven, and Bob. Thank you for your faithfulness and I appreciate everybody out there. Thank you and have a beautiful night. Let's see what happens over the weekend. Good night Everybody.
THANK YOU BIG CALL AND BRUCE, HUGSSS

Ssmith

GURU HUNTER





Posts

: 20038

---

Join date

: 2012-04-10



---
Permissions in this forum:
You
cannot
reply to topics in this forum