The Dow Jones industrial average dropped 4.6% as investors fled amid fears of rising interest rates: 'This was volatility unleashed'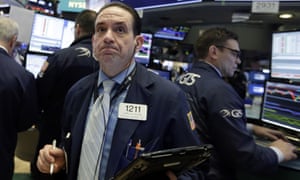 US stocks took a further steep plunge on Monday, with the Dow Jones industrial average dropping 1,175 points, the largest one-day points fall on record and erasing all the gains made so far this year.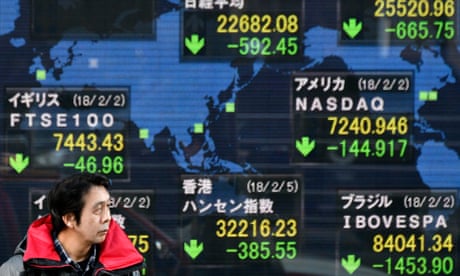 The drop came after another bad day on global markets as investors reacted to global equity losses overnight and concern that central banks will increase interest rates in response to inflationary pressures from surging global economies.
The Dow dropped 1,600 points in one instance before bouncing back. The index is now off more than 1,800 points over two days of trading. Global stock markets have shown little volatility over the last few years amid a period of unprecedented low interest rates that followed in the wake of the great recession.
But on the day that new Federal Reserve chair, Jerome Powell, took office, replacing Janet Yellen, that quiet period seemed to be over.
"This was volatility unleashed," said Jack Ablin, chief investment officer at at Cresset Wealth. "It's partially fear of interest rates, partially this new Fed chairman Jerome Powell, partially the market is overvalued relative to fundamentals."
While market fear may not be based in any change in economic fundamentals, in its last meeting under chair Yellen, the Federal Reserve indicated it expects inflation pressures to increase through the year.
According to projections released in December, officials expect three rate hikes in 2018 – so long as market conditions remain broadly as they are – but some economists believe the central bank could add another increase at its final meeting of the year.
If the market falls continue they could prove problematic for Donald Trump who has consistently touted record high stock markets as proof that his presidency is boosting the economy.
US stocks have now lost $1tn in value in the first five days of February. However, the White House, responding to the market drop insisted on Monday night that long-term economic fundamentals "remain exceptionally strong".
The plunge, initially triggered by fears that strong US employment numbers would lead to wage demands and rising inflation, represents the first two-day drop of 1,000 points or greater for the Dow since August 2015.
The sell-off was reflected on other US indexes, with the S&P 500 also recording its steepest drop since 2015 and erasing its gains for the year. The sell-off represents a stark turnaround in market sentiments, said Ablin.
"In the middle of last month, optimism, bullishness and complacency was at an all-time high. It's certainly fearful now," said Ablin.
In London, shares in Britain's top 100 publicly listed companies on Monday suffered their worst single-day slump since Theresa May called the snap election last April.
The index of Britain's top 100 companies stretched its longest losing streak since last November into a fifth day, following a 1.3% fall. The FTSE 100 index tumbled to 7,345, having peaked at almost 7,800 last month.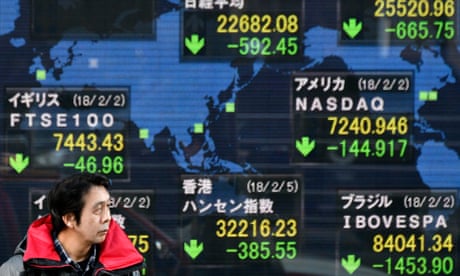 Hussein Sayed, the chief market strategist at currency dealer FXTM, said investors were nervous about the prospect of higher interest rates. "The era of cheap money is ending, and for markets who got addicted to it, it's undoubtedly bad news," he said.
The Fed is expected to react to survey data published last week showing that average US wage growth hit 2.9% in January and could go above 3% in the next few months. Wage increases are one of the main components pushing up prices in US shops.
Stock markets remain high globally and the economies of most of the world's biggest countries are robust. But fears about the pace of rate increases and the size of the US's ballooning deficit have worried some investors.
Last week, a member of the Fed's main interest-rate setting committee, Robert Kaplan, suggested that rates could increase by more than 0.75 percentage points this year if the economy maintains its fast rate of growth and wages continue to rise strongly. He said: "You will see some inflation pressure this year. I believe that the Fed should be removing accommodation gradually but deliberately."
Mark Haefele, the global chief investment officer of wealth management at UBS, said the bond market, which trades in government and corporate debt, remained steady despite recent declines in values that increased the likelihood of defaults. He said stock market investors should sit tight while bond yields, which measure the risk attached to each bond, remained modest. "We don't believe that now is a time to reduce exposure to stocks."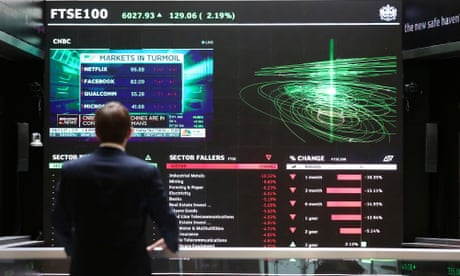 Greg McBride, chief financial analyst at Bankrate, said: "Markets have been addicted to low interest rates and global central banks pumping money into the financial system. As economies around the world are improving, this means higher interest rates and less stimulus from central banks. That's why investors are throwing a hissy-fit. Not because anything is wrong."
Far eastern markets fell overnight by the most in over a year, with the Nikkei among the worst affected following a 2.5% drop to 22,682. The price of a barrel of Brent crude oil slid to $67.30 from above $70 in the middle of last month. The FTSE's fall was limited by worse than expected economic data that sent the pound down to $1.40 from $1.42 overnight.
Car registrations in the UK slumped by 6% in January and the Markit/CIPS survey of the services sector recorded its worst level of growth for 16 months.
Many of the UK's biggest businesses earn the majority of their income in dollars and any increase in the dollar's value versus the pound increases their profits. Last month, Trump boasted that the stock market was a measure of his successful first year in office.
When the market reached 25,075 on 5 January, an increase of more than 1,000 points in little over a month, He said: "Record fastest 1000 point move in history. This is all about the Make America Great Again agenda! Jobs, Jobs, Jobs. Six trillion dollars in value created!"

Ponee

Admin





Posts

: 38262

---

Join date

: 2011-08-09



Yep, and totally expected by anyone who pays attention. No doubt all the global conspiracy, white hat/black hat, cabal/alliance types will be proclaiming it as the last dying throes of the bad guys ...
*****************
Trust but Verify --- R Reagan
"Rejoice always, pray without ceasing, in everything give thanks; for this is the will of God in Christ Jesus for you."1 Thessalonians 5:14–18 

Kevind53

Super Moderator





Posts

: 27252

---

Join date

: 2011-08-09


Age

: 24


Location

: Umm right here!



---
Permissions in this forum:
You
cannot
reply to topics in this forum