Don't take banking advice from a Batman villain.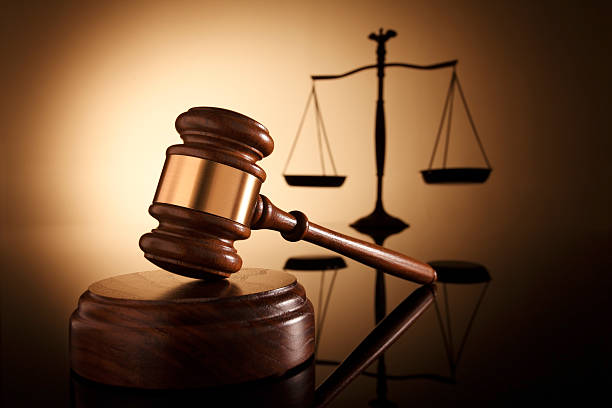 That's the message a federal jury in Knoxville drove home Thursday in finding two members of the sovereign citizens movement guilty of plotting to electronically scam an online bank out of a few million dollars through a scheme promoted on YouTube under a comic-book username. The pair acted as their own attorneys, portraying themselves as persecuted crusaders against a corrupt shadow government ruled by a tyrannical Federal Reserve.
Jurors deliberated a total of about 2½ hours before finding Randall Keith Beane, 50, and Heather Ann Tucci-Jarraf guilty of conspiracy to launder money. They also convicted Beane of wire and bank fraud.
More: Feds: Sovereign citizens promised secret formula to pay off debts
U.S. District Judge Tom Varlan ordered Tucci-Jarraf, who'd been free on bond during the trial, to jail along with Beane, who's been behind bars since his arrest last year. Her supporters, who've attended the trial since it began last week, waved goodbye as U.S. marshals led her away.
"We love you!" a few in the audience called out.
Beane could face up to 30 years in prison, and Tucci-Jarraf could face up to 20 years, although federal sentencing guidelines will most likely translate to less.
An alter ego and a secret stash
Prosecutors say Beane, an Air Force veteran working as a computer programmer for Advantage Innovations in Knoxville, had buried himself under tens of thousands of dollars in debt he owed to the United Services Automobile Association, an online banking service catering to current and former military personnel. A salary that topped $140,000 per year still wasn't enough to keep him from bouncing checks and facing past-due notices.
In the summer of 2017, Beane came across a YouTube video promoted by Tucci-Jarraf through her Facebook page. The video, posted by "Harvey Dent" — the same name as the criminally insane Gotham district attorney, better known as Two-Face, in the Batman comic-book saga — promised to lay out the steps to crack into a "secret savings account" held on every American by the Federal Reserve, a favorite bogeyman in sovereign citizen mythology.
Sovereign citizens preach a gospel of resistance to all levels of government — federal, state and local — based on a mix-and-match creed of conspiracy theories, often built around the illegitimacy of taxation and the Federal Reserve system. Tucci-Jarraf, a onetime attorney and prosecutor, had promoted the Harvey Dent video as proof of her claim that she and the One People's Public Trust, a sovereign citizens group, had foreclosed on the federal government, rendered all government agencies null and void, and reclaimed the Federal Reserve's secret reservoirs of cash for the American people.
"I love it!" she proclaimed in a Facebook post shared by Beane.
Gaming the system
Beane followed the video's advice and used automatic delays in the banking system of transfers of money from one bank to another to buy certificate of deposits last year using the Federal Reserve Bank's routing number and a fake checking account number, liquidating the CDs immediately and shuffling the money into his USAA accounts. USAA allowed its members to make immediate withdrawals — before the transactions were approved and funded.
Beane opened $30 million in CDs and cashed in about $2 million. Some of the money went to pay off debts; some to buy a new truck and a half-million-dollar motor home.
When USAA discovered the bogus transfers and froze Beane's accounts, the sales staff at the Buddy Gregg Motor Homes dealership in Farragut got suspicious. At that point, Tucci-Jarraf stepped in, pretending to be Beane's lawyer in a conference call that she videotaped and posted to YouTube.
The strategy didn't work, and Beane never got to drive off in the motor home. FBI agents arrested him in July at the dealership, and agents arrested Tucci-Jarraf a few days later outside the White House. She'd apparently shown up demanding to meet with President Donald Trump.
During the trial, Tucci-Jarraf repeatedly filed motions denying the authority of the federal government and of the presiding judge, to no avail.
Beane could return to court for sentencing June 12, with sentencing for Tucci-Jarraf set for June 26.
https://www.knoxnews.com/story/news/crime/2018/02/01/comic-book-banking-sank-sovereign-citizens-knoxville-fraud-trial/1085512001/

*****************
>>>TNTBS's YouTube Channel<<<

Ssmith

GURU HUNTER





Posts

: 20495

---

Join date

: 2012-04-10



Don't take banking advice from a Batman villain.
I kept thinking the same thing ...
*****************
Trust but Verify --- R Reagan
"Rejoice always, pray without ceasing, in everything give thanks; for this is the will of God in Christ Jesus for you."1 Thessalonians 5:14–18 

Kevind53

Super Moderator





Posts

: 27252

---

Join date

: 2011-08-09


Age

: 24


Location

: Umm right here!



---
Permissions in this forum:
You
cannot
reply to topics in this forum