SPEAK INTEL
7:29 PM 12/9/2017
• We did hear back from the main Trustee from US Capital Private Bank saying they would honor all redemptions on the ZIM.
• Is it a scam? Well they didn't respond to me so I'm not sure. In my opinion there is a scam that has used their name, but that doesn't mean this bank isn't real. But proceed with caution
• We're hearing China will release all of the funds on their Monday. Does that mean noon tomorrow? Again, not sure because no one in this process ever does what we think they'll do or what it seems like they're saying they'll do.
• Bond Platforms seem to think they'll be in this week. Keep in mind they have to wait for the asset backed currency to go live which would include our notification.
• We expect notification tonight with appointments starting over night/tomorrow.
• Iraq announced their liberation complete, as well release from Chapter 7, induction into the WTO, and the casting out of ISIS
• We do have confirmation that Iraq somehow announced on CNN International that their new rate would be $7.12 but we don't have it in print
• I'm hearing the rate for Iraq should show on FOREX within 24 hours from the time it was announced this morning.
• They are actually celebrating in Iraq, it's on my twitter feed @kre8change
• SPEAK ACTIVITY
Those who have decided they're done trying to do nothing but wait for this to go continue to storm the castle walls, heroically landing themselves in Twitter jail as we try to get the attention of decision makers and cause some waves to let those in control know that we're not sitting by accepting their tired excuses for nonperformance any more.
• Over 100,000 preventable deaths from starvation alone since I posted the article "The Deadliest Weapon Ever Created"
• What's it going to take for YOU to get involved
• Instructions are posted on the new site speakproject.net
• Everyone wants to do be free. But not everyone is willing to take action to make it happen.
YOU have to decide where you stand. Are you one of the people? Then you should be standing with us.
TANK ALL IN
#IAMYOU
GURU HUNTER





Posts

: 20038

---

Join date

: 2012-04-10



@Tank

wrote:YOU have to decide where you stand. Are you one of the people? Then you should be standing with us.
You mean on of those dumb asses you scam?
*****************
Trust but Verify --- R Reagan
"Rejoice always, pray without ceasing, in everything give thanks; for this is the will of God in Christ Jesus for you."1 Thessalonians 5:14–18 
Super Moderator





Posts

: 27225

---

Join date

: 2011-08-09


Age

: 21


Location

: Umm right here!



The Letter posted by Tank is a total fraud, as is Tank and his ongoing nonsense. Anyone following him, his instructions, or any of his Demand Twitter and threatening BS should take note.
Home
/
Key Information
/
Press Releases
Press Releases
The Hong Kong Monetary Authority (HKMA) wishes to alert members of the public in Hong Kong to two suspected fraudulent websites with the domain names
http://
www.uscapitalprivatebank.com
and
http://
www.uscapitalfundingii.com.
 The websites are operated by "US Capital Private Bank" which claims that it is a Tier One Wealth Management and Private Financial Institution. The public should be aware that "US Capital Private Bank" is not authorized under the Banking Ordinance to carry on banking business or the business of taking deposits in Hong Kong, nor does it have the approval to establish a local representative office.
The HKMA has referred the case to the Hong Kong Police Force for further investigation.  Anyone who has provided his or her personal information to the websites or has conducted any financial transactions through the websites should contact any local Police Station or the Commercial Crime Bureau of the Hong Kong Police Force at 2860 5012.
Given the global nature of the Internet, members of the public are reminded to verify the status of any organization making use of the Internet to solicit deposits from the public.  A list of authorized institutions is available on the HKMA's website (
www.hkma.gov.hk
).  Members of the public may also check the status of any entity in Hong Kong which solicits deposits from the public with the HKMA by calling its public enquiry hotline 2878 8222. 
Hong Kong Monetary Authority
19 January 2016
New Member





Posts

: 14

---

Join date

: 2017-12-05



Want more proof of your fraud and nonsense letter Tank"
#289318
by
AlanJones
Thu Mar 24, 2016 4:12 am
From the Website
uscapitalprivatebank.com
:
Global Headquarters
Hong Kong
Rooms 1102-1103, 11/F.,
Kowloon Building, 555 Nathan Road,
Mongkok, Kowloon

London
6-7 Ludgate Square
EC4M 7AS

Georgia address for private internal banking only
365I Peachtree Pkwy Ste E113
Suwanne, GA 30024
From the WhoIs for
uscapitalprivatebank.com
:
Creation Date: 25-mar-2015
Expiration Date: 25-mar-2016

Registrant Name: PRIVATE REGISTRANT
Registrant Organization: A HAPPY DREAMHOST CUSTOMER
Why would a legitimate financial services company have no phone numbers on their website and register their domain using privacy protection? The answer is, they wouldn't, only scammers who want to hide who/where they really are do things like that.
Please do not tell scammers that they are listed here - it will take them seconds to change their fake details and their new details will not be listed for any future victims to find.
Username
AlanJones
Rank
Moderator
Posts
41407
Joined
Wed Apr 22, 2009 3:38 am
Location
Europe
Contact
New Member





Posts

: 14

---

Join date

: 2017-12-05



US Capital Private Bank / US Capital Funding II/ U.S. Capital Investment II (Hong Kong) Ltd



27 jul 2016 Waarschuwing van een buitenlandse toezichthouder


Name:  US Capital Private Bank / US Capital Funding II/ U.S. Capital II Investments (Hong Kong) Ltd 

Type:  Unlicensed entities 

Address(es):  (i) Rooms 1102-1103, 11/F, Kowloon Building, 555 Nathan Road, Mongkok, Kowloon, Hong Kong
(ii) 6-7 Ludgate Square, London, EC4M 7AS
(iii) 3651 Peachtree, Pkwy Ste E113, Suwanne, Georgia, GA 30024  

Website: (i) www.uscapitalprivatebank.com
(ii) www.uscapitalfundingii.com 

Remarks:  The company provides the above Hong Kong address on its websites but it is not located there. 

Add date:  6 May 2016 

Last Update Date: 27 Jul 2016 

Note: Unlicensed entities often use names similar to legitimate companies to confuse investors.
https://www.afm.nl/nl-nl/consumenten/controleer-je-aanbieder/u/us-capital



Re: princemichaelsheffield@uscapitalprivatebank.com


#289441
 by 
Mike Wilson
  Fri Mar 25, 2016 12:51 pm
Michael,
You are correct, we do not have any proof that you actually scammed anyone. I'm sorry that you were identified as a scammer on Scamwarners.com. The real fact of the matter is you are a liar and your bank / investment company is a fake. You claim on your website to be a financial institution yet it is not registered with any legitimate government banking authority in the countries where you claim to do business.
The small matter of you claiming to part of the UK royal family appears to be another bogus claim of yours.
You offered to send me proof that your bank is registered and real. You no longer need to send your fake documents because if already found them on the internet.
Your fake bank certificates.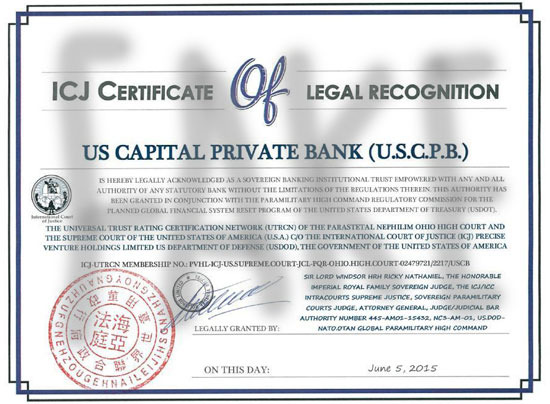 If I can be of any further assistance to you, feel free to contact me.
---
Permissions in this forum:
You
cannot
reply to topics in this forum