Sovereign citizens are a diverse group of individuals whose activities and motives vary, but whose core tenets are the typically the same. They view United States citizenship, established government, authority and institutions as illegitimate and consider themselves immune from and therefore above the law.

A number of sovereign citizens engage in fraudulent activity, using paper terrorism to achieve their agendas and commit crimes under the mistaken hope or belief that laws do not apply to them. Some plan or take part in protests against government agencies and institutions, like the ones organized by the Bundy's in Bunkerville, Nevada and the Malheur Wildlife Refuge in Harney County, Oregon. Some have resorted to violence, including acts of domestic terrorism when they felt their freedoms were infringed upon.
DISTRICT OF COLUMBIA
HEATHER ANN TUCCI-JARRAF
Well known sovereign citizen Heather Ann Tucci-Jarraf, formerly of One People's Public Trust, was a fugitive from the law when she and two companions walked up to the southwest gate of the White House "to see if she was in the WH system for a meeting yet". Tucci-Jarraf claimed she was referred by colleagues, who she attempted to put on the phone with secret service. The secret service's response was to question her and her companions, temporarily cuffing one and then letting them go.
The next morning, agents tracked them down at the Trump International Hotel where Tucci-Jarraf told them she was staying and arrested her on a warrant out of Knoxville, Tennessee, where a grand jury had charged her with conspiracy to commit money laundering on July 17. Tucci-Jarraf is alleged to have conspired with Randall "Randy" Keith Beane to steal approximately $2 million from the federal reserve by purchasing

Certificates of Deposit (CDs) with a fake bank account, then liquidating the CDs and sending the money to his personal account. Tucci-Jarraf is accused of pretending to be an attorney in order to persuade financial institutions to letting them buy a 2017 motorhome with the ill-gotten gains.

She is currently incarcerated in a jail in Washington, D.C., where she recently had an identity hearing because she refused to identify her "corporate self" to law enforcement. Tucci-Jarraf filed a document with her numerous Uniform Commercial Codes with the court, and fired her lawyer. She currently plans to continue her quest through the legal system pro se, which she will do from Tennessee where she is likely to be extradited.
Tucci-Jarraf has dozens of followers, many of whom think they can use her recommendations to access accounts filled with money. She is assuring them, through social media and jail, that this will happen. Many have responded ecstatically, others fear that she will remain in prison and are advocating for a possibly violent citizen's arrest of the judge.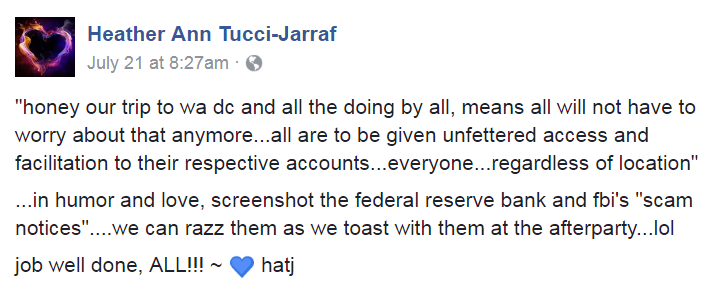 Heather Ann Tucci-Jaraf.
https://www.splcenter.org/hatewatch/2017/08/15/sovereign-files-8152017

Ssmith

GURU HUNTER





Posts

: 20038

---

Join date

: 2012-04-10



This woman is an classic scam artist.  She led people to believe that her trip to DC was successful so continue to commit wire fraud and theft of these accounts?  People are still doing it!  That post of hers made zero sense.  Written like a scamming word smith.  I cannot believe people are still doing this kind of thing.  If you don't know exactly what you are doing you could possibly face wire fraud, etc. charges down the road.  
Oh come on, be fair! Heather's an absolute hero in her own mind. Surely that counts for something?
:juggle:
*****************
 "Scum" - Sue Winters

Ethel Biscuit

VIP Member





Posts

: 1500

---

Join date

: 2016-04-08


Location

: This other Eden



---
Permissions in this forum:
You
cannot
reply to topics in this forum