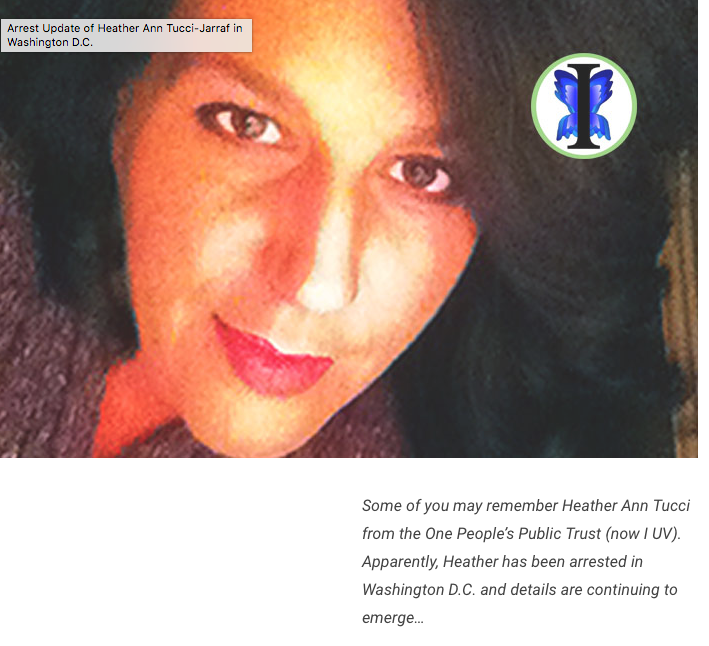 -image from The Event Chronicle-
The Kidnapping Of Heather Ann Tucci-Jarraf - My Day In DC On Video

Heather Ann Ticci-Jarraf is an attorney by education, former prosecutor, former banking compliance officer, and an expert on the banking/financial system.


Over the past several years she has been working diligently to expose the completely fraudulent financial system that very few Americans are even aware exists. This goes way deeper than the fractional bankster scheme of the federal reserve and the truths that her work has revealed is mind blowing to even the most aware/awakened among us.
On Tuesday July 25th Heather was arrested by the FBI while here in Washington DC- she was essentially finalizing years worth of work that would have exposed the fraud publicly, including official government announcements. The days prior to her trip to DC she had been in Tennessee providing legal counsel to an associate who had been arrested for activities related to Heather's work- they had no legitimate charges to charge Randy Beane with but apparently he had some outstanding warrant in Jasper SC, for a misdemeanor I believe, and was being detained until SC officials could arrive- the real reason he was arrested and detained is that Mr. Beane had used the fraud that Heather's work has exposed and the feds wanted to shut him down and keep him hidden, most likely wanted him dead, but Heather arrived to assist him and put a spotlight on his case.


She essentially shredded the federal prosecutor Parker and his team and through exposure and spreading awareness of his case, seems to have provided Mr. Beane with the protection he was in need of. Si Heather wrapped things up and headed to DC. Three FBI agents, apparently including an Agent Hartman, visited her hotel room on the morning of July 25th and kidnapped her. Apparently after leaving Tennessee, Tennessee authorities, most likely prosecutor Parker issued a warrant for her arrest. I am still not clear on exactly what those charges are but if they had crimes they wanted to charge her for why would they not charge and arrest her in Tennessee?
I strongly suspect that the answer to that question is that they knew that by allowing her to first travel to DC that, because of the extradition process that instead of being arrested and released on bond that she would be held in prison in DC for several days allowing Tennessee officials time to come and retrieve her. The federal authorities and the dark overlords of this financial scheme do not want her to finalize her work and will do anything, including issuing bogus warrants to delay her work. But alas they will see that they cannot stop what is occurring right now which is the exposing of this HUGE global financial scheme that has robbed almost every human being of what is rightfully ours.


Yesterday (Wednesday July 26th) I traveled into the city in an attempt to find out all the details of her arrest as well as attend her arraignment hearing for moral support. Below are the links to the Periscope live streams I broadcast- most are pretty short. Of you'd like to cut to the chase to see what my days worth of investigation revealed just check out the lat video (vid 9) I made in front of the DC Federal courthouse.


If you aren't familiar with Heather's work I suggest you do some searches to get up to speed- you will see she is brilliant, tenacious, and very courageous fighting this battle on behalf of all of humanity. You will also learn information that I suspect in a very short time could become very valuable to to you.


Another fact that leads me to believe that elements with the government as well as the bankster industry fear her knowledge is that the judge on the case ordered the US Marshals to SEAL the room- what this means is that all but the lawyers and judge are removed from the courtroom INCLUDING the defendants husband. After locking to doors they then placed painted black boards over the courtroom door windows so we could not even see the defendant to verify she was in good physical condition. I never knew this ever occurred aside from cases involving children and protecting their identity- or a family court scenario- bit in this instance it's clear that the judge is in on the cover up. I was in shock when this sealing of the courtroom occurred.


I think the most important element of this story is seeing the desperate, lawless acts/ arrests/ warrants being made in that case I show that the powers that be are willing to do whatever it takes to keep this information from being revealed- they will fail in any such efforts- Pandora's box has already been opened including a successful test run conducted by many who follow her work, performed just last week that proved her assertions regarding TDA accounts are indeed accurate and very real.


Vid 1-https://www.pscp.tv/w/bEiKOTF4a1FEWUFQWmFnS3p8MXlOR2FtRHdkYnJHag7n1exp2BCqPNj9v1QMpN0RlfQPy5GuZZq23Hi2RBns


vid 2- https://www.pscp.tv/w/bEiKVjF4a1FEWUFQWmFnS3p8MWRqR1hMYXdiTFZHWjHH4UvVDhGdtPBCZFxbUD92j1Kiz0VcL1yLnfd2uv8v


vid 3- https://www.pscp.tv/w/bEiKtTF4a1FEWUFQWmFnS3p8MUJkR1lXelhORE54WHoHMoqF_oUPNuH2rNvXdq7XJ3HeceBf5R2yinZyvR0g


vid 4- https://www.pscp.tv/w/bEiK6TF4a1FEWUFQWmFnS3p8MW1ueGVtYm5YbmF4WAI-TNr2PGVNG19baI8gYV1Usilf6gnYcGGzP_thUoPg


vid 5 -https://www.pscp.tv/w/bEiLCDF4a1FEWUFQWmFnS3p8MVlxS0RSWWJNZGtKVv7NmlzFwP8biR-I6eGWxkWcj0rX9jEfblaUBRu0OdM3


vid 6-https://www.pscp.tv/w/bEiLJzF4a1FEWUFQWmFnS3p8MWRqR1hMYVhYQmVHWmNadYlM_6dUvuCRZG4_PjZ_WrkgnzW6nN4ZHoCBhFGv


vid 7- https://www.pscp.tv/w/bEiLTzF4a1FEWUFQWmFnS3p8MXZPR3dPbXBqRFBHQq-aYBJkcjC_Fs91JgJFEwL8TEAFYFzHVMwmwKufK_VP


vid 8-https://www.pscp.tv/w/bEiLZTF4a1FEWUFQWmFnS3p8MVprS3pPYVd6QWFHdiweBCHyILrLEeQcAwpiJS9Zf4WF6fbXZTw34HgtP93t


vid 9-https://www.pscp.tv/w/bEiLZTF4a1FEWUFQWmFnS3p8MVprS3pPYVd6QWFHdiweBCHyILrLEeQcAwpiJS9Zf4WF6fbXZTw34HgtP93t

https://steemit.com/news/@thelightreports/the-kidnapping-of-heather-ann-tucci-jarraf-my-day-in-dc-on-video


Ssmith

GURU HUNTER





Posts

: 20038

---

Join date

: 2012-04-10



Heather Ann Ticci-Jarraf is an attorney by education, former prosecutor, former banking compliance officer, and an expert on the banking/financial system.
She's also a grade one loony !!!

*****************
 "Scum" - Sue Winters

Ethel Biscuit

VIP Member





Posts

: 1510

---

Join date

: 2016-04-08


Location

: This other Eden



---
Permissions in this forum:
You
cannot
reply to topics in this forum