Support for hobie / Zapper
Enlarge this image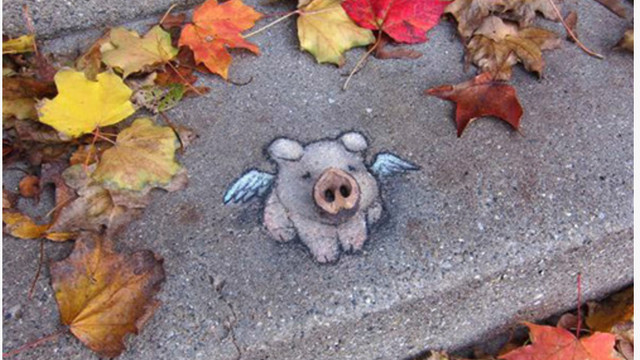 by
hobie O'Rumormill
Help hobie buy groceries and pay household bills.
Money that normally comes to me (hobie) from remotely supplied ads has been cut off for a few months, due to a bureaucratic requirement that Raye hasn't been able to satisfy yet.
I'm hopeful the "drought" will end soon - hopeful in fact that this may be the last month of needing to ask for your help..
Meanwhile, I do need your help just to pay for groceries and household bills in the coming month.
Big or small, I'm grateful for whatever you may be able to provide. Thank you.
Blessings.
--hobie
So.... Hobie calls himself Zapper and uses a flying pig as a pic. Sound familiar?

I have long wondered how Jerzy & Susan hooked up immediately after the death of James (Poof) her husband. They did not miss a beat in the postings, as a matter of fact this is when the several times per week panhandling began as our archives can show here and on Out Of Mind.

Hobie pushed Omega for years on the Nesara blog site when John McHaffie was alive. Susan often mentions Omega. So it seems Hobie is that connection.

All donation money goes through Susan and her Paypal or so we are told and therefore subject to tax 1099 to be issued from Paypal. But the people that donate are asked to click the friends and family option thereby stepping around that pesky tax thing.
Susan has a tree fall on her apartment then Hobie has the same thing happen. These panhandling story lines have repeatedly followed one another for years I have noticed to include Susan has had a mouse invasion and needs exterminator money as did Raye of RMN! What are the chances of that??

Might be a case for the Guru Hunters!

Hobie (Jeff Gordon) Zapper - Exhorts Readers again, PAY, PAY, PAY!!!!!
Well, every so often the truth just slips out.  Poor Buck needs his Vet to come to the house, with assistant and meds in his shiny new car and take care of his needs.  Then Rayelan needs to talk to her Make-Over Team, nutritionist, plastic surgeon, stylist, and on and on and on, because, gosh, you want Rayelan to know you care, right?  You want her to look and feel her best, don't you? 
Don't you READERS be selfish, now.  And Hobie (Jeff Gordon) Zapper has his needs, too.  Those READERS have some nerve, they do. 
Home Schooling, Home Mortgages and more, in:
The Rumor Mill News Reading Room
** S.O.S. - PLEASE HELP RAYELAN & BUCK **
Posted By: hobie [Send E-Mail]
Date: Wednesday, 28-Jan-2015 20:11:23
Hi, Folks -
I see a transaction for about $120 just failed to go through on the PayPal card Rayelan is using - and I suspect it may have involved Buck's veterinarian. PLEASE CONTRIBUTE A.S.A.P. so Raye will be able to get that taken care of.

Blessings, all.
--hobie
*****************
GURU HUNTER





Posts

: 19048

---

Join date

: 2015-02-19



Well now!!!
:tup: :tup: 
I see they are still trolling OOM and DD! Had to add the name Jeff Gordon!! hahahaha
WOW
GURU HUNTER





Posts

: 19048

---

Join date

: 2015-02-19



Maybe Nick could add Jeff Gordon to the fraudster list when he visits his guy at the FBI?
---
Permissions in this forum:
You
cannot
reply to topics in this forum